Time with friends is precious; a proper treat and PINS Social Club know it. This is a venue that goes all out to make sure you have a night to remember in a place you're going to want to come back to time and time again.
There's so much to love about PINS, it's difficult to know where to start.
Games Galore at PINS Social
PINS have a beautiful set of pins – well 12 sets to be exact. The glorious game of ten pin bowling is the beating heart of PINS. They have 8 beautiful full-sized lanes with a retro flair, plus a further four in their fancy VIP bowling room – The Spare Room.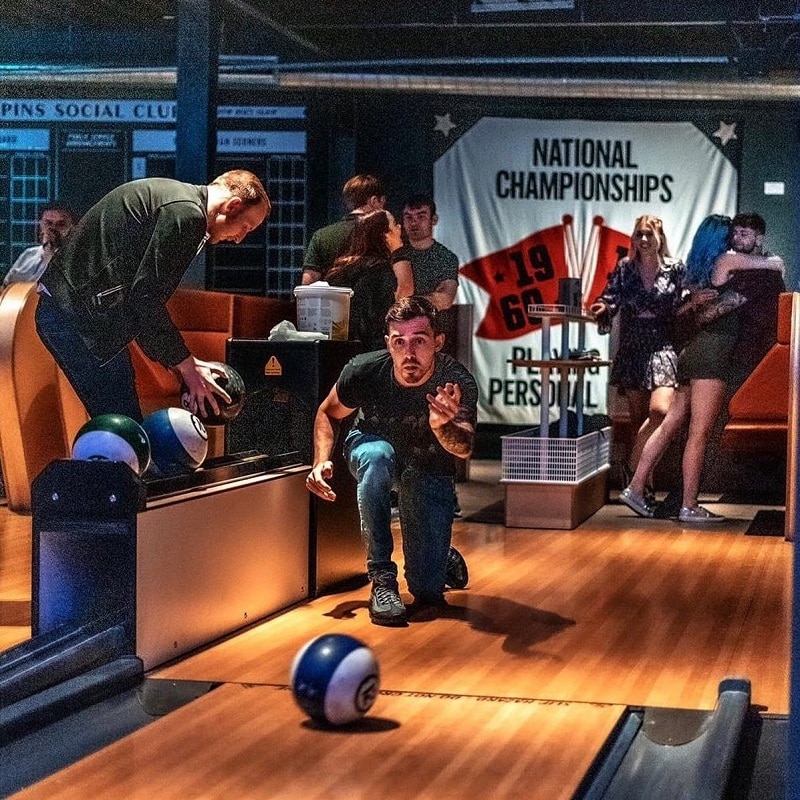 Fancy yourself pretty nifty with a cue? Head on up to Rocco's Games Room, on the mezzanine, PINS have got American and English Pool tables, so you can sink some balls whilst you get acquainted with some of their stunning cocktails.
If you're looking for a game with some glam, then you can book yourself and your crew onto one of their shuffleboard tables. It's a game with a sophisticated aesthetic which masks the fiercely competitive undertones which surface in all its players – there's no hiding the vindictive triumph of knocking your mate's well-placed puck into the gutter.
PINS also have ping pong tables so you can dance around with a paddle before turning your attention to 13" of pizza pleasure.
If that wasn't enough, PINS have a purpose-built karaoke booth. So, when the mood takes you, which it inevitably will, you can grab that mic and belt out your favourite tunes and all-time classics.
For that University vibe you could hit the beer pong tables. Toughen up your drinking-game skills in this ultimate game of accuracy.
Delicious Dining at PINS Social
PINS know how to do food. Amazing food! Whether you're there for their brunch, their Sunday Feast or a bite after work, you can be assured that your tastebuds will be tantalised.
Their standard menu focuses mainly on extraordinary burgers and hearty pizzas, catering for meat lovers and those yearning for tasty plant-based dishes. Alternatively, you can opt for a smaller bite; chicken bites tossed in homemade sauces of Habanero Maple, Gangnam or Soy & Sesame; Mac N' Cheese made with five different cheeses; Padron Peppers; or loaded fries with buffalo chicken thigh, pepperoni & mozzarella or Asian style.
PINS, Rocco's Brunch menu offers all the classics you'd expect, Full English, Stacked Breakfast Muffin, Pancakes, Eggs Royale, Eggs Benedict, Smashed Avocado … loads of choice!
Followers of the PINS Insta will also be familiar with their Sunday Feast – you need to check out the size of their Yorkshires! Plus, you get to enjoy the PINS house band as well as an epic roast.
Tasty Tipples at PINS Social
There are three spacious bars at PINS all serving up a fine selection of beverages. You can opt for the Main Bar – where you'll find live music, ten pin bowling and the PINS iconic parades (think – party on a catwalk). Rocco's Games Room, where you can pair your drinks with some healthy competition on their games tables. Alternatively, head on up and out into the sunshine to enjoy the glorious Roof – which actually has a retractable roof so is fabulous come rain or shine.
The PINS drinks menu is stacked with beer, cider, wine, bubbles, twelve different gins, soft drinks, hot drinks and, of course, cocktails. You can choose from a selection of Classic favourites: Margarita, Dark N Stormy, Strawberry Daiquiri … for example. Or, put your faith in the PINS trusty mixologists and go for one of their House Cocktails … we quite fancy the Pin Up (Beefeater peach & raspberry gin, blended passionfruit liqueur, lemon, sugar syrup, peach puree & ginger ale) or the S'Mold Fashioned (Havana 7yr, Licor 43 with salted caramel syrup) – yum!
Parties and Parades at PINS Social
You can, of course, grab your girl and head on over to pins for a fun first date, book a booth for an intimate meal and enjoy some time snuggled up on the roof, chatting into the evening.
However, you might need to choose your night carefully, because at PINS, they know how to party! The Friday Night Social is legendary. With live bands, DJ sets, happy hour (well actually it's two hours from 5-7pm) you'll be bouncing into the night.
Then on Saturday it's the PINS Parade Party. As well as dancing the night away to a line up of sensational DJs and live music acts there's the runway show. Awesome dancers and incredible performers will take to the elevated runway for a spectacular show. If you've not been yet, you really need to. What's more, entry is free!!!
Pics and Pooches at PINS Social
At the start of this I said there was much to love about PINS. If the gaming, food, drinks and wild nights out weren't enough then there are a few final flourishes to mention.
The loos. PINS have the most Instagrammable loos in Liverpool – glam, glam, glam!
Finally, PINS are pooch friendly. Your four pawed pals will be warmly welcomed at PINS; they even do a special Dog's Roast on Sundays which comes with a complimentary bowl of water and a side of tummy rubs. Cute.
All that's left is for you to get yourself booked in, whether that's for some great gaming, a lush meal or a full blown party. Enjoy!
Where: 45-61 Duke Street, Liverpool, L1 5AP
Looking for other great activities in Liverpool, check out our reviews of the best places for: escape rooms, bowling alleys, crazy golf, or shuffleboard.