For residents and visitors to Liverpool there are loads of brilliant social play venues offering activities including bowling, social darts, shuffleboards, arcades, ping pong and so much more.
Today's Play List looks at great places to play Mini Golf. So, what you waiting for? Ghetto out the house, Putt your smarts on and get ready for a Tee-a Maria cocktail.
Ghetto Golf
It's time to go loco in Liverpool! The perfect place for crazy golf, Ghetto Golf is a great spot to catch up with your mates over a game or two this autumn. Packing an eighteen-hole crazy golf adventure, an exceptional cocktail bar, top local DJs and amazing graffiti art, there's plenty on offer for everyone's taste. If all that crazy golf and dancing all night means you're feeling pretty peckish – you're in luck! Ghetto Golf is also home to a cosy outdoor bar and delicious BBQ street food outlet, so there's plenty of chances to relax and refresh after all that activity. Interested? Of course you are. Check out their website to find out more.
Where: Cains Brewery, Stanhope Street, L8 5XJ
Cost: Starting from £12pp
Age: 18+ only
Junkyard Golf
Creepy clowns! Junkyard madness! Tropical terrains! There's loads of fun to be had at Junkyard Golf Club, with three crazy courses chock-full of twists and turns. There's Bozo, full of fairground creeps and circus freaks – nine holes navigating the Ferris Wheel, Hall of Mirrors and fairground surroundings – can you successfully escape the circus? Or maybe Gary is more your style? Filled with written-off cars, auto-junk and scrapyard scenes, power through with the help of 90's tunes and UV garage rooms. Perhaps Pablo? Crammed with pirate speedboats, glitter temples and the skulls of failed players, there's certainly a rumble in the jungle as you navigate through this tropically themed course. Wanna visit? Have a look at their website to book your visit.
Where: Liverpool One, 1 Paradise Street, Liverpool, L1 8JF
Cost: £8.50 per game for off-peak or £10 for peak per game
Age: Under 18s only allowed on Sunday to Thursday before 6pm, and must be accompanied by an adult
Roxy Ball Room Rainford Square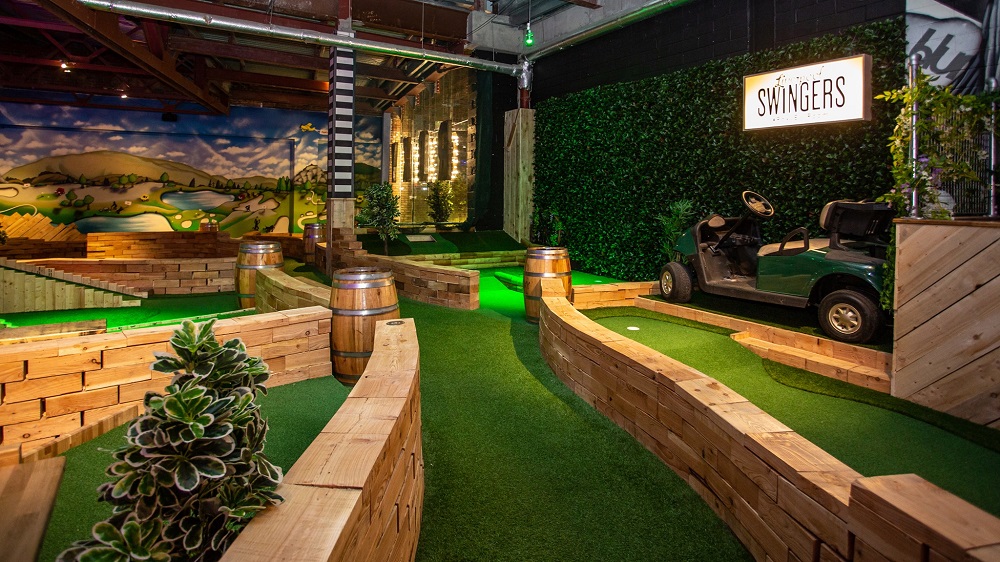 Fancy a spin on the bowling alley? How about mini golf? Or is pool more your style? Whatever floats your boat, Roxy Ball Room boasts it all! With loads of games on offer, including shuffleboard, ping pong and beer pong, it's the best spot to spend a Saturday evening or two with a pint in hand and a pizza in the other (we're serious – you've got to check out their amazing food menu). And if all that activity makes you feel a little thirsty – don't worry! You can grab one of their delicious cocktails, and with names like Golden Touch, Perfect Game and Baby Got Back Spin (get it?), who wouldn't be tempted? Check out their website to find out more.
Where: 8a Rainford Square, Liverpool, L2 6PX
Cost: £10 peak and £8 off peak for Roxy golf, £15 peak and £12 off peak and per hour for shuffleboard, pool and ping pong, £18 per hour for beer pong
Age: 18+
Other Great Activity Venues in Liverpool
Pins Social Club
Liverpool is a big city (well, yeah). And in big cities, there are plenty of places to hang out with your mates. But in Merseyside, there's nowhere better than Pins Social Club – and that's no mean feat! With events every night of the week, there's everything from bottomless brunches to karaoke nights, so there's all sorts to enjoy! They've even got a purpose-built bowling alley, with twelve full-sized lanes to show off your skills, as well as loads of different table-top games. They're also home to several bars, including a rooftop hangout (how cool is that?) and a deli and diner, which, if you've not tried already, is definitely one for the bucket list. Interested? Of course you are. Have a look at their website to get started.
Where: 45-61 Duke Street, Liverpool, L1 5AP
Cost: £12 per hour
Age: 18+ after 5pm
NQ64
With neon lights, blaring screens and retro throwbacks, make sure to get yourselves down to NQ64, the arcade bar in Liverpool with a difference. Offering cocktails, craft beers and classic consoles, there's something for everyone – and all your friends are gonna love it! They're home to a wide range of retro titles designed to put your gaming skills to the test, so be sure to give them all a go. Donkey Kong fan? Or maybe Mortal Kombat is more your thing? Space Invaders or Street Fighter II? Whatever your favourite games are, there's plenty to do at NQ64, so be sure to get yourselves down there! Check out their website to discover more.
Where: 22 Colquitt Street, Liverpool, L1 4DE
Cost: No entry fee. Buy tokens for the games @ £7 for 15 tokens
Age: 18+
Point Blank Shooting Range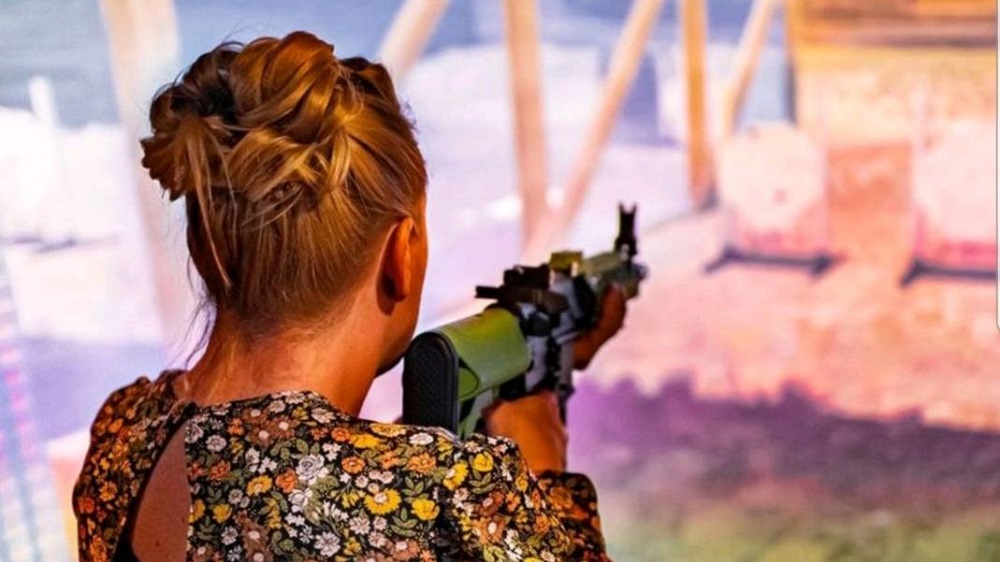 Fancy yourselves expert marksmen? Well, there's no place better to test out your skills, over a pint or two, than at Point Blank Shooting Range in Liverpool. With a state-of-the-art simulation shooting range on offer and loads of different courses to test your trigger finger, you can hone your sharpshooting skills with your mates and become the talk of the town! Afterwards, you can celebrate your victory with one of the house cocktails, including 'Is that a gun, or are you just happy to see me?', 'Shot Happens' and 'Mexican Stand Off.' Feeling hungry? Grab yourselves a round of delicious bar snacks, with wings, pizza and fries all being on offer. So, keep your eyes on the target and give it a spin! Have a look at their website to find out more.
Where: 25 Castle Street, Liverpool, L2 4TA
Cost: Off peak range hire from £10
Age: 18+
ArCains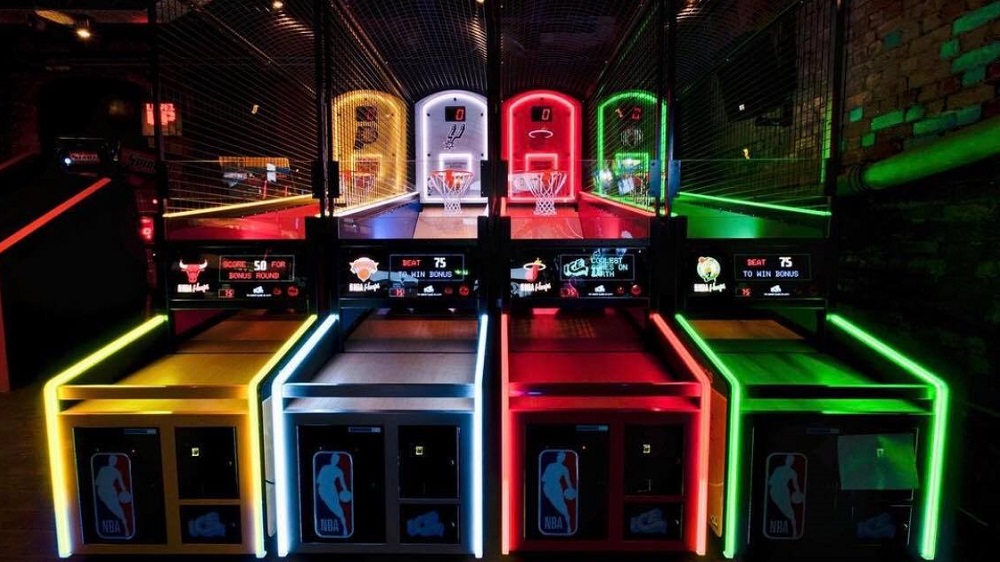 Reload your perceptions of an awesome night out in Liverpool with ArCains – the arcade bar with a difference! Boasting arcade games (of course), PCs, consoles, pinball machines and much more, there's plenty of technology to fire up your nights this autumn. With a huge range of classic arcade favourites, you can rock out to Guitar Hero, get out into nature with Big Buck Hunter, scare yourselves silly with the House of the Dead games and race your friends on Mario Kart. If that sounds like your thing, there's plenty of retro games to choose from – you'll have to keep coming back for more in order to give them all a spin! Check out their website book your visit!
Where: 31 Grafton Street, Cains Brewery Village, Liverpool, L8 5SD
Cost: £12 Monday to Thursday, £18 Saturday to Sunday
Age: Under 18s must be accompanied by an adult, and Monday till Thursday can only stay until 9pm, and Friday to Sunday can only stay until 6pm
Roxy Ball Room Hanover Street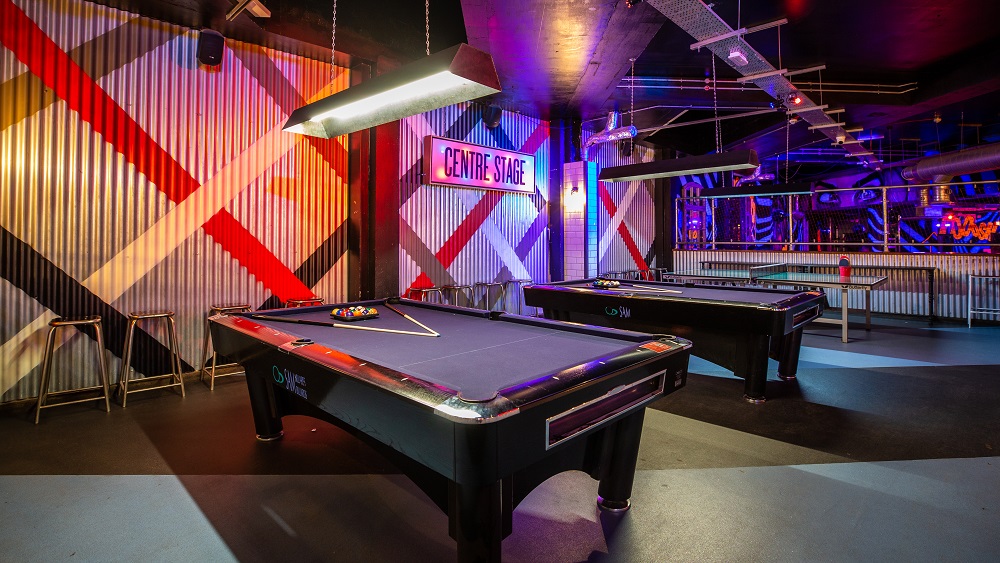 Roxy Ball Room. The venue so good it made the list twice! With their Hanover Street location offering crazy pool (it's as fun as it sounds!), pool tables, shuffleboard, beer pong, ping pong and much more, there's surely something for everyone! There's plenty of opportunities to show off your crazy skills that you've honed over lockdown (we knew there was another reason for all that beer pong practice!) and grab a drink or two. With the same delicious food and drink menu as at Rainford Square, there's loads of delicious stuff to enjoy – so what are you waiting for? Make sure to get yourselves down there. Check out their website to find out more.
Where: 26 College Lane, Liverpool, L1 3DS
Cost: £15 peak and £12 off peak and per hour for shuffleboard, pool and ping pong, £10 peak and £8 off peak for crazy pool, £18 per hour for beer pong
Age: 18+
Prices etc were correct at time of publishing. Best to check with the venue website for up to date information and offers.
Cover image: Junkyard Golf, Liverpool