If you've never had a go at shuffleboard, then you're missing out on some highly competitive grown up fun.
Shuffleboard is played on a long, thin table. At the end of the table are the scoring zone markings. Your job is to gentle glide your small puck, down the smooth surface and hopefully it'll stop in the scoring zone and preferably knock your opponents pucks out. The likelihood is that your puck will annoyingly drift right off the end of the board and into the gutter!
So where can you play this addictively good game in Liverpool?
Pins Social Club
Make sure to check out Liverpool's own Pins Social Club! For tabletop games they've got you covered, including a sensational array of shuffleboards. They live up to their mission of turning socialising into "an experience." Found on Duke Street, we hope you're prepared for a plethora of activities, a bounty of beverages and a feast of some of the best food you can find! After you claim ultimate victory on their gorgeous shuffleboards, the fun is far from over. Why not have a game of bowling on one of their twelve lavish lanes to become the true champion of the day? Alternatively, book into one of their party nights – the Pins Parade Party runs every Saturday and is a night not to be missed. Interested? Of course you are. To find out about some of their stunning deals, have a wander over to their website.
Where: 45 – 61 Duke St, Liverpool L1 5AP
Shuffleboard cost: £12 per hour
Age: 18+ after 5pm
Roxy Ball Room Liverpool Hanover Street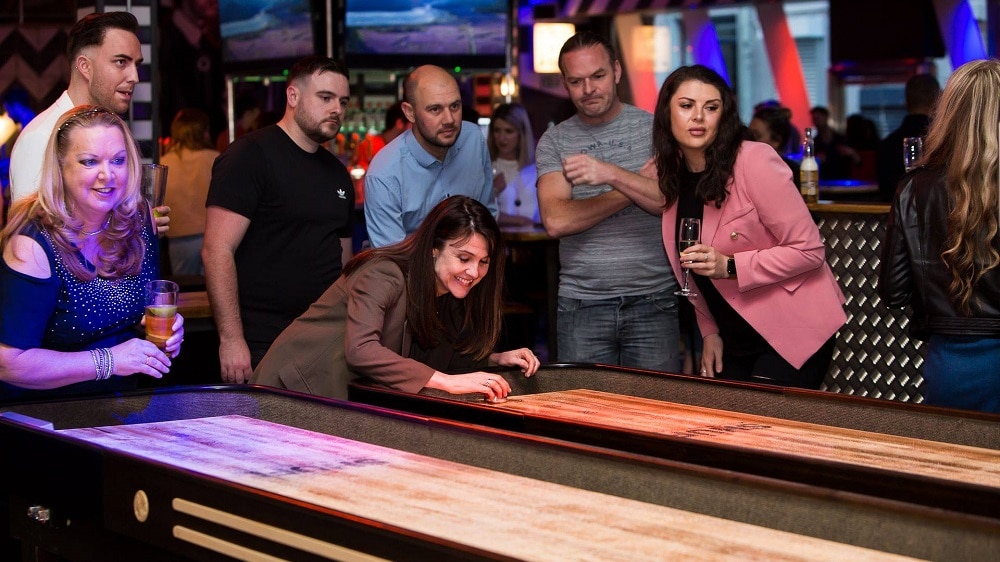 The first Roxy Ball Room venue on this list, but certainly not the last. Games and fun are in this venue's DNA. There's crazy pool (the lovechild of crazy golf and pool in all the best ways), beer pong, table tennis and authentic American pool! Of course it wouldn't be in this list without its amazing shuffleboard tables (only £12 an hour to play your heart out). If you're playing them a visit (see what we did there?), you'll want to gather your strength after your epic sesh at their amazing bar and restaurant. With delicious pizzas (just £3 a slice), stunning sides and a drinks menu to die for, what more could you want? Our drink of choice? We love their Roxy Spritz (that's Amaretto, lemon, grenadine and a splash of lemon). Make sure to check out their website for all the juicy details.
Where: 26 College Lane, Liverpool L1 3DS
Shuffleboard cost: £12/15 per hour off peak/peak
Age: 18+ after 5pm
Roxy Ball Room Liverpool Rainford Square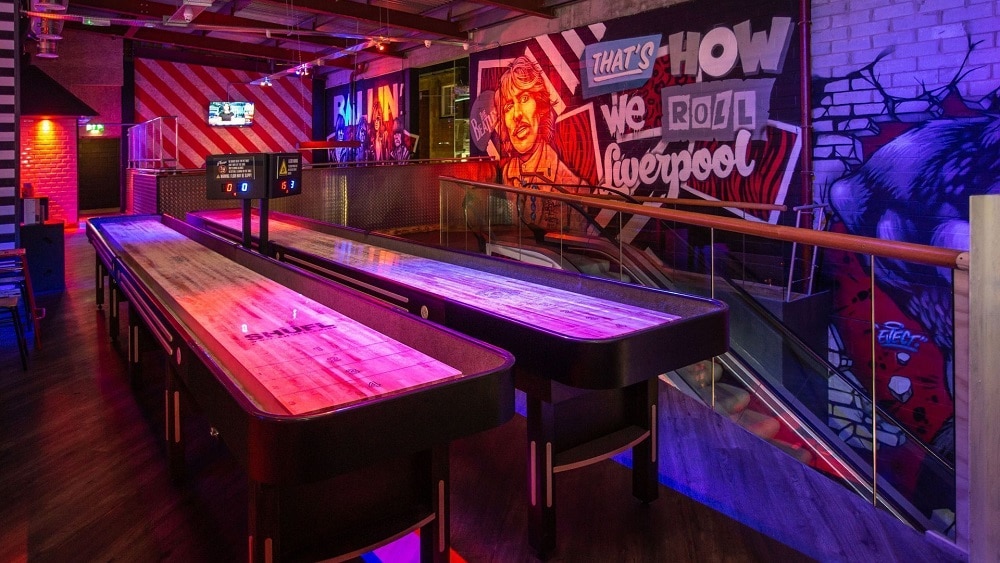 For a city as exciting as Liverpool, you know there can't just be one Roxy Ball Room venue, there has to be two! Just as fun as Hanover Street, this can be found close to the Cavern Club in Rainford Square. The main difference? Four epic full size bowling lanes as well as their sensational crazy golf course. This venue also comes fully equipped with some of the best shuffleboards to be found in Liverpool, so you're spoilt for choice as you shuffle your way into the history books while enjoying their delicious pizzas or signature cocktails (hopefully not at the same time). To learn more about this epic venue, be sure to visit their website.
Where: 8a Rainford Square, Liverpool L2 6PX
Shuffleboard cost: £12/15 per hour off peak/peak
Age: 18+ after 5pm
Boston Pool Loft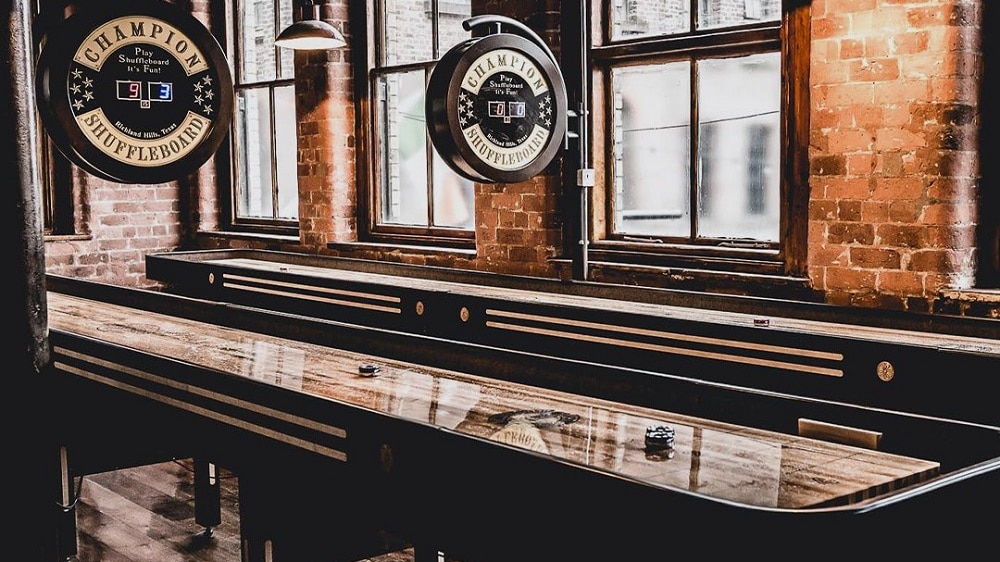 You just can't beat the classics, and never has this been truer than at the Boston Pool Loft! Be sure to try out their fabulous table tennis tables, snooker and their authentic pool tables (they don't call it the pool loft for nothing)! Though of course, the reason this epic venue is on this list has to be their stunning shuffleboards. Flown in from Texas, these handmade shuffleboards are as beautiful to look at as they are fun to play. However, be warned, as they canbe highly addictive. So in terms of fun and games, they've certainly got you covered. After your insane gaming session, you'll be looking for a glass of something cold and a bite to eat. Well, look no further than their delicious food and drinks menu, crammed with everything from fine draft beers, rums, whiskies, vodkas and gins. Though if you're looking for something new and exciting, why not try one of their eight delicious cocktails (you can even grab two cocktails for £10)? If you're looking to watch the games instead of play, this is the most certainly the venue for you. They have more than enough HD screens to never miss a minute of the action from any big sporting fixture. To learn more, be sure to visit their website.
Where: Holmes Building, 46-50 Wood St, Liverpool L1 4AQ
Shuffleboard cost: £20 for 90 minutes
Age: 18+
Boom Battle Bar
"There aren't enough activities to do here" said nobody – ever – at Boom Battle Bar. From Bavarian axe throwing to authentic skee-ball machines, this is basically your own personal fairground. We've also got to give their shuffleboard a special mention, as their authentic full-length tables can be booked for just £15 each. With amazing decor and sensational atmospheric music, you'll be feeling the great vibes in no time. If you're looking for something special, then we highly recommend their bottomless brunch package (two hours of bottomless drinks and stunning food accompanied by the epic 80s soundtrack of their resident DJ). Make sure to check out more from this venue via their website.
Where: 101-110 St Georges Way, Liverpool L1 1LU
Shuffleboard cost: £15 per hour
Age: All ages, 18+ after 7pm
Einstein Bier Haus
Beers, epic TV screens, custom car furniture, two amazing floors… you must be at Einstein Bier Haus! Another great venue to visit for live sports, you can pick from any of the thirty-four HD screens (both inside and outside), so no need to worry about the British weather. With full size shuffleboards, this is the perfect place to relax and rack up your new high score while sampling some of this venue's sensational biers (they have a pretty extensive list)! Or if all this fun is working up your appetite, then you have to check out their impressively priced menu (you can get a full steak dinner for just £12)! To learn more about this epic venue, check out their website to start planning your visit.
Where: Concert Square, 26 Fleet St, Liverpool L1 4AN
Age: 18+
Taggy's Bar
A staple location of Liverpool and perfect for the whole family, this venue has strong links to the football scene! With ample seating both inside and out, there are plenty of places for your friends and family to gather. In their fabulous shuffleboard room, you can challenge your mates for ultimate bragging rights! For football fans, you'll love this epic location stacked with loads of great Liverpool football team memorabilia. With mouth-watering food, classic beers and spirits, this truly is the perfect venue to enjoy a great day out with your loved ones while watching all the best sports games. To book your spot, be sure to visit their website.
Where: 21 Anfield Road, Liverpool L4 0TE
Cost: £15 for an hour of shuffleboard
Age: All ages
McCooley's
For lovers of Irish culture, this is the venue for you. Enjoy a game on their full-size pool tables, watch the latest nail-biting action on one of their many HD TVs, and of course, rack up your new high score on their European shuffleboards. You'll feel right at home in this setting, as they seamlessly merge the traditional elements of a local pub with the more modern aesthetics unique to a city centre. Enjoy burgers, full English breakfasts and much more from their stellar menu. Just a stone's throw away from huge Liverpool attractions such as The Cavern, The Beatles Museum and more, it's the perfect place to drop in for a bite to eat and perhaps a pint from their excellent draft menu. So if you love warm conversation, cracking beverages, stunning food and shuffleboards, this venue is you! Pay a visit to their website to discover more.
Where: 9 – 12 Temple Court, Liverpool L2 6PY
Age: 18+
Fancy trying a different activity?
Once you've tried out all these great places to play shuffleboard, you might be ready to try your hand other fun nights out. Check out our reviews of great places in Liverpool to play Ten Pin Bowling, Crazy Golf or try out some terrifying escape rooms.
Prices etc were correct at time of publishing. Best to check with the venue website for up-to-date information and offers. Header image: Boom Battle Bar