I don't ever want to hear you moan … I'm bored, there's nothing to do here! There's LOADS to do in Liverpool. Check out this week's play list of great places to go bowling (and other activities) in Liverpool …
Pins Social
Get yourselves down to Pins Social Club this winter! Bringing a fun and immersive bowling experience to Liverpool's up-and-coming Duke Street, it's gonna revolutionise your nights out! Complete with everything from bowling lanes to shuffleboard, alongside first-rate food and colourful cocktails, it's the ideal spot to burn off some energy and hang out with your mates as the long winter nights draw in. Fancy showing off your singing skills? Make sure to step up to the mic in their karaoke booth and belt out your favourite tunes. Maybe tabletop games are more your style? They've also got both English and American style pool and a table tennis set if you fancy a few rounds. Whatever you fancy, make sure to get down to Pins for a good time! Check out their website to find out more.
Where: 45-61 Duke Street, Liverpool, L1 5AP
Cost: £12 per hour for bowling
Age: 18+ after 5pm
Lane7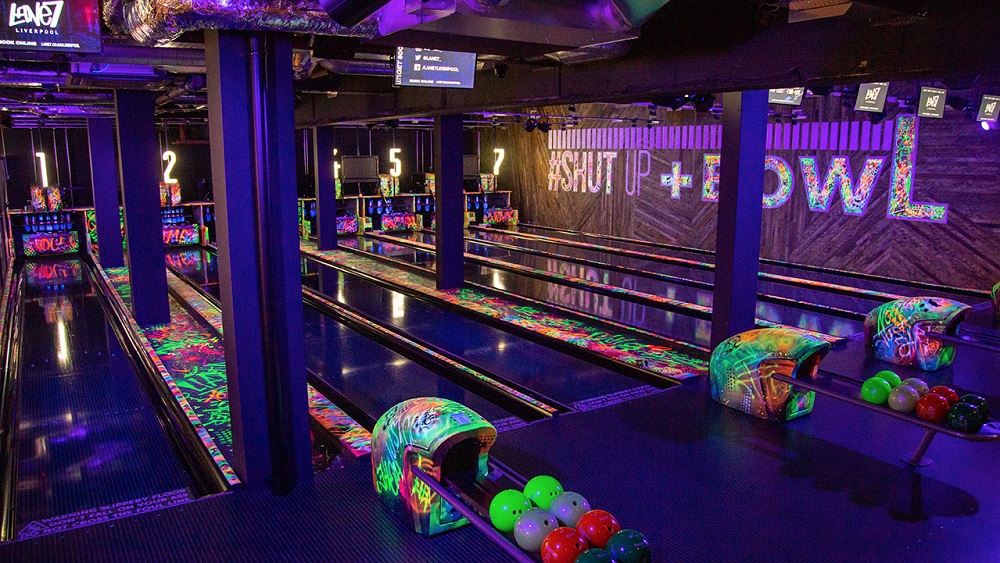 Lane7 is the perfect spot for mates, dates and working lates! Packed with loads of awesome tabletop games, with everything from American pool, ping pong, bowling lanes, arcade games, dart boards and beer pong set ups, there's something for everyone (and a great chance to show off your sick table tennis skills!) They've also got a whole host of delicious food and drinks on offer, so the perfect opportunity to celebrate after you've scored that winning strike! Open till late every night of the week, there's no excuse to miss out! Make sure to get yourselves down there as soon as you're free! Check out their website to find out more.
Where : Clayton Square, Cases Street, Liverpool, L1 1QR
Cost : £9.75 for bowling peak and £8 off peak
Age: 18+ after 7pm
Hollywood Bowl
Reckon you're a Merseyside bowling pro? Show off your skills and score a few strikes at Hollywood Bowl! With a wide variety of food and drinks on offer and twenty-eight state-of-the-art lanes to choose from, it's the perfect spot to bowl away a lazy Sunday. They've also got an American style diner if you fancy tucking into a burger or two, and an amusements area if you wanna bit of nostalgia in your evening! A pool pro? Make sure to have a go on their pool tables with your mates. Let the good times roll and check out their website to find out more.
Where: Retail Park, Edge Lane, Montrose Way, Old Swan, Liverpool, L13 1EW
Cost: £6.59 per person for bowling
Age: All ages welcome
Roxy Ball Room Rainford Square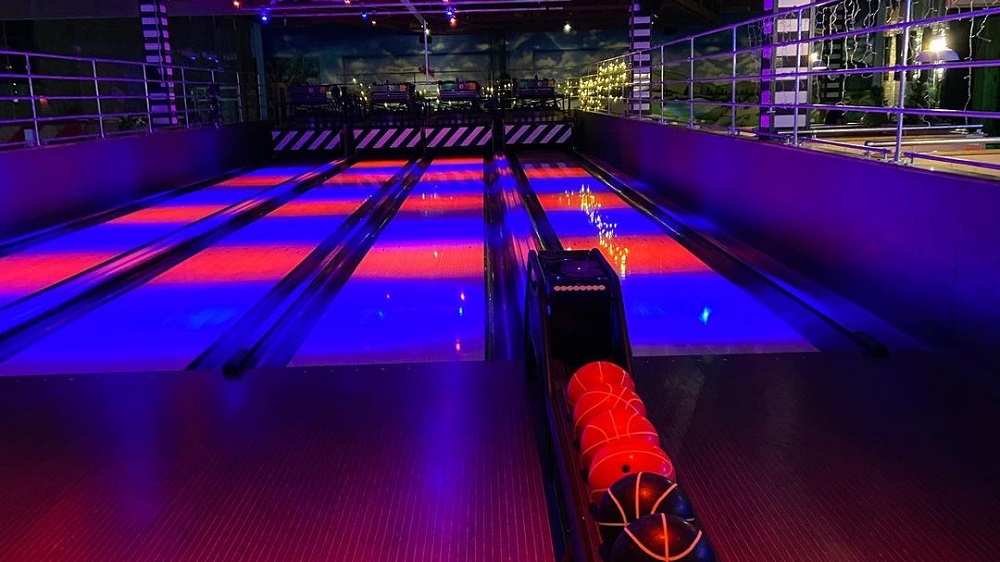 Don't miss Roxy Ball Room when you're partying in Liverpool! Show off your golfing skills (and your impressive handicap) with Roxy Golf, or maybe bowling is more your style? Their awesome bowling facilities mean you can score those strikes in style! If you're more into smaller balls, be sure to check out their pool tables and their ping pong set up, and if you fancy adding the booze, play a round or two of beer pong with your mates! If you wanna try something totally different, be sure to give the shuffleboard tables a spin – you're guaranteed to have a great time! Check out their website to book.
Where: 8a Rainford Square, Liverpool, L2 6PX
Cost: £10 peak and £8 off peak for Roxy golf, £15 peak and £12 off peak and per hour for shuffleboard, pool and ping pong, £18 per hour for beer pong
Age: 18+
OTHER GREAT ACTIVITY VENUES IN LIVERPOOL
ArCaines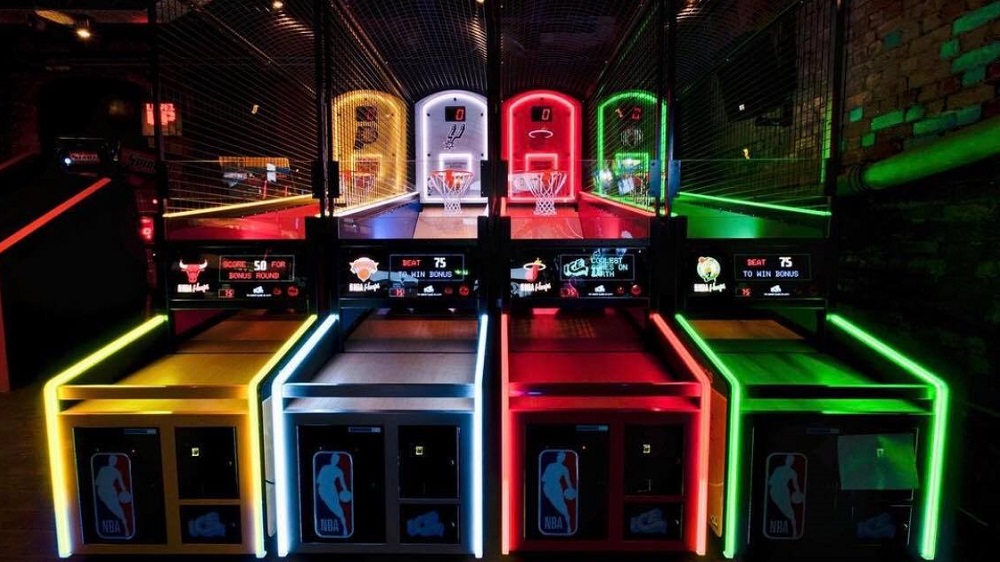 Fancy yourselves as gaming pros? Put your money where your mouth is with ArCaines, a retro spot in the legendary Cains Brewery Village celebrating all your favourite gaming classics from your childhood. Complete with favourites such as Big Buck Hunter, Guitar Hero, Halo and Mario Kart, there's loads of chances to top the leader-boards and flex your joystick fingers! They've got everything from arcades, PCs, consoles and pinball machines. And if all that gaming makes your stomach rumble, there's loads of mouth-watering food on offer, with hot dogs and pick 'n mix on offer, and tasty drinks including beer and cocktails. Interested? Of course you are. Have a look at their website to find out more.
Where: 31 Grafton Street, Cains Brewery Village, Liverpool, L8 5SD
Cost: £12 Monday to Thursday, £18 Saturday to Sunday
Age: Monday till Thursday 18+ after 9pm and Friday to Sunday 18+ after 6pm
Bongo's Bingo
The guys down at Bongo's Bingo have mastered the definitive bingo experience! A wild mix of traditional bingo, dance-offs, rave intervals and audience participation, the Bongo's Bingo franchise has hit almost fifty locations across the world, so they must be doing something right! Complete with chances to win everything from giant pink unicorns and Henry Hoovers to mobility scooters and karaoke machines, you're in for a night out you won't forget in a hurry. A wild shared social extravaganza and pure nostalgic escapism, you're in for an awesome experience! Sound good? We thought so. Check out their website to find out more!
Where: Content, Cains Brewery Village, Liverpool, L8 5RE
Cost: £19 per ticket
Age: 18+
EinsteinBier Haus
Fancy a night out, German style? Recreate the glories of Oktoberfest with a night out at the newest day to night venue in Concert Square. Set over two floors complete with hearty food, great bier, sport and live music, it's certainly not one to miss. The Bavarian-inspired bier haus has over twenty German beers and thirty large TV screens, so an ideal spot to catch the footie! And if you fancy something a little different, get your feather boa ready and catch a cabaret set, or give their shuffleboard a spin – or check out some delicious German style munchies if you're feeling a bit peckish! Check out their website to find out more.
Where: Concert Square, 26 Fleet Street, Liverpool, L1 4AN
Age: 18+
Junkyard Golf
Where else could you take a trip to the depths of the tropical jungle, then wind your way through towers of tyres and auto-junk? Maybe you fancy a trip to the circus, complete with twisted clowns and dark fairgrounds? If so, (of course you guys do!) make sure to get yourselves down to Junkyard Golf Club, where all your crazy golf dreams can come true! If all that golfing makes you thirsty after a round or two, be sure to check out their delicious range of drinks, where they offer everything from slushies to ciders. Interested? Obviously. Have a look at their website to find out more.
Where: Liverpool One, 1 Paradise Street, Liverpool, L1 8JF
Cost: £10 per game peak and £8.50 per game off-peak
Age: 18 + after 6pm
Prices etc were correct at time of publishing. Best to check with the venue website for up to date information and offers.
Header image: Lane7 Liverpool