As the cold nights draw in you'll be looking for something to keep you warm. How about a round of mini golf followed by a few rounds of cocktails? Check out our Play List of places to play mini golf in Nottingham (plus a few other options if you want to make a day of it)…
The Lost City Adventure Golf
Adventurers rejoice! We have the crazy golf location for you! You can leave the over-sized backpack at home and forget the expensive plane ticket, as Lost City Adventure Golf is an exciting expedition a little closer to home. We're talking about an incredible eighteen-hole course that will truly putt your skills to the test! Play beneath their jungle canopy to the sound of exotic creatures, only interrupted by the victory cry of your effortless hole-in-ones. Unlock the secrets of ancient civilizations as you explore towering ruins of mystical rocks and other cracking features that will make your night unforgettable. Though remember, even great explorers need a pick me up! Luckily, they've got you covered with a fantastic full service Tikki Bar that's bound to get you in the mood, whether it's a first date or just a day out with your mates. So why not discover your adventurous side by visiting their website and taking up the challenge?
Where: The Cornerhouse, Burton St, Nottingham NG1 4DB
Cost: £9 peak and £7 off-peak
Age: All Ages Welcome
Gloryholes
Every fancied checking out a glory hole? Well, we reckon you'll be a big fan of this one! Gloryholes crazy golf is a one-of-a-kind venue in the heart of Nottingham. This raunchy eighteen-hole venue is a cracking excuse for friends, or perhaps a family day out (depending on how old your family is, though). Putt through an amazingly creative course complete with themes such as Lord of the Rings, aliens and a few other surprises. After your effortless victory, why not celebrate in their custom lounge complete with cheeky cocktails and some taste-sational food from the amazing Ugly Bread Bakery? If you're looking to get up to something a bit naughty this weekend visit their website to learn more.
Where: Gloryholes, George St, Nottingham NG1 3BH
Cost: £10 per round
Age: 18+ venue
Roxy Ball Room – Cornerhouse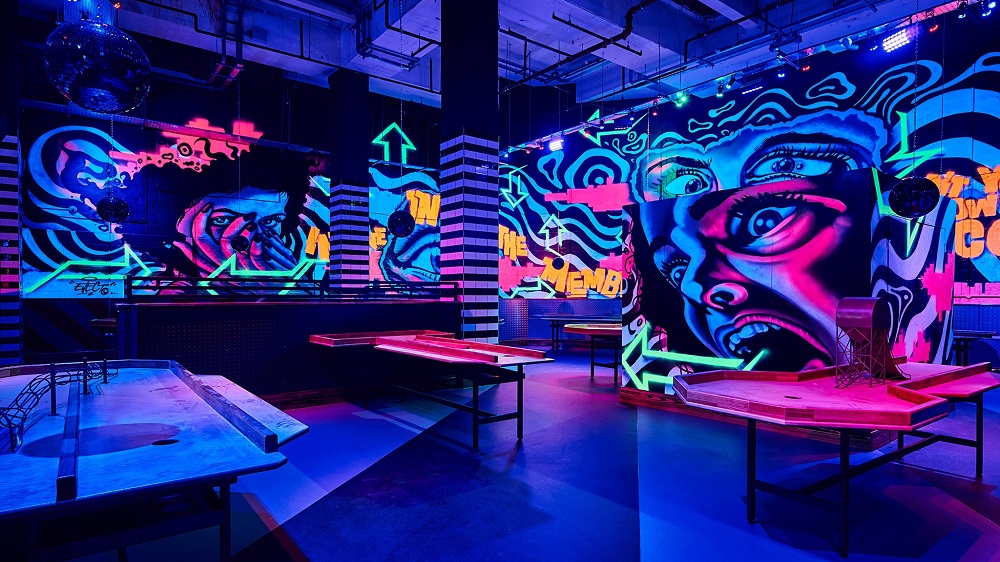 You've heard of crazy golf, but have you heard of crazy pool? Imagine all the fun of both pool and crazy golf, and now imagine they had a baby! If this sounds like something you'd like (and, erm, what's not to like?), then be sure to pay a visit to Roxy Ball Room at the Cornerhouse. Keep in mind it's not just crazy pool that you can enjoy! This venue is chock full of fun, complete with ping pong, American pool and more! If you're looking to bring the winter fun, why not give ice curling a go? If you fancy yourselves karaoke kings or queens, then their karaoke booth is where you'll want to head to. Looking to get bowled over? Well, you're in luck, as they have both duckpin and regular bowling for you to enjoy. Still looking for more? Why not get the party started with a game or four of beer pong if you're feeling feisty! Check out their website for more info on this epic emporium of fun.
Where: The Cornerhouse, Burton St, Nottingham NG1 4DB
Cost: £10 peak and £8 off peak per person for crazy pool
Age: 18+ venue
CrazyPutt: Lost World Adventure Golf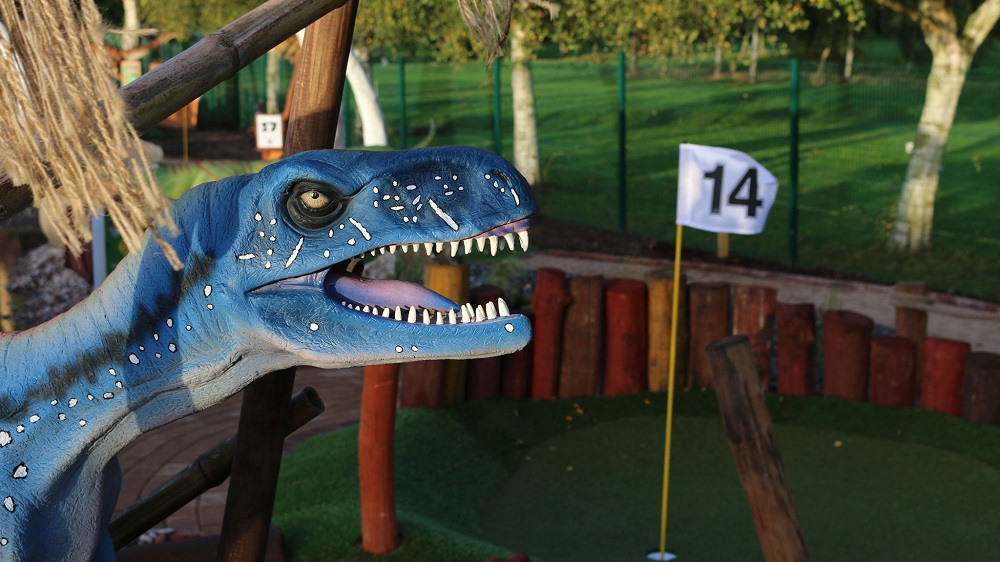 Fancy an outdoor floodlit adventure? Well, CrazyPutt is an 18-hole mini golf extravaganza with a prehistoric twist. Dodge the dinos and swing past the slimy swamp on your way to golfing glory. For golfing connoisseurs you'll spot nods to famous golfing holes from around the world. Open until 10pm on weeknights this is a fun spot for a date with a difference or a student night starter. You can celebrate your win in the cosy Grace's Coffee Shop with a beer, a glass of wine, or in this chilly weather you might want to try out their Special Hot Chocolate! Get you and your friends booked in for a festive treat, by visiting their website.
Where: Riverside Family Golf Centre, Lenton Lane, Nottingham, NG7 2SA
Cost: Adults £8
Age: Open to all the family
OTHER GREAT ACTIVITY VENUES IN NOTTINGHAM
Roxy Ball Room – Thurland Street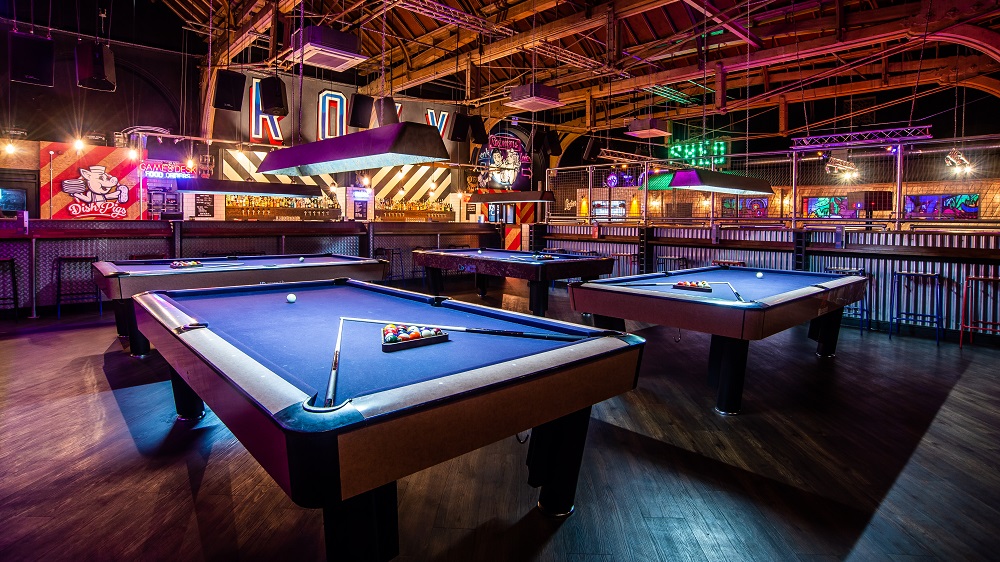 For lovers of fun, the Roxy Ball Room family is bringing double the excitement for the city of Nottingham with not just one, but two stunning venues! You can find this sister location on Thurland Street, so there's no excuse not to take your trip out to the next level. With this new location comes a whole plethora of fun, where you can hustle for that next round of drinks on their full-size pool tables, or showcase your balls of steel on their Olympic size table tennis tables. Think you're a slight of hand master? Well, why not take on your mates on one of their numerous shuffleboard tables. If you're looking to get the drinks in with a twist, then their beer pong tables are for you, where regardless of if you win or lose your round, you can get in the mood after a match or three. Still on the fence? Well, you won't stay there for long once your feast your eyes on their food and drinks menu! There's something for everyone, whether it's classic cocktails like Long Island Iced Teas, or maybe one of Roxy's signature creations, such as their Last Dance Cocktail! So, what are you waiting for? Visit their website to discover how to book.
Where: 1st Floor, 10 Thurland Street, Nottingham NG1 3DR
Cost: £15 peak and £12 off Peak for pool, ping pong and shuffleboard. £18 for beer pong
Age: 18+
Nottingham Bowl
Fancy yourself a modern day "dude"? Well then, be sure to bring those Big Lebowski vibes to Nottingham Bowl, a paradise for back spinners, bowlers and Saturday night strikers alike! One of the UK's largest bowling alleys, visitors are spoilt for choice with two floors and forty-eight unique bowling lanes (so more than enough room for your post-match victory dance)! You can also take the fun to virtual dimensions with a fully stocked NAMCO arcade that is set to bring new levels of fun to your night as you game the night away. Of course, bowling is hungry work, so be sure to fuel up with classic eats such as hot dogs, pizzas and a generous selection of sides (we highly recommend the cheesy chips)! If you're looking to see if your aim is true after a pint or four, then why not try your hand at disco darts, a digital darts game that is sure to impress. Finally, who can forget their brand-new karaoke booth? A sound-proof (we hope) haven where you can sing like the stars after enjoying one of many cocktails their full-service bar has to offer. So, to get the party started, head on over to their website.
Where: Belward Street, Nottingham NG1 1JZ
Cost: £8 for 1 game
Age: All ages welcome
Bierkeller & Shooters Bar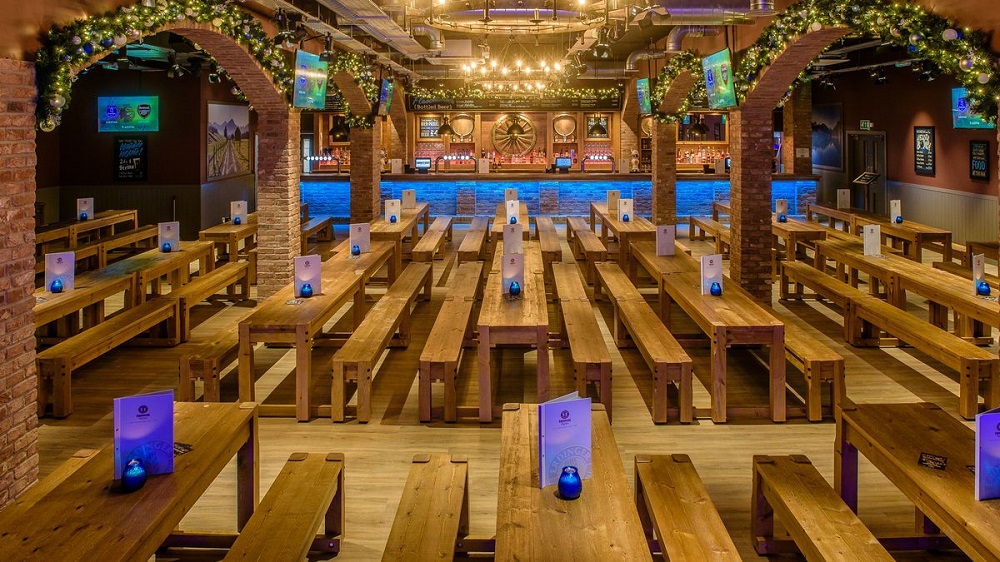 Love German beer but can't afford the Oktoberfest ticket? Well, we've got the next best thing for you. Bierkeller Nottingham brings the fun and taste of the Fatherland to Nottingham like no one else! Enjoy the look and feel of a traditional German Beer Hall in the heart of the city, and drink up the atmosphere alongside a variety of tasty draft beers in real German steins (who knew getting drunk could be so fun)? Then, after a few pints or so, get your game face on with Bierkeller's fantastic game section run by Shooters Bar. Score a bullseye in their darts lanes or sink the eight in the pocket on one of their six English pool tables – the choice is yours! Regardless of what you fancy, we can guarantee you'll be itching to return to this sensational venue. To learn more, why not visit their website to get the party started.
Where: 15-17 Friar Lane, Nottingham NG1 6DA
Cost: £6 for darts, £15 for pool and £20 beer-pong 4-pint pitcher (must reserve a table for access)
Age: 18+
Das Kino
A venue loved by locals and visitors alike, Das Kino is a true Nottingham night out with a difference. Chock full of eclectic furniture and neon lights, visitors can enjoy a drink in the city like never before! You won't want to miss out on the fun at this exclusive venue! They have everything you could ever hope for, including stunning live music, DJs and dancing. They've also got some Olympic standard ping pong tables, so if competitive gaming is your thing, challenge friends old and new to see who has what it takes to claim the ultimate bragging rights. Your reward? We'd highly recommend a round from their amazing drinks menu including addictive cocktails, draft beers and some stunning spirits. Be sure to see what all the hype is about at Fletcher Gate! Interested? Of course, you are. To get started, check out their website for more info.
Where: 22 Fletcher Gate, Nottingham NG1 2FZ
Cost: Ping Pong is £5 per game
Age: 18+
Prices etc were correct at time of publishing. Best to check with the venue website for up to date information and offers.
Header image: Roxy Ball Room, Cornerhouse