Didn't your Mother always tell you, it's quality not quantity that matters? Well, Nottingham, that's just what you've got in terms of Shuffleboards. In this week's Play List we are sharing the places you can play the gloriously competitive game of Shuffleboard, but also some of our favourite places for a fun night out …
Roxy Ball Room – The Cornerhouse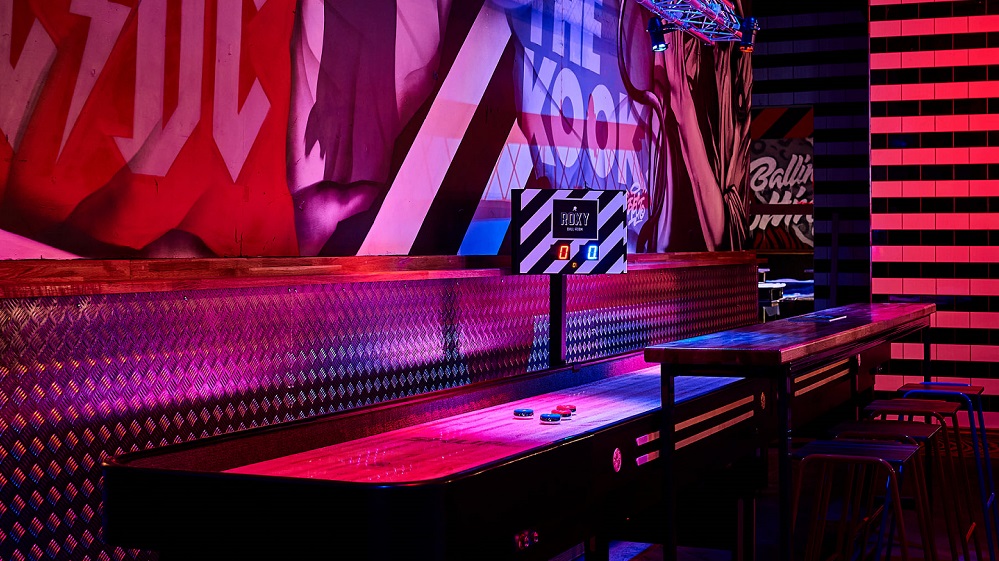 The latest addition to the Nottingham Roxy scene, it's certainly not one to miss! Of course, we've gotta tell you about their simply gorgeous shuffleboards that you and your mates will love, and there's multiple at all their venues, so you're spoilt for choice whether you fancy a gaming marathon or just a quick match over a drink to chase away those January blues. Whatever you choose, you'll always get a venue chock full of fun when you play Roxy a visit. We're talking two types of bowling (duckpin and original), ice curling, lawn games (be sure to bring a coat!), crazy pool (an amazing mash up of crazy golf and pool), regular pool, a karaoke room and beer pong! Now that's a whole lot of fun under just one roof. If all that excitement is working up an appetite, you're in luck as their venues come complete with some exceptional food and drink! Tuck into an array of handmade pizzas and amazing sides while washing it down with some seriously delish cocktails. So to get cracking, why not take a gander at their website?
Where: The Cornerhouse, Burton Street, Nottingham NG1 4DB
Cost: £15 peak and £12 off-peak for shuffleboard
Age: 18+ venue
Roxy Ball Room – Thurland Street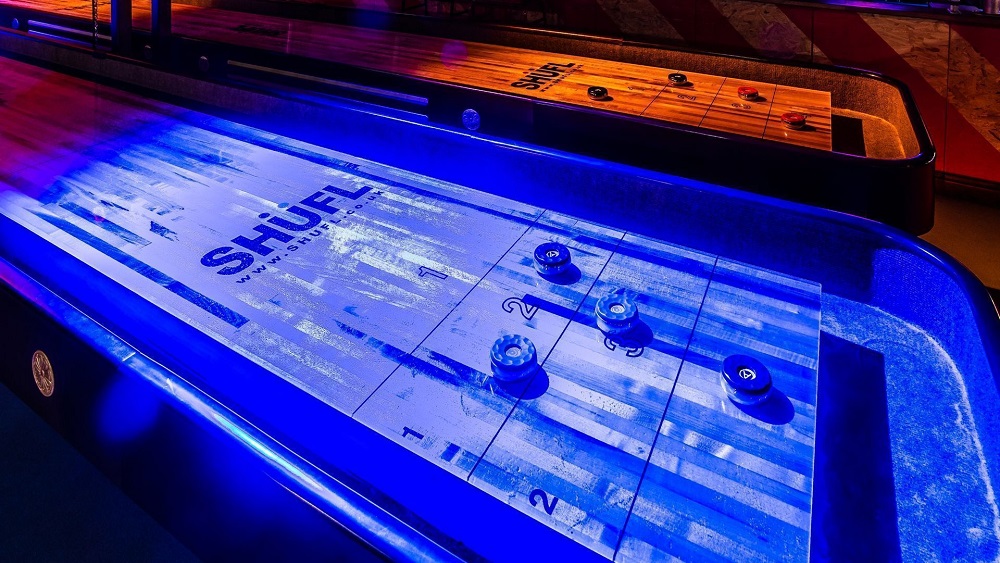 If you're looking for fun in Nottingham, Roxy is bringing double trouble with not one but two amazing venues! Nestled in Thurland Street, this venue hosts different games and thrills whilst still bringing heaps of Roxy magic to your next night out. Game the night away with their amazing shuffleboards as you flex your hand eye co-ordination to become the new Roxy champ! Or perhaps partake in a few other surprises this venue has in store – find the pocket with their full-size pool tables as you play for the next round of drinks, channel your inner Forrest Gump as you take on their ping pong tables or even get the evening started in style with their beer pong experience (win or lose – you'll still feel great after)! With classic Roxy fare, amazing cocktails and being open till late, suddenly those gloomy winter nights don't seem so bad. Be sure to check out their website to get the year started the right way.
Where: 1st Floor, 10 Thurland Street, Nottingham NG1 3DR
Cost: £15 peak and £12 off peak for shuffleboard
Age: 18+ venue
OTHER GREAT ACTIVITY VENUES IN NOTTINGHAM
Das Kino
Looking for a quick bite or perhaps some fun after a long week at work? Well then, why not play a visit to Das Kino, one of Nottingham's favourite locations for an energised night out. With full sized table tennis set-ups, why not get a little bit active before the first round of drinks in the exceptional ambience of their Fletcher Gate location? Then, if you're looking to celebrate your victory or commiserate your loss, they've got you covered with their amazing bar area. With stunning aesthetics, you can enjoy their deliciously delightful cocktail and drinks menu or perhaps enjoy a crisp beer? The choice is yours. You can even enjoy special events, such as on Saturdays where they boast a whole load of different activities including drag queen bingo, live entertainment, unlimited prosecco and disco cocktails, as well as the best and worst music from the last thirty years. So what are you waiting for? Learn more on their website to get the party started.
Where: 22 Fletcher Gate, Nottingham NG1 2FZ
Cost: Ping Pong is £5 per game
Age: 18+
Huddl Nottingham
Fan of sports but looking for a venue where you can be part of the action as well as watch all the best matches? Well then, why not check out Huddl in Nottingham for a cracking bit of live sports, live games and heaps of good times. With dozens of HD screens scattered all over, you'll never miss a second of some of the latest and greatest sports matches. Or why not bring the friendly competition yourselves as you challenge your mates to the next round on their in-house gaming consoles? If you're looking for a night out with a difference, we deffo recommend a go on their state-of-the-art interactive darts setup, a crazy mashup of darts and the digital world that will truly make it a night to remember. As Huddl is also a fully stocked bar, you won't need to travel far for a tipsy top up, with a fully stocked array of cocktails, beers, wines and spirits – so they've got everyone's favourites to really get the night started. Or if you're feeling like a quick bite, why not enjoy something from their mouth-watering menu, from fresh burgers to home-made pizzas – the choice is yours. To get your night underway, you'll be wanting to head to their website to discover more.
Where: 6 The Poultry, Nottingham NG1 2HW
Cost:£12 per 60 minutes and £18 for 90 minutes of social darts
Age: 18+ after 7pm
Hatchet Harry's
Looking for a way to check off your New Year's exercise goals in style? Why not become a seasoned axe thrower (we guarantee it's way more fun that dumbbells and treadmills)? If you're looking for places to chuck axes in Nottingham, we've gotta tell you about Hatchet Harry's, a venue that's a cracking experience. With five venues currently across the UK, you know they're surely doing something right. With the capacity to hold up to sixty-six people (yep, you heard right) at a time, you know they've got the goods to help your trip out really stay on target. With free coaching from their axe throwing experts as well as games and competitions, you're certainly in for ninety minutes of action-packed fun in this truly terrific venue. So why not take aim at their website to discover how to book your slot?
Where: 32 Lister Gate, Nottingham NG1 7DD
Cost: £21 per person for 90 minutes of Axe Throwing
Age: 8+
Gloryholes Golf
Looking for a venue that can add a bit of spice to your next Nottingham outing? Well, if you're looking for a truly memorable first date, or perhaps a work night out that everyone's sure to remember, why not check out Gloryholes in Nottingham, the crazy golf venue that will add a bit of risqué to your night out as well as a large dose of laughs. Complete with eighteen holes of raunchy mini golf fun in the heart of Hockley, it's a great place to kick off your night with some cheeky cocktails and mouth-watering pizza helpings sure to get everyone going! Interested? Who are we kidding? Of course you are. Check out their website to find out more.
Where: Gloryholes, George Street, Nottingham NG1 3BH
Cost: £10 per round
Age: 18+ venue
CrazyPutt Adventure Golf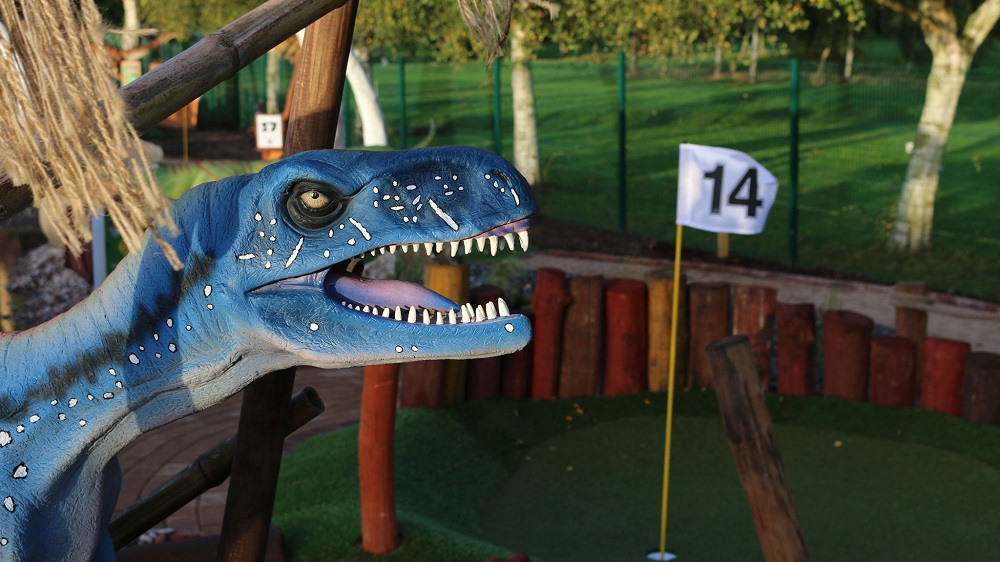 With the golf range being pretty chilly this time of year, why not shrink your round with the fabulous CrazyPutt Adventure Golf? Leave the January blues behind as this venue transports you to an ancient Jurassic world where you'll find a plethora of golf holes and dinosaurs alike! Putt past abandoned jeeps, Velociraptors and much more as you take aim at the top spot of day-out champion. You'll also have to use the raft system to traverse the stream mid-way through the course, so be sure not to get wet! Perfect for family days out, date nights and more. Check them out via their website.
Where: Riverside Family Golf Centre, Lenton Lane, Nottingham, NG7 2SA
Cost: Adults £8 a round
Age: Open to all the family
Penny Lane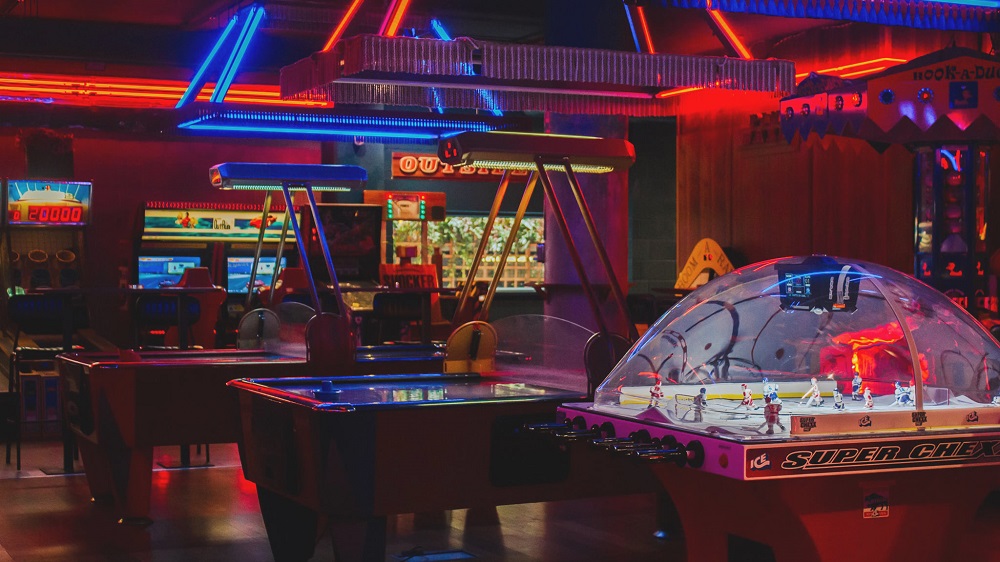 Dark nights make neon lights all the brighter. And nowhere else in Nottingham do those light look as good as the ones decking out Penny Lane's bar. A fantastic mashup of fine dining and awesome atmosphere, Penny Lane is your one stop shop for great eats, delicious drinks and the perfect place to play. Enjoy delish deli sandwiches, handmade hot-dogs and even a waffle pop (your soon to be new favourite dessert)! Why not sip cocktails from tin cans whilst you take a few moments to check out their amazing nostalgic games collection? Enjoy air hockey, table football, skee ball, ice hockey and Penny Lane's very own Donkey Derby. So if you're looking for a location that has a bit of everything and a great night out, be sure to check out their website to get started.
Where: 9 Fletcher Gate, Nottingham NG1 1QQ
Cost: The games run on tokens. 1 token costs £1. On Sundays you can get double tokens (so £1 for 2 tokens)
Age: 18+ after 6pm
Prices etc were correct at time of publishing. Best to check with the venue website for up-to-date information and offers.
Head image: Roxy Ball Room