Spring is in the air and it's time to bring your renewed energy to the lanes. For a fab night out of bowling, american diner classics and beers to keep you fuelled up we've got some great places for you to try out.
Looking for a great night out in Nottingham? Try our Play List of places to go bowling …
Nottingham Bowl
Get yourselves down to Nottingham Bowl this spring for a night out you're sure to remember! Complete with bowling essentials such as twenty-four lanes across two floors, they've also got other gaming classics such as Digital Darts, which tests your throwing skills on several interactive darts boards. After something more? They also boast a NAMCO arcade and a live DJ and light show every week. If you fancy some food, they've also got an awesome menu stuffed with staples like pizza and hot dogs, so the perfect refuel after a hard-won game or two. Check out their website to find out more.
Where: Belward Street, Nottingham NG1 1JZ
Cost: £8 for 1 game
Age: All ages welcome
Roxy Ball Room (Cornerhouse)
If you've not managed to check out the extensive Roxy Ball Room franchise yet, why not? Swing by their Cornerhouse location right in the heart of the city, and party all night long with all their brilliant games! Test your reflexes with a round or two of ping pong, or challenge your mates to a game of bocce? If you reckon you've got the skills, have a go on one of their many bowling lanes, or try your hand at shuffleboard! Curling's not just for the winter; Roxy have amazing ice-free curling! You can also grab the mic in their Karaoke room to let rip with your go-to fav. Whatever you fancy playing, they've got it, and it's sure to be a great night out this spring! Have a look at their website to find out more.
Where: The Cornerhouse, Burton Street, Nottingham NG1 4DB
Cost: £10 peak and £8 off peak per person for bowling
Age: 18+ venue
Tenpin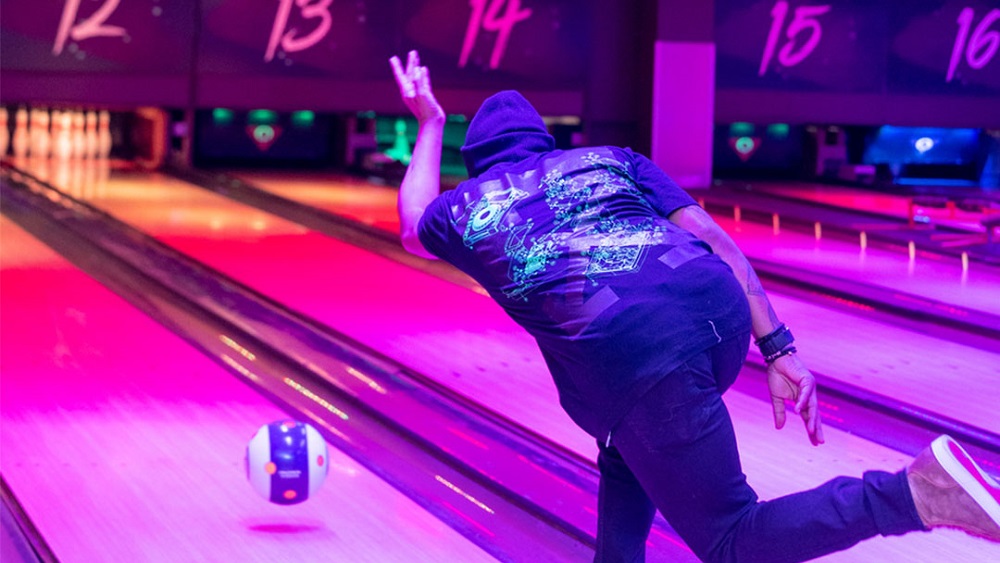 Recently refurbished, you're in for a hell of a treat at the brand spanking new Tenpin in Notts! They've got all sorts, including karaoke rooms, updated bowling lanes, an extensive bar (always a draw, we find!) and their new Sector 7 laser tag experience! If you're feeling a little hungry, they've got a mouth-watering menu on offer, perfect for sharing with everyone from mates to first dates. They've also got some exciting escape rooms in the works, so make sure to keep your eye on this venue. Interested? Yeah, we thought so. Check out their website here to find out more.
Where: Clifton Boulevard, Redfield Way, Nottingham NG7 2UW
Cost: £8.55 per game of bowling
Age: All ages welcome
Bowling a little further afield
Mansfield Superbowl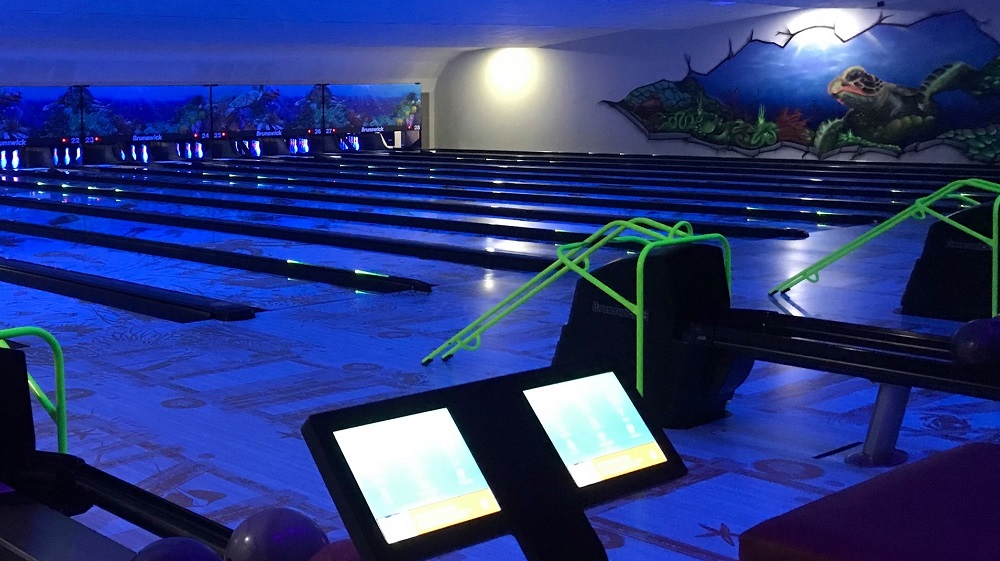 Fan of bowling? Want to show off your awesome strike skills? Don't miss out on a visit to Mansfield Superbowl – the ideal venue for all your bowling needs, complete with twenty-eight lanes of gaming fun! With loads of offers available, from everything to Bowl and Breakfast at the weekends to Bargain Bowl in the week, it's a perfect spot for everyone from cash-strapped students to bargain loving punters! They also house a diner complete with a delicious fast-food menu, so perfect if you fancy a post-match pick-me-up. Have a look at their website to find out more.
Where: Stockwell Gate, Mansfield NG18 1LG
Cost: £9.95 per game of bowling
Age: All ages welcome
UK Superbowl – Newark
The next venue on our list is sure to bowl over you and your mates, as UK Superbowl is a fantastic day out for everyone! Grab yourselves some lane shoes, your lucky bowling ball and of course your game-face, and prepare for the bowling battle of a lifetime! If you're looking for a bit more hand to eye fun, then why not give their American pool tables a spin and play for the next set of drinks? So, for some classic fun in an awesome setting, be sure to learn more about their opening times and location on their website today!
Where: UK Superbowl, 69 Castle Gate, Newark NG24 1BE
Cost: £6 per game
Age: All ages welcome
OTHER GREAT ACTIVITY VENUES IN NOTTINGHAM
Das Kino
Looking for a one-of-a-kind venue in Nottingham? Well then, why not check out Das Kino,a vibrant venue where you can enjoy all the city has the offer in one place. Recline on vintage sofas and enjoy the neon lights as you snap memories for Insta. However, all that fun is thirsty work, so be sure to check out their spectacular drinks menu. From custom cocktails to crisp IPAs, the choice is yours as to how you get in the mood. If you fancy bringing the action, you can always try out their Olympic sized ping-pong tables to determine the ultimate weekend champion. Then, be sure to finish the day with something from their mouth-watering menu (we're super fond of their pizzas). To discover more, check out their website.
Where: 22 Fletcher Gate, Nottingham NG1 2FZ
Cost: Ping Pong is £5 per game
Age: 18+
Huddl
Looking for an action packed sports location where you can watch and play your favorite game? Let us introduce you to Huddl in Nottingham, where live sports and live good times collide. Huddl is a must visit for a night out to remember, complete with state-of-the-art interactive darts, banging tunes and a fully stocked bar. With tons of HD screens and all the latest fixtures, you can catch every glorious sporting match in one place. Or, if you're more about making your own fun, why not take their in-house gaming consoles for a spin? At Huddl's fully licensed, you won't need to look far for a tipsy treat or two, with a plethora of beers, cocktails and spirits to fuel your fun. Or if its food you're after, be sure to sample some of their fresh pizzas or home-made burgers. To get your visit started, you'll want to head to their website to discover more.
Where: 6 The Poultry, Nottingham NG1 2HW
Cost:£12 per 60 minutes and £18 for 90 minutes of social darts
Age: 18+ after 7pm
Hachet Harrys
Looking to put a spring in your step (or wrist) this March? Why not become a seasoned axe thrower at Hatchet Harry's – a bespoke axe throwing experience in Nottingham? A cracking experience, it's one of many locations around the country, so it's safe to say that they know how to give you a great time. Whether a date with a difference or a work do to remember, know they've got the goods to help your trip really hit the bullseye. With personal coaching from their on-site axe gurus, you'll be an expert in no time, and with ninety minutes to enjoy, you've more than enough time to really summon your inner berserker. So, why not take aim at their website to discover how to book your slot?
Where: 32 Lister Gate, Nottingham NG1 7DD
Cost: £21 per person for 90 minutes of Axe Throwing
Age: 8+
Roxy Ball Room (Thurland Street)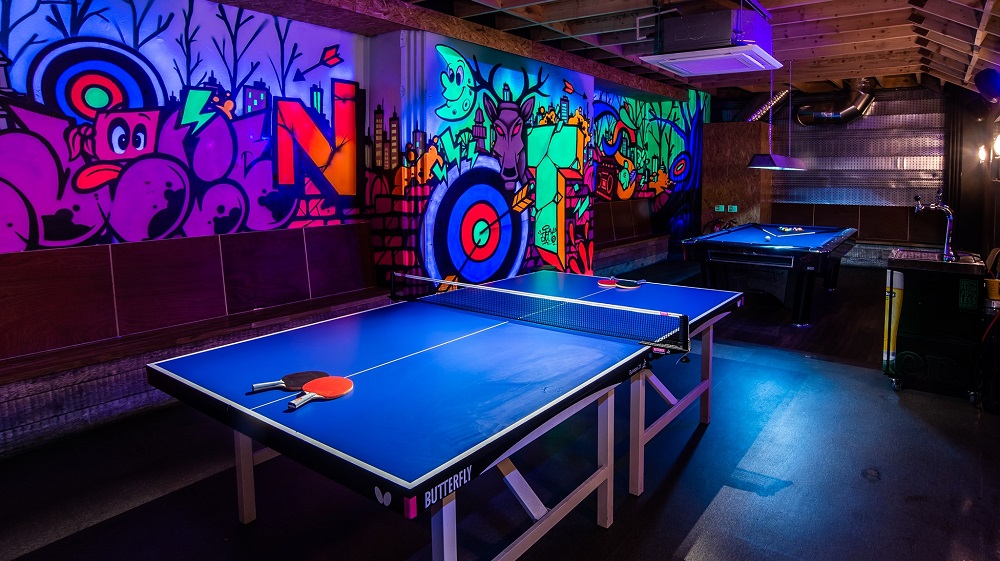 Roxy Ball Room on Thurland Street has tons of cool games to challenge your mates to (winner gets all the glory, right?), you can practice your pool game, flex your coordination on the ping pong table or show off your shuffleboard skills while all your friends watch in amazement. And of course, you'll definitely want to check out their beer pong set-up (we all know you guys have been practicing!) Interested? Why not visit website to discover the latest they have to offer.
Where: 1st Floor, 10 Thurland Street, Nottingham NG1 3DR
Cost: £15 peak and £12 off peak for pool, ping pong and shuffleboard. £18 for beer pong
Age: 18+
Prices etc were correct at time of publishing. Best to check with the venue website for up-to-date information and offers.
Header image: Roxy Ball Room Nottingham