Swingers Golf, West End first opened in 2018 with its fresh and exciting take on crazy golf. Putting through tunnels and around miniature versions of famous landmarks was no longer confined to beach holidays with granny; mini golf had got cool!
Since its inception Swingers Golf has been aimed at adults, providing a place for quality food, innovative cocktails and creative golf holes. Adopting the ambience of an English Country Golf Course, Swingers Golf create stunning venues and courses that are instantly Instagrammable.
Now, they have invested £2.5m transforming the upper floor of their West End location – and wow have they done an incredible job.
Recently Social Playlist were invited to an event, celebrating the launch of their new space. Check out our reel from the event.
As the doors to the top floor open you're greeted by the impressive new Meteorite golf course. Everywhere you look there are moving obstacles, lit up like fairground rides.
The ground is covered by faux-grass, with the holes demarked by undulating wooden walls, overflowing with bright flowers and greenery. At each hole there's a marker, so you know where to go, but these circular pedestals are also the perfect place for you to rest your cocktail whilst you take your shot.
The challenge at each hole is completely different to any other you'll find on the course. Perfectly judged in their difficulty. Hard enough to need a few shots to complete each hole, but not annoyingly challenging that it just becomes frustrating.
The new meteorite course features an impressive Ferris Wheel, which must stand at around 8 or 9 ft high as well as the final hole which looks like the top of a merry-go-round, that spins sedately at an angle.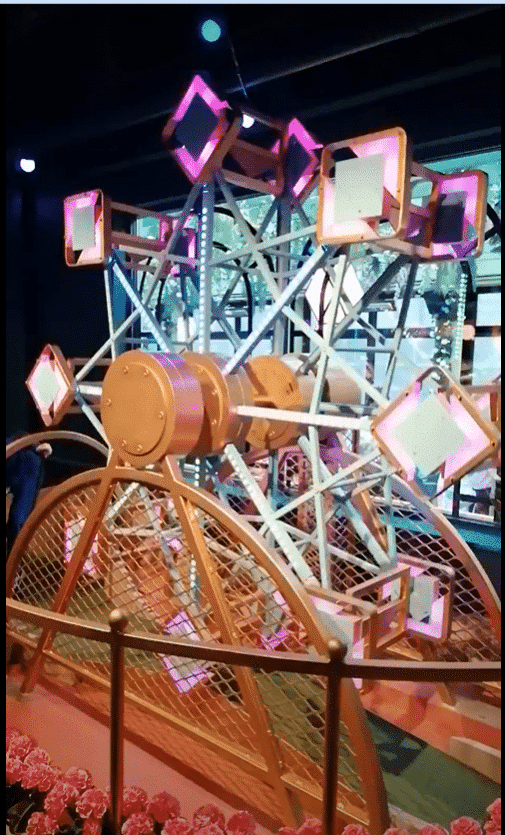 Everywhere you look there are people fist pumping the air, celebrating their impressive shot as well as embarrassed chuckles and faux pouts in response to failed putting attempts.
Despite the breathtaking sight of the moving elements, the spinning lights and the high energy vibe, Swingers Golf have stuck to the traditional low-fi scoring method – a card and pencil. The spectacular venue makes you reach for your phone so you can capture the visual magic but then you get to enjoy the gaming, the banter and the experience without the need for digital assistance. Meaning that Swingers successfully captures the romantic nostalgia of traditional crazy golf whilst allowing you to enjoy the dazzle of the very chic, modern course.
All Weather Terrace
On the far side of the golf course you'll find the serene terrace. Effectively this is a room with a retractable roof. Along the inner long wall are large windows looking through to the golf course, on the other are windows looking out to the bustling streets below.
However, the room has been so generously adorned with hanging foliage and leafy wall panels, that you don't notice the world outside. Instead, the space feels like the inside of an orangery, light and airy.
The space is filled with ample tables and seating, including banquette benches along the edges, covered in fabric with a suitably leafy design.
Street Food and Cocktails
Central to any successful competitive socialising venue is excellent gaming, quality food and tasty drinks. Unsurprisingly, Swingers Golf have worked exceptionally hard to ensure they are ticking all these boxes.
Swingers have made the wise decision to bring in the experts. Food on the top floor is provided by burger specialists Patty&Bun and they know how to make you salivate. Plus, I must add, they serve some of the best chips I've ever had.
The upper floor comes with its own expansive bar. As you'd expect they have a wealth of drinks available. However, the stars of the show are their cocktails. Carefully crafted and shaken by professional mixologists they offer a great range of Classics and Signature cocktails. I did quite enjoy the Helter Seltzer (Tanqueray London Gin, Aperol, Served Hard Seltzer Lime, elderflower cordial, lemon juice, raspberries and orange) and the Clover Club (Tanqueray No.TEN, Belsazar Dry vermouth, fresh raspberries, aquafaba and lemon)
Closing Thoughts
There were a couple of other things that really stood out…
1: Staff. Swingers Golf have managed to recruit a really great team. Everyone we met, from the people on the door, the person handing out the golf clubs, the bar staff, the waiting team, everyone was excellent. Making customers feel important, special and welcomed has a huge impact on recommendations and return visits. You'd think it would be like this everywhere, but it isn't. So Swingers – you're doing great on this!
2: Parties. If you're looking for somewhere to hire for an exclusive party then this would be the most phenomenal venue. You have everything you could want within a private space – a brilliant activity, plenty of seating for when you're not playing, a bar, great food, a DJ booth and, of course, toilets.
This was a really super venue, offering a really special night out.
Where: 15 John Prince's Street, W1G 0AB
Cost: Starts from £13.50 per person for a round of golf
Age: 18+ only
Other Swingers News