Swingers Golf have created an incredible mini golf experience in NoMad, pairing brilliantly fun crazy golf, with epic DJ sets and instagrammable cocktails, making it a strictly +21 venue.
Opening on Friday 17th June 2022, beneath the brand-new Virgin Hotel, at the heart of New York City, Swingers will be bringing its quintessentially English 1920s country golf club vibe to the concrete jungle.
The stunning 23,000 sq ft venue, with 20-foot-high ceilings and golf ball chandelier is electrified by the loud soul, funk and disco beats being spun by the resident DJ. The sprawling venue houses six-bars, including The Greenhouse and the Clubhouse. It is also home to four gourmet street food brands.
Crazy Golf at Swingers NoMad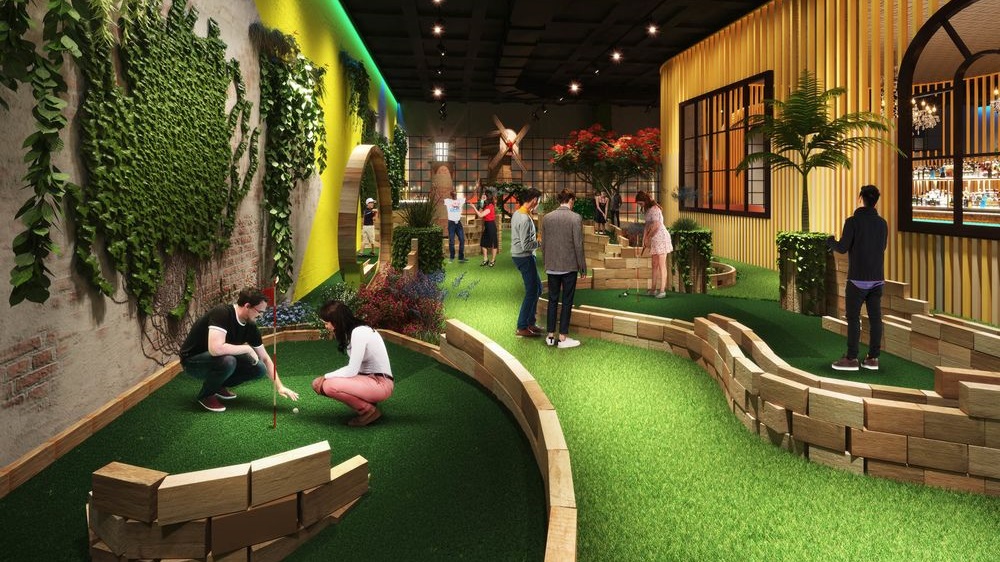 Swingers NoMad offers three, nine-hole golf courses, marked out by grassy lawns, white picket fences and leafy trees.  Details of all the holes are yet to be revealed but you can expect, loops, challenging hidden holes and large moving installations like the famous Swingers Windmill (the image at the top of the page shows the one at Swingers DC).
Street Food at Swingers NoMad
The food offering at Swingers NoMad is going to be incredible; with four of New York's finest street food vendors setting up shop. Sauce Pizzeria serving up thin-crust slices and pies with the finest toppings, like their Pesto Artichoke (sliced mozzarella, homemade pesto, roasted cherry tomatoes, roasted artichokes & parmesan). Miznon is a global Mediterranean street food phenomenon based on filled pita. Brooklyn-based taco creator Fonda – we hope they'll be serving up their Flautas De Pollo (two crispy tortillas filled with shredded chicken, toped with salsa verde, pasilla de Oaxaca salsa, queso fresco and crema!!!). For desserts there's Mah Ze Dahr Bakery who already have three sites in New York.
Decadent Cocktails at Swingers NoMad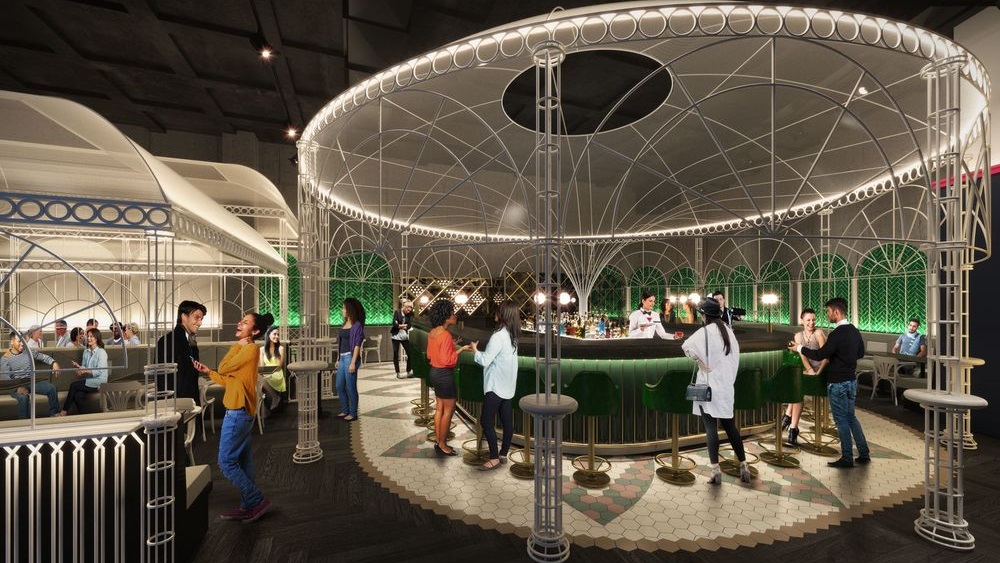 You can take your drinks at the bar or you can order on your phone and have them served to you by a Caddie. Dressed in proper golfing attire: checkered trousers and polo shirt, Caddies will deliver your refreshments to you on the course.
The bars are stocked with pretty much every tipple you could imagine. Gorgeous craft cocktails are a key feature of the Swingers bar menu. The Swingers mixologists have even created 12 bespoke cocktails especially for Swingers NoMad.
History of Swingers Golf
Swingers started in 2014 as a pop-up in London. Since then, they have opened up Swingers City (2016), Swingers West End (2018) and Swingers DC Dupont Circle (2021). There are plans to open Swingers Navy Yard in 2023 as well as launching an extension to their London West End venue in May of this year. The Swingers team hope to have 17 venues open by the end of 2025.
Other Swingers News:
SWINGERS MINI-GOLF BAR TAKES A PUTT ON THEIR THIRD US VENTURE
SWINGERS HITS THE SWEET SPOT IN US DEBUT, TODAY
SWINGERS PUTTS OVER THE POND TO SECURE VICTORY IN THE USA