If you're living in Ipswich and felt an unexpected change in the atmosphere, there's a very good reason … there's a new Boom in town. Opening tomorrow (27th April 2022) is the epic Boom Battle Bar Ipswich!
Slap bang in the middle of town, in the Buttermarket Centre is a booming new battle bar. Stacked full of fun games, cocktails and tasty snacks, Boom Battle Bar Ipswich will be open from midday, every day of the week.
Awesome Activities at Boom Battle Bar Ipswich
When it comes to games BBB know how to please and Ipswich has some awesome choices …
Augmented reality batting cage
Augmented reality darts
Axe throwing
Crazier Golf
Karaoke – a first for BBB in the UK
Shuffleboard
Beer Pong
Ping Pong
American Pool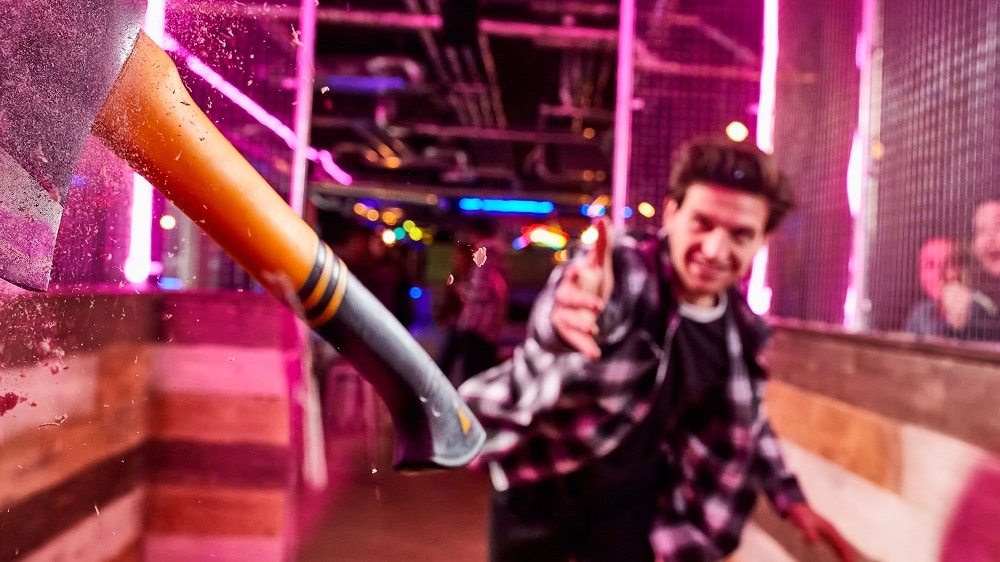 Axe throwing? Really? Don't knock it until you've tried it. Axe throwing is one of the most fun, competitive leisure activities around. Everyone starts off pretty rubbish but after some top tips from their in-house coaches you'll be hurling like a lumberjack in no time. Plus, the thud and crack of the wood as the axe penetrates, is extremely rewarding.
Augmented reality darts is the cool, tech-savvy younger sister of traditional darts. The impressive board tracks where your dart lands and feeds your score onto the screen – so there's no adding up, but also your success (or failure) is illuminated in stunning, technicolour. AR darts offers brilliant group games, where you compete for pride, glory and (presumably) the next round of drinks.
Augmented reality batting cage is great for everyone – especially if you'd like to be good at sports but are actually quite crap. Try your hand at tennis, cricket or baseball. Set your skill level and all you have to do is return the ball to hit one of the scoring fields on the large screen – simple, right? This is brilliantly fun and you'll soon be ramping up through the levels, ready to take on the pros.
Shuffleboard is a beautiful game because it looks sophisticated and elegant, however the simplicity is just a charade. Once you start playing you'll soon discover that it's not simply drifting your puck down the gorgeously shiny surface but it's fiendishly tricky and highly competitive. You'll want nothing more than to bounce your best friends puck off the board leaving your own puck in the perfect scoring position – is friendship strong enough to withstand shuffleboard?
Keeping you fuelled up
With so much to do you'll need to keep well nourished and suitable refreshed – thankfully Boom Battle Bar Ipswich has a large cocktail bar and great food.
BBB Ipswich will be serving up Boom classics of chicken or cauliflower wings, with a choice of eight different sauces, from the gentle Garlic Parmesan up to the intense Atomic Mind Melter.
Whether you need a beverage to kick the night off or to celebrate your win, the Boom Bar has a great choice of options. They have a range of beer, cider, wine, fizz, spirits or softs. However, you need to make sure you check out their cocktail menu. They look good and they taste even better. Our favourite is the Spiced Espresso Martini – what's yours?
Hen night, stag do, work outing, cheeky date or just a wicked night out with your besties … Boom Battle Bar Ipswich has everything you need for a memorable night. Get yourself booked in.
Where: Unit A3 and A4, Buttermarket Centre, St Stephen's Lane, Ipswich, IP1 1DT
Cost: (shorter time slots are available) AR Darts £40 per lane, 1hr (up to 8 people) / Batting cage £70 per cage, 1 hr (up to 10 people) / Axe throwing £70 per lane (up to 10 people)
Age: 18+ after 7pm
Other Boom Battle Bar News