Epic gaming, tasty chicken and cocktails – sounds like an awesome night at Boom Battle Bar Exeter to me. This exciting new venue is opening next week!
From Thursday 28th April guests can get their game on with axe throwing, Crazier golf, shuffleboard, Augmented Reality darts, beer pong, table tennis and American Pool – incredible!
Located in the Guildhall Shopping Centre, right in the heart of the city, Boom Battle Bar will be bringing the action to Exeter. If you've not been to a Boom before then you can expect bouncing tunes, urban vibes, neon lighting and brilliant games.
Energised Gaming at Boom Battle Bar Exeter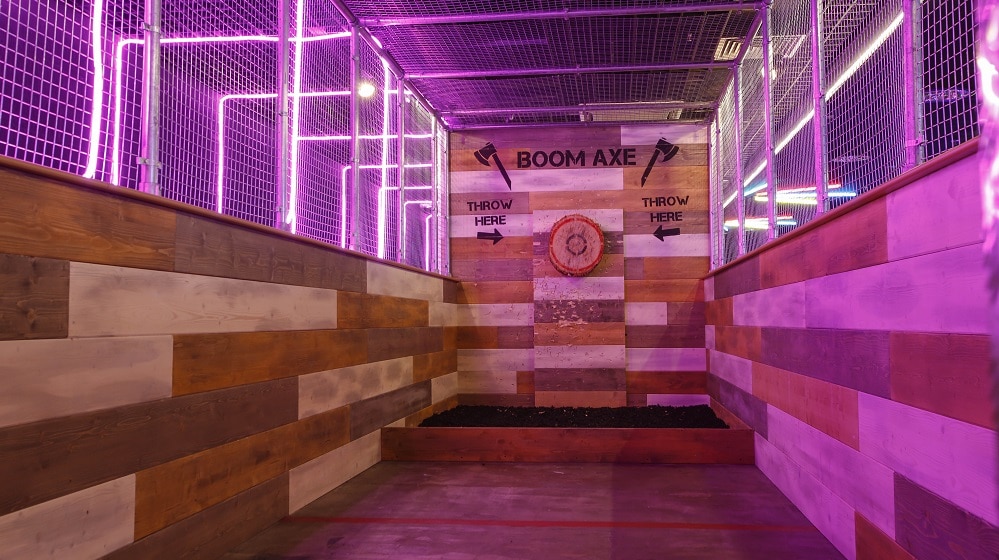 Ever tried axe throwing before? You're going to want to. It's the opportunity to unleash your inner Viking or live out those Canadian lumberjack fantasies. The onsite team will give you the required safety briefing then show you the hurling technique. Before you know it you'll be striking the target and watching the splinters fly. The question is … who will lay waste to that bullseye first?
Don't be put off by the idea of playing darts. Augmented Reality Darts is the hipster cousin of the traditional game of darts. The AR dart board sits within a large screen onto which the colourful gaming graphics are projected. Grab your team, select your game, use the touch screen to take your selfies and off you go. Get rewarded for your accuracy in Killer, by getting the chance to take out the opposing players or obliterate the bricks in the Disco Wall. What's even more brilliant is that you don't even have to do any scoring. The tech tracks the darts, works out where your dart lands, calculates your score and feeds it through to the screens – happy days.
Crazier Golf is just what you'd expect – crazy golf, but that little bit crazier. With almost vertical 6ft slides, unseen holes, balance boards and holes that you play all the same time, Crazier Golf is definitely more challenging than those seaside courses from back in the day.
Food and Drinks at Boom Battle Bar Exeter
Gaming is tiring work so Boom make sure you are kept fuelled up for the night ahead. You need to be in peak condition if you're going to get the win, the glory and the drinks off the loosers – right?
Boom serve up a wings based menu – whether that be boneless chicken or crispy cauliflower. Simply choose the number of wings you want (anything from 6-50) select your flavour and choose your dip. When it comes to flavour there's a range of options starting from the gentle options of naked, garlic parmesan or BBQ bourbon up to Raspbetter Scotch Bonnet or The Atomic Mind Melter – can you take the heat?
The bar is stacked with a wide range of drinks, including the very drinkable Boom: Battle Beer. There's beers, ciders, spirits, wine, fizz and softs. There's also their bespoke cocktails menu. These are gorgeous and moreish – be warned! There's the passion fruit based Porn Star Dartini, a take on an espresso martini called Who's Your Caddy and the fiery Ship Faced.
So, grab your mates and get yourself booked in for an epic battle.
Where: 24-28 Guildhall Shopping Centre, Exeter, EX4 3HP
Age: 18+ after 7pm
Cost: axe throwing £40, 30 mins for up to 5 players / darts £40, 60 mins for up to 8 players / Crazier Golf £9 pp
Other Boom Battle Bar News