Looking for places to go for a night out in London? Here is our list of some of the great venues offering the ultimate night out – food, drinks & something to play!
Flight Club
With several venues all around London, Flight Club Darts has loads to offer. Reopening 17th May, they've got darts, drinks and dinner available alongside an amazing atmosphere. A great alternative to the traditional night out, they offer the chance to become the supreme darts champion amongst your friends (full bragging rights included), with amazing cocktails and mouth-watering pizzas to spare. But this isn't the darts you remember. From dart-tracking technology to instant scoring (especially useful if you aren't as familiar with the ins and outs of the rules), and with capacities for up to twenty people on the oche, Flight Club reinvents the concept of darts. An initial idea thought up by two friends in a Devonshire pub, the Flight Club franchise is now global, with venues both throughout the UK and stateside. The aim is to create an unforgettable experience that will have you visiting time and time again. Don't believe us? Just check out their website to find out more.
All Star Lanes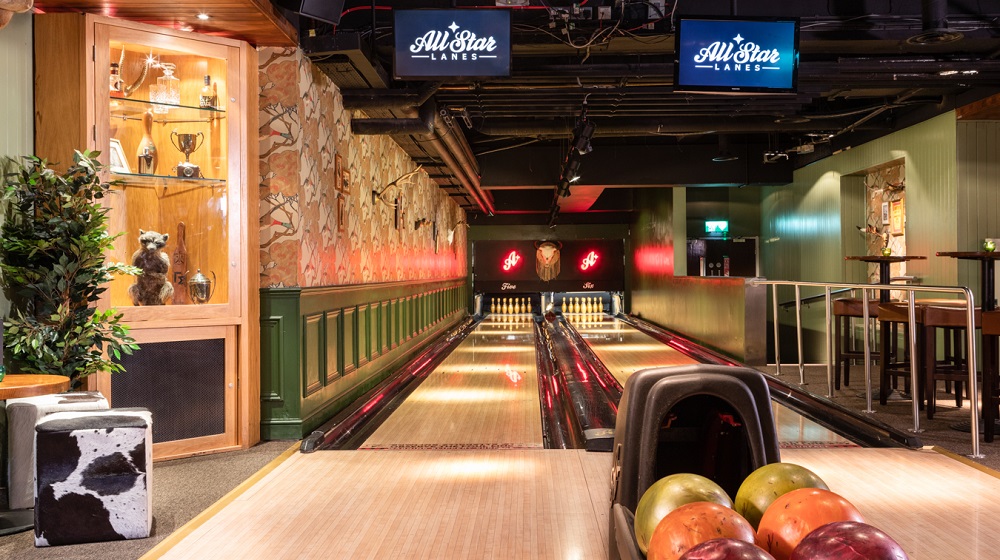 Let the good times roll! With locations all over London, All Star Lanes host an intimate bowling experience, reminiscent of the New York speakeasies of the twenties. Complete with delicious drinks and fantastic food, there's enough to sate anyone's appetite, especially after a victory with your crazy bowling skills and showing off to all your friends. They've also got bottomless brunch and enough nachos to satisfy any appetite, for anyone who feels a little fragile from the night before. They're currently taking bookings from 17th May in line with government advice, so if you're tempted (of course you are!), check out their website.
Puttshack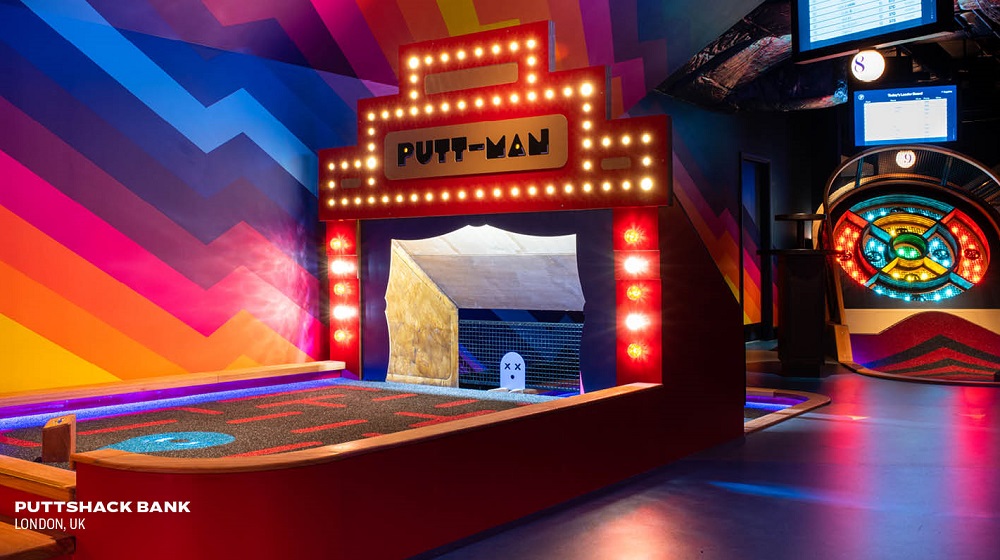 'Putt'ing a new spin on crazy golf, Puttshack is a social hub complete with food, fun and plenty of fantastic music! With innovative new technology, it features automatic point scoring (to avoid any prospective arguments!), electronic live leader boards, intuitive gameplay and trackable performance history, so you can earn the title of 'Ultimate Champion' amongst your friends. Holes include Shuffle Up, Beer Pong and the legendary Prize Hole, sure to provide entertainment all around. Puttshack also hosts an amazing bar and restaurant, complete with vegetarian and vegan dishes alongside the nation's favourite guilty pleasures, sure to cater for everyone. With venues all over London, where else would you want to go for a night out in 2021? Check out their website.
Swingers Crazy Golf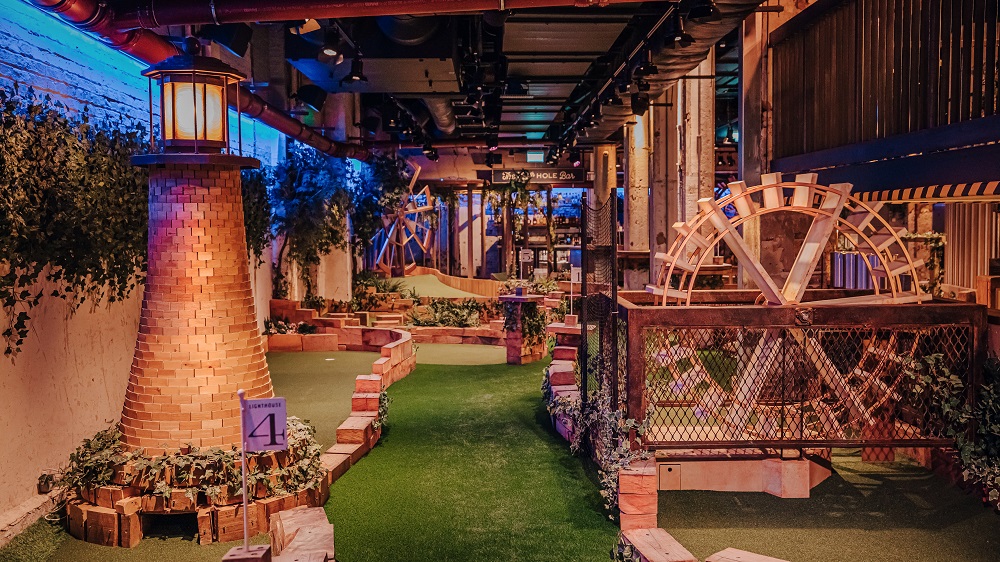 Comprising two 9-hole crazy golf courses with three incredible street food venues and several amazing bars, there's something for everyone! Swingers recreates a quintessential 1920s English country golf club, with two quirky crazy golf courses: the Lighthouse Course and the Windmill Course. To be found in a cavernous WWII bunker beneath the Gherkin, you can satisfy your appetite with Pizza Pilgrims, Patty & Bun and Breddos Tacos, so there's something for every taste. And of course, no night out is complete without amazing cocktails, with everything from bourbon espresso martinis to The Italian Job, a delicious mix of limocello and Aperol Spritz. To top it off, no victory is complete without a successful gloat, made possible with the Swingers podium, where you can lord it over all your defeated friends. Visit their website here.
Electric Shuffle
Shuffle fans will flock to the pinnacle of shuffleboard fun in London, Electric Shuffle. The company takes a lightning rod to the traditional game of shuffleboard. Their immersive and brilliant location captures a gorgeous industrial turn of the century aesthetic. As for the food, they've got you covered. With some of the best sharing pizzas and fries you can get your hands on (we highly recommend the Truffle Cheese Straight Fries). Coupled with their one-of-a-kind drink selection this all elevates Electric Shuffle to a 'must-visit when in London'. With cutting edge interactive shuffleboards, Electric Shuffle is the perfect team game to enjoy when they reopen May 17th. You can find them at 10 Cabot Square Canary Wharf. To learn more visit their website today.
Boxpark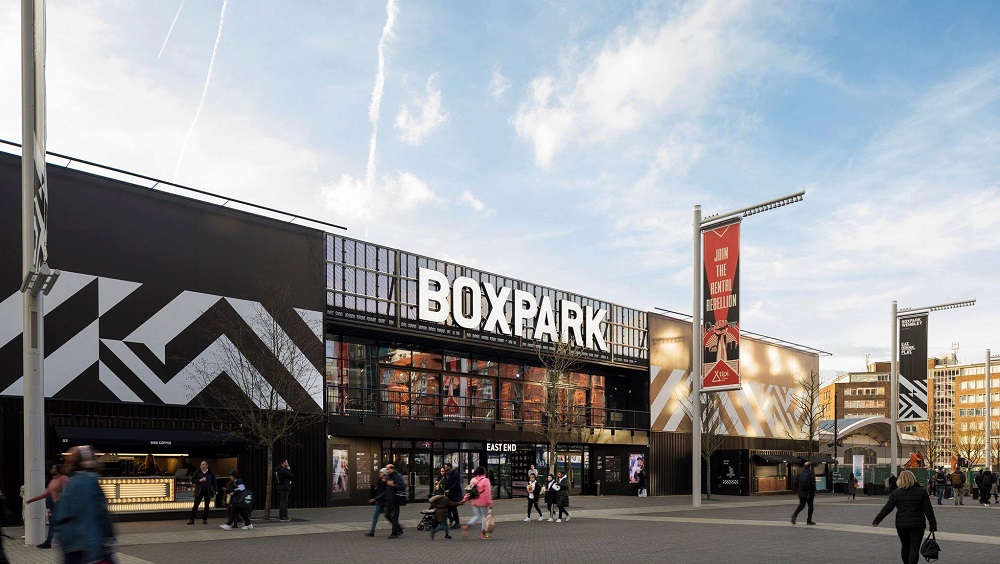 With 3 sensational locations in Shoreditch, Croydon and Wembley it's safe to say Box Park knows a thing or three about amazing Social Play experiences. You're never far away from one of their amazing locations. In Shoreditch you can enjoy fifty's fashion, street and food brands in London's truly unique pop up mall. Or dine in style at Croydon with dozens of amazing menus with an eclectic food offering. Or if you're in the mood for fun you have to pay a visit to BoxPark Wembley. This venue is home to axe throwing, free roam virtual reality experiences and soon the amazing Playbox (a venue that will have ping-pong, American pool, shuffleboard and foosball). To learn more about all of their amazing locations and the venues visit the main website.
Plonk Golf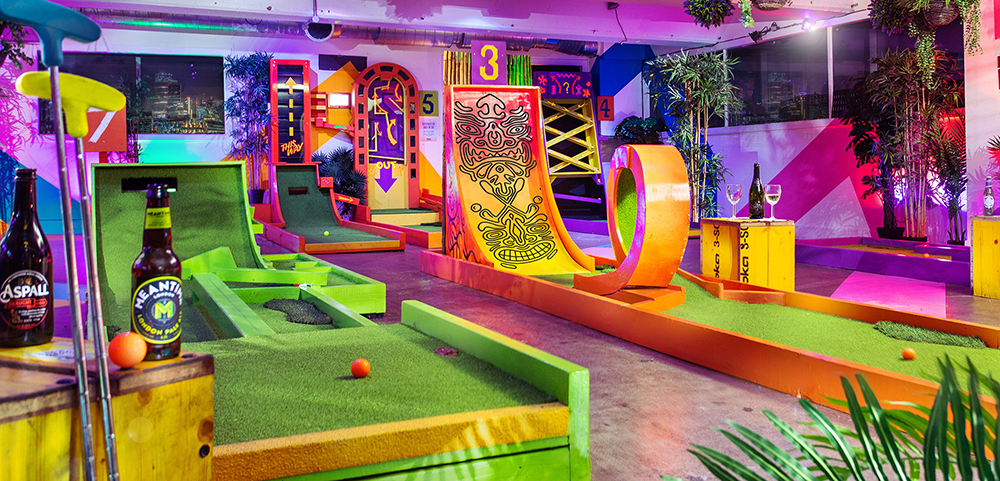 Plonk Golf was founded by a troop of set designers from the film industry, and it shows! Going strong since 2014, with several venues all around London, it features crazy golf adventures made from 100% upcycled materials! Featuring everything from balancing beams, Plonk's signature loops and radical ramps, to a tiki bar with everything from local craft draft beer to the iconic Plonker's Punch. If we haven't convinced you already, they also have an arcade with retro machines, foosball and over 100 board games. Sold? Check out their website for more info.
Bloomsbury Lanes Bowling
Roll on summer with Bloomsbury Lanes Bowling! Catch up with your mates over a cocktail or two, or split a bowl of nachos between friends. Challenge your pals to a bowling match, where the winner takes home bragging rights (and the last round!), and show off your crazy skills on the bowling lanes. Celebrate your victory with a round or two of karaoke, where you can belt out your favourite tunes in their amazing suite with banquette seating and touch screens. With over 30,000 songs to choose from, you're spoilt for choice, and you're bound to have a great time. Check out their website for more info.
Roof East
Reopening 12th April, Roof East is one of the best place you'll frequent this summer. London's largest adult playground, with everything you could possibly want, from East London Bowls Club, Sluggers (London's highest batting cages), a game of crazy golf at Birdies to the Rooftop Film Club. Roof East also has wine, craft beers, soft drinks and cocktails for every occasion. If you aren't convinced already, there's also a significant lack of queuing at the bar, with all ordering being done through an app and direct table service. What more could you need to spend a perfect day with your mates? There's also a huge selection of food on offer, from the classic pizza, to Indian street food from May, and burgers galore! There's also a variety of events to get you psyched for the end of restrictions, including Rooftop Yoga, so check out their website to find out more.
The Aeronaut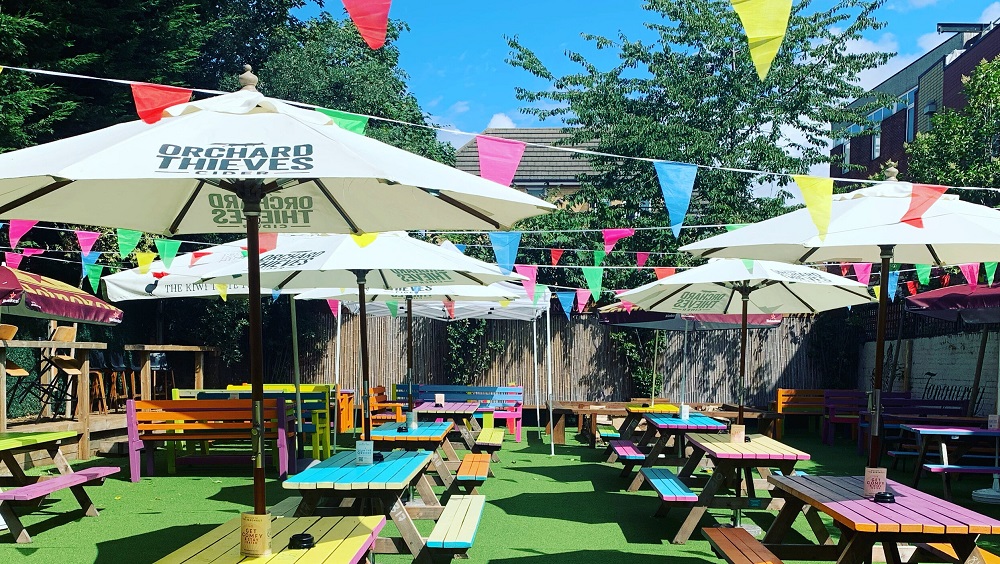 The Aeronaut is a pub with a difference. Featuring singing waiters, comedy nights, cabaret and circus performances, it certainly makes for a memorable night. If we haven't sold you already, the collaborative, virtual escape room probably will. Every weekend, there's a magnificent display of acrobats, contortionists and fire-breathers to add an extra dimension to your cocktail evening, with a dance floor being added to the mix as the night draws on. Sundays feature bottomless BBQs and board games, and they also have a quintessential pub quiz night on a Wednesday. Prizes up for grabs include a bar tab, London hotel stays and whatever else they can give away. Interested? They're taking bookings now for the 12th April onwards. Make your booking now.
The Bat and Ball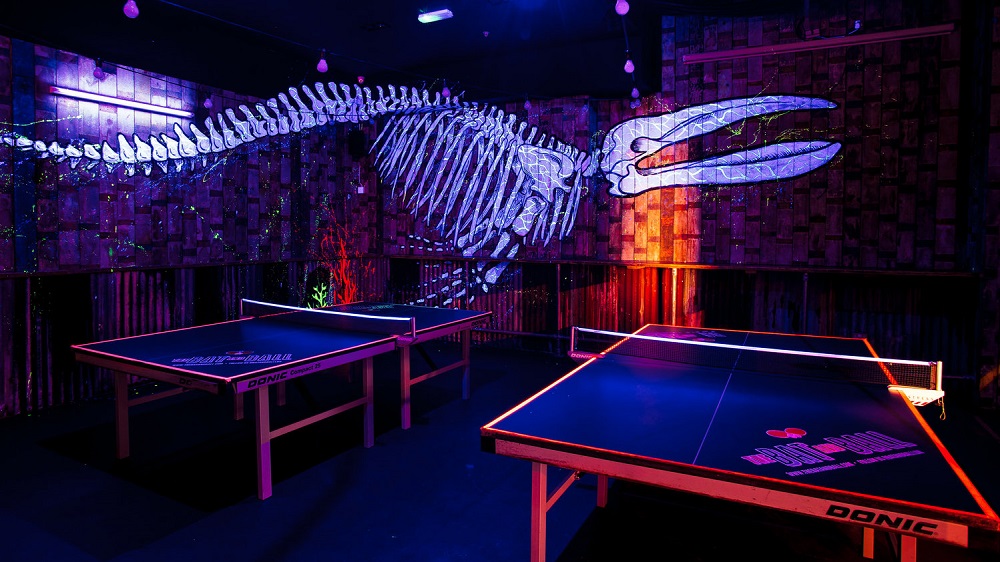 Found in the heart of Stratford, the Bat and Ball is two floors of ultimate ping pong glory. With 10 championship sized ping pong tables, there's plenty to bring out anyone's competitive streak, accompanied by the finest craft beers, cocktails and tastiest pizzas to fix everyone's appetite. They've got everything from beer pong to karaoke, seven days a week, so the fun never stops! They're currently taking bookings from 12th April, so if you're interested and can't wait to get your game on, check out their website.