Liverpool has so much to offer for those looking for a night out with a competitive twist. From high-end bowling to laid back gaming bars, Liverpool has it all. Check out our list of some great places to Eat. Drink. Play in Liverpool.
Pins Social Club
To be found on Liverpool's Duke Street, Pins has absolutely everything you could ever want for a night out, ranging from bowling lanes to shuffleboards. Oh, and amazing food and drinks, obviously, to be found in their three bars, including Rocco's Room for a post-victory celebration. In the evenings they have entertainment ranging from DJ sets to live performances, and for those guests with a little talent you're welcome to crack out the karaoke machine and give it a go yourselves. They aim to pay homage to the golden era of bowling, where the ball was king and the bowlers were celebrated like movie stars, something you can easily recreate with twelve full sized lanes and four private ones to hone your skills. They're reopening from 12th April, so if you're interested, check out their website.
Roxy Ballroom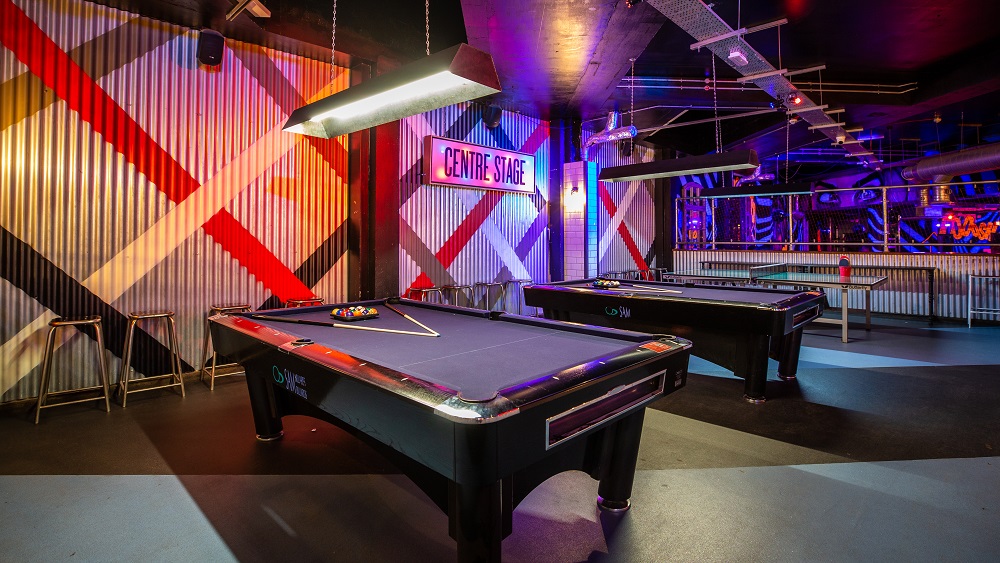 With their outside areas reopening from 12th April, and their inside games available to book for 17th May onwards, it won't be long until Roxy Ballroom reopens. With two locations in Hanover Street and Rainford Square, there's all sorts of quality entertainment at Roxy Ballroom, ranging from pool, crazy golf, shuffleboard and bowling! If you're feeling particularly competitive, you can even bust out your beer pong skills and impress all your mates. They also cater well for any appetite, with delicious food and drink offerings, including their signature cocktails (Baby Got Back Spin, anyone? How about a Ping Star Martini?) Interested? Book now via their website.
Lane7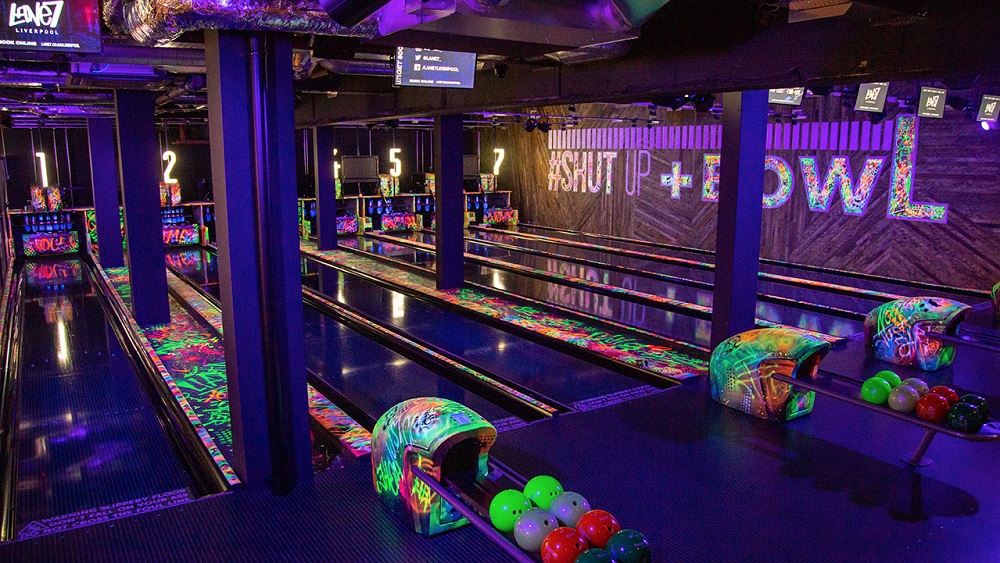 A combination of everything that makes bowling great! When they reopen on 17th May, you won't want to be anywhere else. Complete with arcades, ball games, bowling, darts and much more, there's something for everyone's taste. Lane7 Liverpool is one of several venues all around the country, so you know it's a winning formula, especially when you check out their drinks menu (something that very much improves every bowling experience, we reckon). They've got cocktails galore, which is bound to improve your ping pong talents. Do you want to experience one of the country's best upmarket bowling venues? Of course you do. Check out their website.
Ghetto Golf
Found at the Old Cains Brewery, Ghetto Golf is the ultimate night out experience, combining crazy golf with a cocktail bar, DJs and street food. A crazy golf experience with eighteen holes (designed and built in-house, we must add), Ghetto Golf collaborates with local graffiti artists to create an amazing immersive game, and prides itself on providing the craziest golf adventures! They also have a cosy outdoor bar complete with BBQ street food (how much more convincing do you need?) Book now for when they reopen 17th May.
Bongo's Bingo
Bongo's Bingo is, quite simply, something else. A crazy mix of everything from traditional bingo, dance-offs, rave intervals and audience participation, there's over fifty locations across the globe (but Liverpool was the first!), going strong since its humble beginnings in the Baltic Triangle in 2015. With chances to win everything from giant pink unicorns to karaoke machines at every show, there's something for every age group. This immersive bingo experience is a hub for music, arts, food and drink, with a variety of different events to suit everyone's taste. The Bongo's Bingo residency is held every Friday and Saturday, so that's your weekends sorted. Visit their website.
Dough Bar
A more chilled venue than some of the others on this list, it doesn't mean Dough Bar isn't as good! A slightly smaller venue in the city centre, Dough is a small fresh food venue where all the food is made to order. With offerings such as the No Piggety (it's vegan!), Hogfather and Sweet Swine O' Mine, how can you not be tempted? They also have a variety of craft bars and cocktails, alongside live sports and an arcade bar to top off your night. With a loyal customer base, Dough Bar is definitely a place to check out on your next visit to Liverpool city centre! Check out their website
ArCains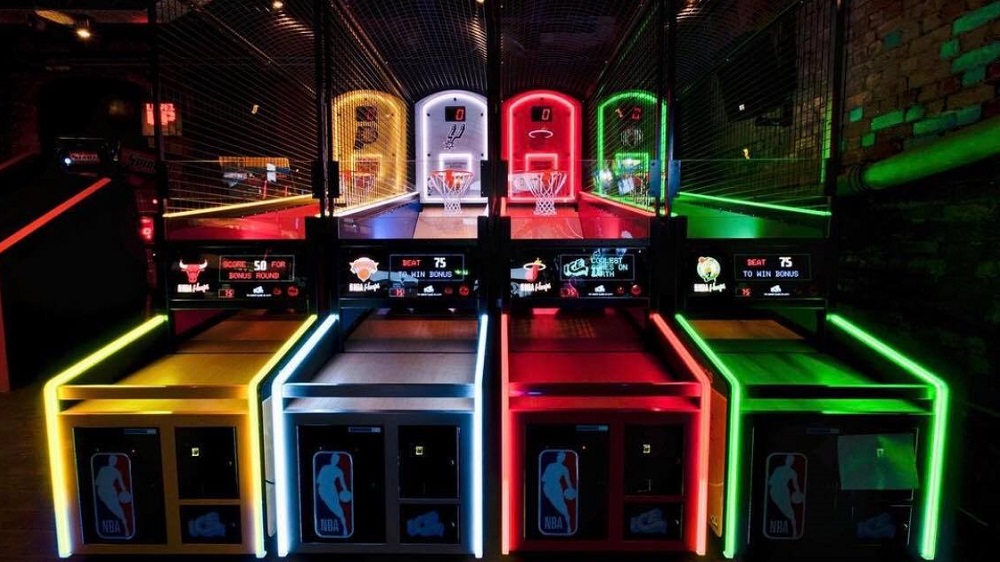 ArCains brings gaming to Liverpool's Cains Brewery Village! With a wide variety of games including consoles, PCs, arcades and pinball, there's something for every skill set (especially if you want to show off your amazing talent in front of your friends!) They've also got a bar with retro inspired food and drink, including beer, cocktails and slushies, and the gaming staples of hot dogs and pick n' mix. They've got everything from the old classics like Tomb Raider, Donkey Kong and Pac Man to slightly more obscure games like Ridge Raider, Time Crisis and even a game based on the Walking Dead! Have a look at their website to see what else they have to offer.
NQ64
NQ64 is truly bringing the retro magic to Liverpool like never before. Located on Colquitt Street, their classic arcade and bar is set to reopen its doors mid-May and bring the thrill of late night 80's gaming to Liverpool once again. If you love staying home with the games console then this is the bar for you. Enjoy classic arcade games like the original Mario Cart GP, Hyper Sports, Packman and so many more. The true magic of NQ64? It has to be the fact that you can enjoy amazing cocktails in their stunning neon graffiti venue while playing classic games with your besties all night long. So, get settled in for a night of fun, drinks and gaming marathons you'll be dying to return to every weekend. Learn more on their website.
Einstein Bier Haus
The newest all-day venue in Concert Square. This venue will soon to be one of your firm favourites. Einstein Bier Haus is the ultimate location for live sports, amazing food, beer and more. With over a dozen cinema size screens for the ultimate sports games. Car mechanics prepare yourselves, as you'll find more than one repurposed vehicle crafted into some of the best creative seating you've set your eyes on. Even when there is no big game on you can bring the friendly competition with their impressive array of shuffleboards and epic American pool. Learn more about this amazing venue.
Bierkeller, Shooters Sports Bar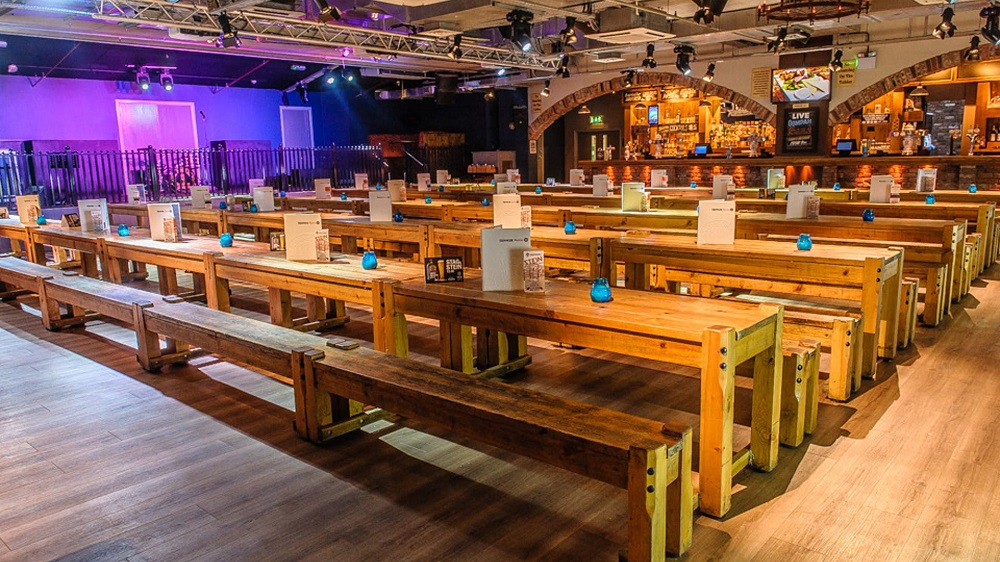 Shooters Sports bar is perfect for those must watch sports games that just have to be shared with your die-hard sports friends. Even the most passionate beer lovers are spoilt for choice as they're transported to the beer hall setting of a Bavarian drinking house, complete with exquisite long wooden tables, you could slide a pint down (do so at your own risk). However, it's not just the beer that you'll come back for. You can find multiple authentic English pool tables, foosball, social darts and beer pong. Learn more on their website.
Junkyard Golf
For those of you that can't get enough of mini golf in Liverpool, Junkyard Golf is here to help. Located in the sensational Liverpool One shopping centre (well worth a visit itself), this truly puts the cherry on the top of the crazy golf scene in Liverpool. If you love mad cocktails, mental mini golf and a banging night-club worthy soundtrack this is the place for you. Enjoy some epic cocktails, like their sensational Ribena Turner, as you voyage around their three fabulous courses. After a round of golf make sure to try some of their phenomenal meals such as the award worthy hotdogs or their buttery popcorn (a strong favourite after a few shots). Learn more and book your spot online .
Boston Pool Loft
Are you a lover of pool, snooker and everything in-between? Then the Boston Pool loft is the place for you! Located on Concert Square this is one of Liverpool's most popular nightlife venues. Whether a night on the town or catching the big game, their brick loft venue is perfect for eating, drinking and not to mention playing. You can find full size snooker and pool tables, pinball machines, shuffleboards and much more. With two different menus you can relax with drafts, spirits or cocktails while chilling before your next game. With excellent game packages to choose from you can play your night away in this exceptional nightlife venue. Learn more .