Leeds is well known for being a fab place for a night out. But these venues are not only great places to eat and drink but they also give the opportunity to play!
Roxy Ball Room, Boar Lane
Roxy Ball Room on Boar Lane was the company's first ever venue, opening its doors in 2013. Since then, they've only got better and better, upping the stakes for entertainment every year they've been in business. Enjoy the classic Roxy Ball Room culture of epic venue designs, American pool tables, beer pong, shuffleboard, ping pong, and the ultimate experience, Roxy Golf. One of three amazing Roxy venues in Leeds, there's plenty of fun to go around. With cocktails, food, and good times to be had, make sure to get yourself down when they reopen! They're currently taking bookings for their reopening of their indoor areas from 17th May. To book in visit their website.
Roxy Ball Room, Merrion Street
Another Roxy addition to our list! We just can't get enough! Not only do they have all the Roxy Ball Room essentials, but they also have custom arcade machines for all you retro game lovers out there, and private karaoke booths for those late night pitch perfect (almost!) singalongs. And when you're feeling a little parched from belting out the chorus to 'Don't Stop Believing' louder than you ever thought was possible, Roxy Ball Room has an amazing drinks menu, offering a combination of your traditional beers and spirits alongside a mix of classic and signature cocktails. Anyone fancy a Shuffle Hustle? How about a Perfect Game? Yeah, we thought so. They've also got a great shot menu for when you want to get a little bit of Dutch Courage before the karaoke starts. Piqued your interest? Find out more on their website.
Roxy Ball Room, Bond Street
Okay, so by now you've probably guessed that Roxy has a winning formula. With three venues around Leeds, it truly is the capital of Roxy fun in the country. It has some similar games to the other two venues, such as American pool, shuffleboards and beer pong, but it also has four full size bowling lanes! If that hasn't convinced you, they also showcase amazing live sporting events (just as cosy as your sofa, but slightly more impressive, we reckon!) It's the perfect place to get into the Olympic spirit for Tokyo this summer, whilst bowling with great friends, food and drinks. The food menu alone is incredible! Where else do you have to choose between the Roxy Stack, a BBQ Jackfruit Pizza, or Chicken Wings with Maple and Bourbon BBQ sauce?! Of course, if you can't decide, you could always go for the buffet option, where they have all sorts on offer, including unbeatable nachos. You can book on their website.
Flight Club
Flight Club Darts have finally touched down in Leeds, so darts and drink lovers rejoice! This summer is the perfect time to enjoy their unique interactive darts experience, with custom score tracking and action replays for ultimate bragging rights among friends. So if you're a fan of epic shareable pizza boards, delicious cocktails and a venue that seems to be a fantastical hybrid of the quintessential English pub and 1920s fairground, Flight Club's newest venue is definitely the place for you. Who wouldn't be interested in trying their signature cocktail slushies, like the Coco Fumada? We certainly think the Watermelon Crush will be perfect for those warm summer nights! Check out their website to book from when they open on 25th June.
Junkyard Golf
Have you ever had dreams of living in an American scrap yard when you were younger? Maybe sleeping in an abandoned car, surrounded by fantastical mountains of mish-mashed parts to create your own palace of bizarre recycling? Well, no matter if those dreams came true, Junkyard Golf is the next best option. Play truly crazy golf through courses which are as creatively mad as they are fun! For jungle fans, there's the Pablo course, a mystic jungle themed creation where you'll play through temples and tropical forests. Gary is the course that lives up to the Junkyard Golf name as you make your way through mountains of tyres and more than one written off vehicle. Then there's Bozo, the dark fairground themed course full of twisted carnival themed magic. With their bar offering a wide range of addictive cocktails, beers and more, it's certainly one of the best place to reunite with friends when they reopen on 17th May. Book here via their website.
BrewDog Leeds & BrewDog North Street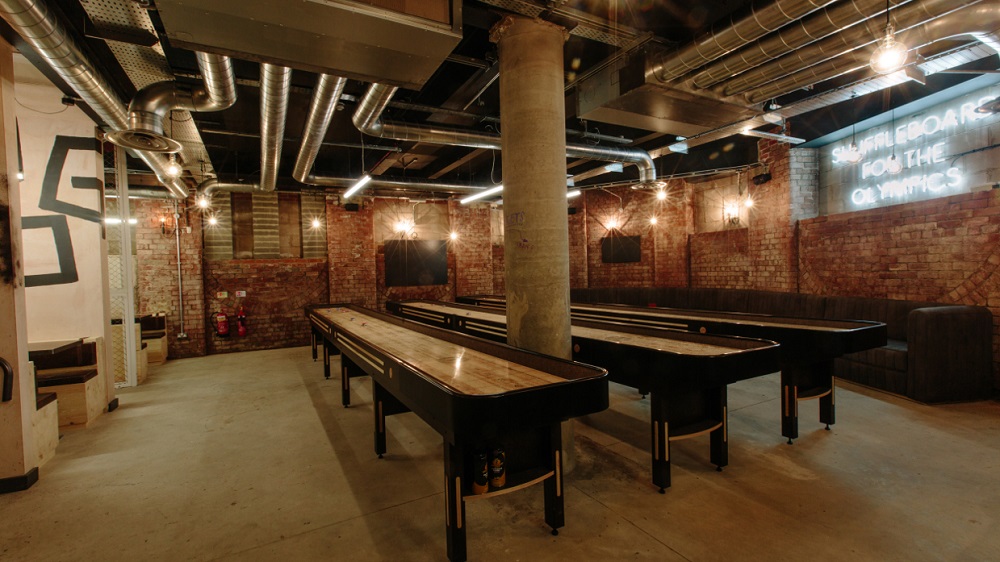 Looking for shuffleboards? Then BrewDog should definitely be the first place on your list! With two venues in Leeds, one at Crown Street, the other at New York Road, their outside areas will be opening 12th April, so definitely one to take note of for post-lockdown reunions. What a place for it as well! They have some of the best beers, cocktails and spirits on offer out there, and not just that, but their drinks menu is constantly being curated to make for the perfect glass for every occasion.To add to this magical atmosphere, they also have their classic shuffleboard tables, the perfect game to be played before or after your first round of drinks (though we can't promise they'll improve your performance). Their amazing menus work as the perfect accompaniment to any games and drinks session, and we highly recommend their deliciously crafted burgers. Interested? Of course you are. Visit their website.
The Box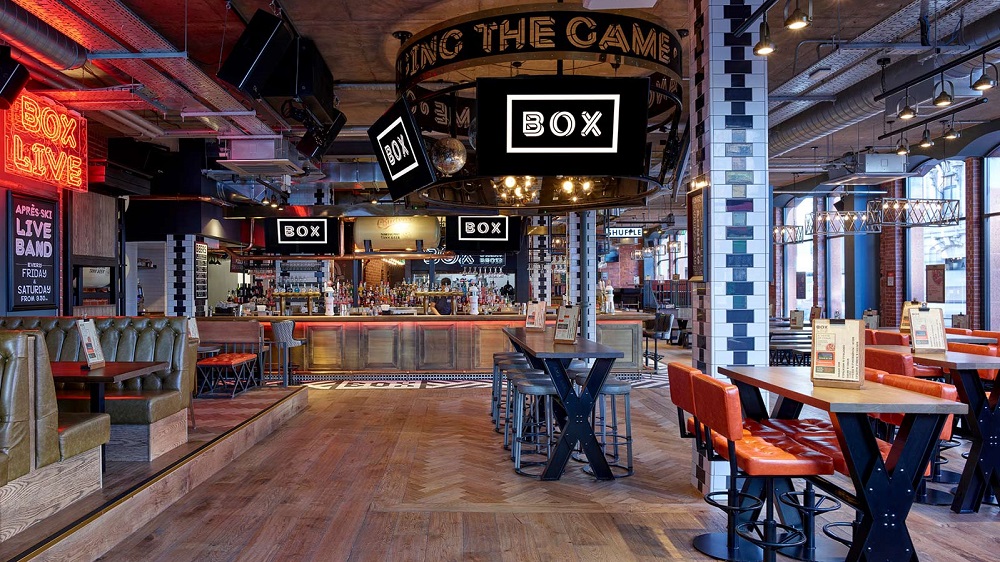 In the heart of Leeds city centre lies a hidden hub of shuffleboard entertainment. Its brick and wood interior harbouring an amazing array of full-size shuffleboards. So why not grab your besties and challenge them to this epic game? After your inevitable victory, you can then cheer on your favourite team at the BoxBars, which houses dozens of high-definition TVs for every single sporting event all year round. They show all the major Sky, BT and Box Office events, with everything from boxing to Formula 1. You can experience the unique atmosphere of the Box Bar sooner than you'd think, with their outside seating areas opening up from 12th April for all your drinking, food and sporting needs. Check out their website.