The 12th April. A golden date in our history. The day when venues can open up their outside spaces and we can once again meet with our nearest and dearest. To help you out we've compiled a list of venues where you can eat, drink AND play (at most venues)!
The Floodgate, Birmingham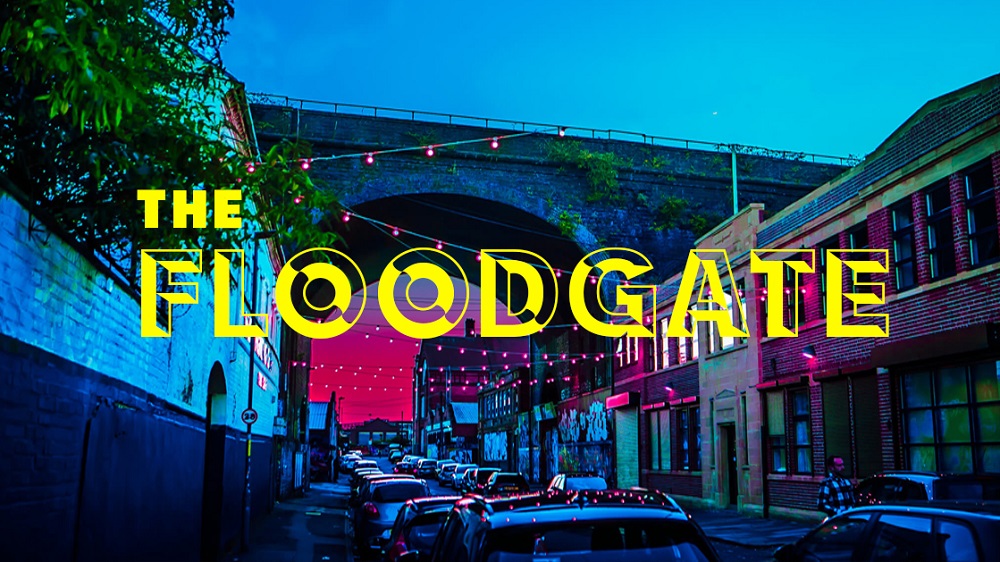 12th April is a majorly important date to mark in the calendar for all Birmingham baseball fans with the partial reopening of Floodgate. Take advantage of their 5,000 square foot yard with seating available for up to 150 people. This is the exact thing you need to cure your pandemic blues! An outdoor paradise with three curling lanes, two baseball batting cages and plenty of drinks and street food. So why not celebrate with friends? You've got to try the sensational cuisine available from Ellie May's Food (especially the loaded fries), and the cocktails are not ones to miss, delivered directly to your table just in time to celebrate your effortless homerun! Check out their website to book.
Roof East, London
In the heart of Stratford, you can find the amazing Roof East London, one of the best hidden gems in the city. One of the finest outside entertainment venues in the capital, opening 12th April, there's loads on offer to fill your summer afternoons! Fancy swinging a homerun with Sluggers' outside batting cages? Roof East is kitted out with rooftop cages which are the perfect place to bat your troubles away and escape the everyday. Or perhaps you're looking for a more relaxing game of lawn bowls with the East London Bowls Club, a traditional English game with a vibrant colourful East London twist! Or there's always Birdies outdoor crazy golf, an ultimate test of your mini golfing ability with nine epic holes to navigate through. Refuel after your outdoor session of fun with four custom street vendors all onsite. There's everything from burgers and Indian street food to delicious, handcrafted sourdough pizzas. And that isn't all! We can't forget the rooftop bar equipped to cater for all your drinking needs including wine, beer, spirits and craft beer. Are you interested? Of course you are. Book online for your summer of fun.
Pins, Liverpool
Another Liverpool based venue, Pins Rooftop bar is the perfect location to kick back and relax come 12th April. The ultimate skyline hangout (and Liverpool has some cracking views!), you can bask in the sun as you share a pitcher of sangria with friends or cool off solo with one of their alcoholic slushies. They've also got a variety of games available, so you can hone your shuffle court skills or impress all your friends with your ping pong spin serve! The barbeque is being prepared (we can already anticipate the ribs!), so all that's left to do is to get you and your mates down there! Visit their website.
BoxPark, London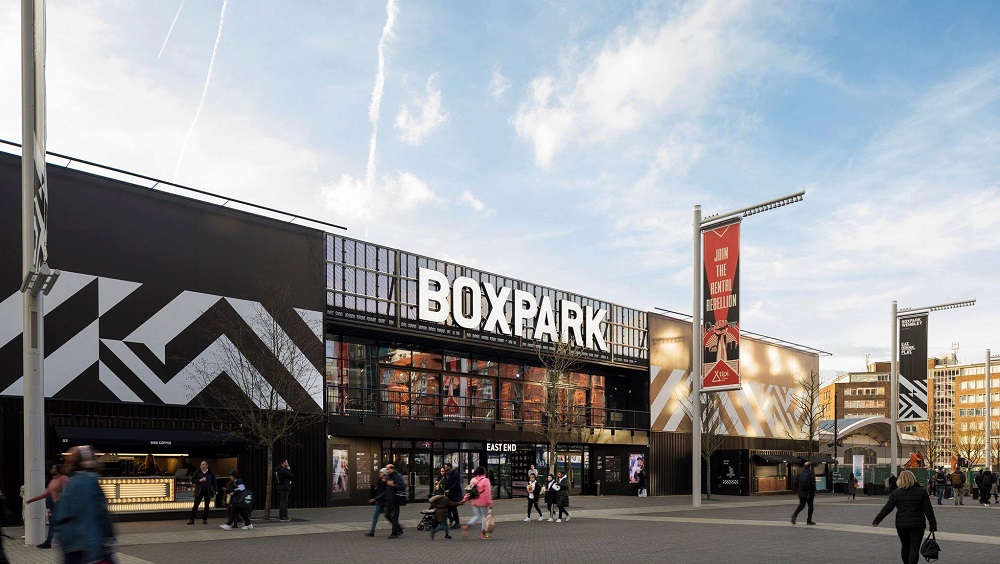 With three epic venues reopening (you guessed it!) on 12th April, BOXPARK is the perfect place for outside fun this spring! With dozens of vendors providing the tastiest food and the best drinks, it's a must visit for fun on the outskirts of London. Transforming simple shipping containers in East London to the ultimate hangout experience, BOXPARK has now developed into one of the hottest places in town as a food, culture and social hub. There's over fifty locations of fashion, food and drinks in Shoreditch, a pop-up dining experience in Croydon or a world-class eat, drink and play experience in Wembley. What are you waiting for? Check out their website.
The Flower Bowl, Preston
Opening up 29th March, this outdoor crazy golf course will be up and running all spring! At this outdoor course, you can enjoy their flower-filled borders, water features and garden statues. They've also got outside coverings (well, we all know what the British weather is like), so you'll be able to play in all weathers – perfect for socially distanced fun! It's a little more relaxed than some of the other examples on this list, but it's a great opportunity to catch up with friends and perfect your golf par. Their website gives you all the information you need.
London Shuffle Club
Outside shuffle in glorious sunshine, anyone? Shoreditch's London Shuffle Club is opening their terrace and outdoor lanes from 12th April, catering for groups of up to six. You can enjoy great drinks, delicious food and amazing outdoor shuffle lanes – a great place to hang out with your mates! Enjoy premium cocktails, craft beers alongside great wines and mocktails (for the designated driver!), and for food, we definitely recommend their pizzas! They're all homemade by professional chefs onsite. Plus, the shuffleboards are heated and rainproof to accommodate for all weathers, and the terrace is brand new! It's certainly one of the hottest tickets in town. The only thing that's left to do is book to avoid disappointment.
Plonk, London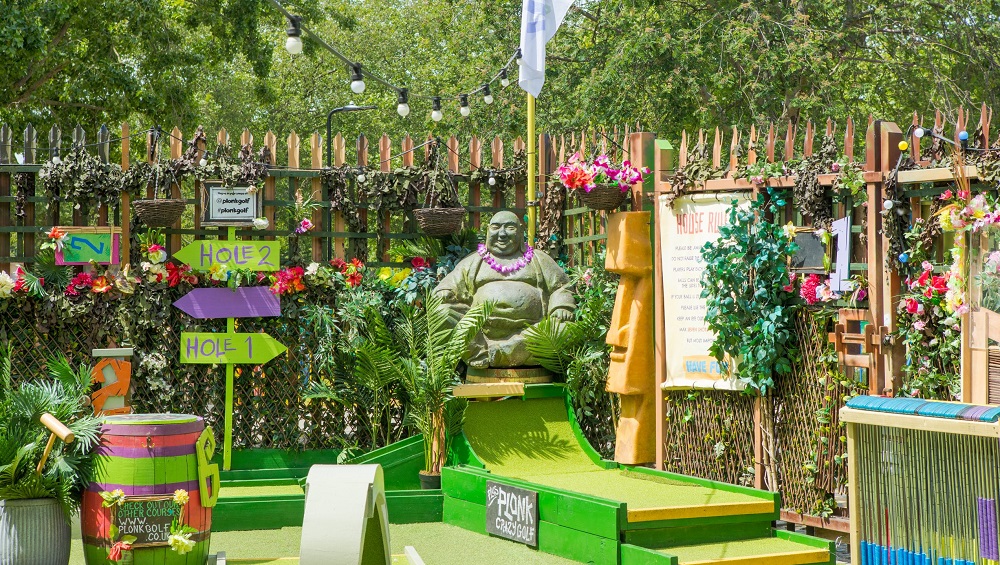 Another amazing London venue, Plonk's outdoor golf venues will be open from 12th April onwards. Their two outside venues, the Horniman Museum and London Fields, will both be open from mid-April. The Horniman Museum, a fully outside course, will open first on 29thMarch, followed shortly by London Fields in Hackney (which, we're sure you'll be glad to hear, is licenced to serve alcohol). These nine-hole crazy golf courses are a must to put on your post-lockdown to-do lists and are amazing fun for all ages. For the adults, London Fields has a truly epic array of cocktails, with theirtikicocktail bar now offering a brand-new drinks menu to celebrate their reopening. So, take a look at their website to learn more about all the fun to come soon.
Drayton Court, Ealing
Drayton Court's stunning pub garden will be opening bright and early on 12th April 2021. With a full-service outside bar and a massive outside seating area, the whole family can join you for drinks and fun in the sun this summer. Not just that, but you can master your serve with their two full size table tennis tables to really amp up those lazy afternoons. With wines, sprits, beers and cocktails on offer, there is something to suit everyone's tastes – not to mention their stunning food menu. Learn more on their website today.
Roxy Ball Room
Beer Gardens are definitely going to be our new favourite places from 12th April onwards (not that we didn't like them from before!) But then again, why have one when you can enjoy four! Roxy Ball Room is here to cater for all your outside drinking dreams. Four of their locations will be opening up from April: Digbeth, Leeds Merrion Street, Liverpool's Hanover Street and Liverpool Rainford Square. So, if you're not already convinced, with table ordering for all food and drink, why not pay them a visit? With cocktails, shots, beers and spirits on offer, who wouldn't want to be spending their sunny spring days with friends in these gorgeously designed beer gardens? Visit their website to book your spot.