Talk about a transformation! The Wool Market in Doncaster enjoyed a radical refurb in 2019 creating a trendy and bustling destination, showcasing some exceptional independent street food retailers. Now, as the development enters the next phase of its evolution, experiential leisure has taken centre stage.
The Wool Market beautifully brings together the captivating historic building, with its striking iron work, glass room and medieval features, and activity experiences, which see traditional games reimagined by cutting-edge technology.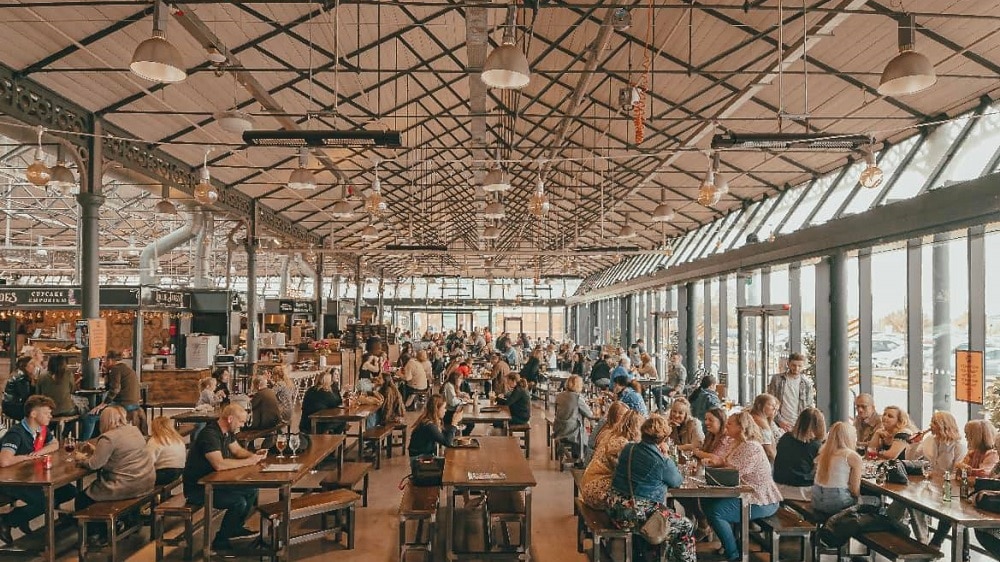 Get your game on at The Wool Market
The Wool Market is now home to four lanes of Duckpin Social bowling, shuffleboard tables and augmented reality darts – amazing! Brilliant to have a classy town centre location offering amazing food and loads of great activities to do – the perfect night out.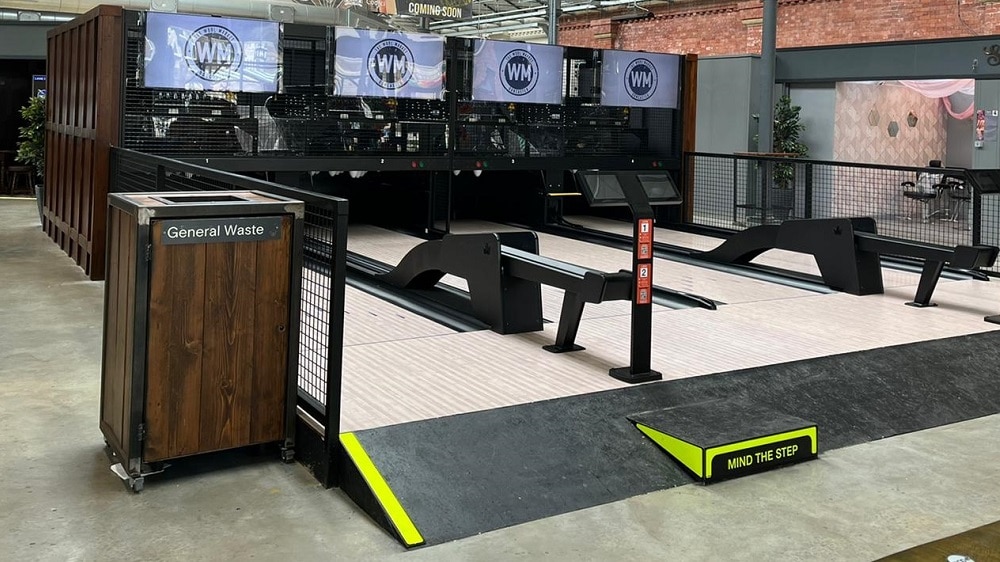 If you think you're pretty good at ten pin bowling then you should try your hand at Duckpin Social. This is a cracking game where the lanes are shorter and the smaller balls don't have any holes – so great for those of us with fancy nails. What we love about Duckpin is that it levels the playing field. Weirdly people who think they are good at bowling find it really tricky and people are who would usually be at the back of the pack on the lanes come out on top. So, what about you? Are you up for the Duckpin Social challenge?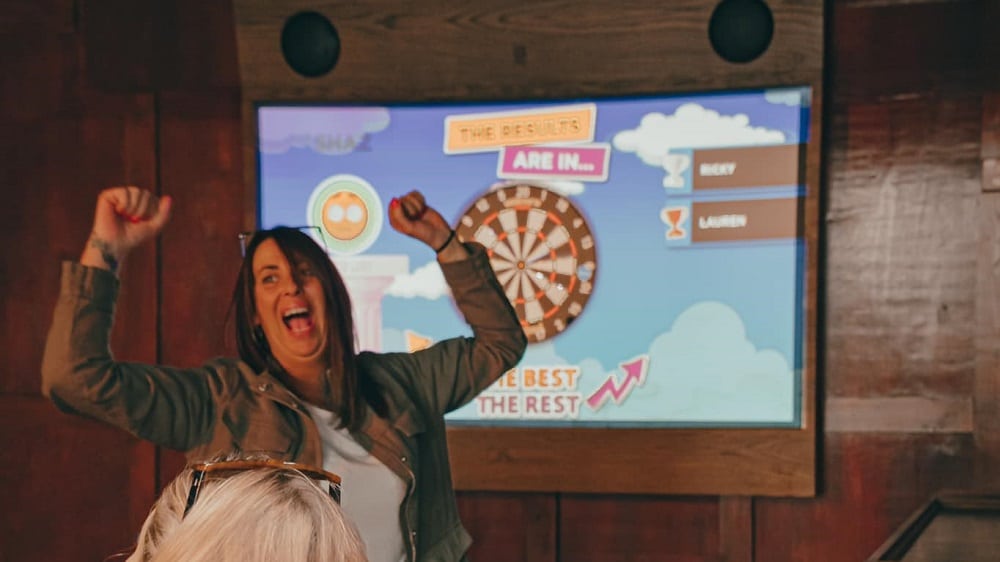 The Wool Market have installed some gorgeous dart lanes, in a backdrop designed to look like a good old British pub. But, these aren't ordinary dart lanes – these are awesome Augmented Reality Darts. The specially designed board sits within a huge board onto which is projected high quality gaming graphics. There's a touch screen pad where you can choose from loads of games, add your names, selfies and sort your group into teams. The impressive graphics then lead you through the games and the even more impressive tech tracks your dart and does all the scoring for you – it's amazing! This is darts for the masses.
Shuffleboard is one of those traditional, quintessentially British games which looks very gentlemanly and posh but will soon have you adopting your "this is war" face. In essence you glide weighted pucks down a gloriously shiny board into the scoring zone. However, your opponent then comes along, smashes their puck into yours knocking it into the gutter, stealing the points. Oh, the rage!
There are also plans to add in some retro arcade games, so hopefully soon you can also revisit your youth on the dance machine or Pac Man console.
There is a palpable buzz about an evening at The Wool Market, especially if you go on one of their entertainment nights.  Saturday night you'll regularly find a fresh musical act up on the stage and there's the popular Friday Open Mic Night on the last Friday of the month. To keep up with the line up or to get yourself booked onto the billing follow their socials. They are also keen quizzers – so get your team together and see if you can win a Market Money voucher.
Feed your good time
Food and drink is a big deal at The Wool Market. You'll find yourself surrounded by a wonderful range of independent street food, dessert and drinks outlets. There are tasty morsels from around the world including Zaytuna Mediterranean Cuisine, Hungry Dragon, Indian Food Hawker, Taste Peru, Rustic Burger Co, Rustic Pizza Co, Mr Mac and Catsu Japanese Cuisine.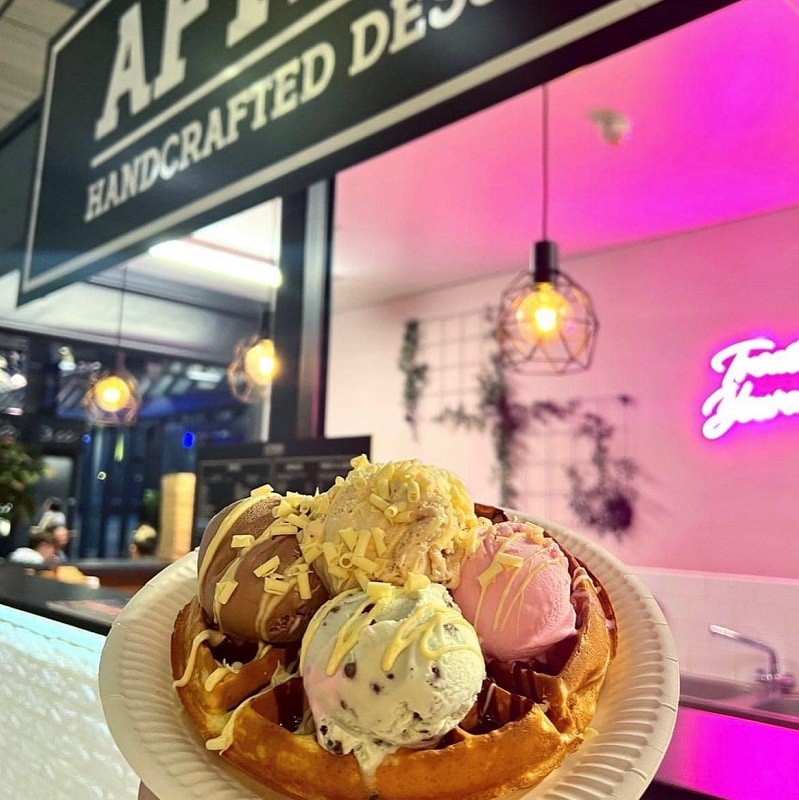 You can accompany your afternoon coffee with something tasty from Lollie Jade's Cupcake Emporium or finish of your meal in style with a mouth-watering treat from Afters Desserts.
When your thirst needs quenching you can always head on over to Liquor Lab or Don Valley Brewery Tap.
So, The Wool Market Doncaster really does have it all. For more information you need to follow their Facebook or even better, book yourself some gaming fun and try it out for yourself.
Where: The Wool Market, Market Place, Doncaster, DN1 1BN
Open: Thursday to Saturday 9am – 10pm and Sunday 10am – 6pm
Heading into Sheffield for a big night out? How about trying some of these great activity bars: THE BEST (FUN) THINGS TO DO IN SHEFFIELD