Need some escape from the summer sun? Bowling is the perfect escape from the heat of the city. Get into the shade, grab yourself a cold beer and let the good times roll … check out our Play List of places to go bowling in Newcastle and the surrounding areas …
Lane7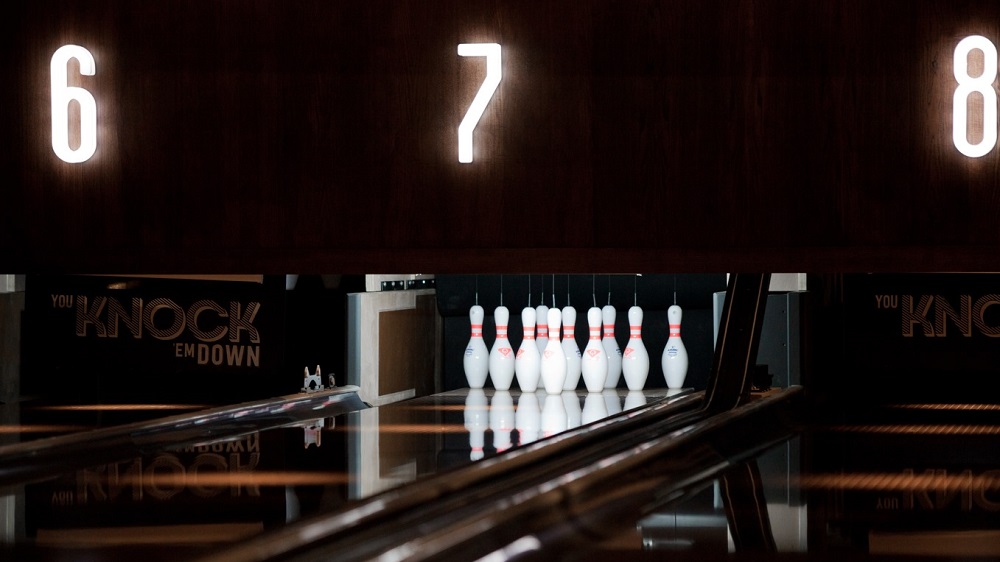 The Lane7 franchise has hit Newcastle with a bang! This Geordie venue has loads of great things for you and your friends to try, including bowling alleys, ping pong tables, a mini golf course and American pool tables. If all that activity makes your stomach rumble, they offer a delicious selection of food and drinks, including more family friendly options for any designated drivers, and fancy cocktails if a celebration is in order. With shakes, slushies, soft drinks and harder options, there's something for every occasion, and enough drinks to keep you coming back every day of the week. If drinking games are in order, you can try your hand at a game or two of beer pong, where you can show off all those skills that you've honed over lockdown! Or if singing is more your style, you can let off some steam in the karaoke room, which we reckon is perfect for a classic rendition of 'Summer of '69'! Interested? Of course you are. Be sure to pay a visit to their website to secure your spot.
Where: 80-90 St James' Boulevard, Newcastle upon Tyne, NE1 4BN
Cost: Starting from £8.50 for peak and £7.50 for off peak, 1 hour of ping pong for £7, £7 for peak karaoke and £5 for off peak, £5 for mini golf, £12 for an hour of pool, £2.50 for a beer pong table (ask about the packages in the venue)
Age: 18+ after 7pm
Drive*: 7 mins
Namco Funscape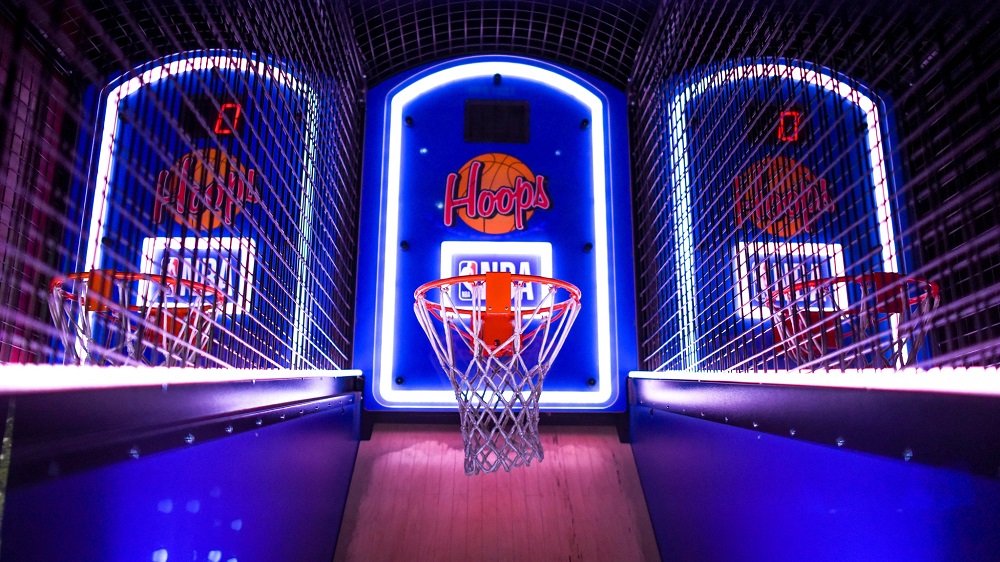 Namco Funscape is a great place to check out if you can't decide on exactly what you want to do! Love the fairground? Re-live your childhood in their fantastic dodgems cars (the fastest in Europe)! Fancy a game of pool? Have a go (or three) on their American pool tables, each game for as little as a pound! Avid gamer? Lose yourselves in their amazing arcade games, including shoot'em-ups, race-car simulators and cuddly toy claw cranes – there's really something for everyone! And, of course, you can take a turn on their bowling lanes – perfect for all occasions. If all that choice sounds exhausting, you can refuel over a delicious burger or classic hotdog, and refresh with a cold drink or two. Check out their website to book.
Where: 244, Metrocentre, Gateshead NE11 9XY
Cost: £3 per dodgem ride, £1 per pool game, £1 for 1 arcade token, £5 per person per bowling
Age: All under 16's must be accompanied by an adult
Drive*: 15 mins
Hollywood Bowl
With twenty-six bowling lanes, a star-studded VIP area, an American inspired diner and a fun-packed amusements area, this is the perfect place to show off your bowling skills than Hollywood Bowl! Brilliant fun for all the family, there's plenty of tasty food options to turbocharge your afternoons, with burgers, chicken wings, nachos and ice creams all on offer! And if all that bowling makes you feel a little thirsty, there's plenty of drinks to keep you cool this summer – shakes, sodas and spirits are all readily available at the diner bar! You can also upgrade your bowling experience to make you feel like a star, with red velvet curtains, funky customised bowling pins and table service in their VIP area. There's loads on offer to help make your day out one that you won't forget in a hurry! Book via their website to get started.
Where: Galleries Retail Park, Washington, Tyne & Wear, NE38 7RZ
Cost: From £6.50 pp per game
Age: Under 18's only allowed with a responsible adult after 6pm
Drive*: 20 mins
Riverside Bowling
Looking for something to do this summer? Look no further than Riverside Bowling! With eighteen bowling lanes, video games, air hockey and pool tables, there's loads of fun to be had! Perfect your strike game perhaps, or maybe embrace your NHL dreams with a game or two of air hockey. If you're looking to cool off from the summer heat, they also stock a fully licenced bar, perfect for those August afternoons, and a huge variety of food, including burgers, sharing platters, chips and more! Riverside is open late seven days a week, so it's a great spot to chill with your friends over a drink or two. You can learn more (including how to book) via their website.
Where: Colima Ave, Sunderland SR5 3XF
Cost: £5 per person per game
Age: All ages welcome
Drive*: 25 mins
Dunes Bowl
Summer is well and truly here, and there's nowhere better to celebrate it than at the Dunes Bowl. Challenge your mates to a bowling competition (or three), and the loser can get the next round at the Brig Bar. Hungry? No problem. You can grab a bite to eat as well, with loads on offer including burgers, chips and much more besides! If all that bowling leaves you itching for more, you can check out their amazing arcade games, and try your luck at winning some fantastic prizes! You can drive a TT Superbike, play pool, try and slam dunk the basketballs or test your skills at the Coconut Shy! Interested? We thought as much. Check out their website to book.
Where: The Dunes, Sea Road, South Shields, NE33 2LD
Cost: £6.50 peak/ £4.50 off-peak for adults. Or 90 minutes of unlimited bowling for £20 per lane (up to 6 people) Sunday to Thursday/ or £30 per lane Friday and Saturday
Age: Under 16's need to be accompanied by an adult
Drive*: 30 mins
Sunderland Bowl (Pad Leisure)
If you're looking for a venue that truly has a little of everything, we highly recommend a trip to Sunderland Bowl. In pride of place on the high street, the stunning venue has hours of stellar activities nestled within. Classic crazy golf, authentic shuffleboards, state of the art smart darts, and of course, twenty four epic bowling lanes spread over two entire floors! But what about food and drink, we hear you ask? Well, look no further than the mouth-watering food and delectable drinks menus. They boast pizza, double cheeseburgers and loaded fries as well as draft beers, wines and lip smacking cocktails. So if you're in need of a cracking day out, why not pay their website a visit to book your next day out to remember?
Where: 141 High Street, Sunderland SR1 1TR
Cost: £6.50 pp per game of bowling, £5 for mini golf, £20 per shuffleboard table, £20 per smart darts board, and £20 for beer pong
Age: Under 16's must be accompanied by an adult after 18:00
Drive*: 32 mins
OTHER GREAT THINGS TO DO IN NEWCASTLE
Ghetto Golf
You may have heard of a little franchise called Ghetto Golf. If you haven't, you're in for a treat! This mini golf company have been tearing up social media, with their crazy mix of golf, cocktails, graffiti and street food, all in one fantastic night out! This adults-only experience has an eighteen-hole mini golf course, with eighteen crazy backdrops which are perfect for all your Instagram stories! With everything from a Jeremy Kyle inspired hole to a life-sized teddy picker, there's craziness behind every twist and turn! If you need to refuel, there's some delicious street food on offer, and plenty of insane cocktails on offer that are sure to keep you coming back for more! Check out their website to book.
Where: The Clay Shed, Hoult's Yard, Walker Road, Newcastle Upon Tyne, NE6 2HL
Cost: starting from £12 per person
Age: 18+
Drive*: 8 mins

The WonderBar
Newly reopened, The WonderBar is the ultimate Geordie venue for a good time, with food and drink, interactive darts, dancing and live sports all on offer. Whether you stop by for a chilled afternoon or to dance the night away, you'll definitely have a good time. Darts fan? They're the first interactive darts venue in Newcastle, or if watching the game is more your style, they show live sports every matchday, and entertainment all through the week. With live music, bingo (are you feeling lucky?) and comedy shows, no two nights are the same at the Wonder Bar! Food and drink-wise, they offer feasts inspired by the North East and beyond, with pub classics, and even delicious hanging kebabs available. Sound good? We thought so! Check out their website to book.
Where: The Gate, Newcastle upon Tyne, Tyne and Wear NE1 5TG
Cost: £30 per hour (peak)/ £15 per hour (off-peak)/ £20 (peak student)
Age: Under 18's allowed until 7:00 then 18+
Drive*: 6 mins
Newbridge Neighbourhood Bar
The Newbridge Neighbourhood Bar is the perfect place to catch up with your mates over a pint or two this summer! With a wide range of food on offer, it's the perfect place to try some NYC inspired pies, cheesy nachos, or some delicious burgers with a huge variety of fillings. Ever tasted a yorkie wrap? This is just the place to try one! Made with Yorkshire puddings, they're a range of delicious wraps filled with beef, pork, chicken, and vegetarian options. If all that food hasn't convinced you already, they also show live sports coverage all season long. With live football, racing, boxing and much more. If watching the sport makes you keen to give it a go yourself, you can try your hand at pool, darts, and even at shuffleboard (which, if you haven't tried already, is definitely not one to miss!) Learn more, via their website.
Where: 2-4 Argyle Street, Newcastle upon Tyne, NE1 6PF
Drive*: 5 mins
Game of Throwing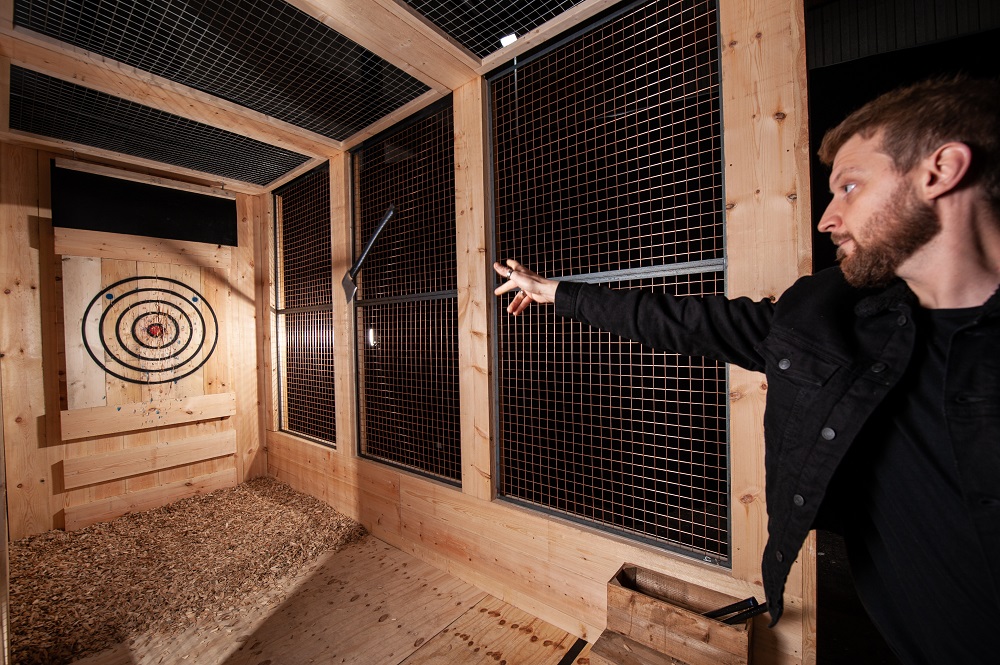 Ever fancied becoming an axe throwing master? How about winning fame and glory in front of all your friends? Well, the perfect place to achieve both, Game of Throwing in Newcastle, has reopened just in time for the summer, so get yourselves down there as soon as possible! If you've never thrown an axe before – no worries! Their expert team will give you a quick fifteen-minute rundown that will have you slinging axes like a pro in no time! It's a great opportunity to let off some steam and catch up with your mates over a target or two. If you're feeling a little thirsty, there's plenty of refreshments available on site, although purely non-alcoholic for safety reasons. Have a look at their website to book.
Where: Newgate Street, Newcastle upon Tyne, NE1 4XQ
Cost: £20 (adults)/ £15 (10-16)
Age: Groups of 10-16 year olds must be accompanied by an adult (all throwers must be 10 and over)
Drive*: 4 mins
* Drive time is taken from Queen Victoria Road, Newcastle (according to Google maps).
The details within this blog were correct at time of writing. For up to date information always refer to the venue website.