It might be a bit old skool, but bowling is nostalgically brilliant. Let's face it, we love bowling, we love the clatter of the pins, we love the celebrations and we love how rubbish we are at it. So, we've put together a list of great places to go bowling in Leeds. But, just in case bowling isn't your thing … we've also listed some other great nights out, just keep scrolling.
Roxy Lanes, The Light – BRAND NEW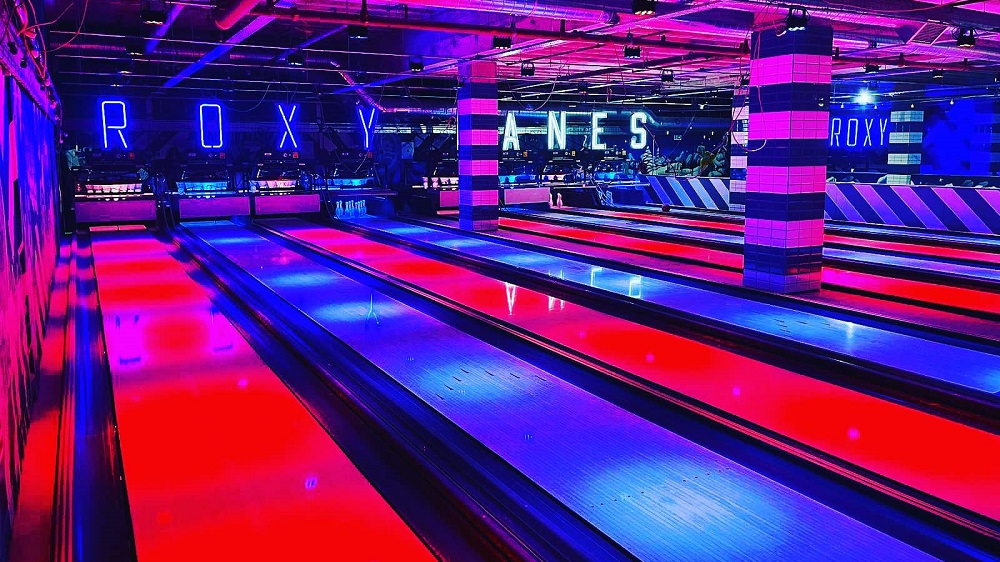 There's not much better than a brand new bowling alley! So, Leeds you're in for a treat as Roxy Lanes is opening at The Light, tonight! With loads of awesome activities for you to get stuck into, make sure to get down to Roxy Lanes for your celebrations! Try your hand at bowling the perfect strike, or practice your pool skills on one of their several tables. Ever tried ice curling? Well, now's your chance, on their awesome ice curling lane. How about shuffleboard? And of course it's the ideal spot to catch some live sports. Interested? Of course you are. Check out their website to get your booze and balls rolling.
Where: The Light, 44-48 The Headrow, Leeds, LS1 8TL
Cost: £10 peak and £8 off peak for bowling
Age: 18+ after 5pm
Hollywood Bowl
Strike it lucky at Hollywood Bowl! Complete with thirty-two lanes, there's loads of space for you to hang out with your mates and kick back with a round or two of bowling – loser gets the next round, right? If you want that extra bit of glam to your night, make sure to check out their awesome star-studded VIP area, with comfy lounge seating and multicoloured décor from as little as an extra pound per person! Feeling a little hungry? Make sure to grab a bite to eat at their American themed diner from their extensive menu, with everything from salad to hot dogs and burgers. If you want to grab a drink, their bar also has an awesome range, complete with some delicious slushies and everything else you could imagine! To learn more be sure to visit their website.
Where: Cardigan Fields, Kirkstall Road, Leeds LS4 2DG
Cost: £6.65 for 1 game of bowling
Age: All ages welcome
Tenpin
If you fancy a round of tenpin bowling, make sure to drag your mates down to Tenpin in Leeds! With twenty-six bowling lanes, a jam-packed arcade, table tennis, pool tables and even beer pong to enjoy, there's loads of awesome stuff for you to enjoy. If you're after a post-match energy boost, they've got delicious food and drinks on offer, perfect for whatever you're craving! Ideal for everything from nights out to first dates, it's a great spot to check out in 2022, so what are you waiting for? Find out more on their website.
Where: 13 Merrion Way, Leeds LS2 8BT
Cost: £12.60 for 1 game of bowling
Age: 18+ after 5pm
Roxy Ball Room, Merrion Street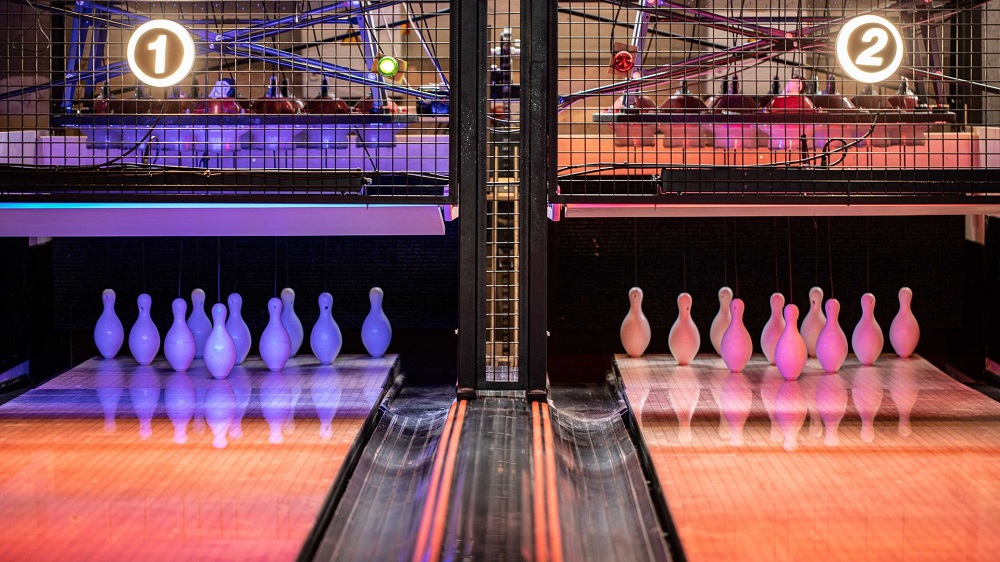 Whilst we've let the new Roxy have top spot today, we couldn't ignore the fabulous Roxy Ball Room on Merrion Street. Although this Leeds favourite doesn't have traditional ten pin bowling, it does have it's tough cousin … Duckpin! Stubby little pins, shorter lanes and no holes, so those acrylics are safe. Not just that you can get your game on with Bank Shot shuffleboard, crazy pool, ping pong, pool, beer pong, standard shuffleboard and you can even get in party vibes in their karaoke room! So grab your pals, because your weekend starts here. Get booked in via their website.
Where: 9a Merrion Street, Leeds, LS1 6PQ
Cost: Duck Pin – £12/15 for 30 mins (1 hour minimum booking)
Age: 18+
OTHER GREAT ACTIVITY VENUES IN LEEDS
Flight Club Darts
Managed to check out Flight Club Darts yet? If not, you're totally missing out – get yourselves down there today! Complete with thirteen oches, there's plenty of room for everything from head-to-head darts tournaments to just soaking up the Flight Club atmosphere with a drink in hand. Their awesome interiors are perfect for that stunning insta story (and of course, everyone will be super jealous!) as they combine the heritage of classic darts, the pub and the fairground, and also a special twist featuring Leeds itself! Certainly not one to miss, make sure to check it out! Here's a link to their website to take aim at your next night out.
Where: Sovereign House, 1-2 South Parade, Leeds, LS1 5QL
Cost: 60 minute sessions £14 for two players, 90 minute sessions £20 for two players
Age: 18+
Whistle Punks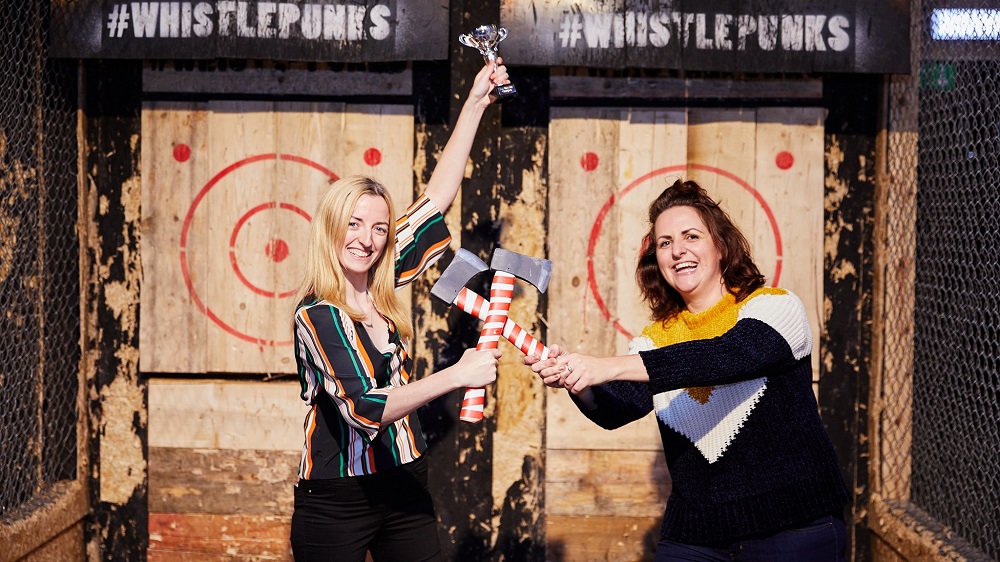 Fancy embracing your inner Viking this winter with a spot of axe throwing? Yeah, we reckoned so. Get yourselves down to Whistle Punks to get started! Never fear if you've never done it before, their awesome instructors are ready to kickstart your axe throwing career with top tier hints and tricks, you'll be slinging them like a pro in no time, and with an awesome soundtrack to boot, you're sure to have an epic experience! Challenge your friends to a duel for the ages, and showcase your impressive skills on everything from a fun night with friends to an awesome first date they're sure to remember. Whatever the occasion, you're bound to have an amazing time, so make sure to check out their website to find out more.
Venue: Millennium Square The Electric Press 4, Leeds LS2 3AD
Cost: £28 per person on Saturdays. Rest of the week £25 peak times and £20 off peak
Age: 18+
Junkyard Golf
Swing into February with a round or two of golf at the awesome Junkyard Golf Club in Leeds! With three crazy courses to choose from, there's loads of golf, games and good times to be had! Wind your way through towers of tyres and written-off auto-junk in their Gary course, or brave your fears on their Bozo course – complete with dark fairgrounds, circus freaks and twisted clowns! Or put your golf skills to the test with their Pablo course, where you navigate through the depths of the jungle (but can you stay sane along the way?) They've also got a bunch of delicious food and drink on offer if you fancy – and who wouldn't? Check out their website to plan your sesh.
Where: The Light the Headrow, The Headrow, Leeds LS1 8TL
Cost: £8.50 per game for off-peak or £10 for peak per game
Age: 18+ after 6pm
Puttstars UK
Putt your golfing skills to the test this winter at Puttstars Leeds. With three awesome nine-hole courses to choose from, including Zig Zag, Slingshot and Pin Ball, there's loads of laughs to be had as you challenge your mates for glory and bragging rights! They've also got a bunch of other awesome things to entertain you all night long, including an amusements arcade, an American pool table and a delicious diner serving mouth-watering food perfect for an energy boost. And of course, what mini golf sesh is complete without some classy cocktails? You can find it all at Puttstars, so don't miss out! Get yourselves down there on your next night out – find out more via their website.
Where: The Springs, Century Way, Leeds LS15 8GB
Cost: £8.40 per person for 2 rounds
Age: All ages, after 8pm children must be accompanied by an adult
The BOX Bar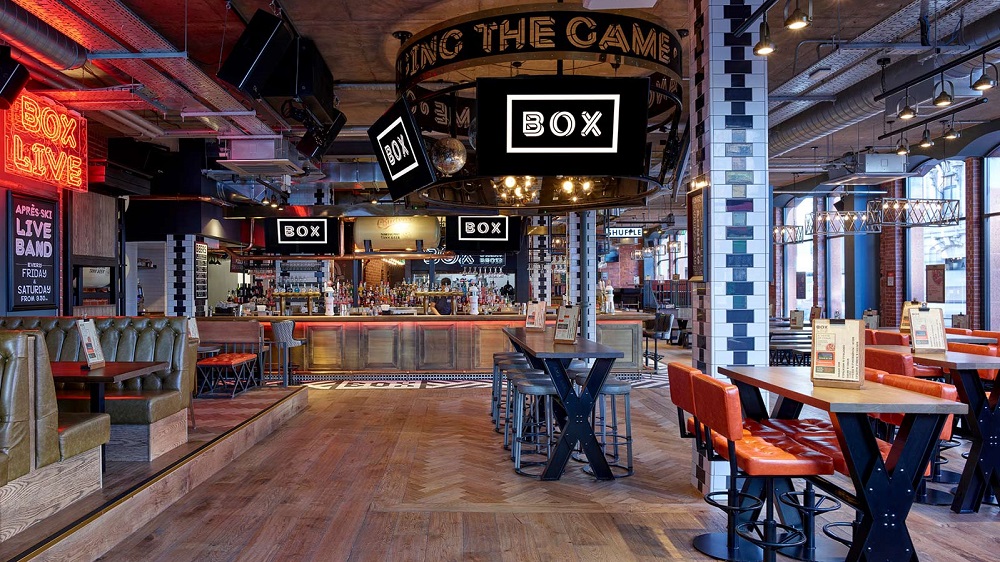 Located in the heart of Leeds, there's a game-changing sports bar perfect for the football fan. And rugby. And boxing. Any kind of sport, really. And honestly – you don't even need to be interested in the beautiful game to have a good time! With an extensive drinks menu, everything from classic cocktails to a pint to enjoy with your mates, there's something for everyone, and if you're feeling peckish, they've got loads of amazing food on offer as well. And of course, if you love sports, they've got some massive screens streaming the match all day long. When you're ready to get yourself in the game they've got gorgeous shuffleboards and darts. Interested? Yeah, of course you are. Who wouldn't be? To get started you'll be wanting to visit their epic website.
Venue: 15 Infirmary Street, Leeds LS1 2JS
Cost: From £10 for an hour's game of shuffleboard (prices can vary) and £10 for darts
Age: 18+ after 9pm
Prices etc were correct at time of publishing. Best to check with the venue website for up-to-date information and offers.
Header image: Tenpin