Electric Shuffle Canary Wharf have launched their outdoor Summer Terrace. This year the terrace is twice as large as before and offers a surprisingly tranquil oasis in the very heart of the bustling city of London.
Social Playlist were recently invited to come and experience the Summer Terrace as well as the thrill of a game of Electric Shuffle – and we were in for a treat.
The Summer Terrace at Electric Shuffle
The new Electric Shuffle Terrace is located on the opposite side of the road from the main Electric Shuffle venue in Canary Wharf. The ground level terrace is demarked by grass-style flooring and white picket fencing and occupies the space between the western end of Cabot Square and the Cabot Square Fountain. Although the Summer Terrace is encircled by tall buildings, the garden theme creates a wonderful oasis of calm.
The Summer Terrace offers plentiful seating options from deck chairs, pub benches and high tables with stools. Above is a criss cross of large bulb lights, which provide additional definition to the space, enveloping guests in an ambient glow and further separating from the hustle and bustle of the city.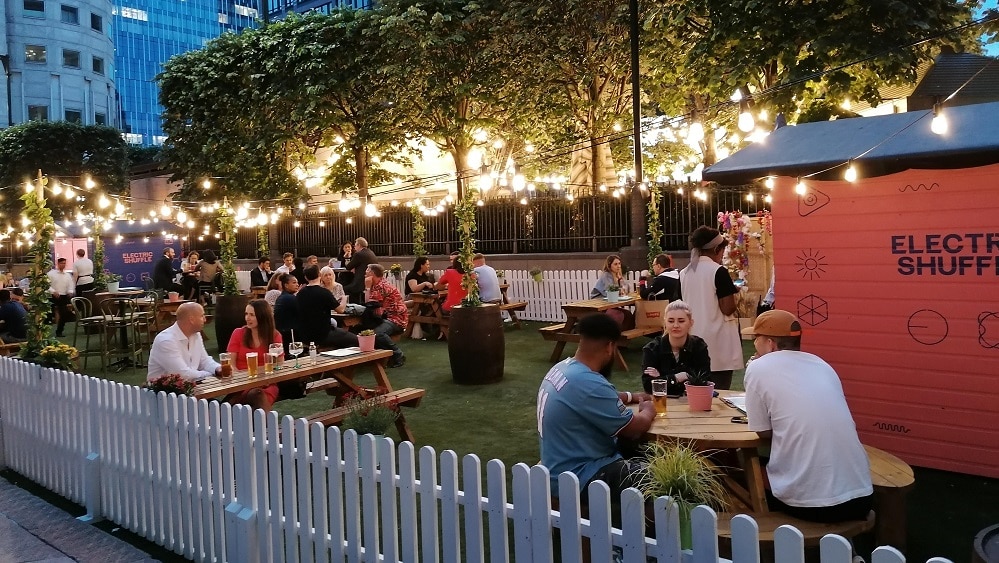 At either end of the Terrace you'll find a garden shed transformed into a cocktail bar. You can enjoy the summer sun with a refreshing soft drink or ask the bar tender to mix you up one of their Summer Spritzers with Grey Goose Essences
In the middle of the Terrace sits a third shed, which contains a kitchen cooking up juicy burgers.
If you work near Canary Wharf then this is the ideal place for you to escape the office at lunch time and catch some rays this summer.
Inside Electric Shuffle
The main Electric Shuffle venue is a completely different vibe. The beautifully crafted interior has recently enjoyed a re-fresh and now features deep wood panelling. All around the venue are fascinating art installations, historic photos and impressive lighting clusters – creating the warm, speakeasy vibe.
However, it all fades into the background as you're greeted by the dazzling neon lighting above the impressive Electric Shuffle tables, the sounds of raucous competition from deeper inside the venue and the hubbub of relaxed chatter around the bar area.
The joy of shuffleboard at Electric Shuffle, is that the cutting-edge technology tracks the pucks and deals with all the scoring for you. So, no-one needs to have any idea of how to score – the tech does that and it displays the scoring and action on the large screen located at the foot of the table.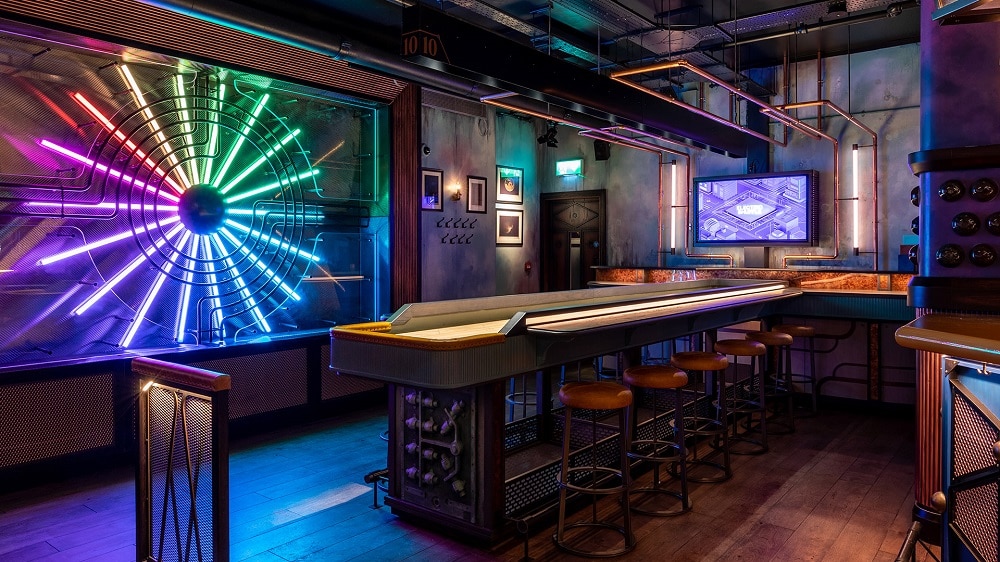 Plus there are different games to play, so teams of people work together to gain points, making this a brilliant activity for groups of friends or work colleagues. It's really simple to play and pretty much everyone is on the same skill level – making it even more fun. The tech tells you who's turn it is and mixes up players, so you get to play against different people each time.
Our top tip – the time goes really quickly, so don't spend ages faffing about with your selfies. Choose a game and get on with it as quick as you can.
Each table is located in a semi-private area with plenty of room for your group to watch the action, eat and drink.
Food and Drink
Electric Shuffle have a great menu. As well as serving burgers on their outdoor Summer Terrace, the main Electric Shuffle venue serves up tasty dishes with an emphasis on sharing! You've got Small Plates (e.g. Korean Beef Skewers, House Meatballs and Halloumi Fries), Sharing Platters with all their meat or veg specialities included, Sharing Pizza (e.g. Pork and Fennel Mince Pizza, Bacon and Egg Breakfast Pizza or Wild Mushroom Pizza), and even Sharing Treats in the shape of chocolate and hazelnut filled doughnuts!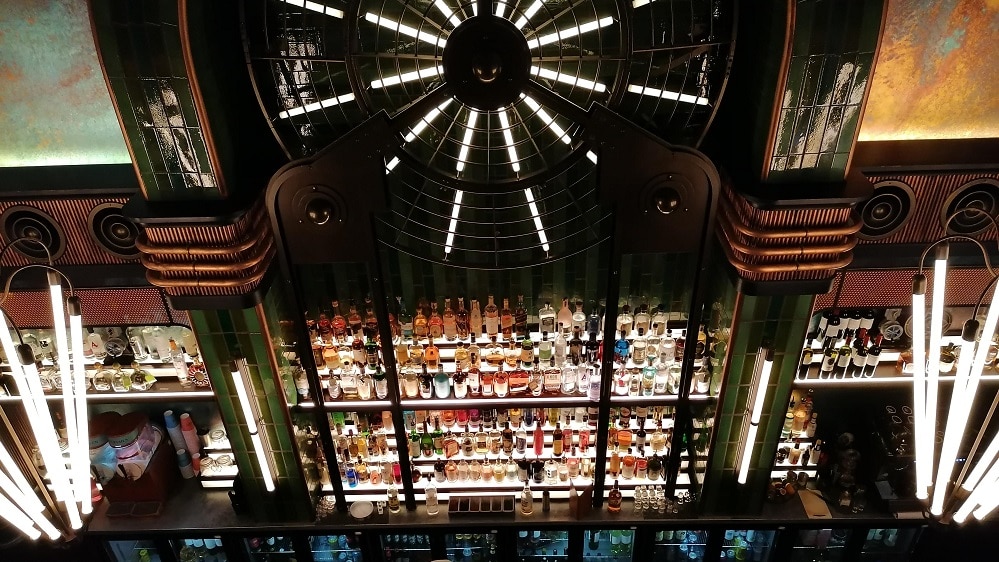 At Electric Shuffle you're never too far away from a bar. Their main bar is literally stacked with options including spirits, beers, wines and softs. However, you need to pay attention to their cocktail offering … Raspberry Puck Power (Ketel One Vodka, Raspberry, Citrus and Prosecco), Copper Shock (Copper Dog Blended Whisky, Crème De Mure, Lemon, Vanilla, Blackberry and Mint) or Electric G&T (Tanqueray No10 Gin, Belsazar Rose Vermouth, Lemon, Tonic with Soda).
So, now you have the low down on the wonders of Electric Shuffle, it's time to get you and yours booked in – you'll have a blast.
PS: They also do Brunch!
Where: 10 Cabot Square, North Colonnade, Canary Wharf, London, E14 4EY
Age: 18+ after 5pm – 18+ only to play Electric Shuffle
Cost: £10 per person for 90 minutes

Other News About Electric Shuffle & Flight Club
(They are run by the same company – Red Engine Team)