There are so many great places to play in Manchester – you're really spoilt for choice. So, let us narrow it down a bit for you. Why not have a go at Shuffleboard? This is a brilliantly fun, hugely competitive game where you glide small pucks down a shiny table into the scoring zone whilst also hopefully knocking your mate's pucks off the table into the gutter. We highly recommend it.
Roxy Ball Room, Manchester Deansgate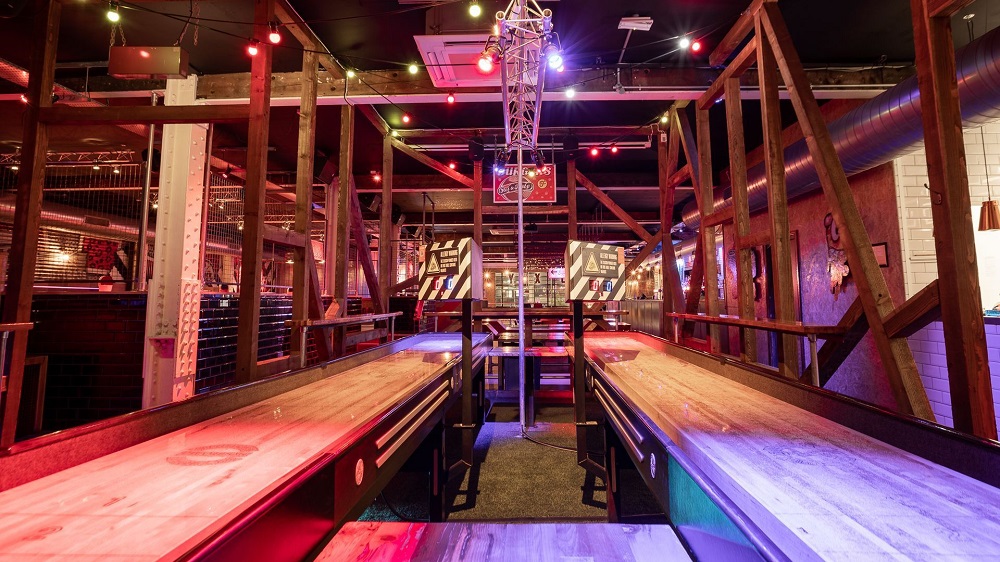 Roxy Ball Room in Deansgate is the best place to hang out with your mates after a long day at work, and it offers the atmosphere to match! Here you'll find two gorgeous full length shuffleboard, giving you the ideal opportunity to flex those competitive muscles and take out your opponents in style. You could also try out the mini version of this gentlemanly sport … Bankshot Shuffleboard. Rather than gliding your puck down the long table, you bounce it off a backboard and into the scoring zone (hopefully)! There's loads of other great activities to do too: from Roxy Golf, ice-free curling, pool tables, ping pong and even beer pong. You can show off all your crazy skills, and if all that adrenaline makes you feel a bit thirsty, head over to the bar for a cocktail or two – you can go Classic or Signature, with drinks such as Perfect Game, Golden Touch and of course, the Shuffle Hustle! Feeling hungry? Be sure to grab a bite off the pizza and nibbles menu, where they offer full pizza, by the slice or as a slice and fries. They really have it all! Make sure to check out their website to get booked in.
Where: 76-78 Deansgate, Manchester, M3 2FN
Cost: Shuffleboard (£12/15 off peak and peak)
Age: 18+
7 SINS
In the heart of the Northern Quarter lies Manchester's worst kept secret! 7 Sins is the perfect spot to indulge your every whim, including devilish desserts, marvellous milkshakes and boozy buffets! The underground basement bar houses authentic shuffleboards and pool tables, alongside craft beers and cocktails, so there's plenty to keep you entertained throughout the summer, and with a mouth-watering food menu, there's no excuses to stay away! If you love all things retro, be sure to give their arcade games a spin, and if you love retro prices for your cocktails, make sure to get yourselves down there on weekdays until seven for their 2-4-1 happy hour! Don't miss it! Check out their website to start planning your next night out.
Where: 43-45 Lever Street, Manchester, M1 1FN
Cost: £3.75 for shuffleboard per hour or £7.50  after 7pm  
Age: 18+ after 8pm
Bierkeller & Shooters Sports Bar, Manchester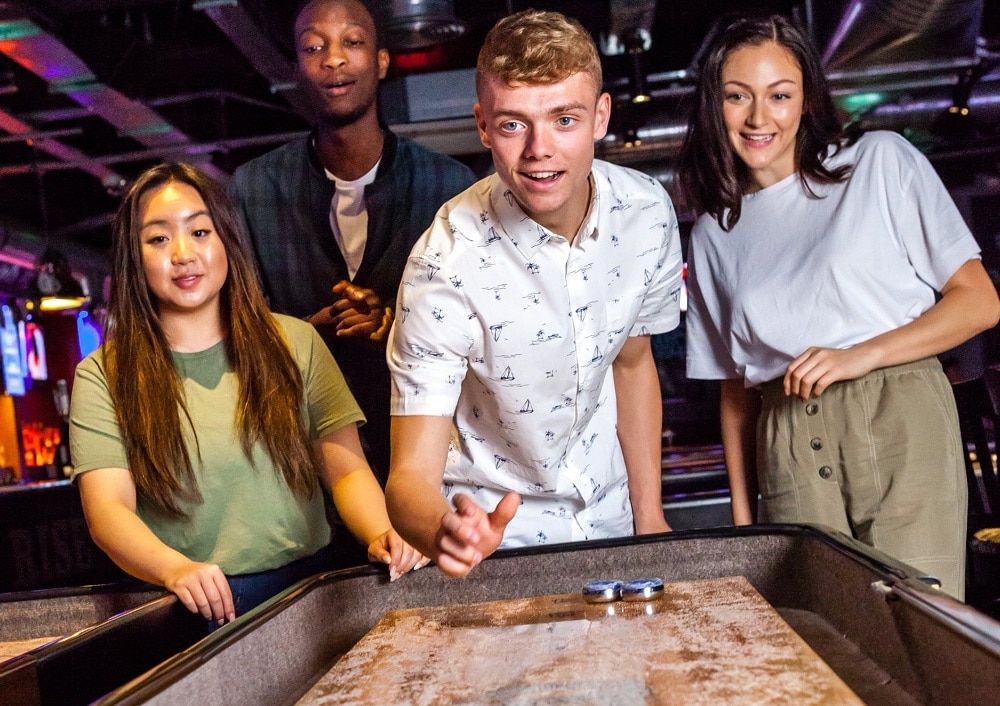 Fancy yourselves sports fans? Then get yourselves down to Shooters Sports Bar at the Bierkeller! Spread over two floors with four fantastic bars, it's home to over twenty TV screens, three projector screens and large LED super screens, so you can catch every second of the game in high definition. It's certainly not one to miss! If all that action leaves you itching for more, they also have, two full-sized shuffleboards, five American pool tables and plenty of table football! And if you want a night out to remember, make sure to get yourselves down to the next Oompah Show, where there's an evening full of foot stomping, hand clapping and stein swinging – a homage to the classic Bavarian drinking traditions. Have a look at their website to see what's on.
Where: 12, The Printworks, 27 Withy Grove, Manchester, M4 2BS
Cost: shuffleboard is £14 for the hour  
Age: Under 18's allowed depending on busyness and venue capacity (for example Saturday evenings are over 18's only) 
The Gasworks Brewbar, Manchester
There's nothing quite like The Gasworks in Manchester. With an onsite brewery, quality pub food and a worldwide beer selection, it's the perfect place to spend your evenings this summer! If you want to burn off some energy, then be sure to give their shuffleboard a go! Challenge your mates to a match or two of the newest game in town – it's like a funky mix of curling and air hockey. Every Tuesday night there's the Shufl Social, where from 5.30pm – 8pm you can play shuffleboard for free! They also serve a wide range of food from sandwiches and wraps to salads and sides – there's a great selection for whatever the weather and is ideal for a post-match celebration. Built on the site of the old Gaythorn Gasworks, the brewbar twists the city's industrial heritage with a rustic feel, and with the in-house brewery, their ever-increasing range of home beers are served direct from tank to tap. Plus, every so often they have Kitchen Residencies, showcasing the finest independent local food vendors. Check out their website to find out more.
Where: 5 Jack Rosenthal Street, Manchester, M15 4RA
Cost: £10 for an hour of shuffleboard for weekdays (Sunday – Thursday), £15 for Friday and Saturday for an hour of shuffleboard. Tuesday early evenings are FREE (subject to availability)!
Age:  18+ after 8pm  
Roxy Ball Room, Manchester Arndale
Manchester's a great city. We all know this already, but one of the things that makes it great is the fact that they have not just one, but two Roxy Ball Room venues! They offer some of the great games that the Deansgate location boast, like shuffleboards, Bankshot shuffleboard, beer pong, ping pong and pool tables, but also some fantastic new ones as well! Ever heard of crazy pool? It's a fantastic mash-up of mini golf and pool, perfect for challenging your mates for a round or two. If bowling is more your thing, make sure to check out their full-sized bowling lanes, and if you're a gamer at heart, give their arcade games a spin, with loads of their retro machines including Roxy Derby, Ice Ball and Basketball! With the same mouth-watering menu of food and drinks on offer, make sure to get yourselves down there this summer! Have a look at their website to find out more.
Where: Unit R3, Withy Grove, Manchester, M4 3AQ
Cost: Shuffleboard (£12/15 off peak and peak)
Age: 18+
Box Bar Manchester Deansgate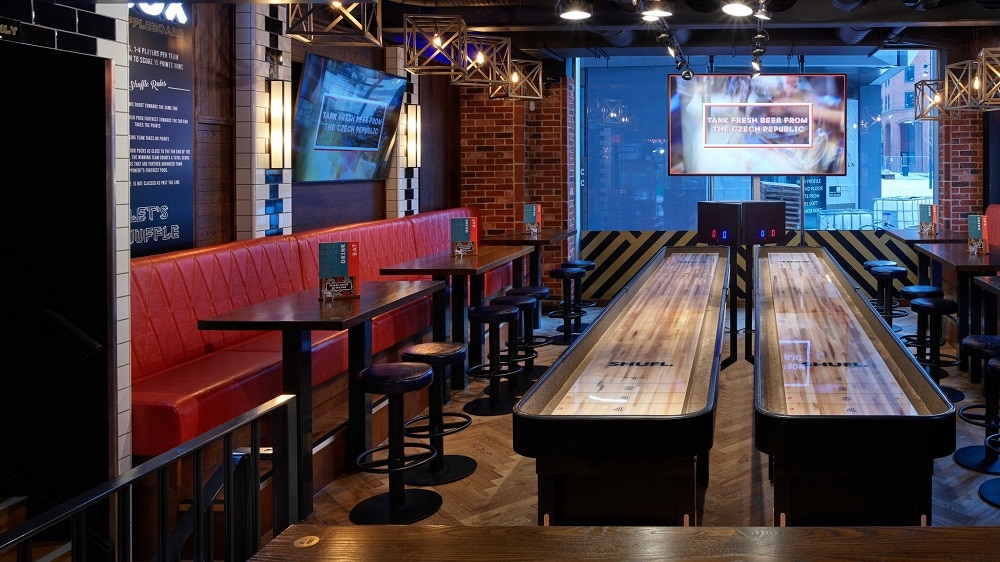 Like sports? Like drinking? The Box Bar in Manchester is the perfect combination of both. With everything from weekly pub quizzes to live bands and Bandeoke, there's loads of things to do every night of the week! An ideal place to eat, drink, play and party, it's certainly not one to miss on the Manchester scene. They've also got your sports fix sorted, streaming everything from boxing to the UFC, so be sure to catch the next match complete with delicious food and drink in hand. If you fancy getting in on the action yourself, be sure to check out their shuffleboard tables, where you can show off your awesome skills with a game or two! Interested? Of course you are. Make sure to check out their website to plan your visit.
Where: 125 Deansgate, Manchester M3 2BY
Cost: £10 for an hour of shuffleboard
Age: 18+
FANCY TRYING A DIFFERENT ACTIVITY?
Once you've tried out all these great places to play shuffleboard, you might be ready to try your hand other fun nights out. Check out our reviews of great places in Manchester to play ten pin bowling, axe throwing, crazy golf or try out some escape rooms or immersive experiences.
All details and prices were correct at time of release. For up-to-date information always check the venue websites.