Are you looking for a fun night out in London? Desperate for something to do in London this weekend? Well, we recommend a game or two of shuffleboard! Ridiculously fun and highly competitive it's the perfect way to unwind, so, check out our list of some hot spots to try out …
London Shuffle Club
In the heart of Shoreditch, there's a badly kept secret about the best night out in town. What are you waiting for? Get yourselves down to London Shuffle Club this winter! With both lane and table shuffle on offer, it's the perfect spot to hang out with your mates, whatever the vibe of your night. If you're feeling hungry after the game (winning is exhausting work, we get you!) soak up the amazing atmosphere and savour one of their seasonal cocktails or a sourdough pizza or two. It's a night out you'll never forget, especially once you see Crazy Eight, their basement speakeasy bar! Check out their website to find out more.
Where: 4 Ebor Street, London, E1 6AW
Cost: Shuffle Lanes £25 off peak and £42 peak. Table Shuffle £32 peak
Age: 18+ after 7pm
Electric Shuffle
Want to do something a little bit special on your next night out? Get yourself booked in at Electric Shuffle. They've added a bolt of lightning to the hottest new game on the UK competitive socializing scene and added amazing twists and turns, sure to give you and your mates an epic experience! Their stunning bar has got an amazing selection of food and drink to check out, with everything from delicious small plates to tasty pizzas and mouth-watering sharing platters! What more could you want? Check out their website to find out more.
Where: 10 Cabot Square, Canary Wharf, London, E14 4EY / 10 Bermondsey Street, London Bridge, SE1 2ER
Cost: £10 per person for 90 minutes (Booking of 6 or more required for after 4pm)
Age: 18+ to play the shuffleboards. Under 18's can visit the venue before 5pm for food
Bounce
Don't miss Bounce! Crammed with a crazy selection of tabletop games, including ping pong, wonderball, beer pong and shuffleboard, it's definitely one to check out. Challenge yourselves to gaming staples like ping pong, or try something a little different with wonderball – a high-tech immersive experience where you tailor your own gaming experience. Just want booze? See who's the best at beer pong. And don't forget to give the shuffleboard a spin! Feeling fancy? Make sure to get yourselves to their Bottomless Brunch every weekend, regardless of whether you're just chasing the hair of the dog or you're part of the 'ladies who brunch' crew. Have a look at their website to find out more about all their exciting experiences.
Where: 241 Old Street, London, EC1V 9EY / 121 Farringdon, London, EC1N 2TD
Cost: £6 per person
Age: 18+ after 6pm Monday to Saturday
Players Social
Located in the fashionable Spitalfields Market, Players Social has been designed as a beautiful, earthy oasis where modern design meets woodland glade. Whether you choose to sit in the bright and airy indoor space or opt for the covered and heated outdoor area, where you can enjoy the hustle and bustle of the market, you'll find the vibe of Players Social instantly calming… until you get around the shuffleboard table. Throughout Players Social you'll discover four stunning 18ft Grand Champion shuffleboard tables and a Bankshot table, as well as ping pong and foosball tables. Players Social are passionate about keeping things local and green – as reflected by their sustainably farmed pizza ingredient a brews from Camden & Beavertown. A truely wonderful place for a date or time with mates. Check out their website for all their latest offers.
Where: 1 Crispin Place, Spitalfields, London, E1 6DW
Cost: Table Tennis & Shuffleboard £3 per person for 30 minutes or £5 per person for 1 hour. Foosball £5 per table for 30 minutes.
Age: No age limitations – family and dog friendly
Boom: Battle Bar
If you are easily bored then Boom: Battle Bar is the perfect place for you and there's a brand new one opening this month in Wandsworth. Their pumping venues offer games like Bavarian Axe Throwing, Crazier Golf, Augmented Reality Darts, Beer Pong, pool and, of course, shuffleboard. (Just writing the list is quite exhausting). When you're ready for some refuelling, which is inevitable, then they have a great wings based menu, whether that's chicken wings or cauliflower wings, all available with your choice of sauce from the gentle Garlic Parmesan up to Atomic Mind Melter. With all that yumminess you're going to need something to wash it down with … in walks Boom Beer, the perfect partner. When you're ready for a night of energising fun, check out Boom: Battle Bar.
Where: Ram Quarter, 3 Barley Walk, Wandsworth London, SW18 1UL (opening 22nd November) / Units 2-5, Lakeside Shopping Centre, West Thurrock Way, RM20 2ZP (not technically London, but pretty close)
Cost: Shuffleboard is £30 for 1 hour for up to 6 people
Age: 18+ after 7pm

PlayBox at Boxpark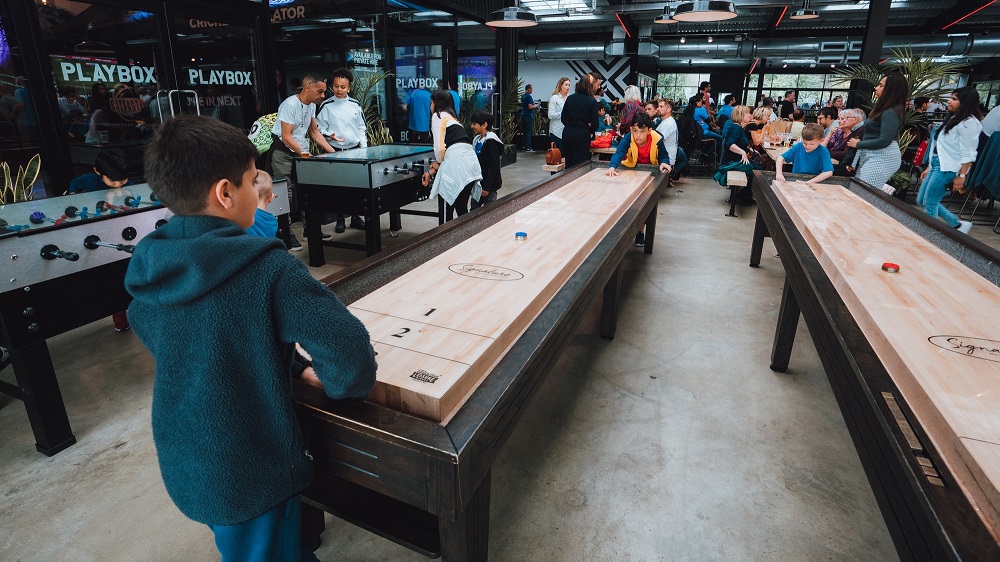 Boxpark is where it's at this winter. PlayBox, their competitive leisure themed bar, is packed full of awesome stuff to try out, with day-glow ping pong, pool, shuffleboard and football tables. We reckon there might be a bit of a friendly competition between you and your mates – and it's the perfect place to challenge your friends on their backspin and shuffling skills! Did we mention their main bar also features the largest Staropramen tanks in the UK, with high-quality unpasteurised beer straight from Prague? Delicious. They also show a whole bunch of live screenings whatever you're into, from sports events to reality TV. Interested? Of course you are. To get started be sure to visit their website.
Where: Boxpark, 18 Olympic Way, Wembley, HA9 0JT
BrewDog – Paddington and Tower Hill
The BrewDog franchise is a staple fixture throughout the UK, all the way from Aberdeen to Devon. In fact, it's so popular, there are six BrewDogs in London alone! So of course, you can't miss out on this beer bonanza! Their Paddington and Tower Hill locations are especially awesome, as they're both kitted out with gorgeous shuffleboards, where you can test your skills and prove your mettle against your mates with a pint or two! And if that's not enough, they've also got arcade machines where you can bust out your sickest trick shots to get yourselves on the leader boards and win yourselves eternal glory. Well, at least until someone knocks you off the top spot. Looking to get started? Find out how via their website.
Where: (Paddington) Harbert Road, London, W2 1AJ/ (Tower Hill) Unit 3, the Minister Building, Great Tower Street, London, EC3R 5AR
Age: 18+
Nine Lives
A hidden gem nestled in the Victorian basement of Holyrood Street, Nine Lives is a cosy little spot to check out with your friends. Crammed full of incredible cocktails, great vibes and a killer soundtrack, it's a great place to chill with your mates and have a drink or two. Make sure to check out their shuffleboard if you're after a bit of friendly competition! And if you fancy a Saturday night boogie, get yourselves down to Nine Lives at the weekend, where they've got a weekly party with a selection of DJs from some of London's hottest labels. Have a look at their website to plan your next trip.
Where: 8 Holyrood Street, London, SE1 2EL
Age: 18+
Prices etc were correct at time of publishing. Best to check with the venue website for up to date information and offers.
Header image: Bounce Ping Pong