Looking for a great night out in Leicester; we've got some great choices for you. Whether you love to hustle on the shuffleboard, score high on the darts or bowl over the competition on the lanes, Leicester has a game for your perfect night out …
Lane7
Fancy a go at shuffleboard in Leicester? Of course you do. Where better than at Lane7? Complete with everything from bowling to crazy golf, as well as American pool, beer pong and of course, shuffleboard tables, you're sure for a crazy time you'll never forget! Show off your skills alongside a drink or two, whether you prefer the simple pint or wanna try one of their awesome cocktails, it's up to you. If you wanna unwind after all that high-octane competition, you can relax in their retro arcade, filled with games that are bound to take you on a trip down memory lane. Sound good? Yeah, we wanna go too! Check out their website to find out more.
Where: Grand Central Station, Great Central Street, Leicester LE1 4JT
Cost: £15 for an hour of shuffleboard
Age: 18+ after 7pm
Steamin' Billy's The Parcel Yard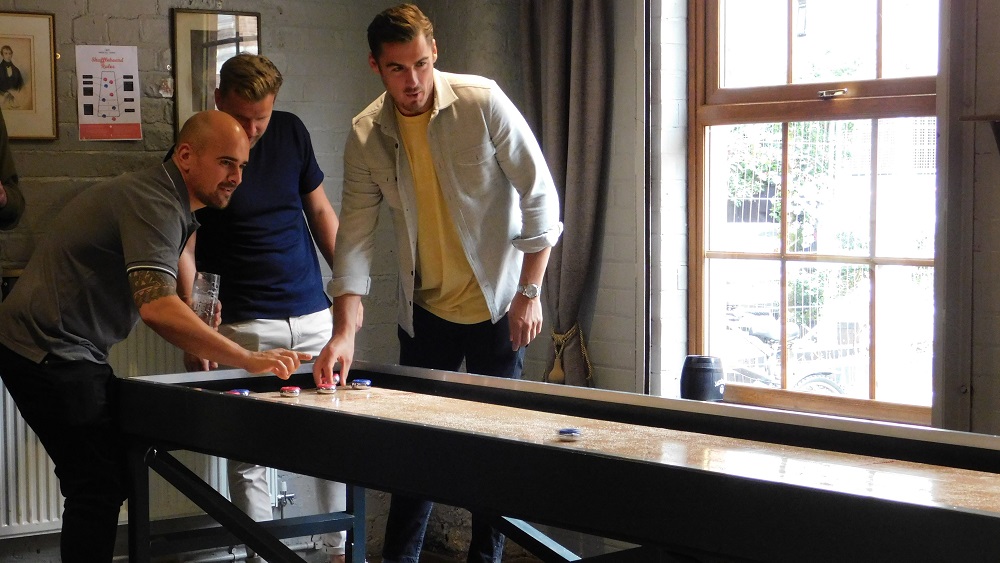 A stone's throw from the train station, The Parcel Yard is the perfect spot to shake up your shuffleboarding skills in the city center! They've got shuffleboard tables, or if slinging things is more your scene, then check out their Club 180 Darts. Prefer slinging pints? They've got all sorts on offer, with everything from traditional pub fare to match day menus. Whether you're a Tiger or a Fox fan, it's a great place to catch the game, and they're sure to have an electric atmosphere every match! Interested? We thought so. Check out their website to discover how to book.
Where: 48a London Road, Leicester Leicestershire LE2 0QB
Cost: £5 per hour for shuffleboard
Age: 18+ after 8pm
OTHER GREAT ACTIVITY VENUES IN LEICESTER
East Street Lanes
East Street Lanes is Leicester's premier boutique bowling alley, perfect for everything from first dates to nights out with mates! With eight lanes available, there's loads of space for the challenge of a lifetime – compete for pride, glory and prowess, and your win is sure to go down in history when you score that winning strike! They've also got loads of other games on offer if bowling isn't enough! With pool, air hockey, basketball and giant screen Space Invaders (alongside an entire arcade packed full of cool stuff), you're in for an awesome time. Have a look at their website to get started.
Where: East Street, Leicester LE1 6NB
Cost: £8.95 off peak and £9.95 peak for 1 game of bowling
Age: 18+ after 7pm
Hollywood Bowl
Let the good times roll at Hollywood Bowl Leicester! With awesome bowling fun in store, it's a great place to roll away your weekends with your mates. Boasting state-of-the-art bowling lanes, amazing food and delicious drinks, it's sure to get the party started when you start scoring those strikes! If you fancy an extra challenge, be sure to test your skills and beat those high scores in their fantastic amusement arcade, complete with classics such as the grabber machines, 2p machines and the latest and greatest racing games for you and your friends to enjoy. Get onto their website to plan your visit.
Where: Lubbesthorpe Way, Leicester LE19 1JZ
Cost: £7.50 pp per game of bowling
Age: All ages welcome
Caddyshackers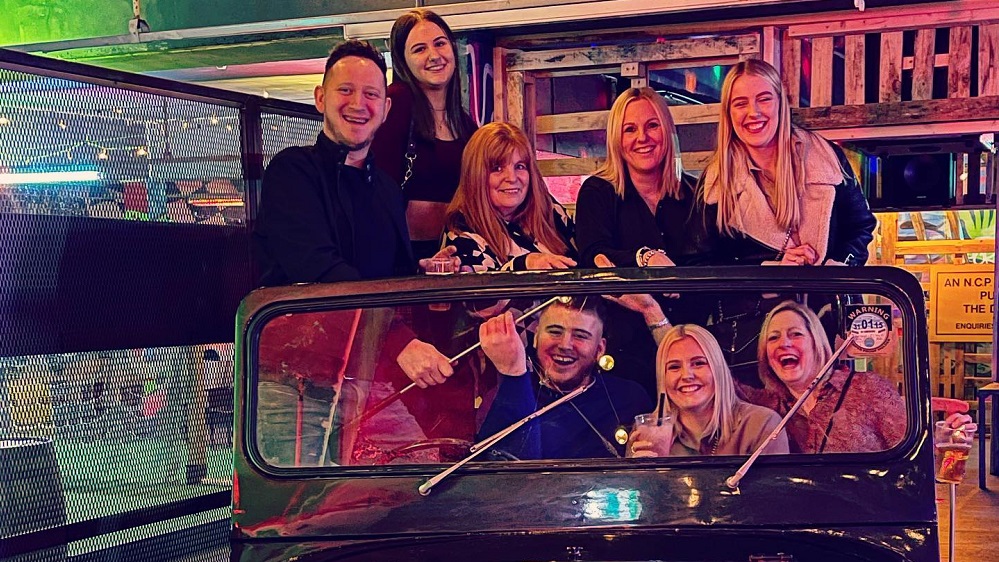 Get yourselves down to Caddyshackers this spring for all things crazy golf! Complete with eighteen holes of balls, booze and bangin' tunes, it's a great place to celebrate that Friday feeling every day of the week. If you wanna try something a little different, be sure to check out their axe throwing cages as well – perfect for letting off a little steam and showing off in front of your mates. If that's not enough to tempt you, they've also got some delish food and drink on offer, with everything from craft beers to cocktails! So why not check out their website to get the party started?
Where: 40 Calais Hill, Leicester LE1 6AR
Cost: £12 per person for a round of golf. £25 per person for axe throwing
Age: 18+ after 7pm
The Queen of Bradgate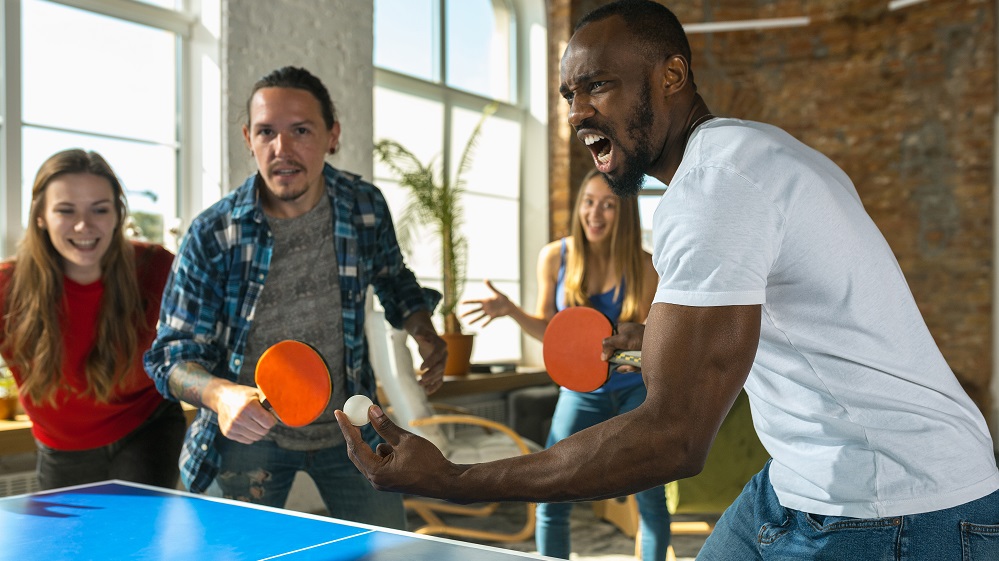 Still going strong since 2014, the Queen of Bradgate is the ideal spot to spend your spring! With an expertly made drinks menu, complete with all your favourite cocktails, and some top-notch food, it's the perfect place to enjoy a round or two of ping pong in their awesome games room. They've also got a variety of events on all week, including Tapas Tuesdays, live music and a DJ night! Film fan? Make sure to check out their vintage cinema room, perfect for everything from birthdays to those lazy Sunday afternoons. Have a look at their website for the latest details.
Where: 93 High Street, Leicester LE1 4JB
Cost: £6 for 30 minutes of table tennis £10 for an hour
Age: 18+ after 9pm
Rileys
If you love to get in on the action whenever you go out, make sure to check out Rileys! Whether you're finessing your game or celebrating a special occasion, they're the UK's top spot for cue sports in the whole country. They've got snooker, American and English pool facilities, and they also boast multiple darts lanes for you to hit those bullseyes! If all that activity makes you a little peckish, they've got loads of great food and drink on offer, perfect for a post-match refuel, and there's something to everyone's taste. Make a reservation now via their website.
Where: Deacon Street, Grange Lane, Leicester LE2 7EE
Cost: £4.95 on weekends or £3.75 on week days for 30 minutes of pool and snooker, £2.95 on weekends or £1.45 on week days for 30 minutes of darts and table tennis
Age: Under 14s must be accompanied by an adult at all times
The Locker Room
The Locker Room is a sports bar and pool lounge guaranteed to make your next night out a success! With great entertainment, food and drinks seven days a week, they're home to the city's largest projector and over twenty-five screens if you wanna catch the match. If playing is more your style, they've got five American pool tables, two English pool tables and two Olympic grade ping pong tables, so you definitely won't be short on space. Also, ya know, it'll ensure ultimate bragging rights amongst your mates when you win. Interested? Check out their website for more information.
Where: 5 Belvoir Street, Leicester LE1 6SL
Cost: £9.99 for an hour of American pool, £9.99 for an hour of ping pong
Age: 18+ only
Prices etc were correct at time of publishing. Best to check with the venue website for up-to-date information and offers.
Header image: Electric Gamebox