Leeds, Leeds, Leeds! What a brilliant city for a night out.
If you're up for some competitive fun this evening then we recommend you have a go at shuffleboard – think curling, on tables, without the ice, without the brooms and with smaller pucks … that's shuffleboard.
We've picked out some great venues in Leeds where you can try out this rather addictive game …
Roxy Ball Room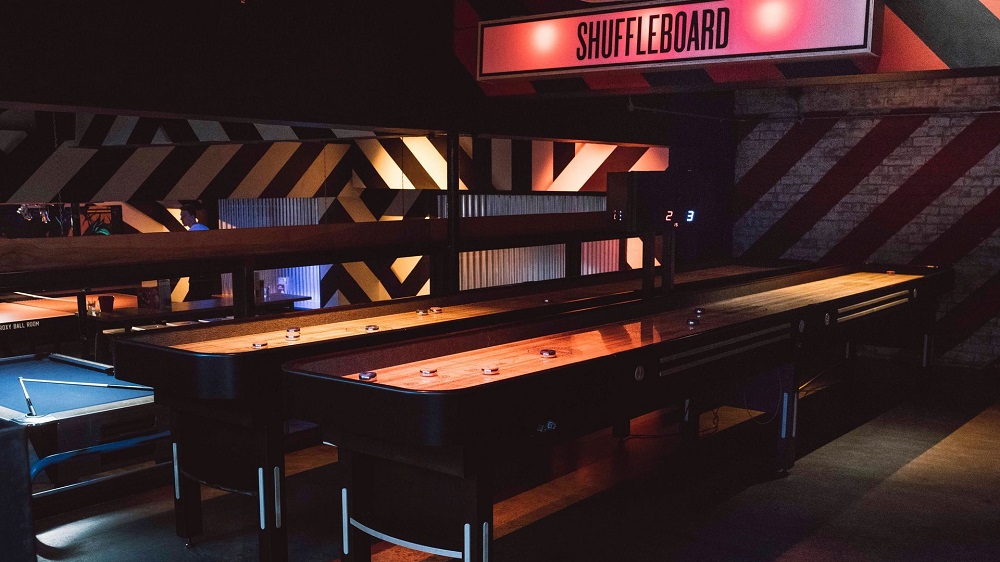 With three explosive venues in Leeds city centre, make sure to check out Roxy Ball Room this autumn! Their Bond Street location boasts bowling, pool tables, shuffleboard, live sports and beer pong, so there's loads of things to get you and your mates up and active. That not enough to tempt you? Check out their Boar Lane venue, with many of the same activities, and some brand-new ones, including ping pong and Roxy golf! Fancy something a little different? Their Merrion Street venue has duck pin bowling (different from ten pin, we promise!), crazy pool, arcade machines and a fantastic karaoke room! Phew. And keep your eyes peeled! Their Bond Street location is soon to be relocating to a brand-new venue in The Light on The Headrow, from January 2022! Have a look at their website to find out more.
Where: (Bond Street), 1 Bond Street, Leeds, LS1 5BQ, (Boar Lane) 58 Boar Lane, Leeds, LS1 6HW, (Merrion Street) 9a Merrion Street, Leeds, LS1 6PQ
Cost: shuffleboard £12/15 per hour per table (off-peak/peak)
Age: 18+ after 5pm
BrewDog Leeds and North Street
The BrewDog franchise hit the streets of Leeds in 2013, and hasn't looked back since! A stone's throw from the River Aire, BrewDog boasts a mix of redbrick and metal, chalk art and concrete, and specialises in fresh, amazing craft beers, perfect for a drink with friends. Fancy yourselves a bit of a beer lover? Make sure to check out some of their craft favourites. Their North Street venue, in particular, is perfect for a drink any time of day – they're dog-friendly, so you can bring your furry friends along, and they're jam-packed with fun games for you and your friends to have a go on! Boasting three shuffleboard tables, pinball and vintage arcade games, there's plenty to do – so the ideal spot for your next night out with your mates! Check out their website to find out more.
Where: Crispin House, New York Road, Leeds, LS2 7PF / The White Cloth Hall, Crown Street, Leeds LS2 7DA
Cost: Shuffleboards are free to play (but there may be a queue)
Age: 18+
Lord Darcy
Complete with massive screens showing sports and delicious pub fare, Lord Darcy in Leeds is the ideal spot to try your hand at a game of shuffleboard. All the way from Texas, it injects a dash of American sports excitement into your traditional pub experience. Unsure of how to play? No worries. Meet their Shuffler Host, who will show you exactly what to do. They've also got a fantastic beer garden – the perfect spot to enjoy the crisp autumn weather with a drink or three, and are also dog-friendly, so it's ideal to bring your canine companions. Check out their website to discover more.
Where: 618 Harrogate Road, Alwoodley, LS17 8EH
Cost: £15 per game of shuffleboard
Age: 18+ after 10pm
The Malt Brewhouse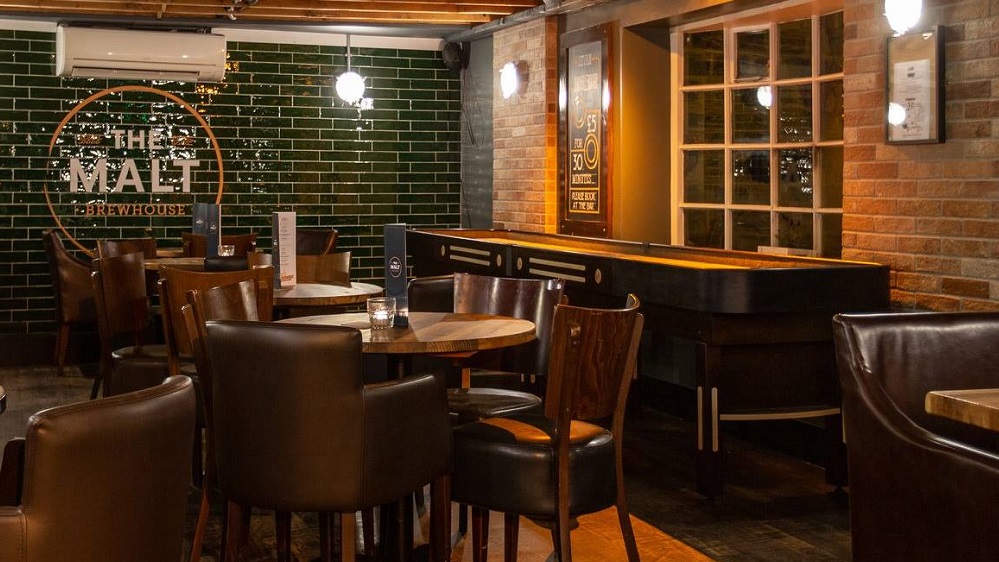 Home to Horsforth's first shuffleboard table and sixteen lines of beer, including cask ales supplied by their onsite microbrewery, it's the hipster's dream. With loads on, including a continuous two for £12 on cocktails, cask Wednesdays, fizz Fridays and live sport Sundays, there's plenty on offer to check out with your mates this year! They also boast a brilliant beer garden and a pizza kitchen, turning out mouth-watering food that's sure to have you coming back for seconds. And of course, don't forget to check out their shuffleboard – an amazing game that challenges your reflexes and pits friends against each other – so all the ingredients for a perfect night out. Have a look at their website to find out how to grab your spot.
Where: 166 Town Street, Horsforth, LS18 4AQ
Cost: £5 for 30 minutes of shuffleboard
Age: 18+ after 7pm
The Box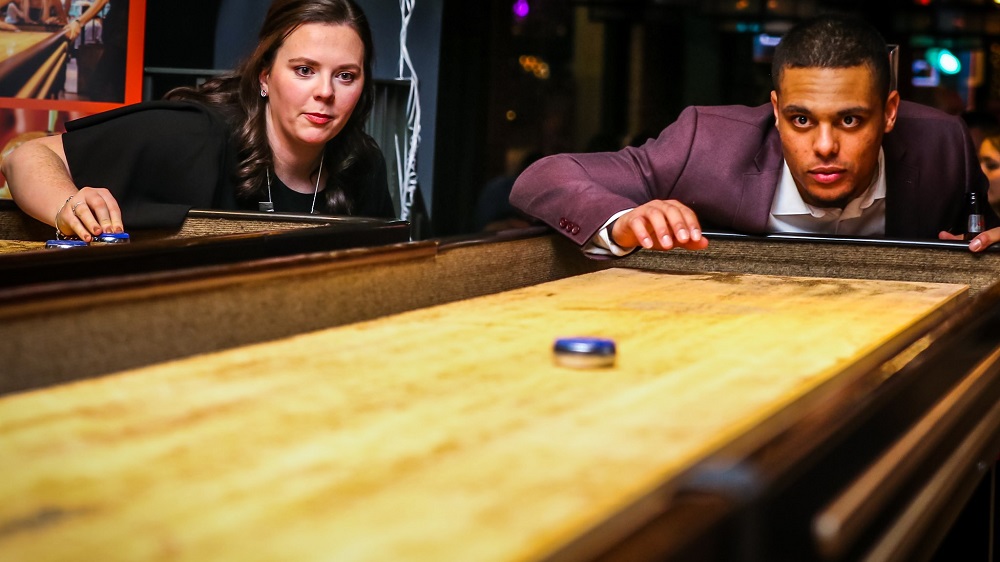 Shuffleboard? In Leeds? You certainly aren't pressed for venues, if this shortlist proves anything. But on your night-time jaunts around the city centre, make sure to pay The Box a visit – it's certainly not one to miss! A specialised sports bar, they boast an awesome selection of shuffleboards, loads of high-definition TV's (so you can catch all your favourite sporting events in high-def glory) and delicious food and drink – perfect for a post-match pint. All that sports excitement is bound to have you itching for a spin on the shuffleboards – ideal for first dates and best mate rivalries alike! So if you're looking for a twist on your average night out, be sure to pay their website a visit to find out more.
Venue: 15 Infirmary Street, Leeds LS1 2JS
Cost: From £10 for an hour's game of shuffleboard (prices can vary)
Age: 18+ after 9pm
OTHER GREAT ACTIVITY VENUES IN LEEDS
Junkyard Golf
With three crazy golf courses (with the emphasis on crazy), mad cocktails and bad puns, there's loads to do at Junkyard Golf Club. Their Pablo course strands you in the middle of the tropical jungle, complete with UFC bears, pirate speedboats and glitter temples, whereas their Gary course is a blast from the past – with 90's tunes, a scrapyard slide and a UV garage room! Maybe Bozo is more your thing? Face your fear of clowns with nine holes of circus freaks and fairground creeps – roll up for all the fun of the fair including the Ferris Wheel, Hall of Mirrors and some terrifying clowns! Interested? We thought you might be. Check out their website to book your next day out with a difference.
Where: The Light on the Headrow, Leeds, LS1 8TL
Cost: Off-peak (Sunday to Thursday) £8.50 per game, peak (Friday to Saturday) £10 per game
Age: 18+ after 6pm
Flight Club
Challenge yourselves this autumn to the new darts sensation – Flight Club has well and truly launched in Leeds, and it's upping the ante for your nights out there! Love the pub? Big fan of the fairground? Well, their impressive décor combines both, with all the fun of the fair mixed in with the electric atmosphere of an English pub. With thirteen oches, there's plenty of room for however many of your mates you can drag out of the house, and there's delicious food and drink available for whatever you're fancying! Whether you're going head-to-head in an epic darts tournament with your mates, or just sitting back and catching up over a pint or two, Flight Club is an iconic venue to check out, with plenty of fun to be had. Make sure to check out their website if you want to find out more.
Where: Sovereign House, 1-2 South Parade, Leeds, LS1 5QL
Cost:60 minute sessions £14 for two players, 90 minute sessions £20 for two players
Age: 18+
Prices etc were correct at time of publishing. Best to check with the venue website for up to date information and offers.
Main image: Roxy Ball Room, Boar Lane, Liverpool