Shuffleboard is a compelling, thrilling and competitive game. The gorgeously sleek tables look dreamy but the game itself is devilishly fun. We've uncovered some fantastic venues in Birmingham offering shuffleboard … so get yourself booked in for an evening of pizza, pucks and pornstar martinis …
DropShot Digbeth
DropShot Digbeth is an amazing multi-use activity bar with loads of stuff on offer to make your nights out unforgettable! With a full cocktail bar, an array of craft beers, six Olympic grade table tennis tables, and a sound system playing an awesome selection of music to suit everyone's taste, there's enough activities on offer for every occasion. Regardless of whether you're avid shuffleboard fans or if you've never touched a board before in your life, be sure to test your shuffleboard skills out on their two tables, and win fame, glory and clout as you shuffle your way to victory! Don't forget to celebrate your newfound talents with a woodfired pizza or two! If cocktails are your thing, why not enjoy some of their delicious drinks, like Shuffle and Smash, DropShot Slammers and Game Point! Sounding delicious? Yeah, we agree. It's the perfect place to catch up with your friends this summer. If you're interested, you can check out their website.
Where: 60 Heath Mill Lane, Deritend, Birmingham B9 4AR
Cost: Shuffleboard £6 for 30 minutes and £12 for a hour
Age: 18+ after 8pm
Roxy Ball Room
Fancy having the best summer ever? Don't forget to head down to Roxy Ball Room to fill your nights with booze and ball games! There's plenty to choose from, so you can bowl your way to victory with a pint or two, or you can play a round of pool with your friends. Ping pong and beer pong is on offer, and you can try your hand at shuffleboard – one of the best new things to hit the nightlife scene. If you've never played before, it's like an awesome mix of air hockey and tabletop curling – it sounds wacky, and it's just as weird to play, but there's one thing always guaranteed – fierce competition! If you're feeling thirsty, they have a brilliant selection of cocktails available, including classics and signature favourites, and if beers or liquor are more your style, there's plenty on offer. If you're a bit peckish, there's a delicious pizza menu that's ideal for a post-game snack, and there's loads of nibbles which are perfect to fuel your gaming tournaments. So to book your spot or to learn more, be sure to visit their website.
Where: 58 – 60 Heath Mill Lane, Deritend, Birmingham B9 4AR
Cost: Shuffleboard is £12 off-peak and £14 peak per hour
Age: 18+
Lane7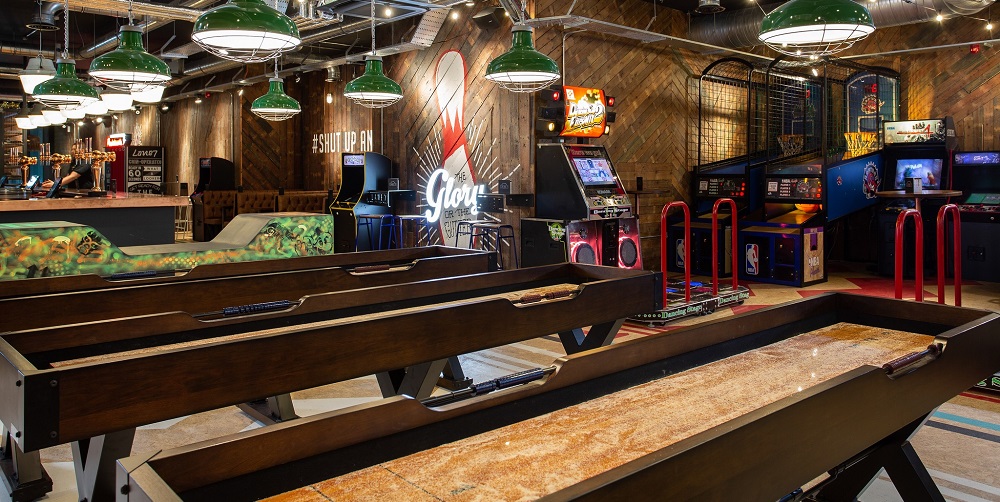 The Lane7 franchise has hit Birmingham! The hugely successful franchise has now launched in the West Midlands, with loads on offer to make your nights out unforgettable this summer. With bowling, beer pong and retro arcades, there's plenty of options and we're sure it'll become a firm favourite. There's so much to do that you'll just have to keep coming back again and again to check everything out! They've also got shuffleboards on offer, so be sure to show off your impressive skills to all your amazed mates over a pint or two. Or maybe the karaoke room is more your style? Whether you fancy belting out Tina Turner or Taylor Swift, we're sure everyone will appreciate your vocal skills! Whatever fits your vibe, there's plenty of fun to be had at Lane7. If you're interested, you can check out their website to book your spot.
Where: The Cube, Lane7 Level 6, Wharfside St, Birmingham B1 1RN
Cost: Shuffleboards £12 per 55 minutes
Age: 18+ after 7pm
Felson's Cocktail Lounge and Stick Hall
If you fancy kicking off your summer with a bit of Hollywood glamour, be sure to visit Felson's Cocktail Lounge and Stick Hall in the heart of Brum, one of the best sports bars in town. Jam packed with American pool tables, dozens of HD TVs streaming live sports and much, much more, it's perfect for pool rookies and pros alike! Shuffleboard? Of course. They've got tables ready and primed for match kick-off, so there's plenty of opportunities for you to triumph over all your friends with your amazing skills! If you need a bit of gaming fuel, be sure to devour a burger or two, or perhaps let loose with their mouth-watering wings? Whatever you choose, you just know it'll be delicious! If you wanna indulge in some social sipping, their bar staff are on hand with a drink ready for any occasion, perfect for cocktail queens and craft connoisseurs alike! Interested? Of course you are. Check out their website here to book.
Where: Ground Floor, 266 Broad Street, Birmingham, B1 2DS
Cost: £5 for 30 minutes of shuffleboard
Age: 18+ after 7pm
FANCY TRYING A DIFFERENT ACTIVITY?
Once you've tried out all these great places to play shuffleboard, you might be ready to try your hand other fun nights out. Check out our reviews of great places in Birmingham to play darts, crazy golf or try out some escape rooms. If you want a general round up, check out our guide to The Best (Fun) Things To Do In Birmingham.
All information in this blog was correct at time of posting. We advise you check the venue websites, just in case. Header image is from Roxy, Boar Lane.