If you've not got your weekend sorted then look no further. This Friday (27th May) Roxy Lanes Bristol is opening on Union Street – an it's awesome!
Check this out (crank the sound up) …
This outstanding venue offers everything you could want for your big night out. Roxy Lanes Bristol has an industrial warehouse feel, with a strong black and white chevron / stripe theme throughout. Feature walls have been painted with incredible murals and the tunes are rocking.
Here you'll find an outrageous number of games to play. There are eight full size bowling lanes, Duck Pin bowling, batting cages, shuffleboards, pool tables, basketball, beer pong, ice-free curling, arcade games and karaoke booths! So spoilt for choice, which will you play first?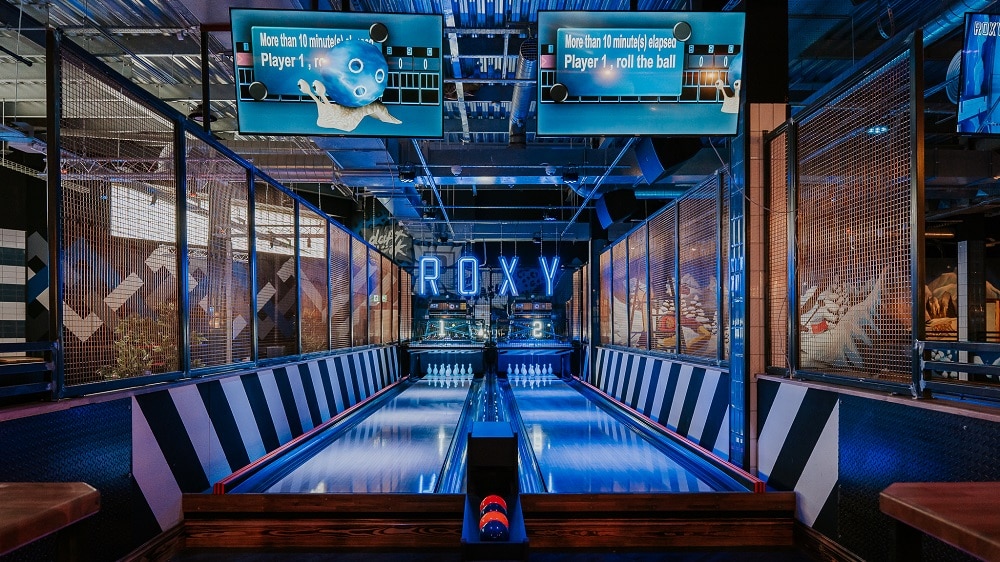 If you love a night out with a competitive edge then Roxy Lanes Bristol is about to become your new local. However, if you'd rather watch the game then Roxy Lanes will be showing live sport, so you can grab your beer, kick back and catch all the action.
Fuel Up, Players
With all this activity you're going to have to keep your strength up and thankfully Roxy Lanes have you covered.
Their food menu showcases great pizza. Everything from the standard Margherita and the classic Pepperoni all the way to the popular BBQ Jackfruit. You can buy a whole pizza or purchase a single slice. They also have a range of yummy side dishes including Mac 'N' Cheese Bites, Crispy Chicken Fillets with Maple & Bourbon Sauce and Cheesy Dough Balls … making myself hungry!
Drinks to Celebrate That Win
The large bar serves up all the usual beer, cider, wine, spirits and softs. However, if you're going for a proper night out you're going to want to try their cocktails! You can, of course, go for a classic, like a Long Island Iced Tea, a Pina Colada or a Bramble.
But … you'd be missing out if you didn't consider their Signature Cocktails, which follow their gaming theme. There's loads of choice, including Ping Star Martini (Absolute Vanilla Vodka, passionfruit liqueur, passionfruit puree, pineapple, lemon juice and vanilla syrup), Sudden Death (Bacardi Rum, amaretto, orange butters, lime juice, pineapple, grenadine and Coco Real) or the Perfect Game (Beefeater Pin Gin, limoncello, lemon juice, cranberry, sugar syrup and fresh strawberries).
Book In And Bowl Over
Roxy Lanes Bristol can host up to 250 guests, so plenty of room for you and your mates, or an epic venue for a big celebration.
If you're ready for the fun to begin then you can get your gaming booked in via their website.
Where: Union Street, Bristol, BS1 2DF
Cost: Off peak – Ten Pin Bowling £8 per person per game / Batting Cage £24 per half and hour / Ice-Free Curling £12 per half an hour (min one hour booking) / Duck Pin Bowling £24 per hour / Shuffleboard £12 per hour / Beer Pong from £18 per hour / Karaoke £24 for up to 20 people per hour.
Age: 18+ after 5pm
Other Roxy News