Sometimes we all need to escape the pressures of life and the responsibilities of being a grown up – in Worcester there's a great place to do just that, Retroids Arcade Bar.
Retroids is packed with wonderful nostalgia. Classic arcade games which will allow you to escape into the freedom of your youth, as well as games you've always wanted to try but never had the chance.
At Retroids you'll find a wealth of choices for one or two players where you can race, shoot, punch or kick to victory. What will you play first? Frogger, Daytona USA, Mario Kart, Killer Instinct 2, Area 51 Site 4, Space Invaders, After Burner?
However, the real beauty of Retroids lies in their stack of pinball machines – I'll be surprised if you've ever seen such a row of incredible, colourful, noisy machines. They've got Stranger Things, Ghost Busters, TMNT (Turtles), The Munsters, Alien and Godzilla. Just awesome! You can flip, plunge and bump your way to glory … just watch out for those gobble holes!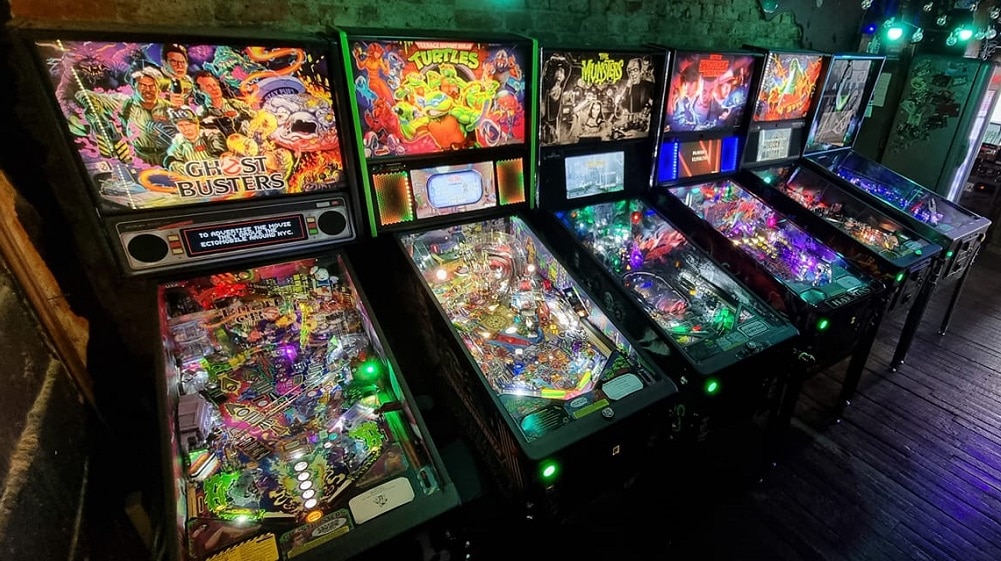 There are some venues which are very much business venues. Retroids is not one of those. Retroids is run by a man who LOVES arcade games and the guests are a community of gamers. Everyone is welcome and everyone is welcomed in. The vibe is warm and the venue is covered with nostalgic nods to gaming culture and legacy. This isn't just a venue, it's a passion.
Retroids runs the Worcester Pinball League, which attracts complete beginners to seasoned players. The competition is fierce but the banter is friendly and the cheering is loud, making their league events popular for players and spectators.
To keep you hydrated throughout the night Retroids has fridges packed with the latest craft beer and cider. Owner, Dave Newey, regularly mixes up the offering, bringing in great new options, like the recent addition of aged Imperial Stouts; Black Iris x Brew Cavern. They also serve from a couple taps – the current nectar is Camden Hell and Camden Pale.
You can even book out Retroids for your party, giving you and your mates exclusive and unlimited use of all the games. Get in touch with Retroids to check availability.
Where: 2 New Street, Worcester, WR1 2DN
Age: 18+ after 7pm
Cost: games are coin operated

Activity Bars in Birmingham
Once you've tried Retroids, if you're heading to Birmingham (only an hour away) then there are loads of other activities to try. How about escape rooms, darts, shuffleboard or crazy golf?