Puttshack offer high-tech mini golf in stunningly created bars serving exceptional food. They have recently announced that they've signed a new lease in St. Louis' City Foundry.
The 15-acre site was once the home of Century Electric who, for nearly 100 years, pioneered manufacturing. Nowadays, Midtown is the creative and cultural heart of the region and so the City Foundry STL development fits in perfectly. Created to draw the community together to enjoy eating, working and playing together.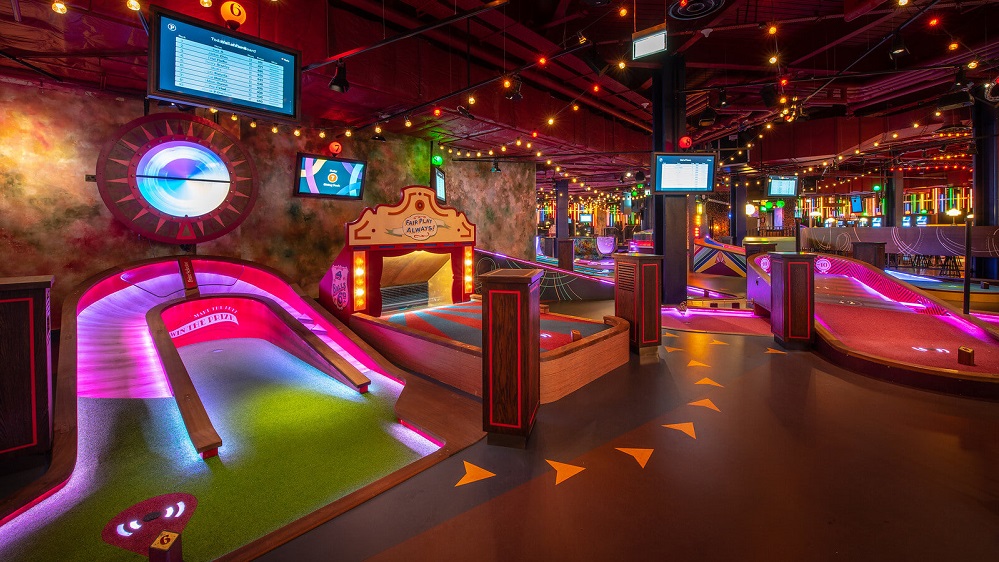 Puttshack will be occupying more than 26,500 sq ft, over two floors. The design will be carefully curated to respect the history of the building as well as the culture of St. Louis but will undoubtably also exude the high-energy vibe synonymous with Puttshack. The party vibe will be enhanced by the carefully curated playlists, DJs and live events.
The first floor will be the heart of the golfing action, with four custom-made courses, all powered by Puttshack's innovative, patented TrackaballTM technology. Through the use of bespoke balls which are linked to a specific player, the tech drives the game play, undertakes the automated scoring, offers the chance to win bonus points and leads players through the interactive games available at each hole.
As well as a whole floor of fun the St. Louis location will offer private and semi-private party spaces and an impressive terrace.
Part of what makes Puttshack special is their food and drink offering. A Puttshack bar abounds with a broad range of the beer, cider, wine and soft drinks. However, it's their cocktails which are truly spectacular. From The Who's Who of Yuzu (Effen Yuzu Vodka, Roku Japanese Fin, lychee purée, lychee fruit garnish and black lava salt) to their Ultimate Top Shelf Margarita (Villa One Blanco Tequila, Cointreau, cold pressed fresh lime sour, black lava salt rim, Grand Marnier Cuvée Louis Alexandre).
This international brand prides itself on its global street food menu. Each location has a menu specially created to embrace local specialities. However, Puttshack favourites include: Crispy Popcorn Cauliflower, Wood Fired Thai Octopus, Mediterranean Lam Skewes, Buffalo Chicken and Korean BBQ Pork Bao Buns. You'll need to keep an eye out on the Puttshack St. Louis website to see what delights will be on offer.
Puttshack first opened in the US in The Interlock, Atlanta back in April 2021. Earlier this week Oak Brook, Chicago welcomed guests for the first time. In 2022 the team are planning to open sites in Miami, Boston, Houston, Scottsdale and now, St. Louis. Further developments for 2023 include Nashville and Atlanta High Street.
Dave Diamond, President of Puttshack, said "The City Foundry's innovation-driven, community-focused vision was an immediate draw and perfectly aligned with our own company values. As the leader in tech-forward social entertainment, we can't wait to bring Puttshack to St. Louis."