I'm going to let you into a little secret. I hate playing Monopoly (except for the My Little Pony version my 7 year old has)! I always end up playing with strategists who spend too long over each and every move they make, or young children who get bored half way through and it ends in tears and tantrums. However … I love the look of Monopoly: Lifesized.
They have just released a set of artists impressions and it looks absolutely brilliant …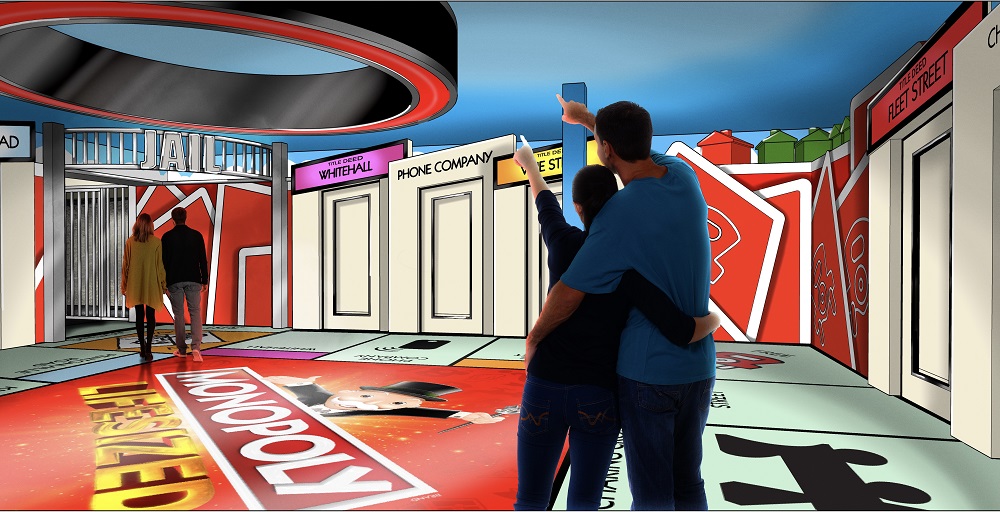 Did I hear you say competition?
MONOPOLY: LIFESIZED have also announced a competition to win a ticket, for four people, to play in the brand-new, immersive experience game, on Tuesday 3rd August. All you have to do is tell them your Monopoly story … an infamous family feud; funny stories with friends; maybe you've played Monopoly in an unconventional place? Find them on twitter: https://twitter.com/monopolyldn and comment with your story and add #MonopolyLDN
What is MONOPOLY: LIFESIZED?
The perfect blend of iconic board game, escape rooms, team challenges and immersive game play.
This 4D experience sees players, working in teams, spending 75 minutes travelling around their 15 x 15m board accompanied by their MONOPOLY character, be that the Scottie Dog, Boot or Racing Car. The board features eight properties, two utility companies, two train stations, jail, free parking, just visiting and, of course, the all-important Go square. The aim of the game is to make as much cash as you can. You've got four boards to choose from: Classic, The Vault, City and a Junior Board – making this great for families, work outings or a hilarious night out with friends (it'll be open until midnight).
Each property square will have a full-sized room behind it that players enter to take part in a challenge. If they win the challenge then they can claim the property for their team. Challenges have an air of escape room about them, testing your physical and mental prowess, team working ability and lateral thinking. Each room will be themed appropriately for the property you land on making the most of their historical or current day significance. You might find yourself staging a heist in Mayfair, battling the clock to build an iconic London landmark or even solving a murder mystery. You can check out the promo video on their Facebook.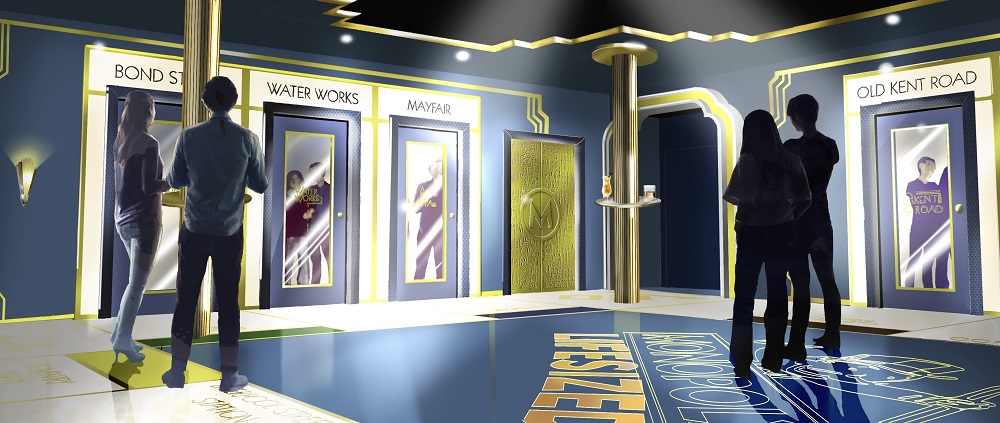 MONOPOLY: LIFESIZED are setting up shop at 213 – 215 Tottenham Court Road otherwise known as The Court. This central London site will be the first in a series of venues dedicated to live gameplay. The three floors will house the gaming boards but also, The Top Hat, a MONOPOLY-themed bar and restaurant. This beautiful venue will serve signature cocktails and a quintessential British small-plates menu. The site will also house a Hasbro shop so you can eat, drink, shop and play all under the same roof.
This innovative, new concept has been developed through a partnership between global play company Hasbro, Inc and GAMEPATH, a new division of international theatre producer SELLADOOR Worldwide. MONOPOLY: LIFESIZED will have state of the art technology incorporated seamlessly into the whole experience, including the development of a dedicated player App, designed by Tappable.
MONOPOLY: LIFESIZED will be opening on 14th August 2021, so get your team together and book your spot today.