Whether you're looking to showcase your mini golf skills indoors or out, Nottingham has some cracking venues for you to explore. Check out our review of places to play mini golf in Nottingham so you can get you weekend planned.
The Lost City Adventure Golf
Adventurers rejoice! We've got just the crazy golf location for you! You can leave the over-sized backpack at home and forget the expensive plane ticket, as Lost City Adventure Golf is an exciting expedition a little closer to home. We're talking about an incredible eighteen-hole course that will truly putt your skills to the test! Play beneath their jungle canopy to the sound of exotic creatures, only interrupted by the victory cry of your effortless hole-in-ones. Unlock the secrets of ancient civilizations as you explore towering ruins of mystical rocks and other cracking features that will make your night unforgettable. Though remember, even great explorers need a pick me up! Luckily, they've got you covered with a fantastic full service Tikki Bar that's bound to get you in the mood, whether it's a first date or just a night out with your mates. So why not discover your adventurous side by visiting their website and taking up the challenge?
Where: The Cornerhouse, Burton Street, Nottingham NG1 4DB
Cost: £9 peak and £7 off-peak for 18 holes
Age: All Ages Welcome
Gloryholes
Every fancied checking out a glory hole? Well, we reckon you'll be a big fan of this one! Gloryholes crazy golf is a one-of-a-kind venue in the heart of Nottingham, guaranteed to ensure you and your mates have a cracking time. This raunchy eighteen-hole venue is a great excuse for friends to enjoy some risqué mini-golf, but probably not the place to take your boss! Putt through an amazingly creative course complete with themes such as Lord of the Rings, aliens and a few other surprises (ooh er)! After your effortless victory, why not celebrate in their custom lounge complete with cheeky cocktails and some taste-sational food from the amazing Ugly Bread Bakery? We've had a sneak peek at the menu, and we've gotta say – it looks delicious! If you're looking to get up to something a bit naughty this weekend, be sure to visit their website to learn more.
Where: Gloryholes, George Street, Nottingham NG1 3BH
Cost: £10 per round (Monday to Thursday) £12 per round (Friday to Sunday)
Age: 18+ venue
Roxy Ball Room – Cornerhouse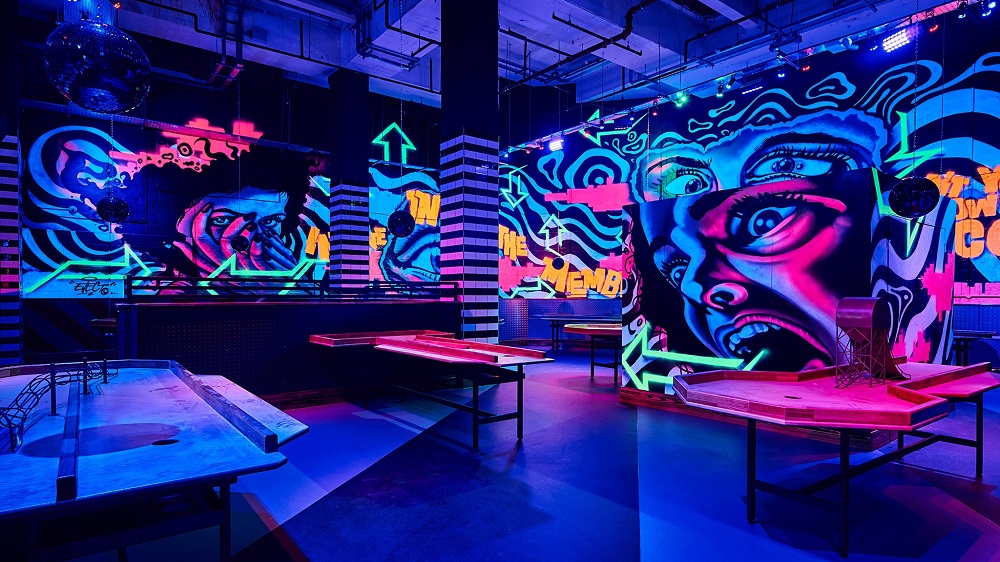 You've heard of crazy golf, but have you heard of crazy pool? Imagine all the fun of both pool and crazy golf, and now imagine they had a baby! If this sounds like something you'd like (and, erm, what's not to like?), then be sure to pay a visit to Roxy Ball Room at the Cornerhouse. Keep in mind it's not just crazy pool that you can enjoy! This venue is chock full of fun, complete with ping pong, American pool and more! If you're looking to bring the winter fun, why not give ice curling a go? If you fancy yourselves karaoke kings or queens, then their karaoke booth is where you'll want to head to. Looking to get bowled over? Well, you're in luck, as they have both duckpin and regular bowling for you to enjoy. Still looking for more? Why not get the party started with a game or four of beer pong if you're feeling feisty! Check out their website for more info on this epic emporium of fun.
Where: The Cornerhouse, Burton Street, Nottingham NG1 4DB
Cost: £10 peak and £8 off peak per person for crazy pool
Age: 18+ venue
CrazyPutt: Lost World Adventure Golf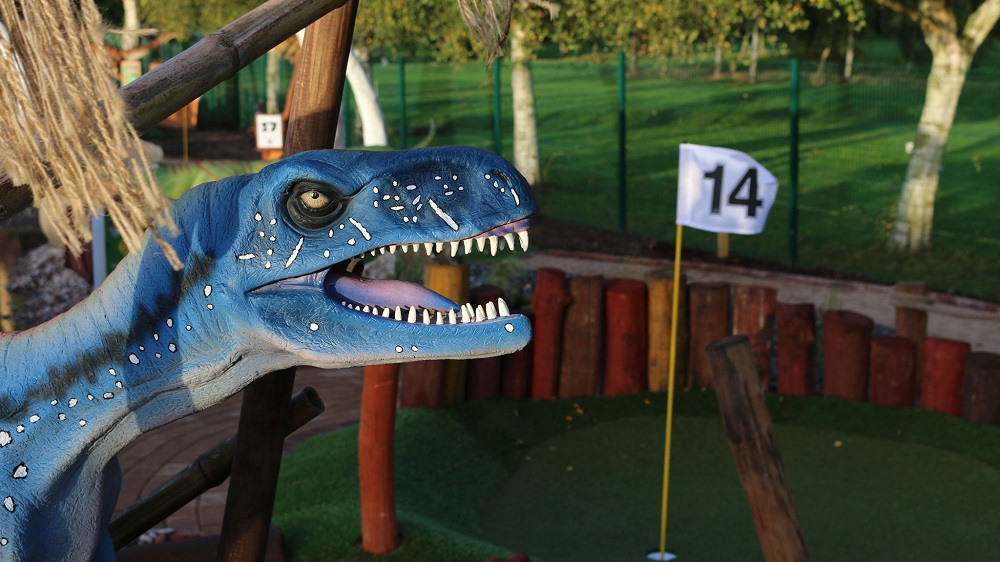 Fancy an outdoor floodlit adventure? Well, CrazyPutt is an eighteen-hole mini golf extravaganza with a prehistoric twist. Dodge the dinos and swing past the slimy swamp on your way to golfing glory, and for all you golfing connoisseurs, you're sure to spot nods to famous golfing holes from around the world. They're open until 10pm on weeknights, so plenty of time to practice your golf swings. It's also a great spot for a date with a difference or a student night starter, so what are you waiting for? You can celebrate your win in the cosy Grace's Coffee Shop with a beer, a glass of wine, or if you fancy something warm, you might want to try out their Special Hot Chocolate, perfect for all year round! Get you and your friends booked in for a summer treat by visiting their website!
Where: Riverside Family Golf Centre, Lenton Lane, Nottingham, NG7 2SA
Cost: £8 for 18 holes
Age: Open to all the family
MR MULLIGANS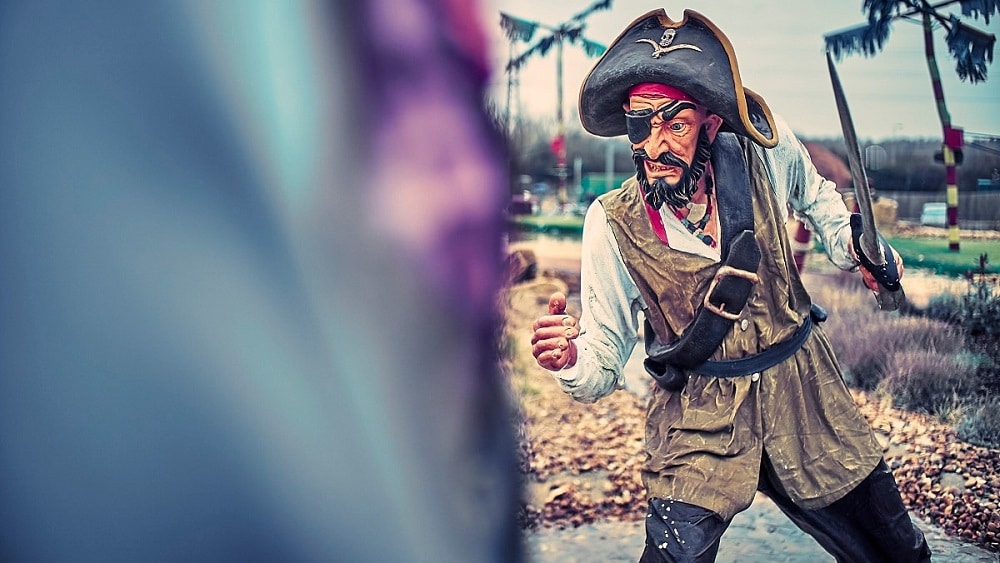 Ahoy there, me hearties! Unleash your inner pirates at Mr Mulligans, Nottingham, where you can eat, drink and golf to your heart's content! With an amazing eighteen-hole pirate themed adventure golf course, a driving range and a pitch and putt, there's loads of outdoor fun to be had on the high seas! Embrace your inner swashbuckler as you navigate around a huge pirate ship, lakes, waterfalls, rafts, cannons and even their resident crocodile! There's loads of fun to be had all year round! The venue also comes complete with a fantastic club-house bar and restaurant facilities, so you can relax with a spirit or two after your golfing victories! Interested? Of course you are. Make sure to check out their website to find out more.
Where: Ramsdale Park Golf Centre, Oxton Road, Calverton, Nottingham NG14 6NU
Cost: £8 per game
Age: All ages welcome
FANCY TRYING A DIFFERENT ACTIVITY?
Once you've tried out all these great places to play mini golf, you might be ready to try your hand other fun nights out. Check out our reviews of great places in Nottingham to play ten pin bowling, darts or try out some shuffleboard.
Prices etc were correct at time of publishing. Best to check with the venue website for up to date information and offers.
Header image: Roxy Ball Room, Cornerhouse