We know that you city dwellers are always on the lookout for something unusual to do. Well, in Shoreditch there is a cocktail bar with a difference – London Shuffle Club.
Whether you're looking for a fun night out or a chilled afternoon with friends then London Shuffle Club is a wonderful venue to visit.
Located in the heart of trendy Shoreditch, London Shuffle Club have made a name for themselves for offering delicious sourdough pizza, quality cocktails and activities which will have you laughing, crying with laughter and will get your competitive juices flowing – we're talking lane shuffle and table shuffle – the only UK venue offering both!
Lane Shuffle
Lane shuffle was traditionally played on transatlantic cruise liners to keep the gentry occupied whilst they traversed the globe, hoping to avoid large icebergs. You use your tang (pole) to push your biscuit (puck) towards the kitchen (the 10-point scoring area) – what could be easier?  If you'd like some help with the rules, you can find some useful pointers on the London Shuffle Club website.
London Shuffle Club have a gloriously relaxing outdoor terrace where you can sit back and enjoy the sunshine or get your game on at one of their two shuffle lanes. However, if you fancy some indoor respite there are six magnificent shuffle lanes waiting for you within the spacious club.  In fact, the venue is so roomy even large groups of friends will feel like they have their own VIP area.
Bottomless Brunch
Not only do you have the option of playing some brilliantly fun lane shuffle, but the all-weather outdoor terrace is the perfect place to enjoy their award-winning bottomless brunch. Although there are indoor brunch options, with a covered and heated terrace you might as well make the most of it! Brunch includes two hours of bottomless prosecco/beer and sourdough pizza (there are gluten-free and vegan options too) and a reserved table for you and your party. If there are more than four of you then you can add in some shuffleboard fun. Brunch is available on Saturday and Sunday afternoons with prices starting from £35 per person.
Table Shuffle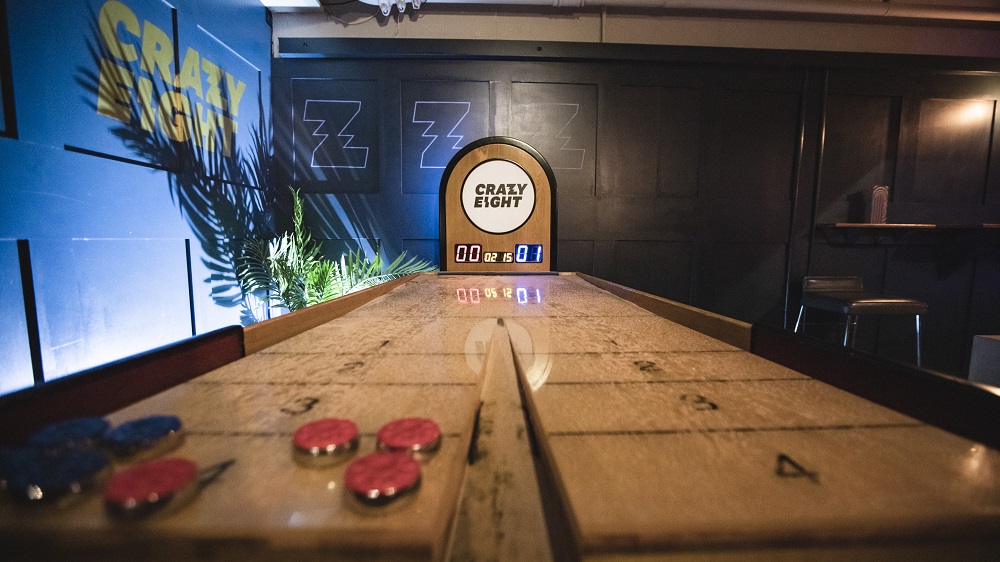 If you fancy some hugely competitive table shuffleboard then London Shuffle Club have got two beautiful full-length boards and two snapback shuffleboard tables for you to play on within their basement speakeasy bar, Crazy Eight, which reopens on 14th October. The beachy vibe at Crazy Eight will have you in a sunny mood, regardless of the weather … that is until your mates start shunting your pucks off the table and into the gutter.
Cocktails & London Cocktail Week Specials
Now it's essential that I mention to you their cocktails! London Shuffle Club are SERIOUS about their cocktails. Whether you opt for a non-alcoholic version, a sharer, a sparkling spritz or one of their signature cocktails you can be assured you'll get something that tastes epic. I think for these autumnal months I will be opting for the Shuffle Mule (Swedish Vodka, Ginger Beer & fresh cucumber).
In celebration on London Cocktail Week (which actually runs for the whole of October) the London Shuffle Club mixologists have created some exciting new cocktails for you to enjoy.
Raspberry Rosarita is a fruity twist on a margarita – Herradura tequila, raspberry and lime. If you've got a London Cocktail Week wristband then you can enjoy the Raspberry Rosarita for just £7!
Cherry Old Fashioned. This smooth and rich blend includes Herradura tequila, cherries and is garnished with a twist of fresh orange.
Mexican Spritz – This special Fever-Tree tipple is a refreshing mix of El Jimador tequila, lime and cucumber, topped with Fever-Tree Mexican Lime.
Gorgeous Pizza
To accompany your night out London Shuffle Club specialise in handmade sourdough pizzas which are freshly made to order. Unsurprisingly, alongside the basic Margherita and Marinara options there is a feast of delectable delights on offer. From Kale & The Gang (tomato base, roasted squash, sea salt roasted kale, caramelised onions, pumpkin seeds and oregano) to Wake N'Bacon (mozzarella, parmesan, smoked pancetta, double egg and black pepper) as well as a host of other options – including gluten free bases and vegan mozzarella.
Private Party Space
All the games are available to book in advance, so you can be sure you don't miss out on some much-needed fun. However, if you're looking for a venue for a special event or party then you can hire out the basement bar, Crazy Eight. This intimate space is a fabulous spot for a party of up to 60 people, where you can play and make merry with your family and friends.
It's safe to say that London Shuffle Club have worked extremely hard to create a relaxed, chilled out venue with a summer vibe, regardless of the weather. A friendly venue for a casual get together after work or some cocktails with the gang. Come rain or shine you'll find a warm welcome, great food, tasty drinks and some super fun shuffling.
Where: 4 Ebor Street, Shoreditch, London, E1 6AW
Cost: Shuffle lanes – prices start from £25 indoors and £30 outdoors for 55 mins. Shuffle tables start from £16 for 55 minutes. (Peak prices are more expensive)
Age: 18+ after 7pm. Bottomless Brunch times are not suitable for children
Information was correct at time of publication. To make a booking and for current information please visit the London Shuffle Club website.