Lane7 opened at St James Quarter in Edinburgh in June 2021 to a warm Scottish welcome. Lane7 already offers an exceptional array of activities from bowling, a shooting alley, interactive darts and shuffleboard. Now, they're adding in mini-golf!
It is hoped that 'I Like Big Putts', the 14-hole futuristic mini-golf course concept, created by the team at Lane7, will open in March this year, with Lane7 Edinburgh, being the site for its inaugural launch.
Fans of Lane7 Edinburgh have been enjoying the brand's signature neon golf cart outside their venue since it opened, featuring it on their streams and profile pics … now they get to play the game.
The creative team are spending £700,000 creating the state-of-the art experience, which will feature holes unlike any you've played before.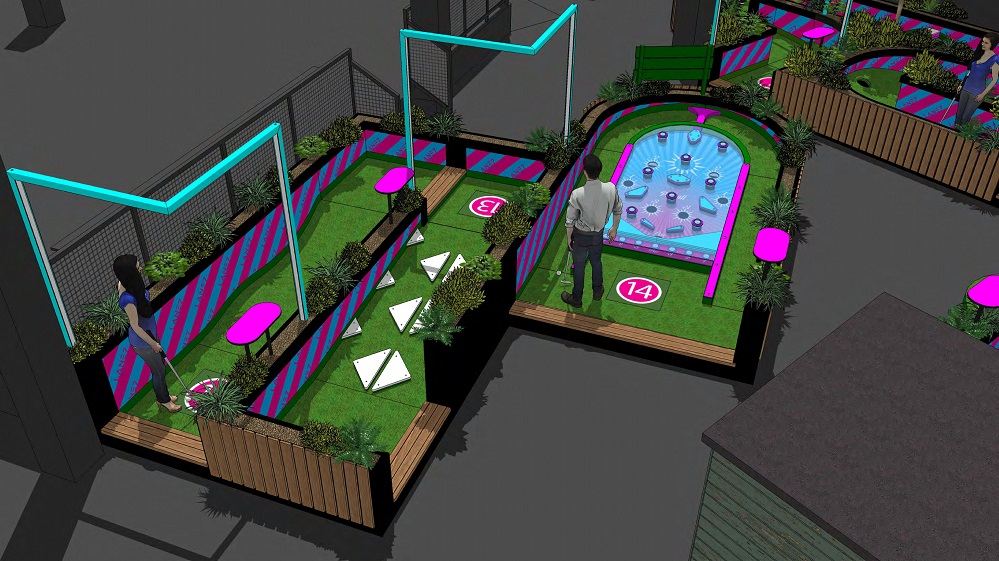 Graeme Smith, Chief Operating Officer for Lane 7, said, "After such a warm welcome by locals, it was a no-brainer to invest a further £700,000 to add our new mini-golf concept; adding to our unique blend of premium activities all available in one under one roof."
Alongside the exciting new mini-golf offering, there are loads of great games for guests to enjoy. For starters there's their 10 lanes of neon, graffiti clad bowling lanes. The brilliant shooting pods, where you get to wield a replica gun and take aim in their bespoke shooting scenarios. Then there are a whole host of other highly competitive gaming options from shuffleboard, pool and ping pong to table hockey, Donkey Kong arcade, basketball shooting and other fun arcade platforms. Plus, the customary photo booth.
A trip to Lane7 Edinburgh wouldn't be complete without taking full advantage of their partnership with Fat Hippo burger… I'll let the visuals do the talking …
Lane7 Edinburgh want to keep you refreshed for your night of friendly banter and feisty competition so their bar is fully stocked with all your favourite tipples including their perfectly paired cocktails … for example Raspberry Beret (White rum, blackberry liqueur, raspberries, apple & lime) or Parma Violet (Gin, elderflower liqueur, sugar violet liqueur and triple sec).
If you want to get ahead of the game, sign up to get first dibs on opening week bookings for 'I Like Big Putts', you can do this on their website.
Where: Unit 402b, St James Square, Edinburgh, EH1 3AD
Cost: Mini golf £8 off peak / £9.95 peak
Age: 18+ after 10pm