Kings Golf Studio has made a name for themselves as a venue which brilliantly serves both professional golfers and people just looking to have The Time of My Life.
Now, Kings Golf is fulfilling A Million Dreams, by installing a Whole New World of a karaoke room.
The Wonderwalls are adorned with neon signage and the light-up chairs fabulously set the scene for you to Let It Go and be a real Dancing Queen.
So, if you're ready to be part of The Greatest Show, in a venue which definitely isn't Toxic, then get on the Old Town Road and get ready to belt out Your Song (although, it's actually on Kings Street).
Not only do you have access to over 8000 Perfect songs but the room is equipped with a giant screen so that Everybody can join in with your sing along, can I hear a Hallelujah? The space is suitable for up to 20 guests – so makes the perfect space for a party, whether you're Single Ladies, Teenage Dirtbags or Sweet Caroline celebrating her birthday.
Fancy cocktails and a full bar
Been working 9-5? Well, Shake it Off and get in the karaoke mood with one of their great range of cocktails from their fully stocked bar. What will you choose? Pink Gin Martini? Their Jagerbombs will help you Lose Yourself and get in the Hakuna Matata (no worries) vibe.
Games galore and fun nights out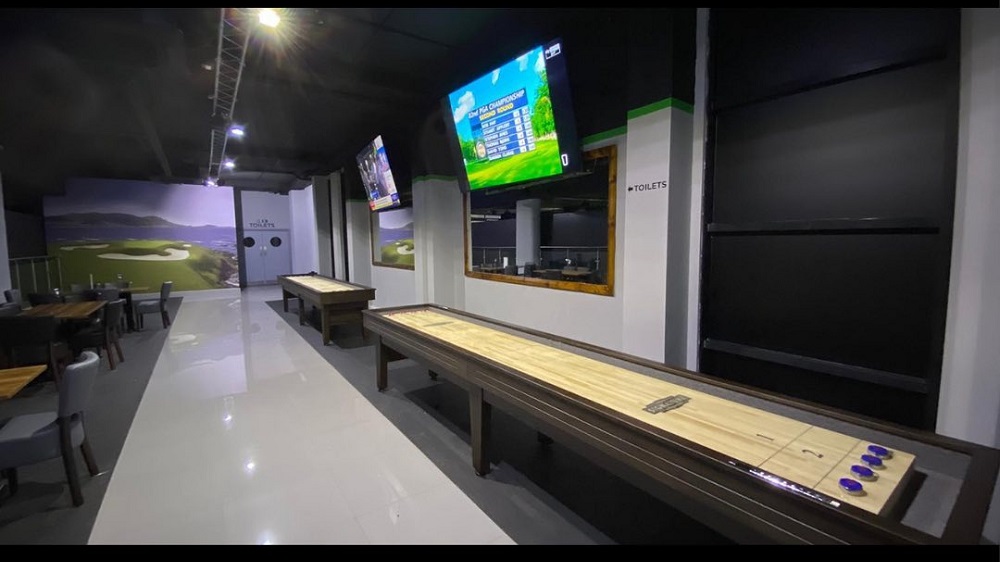 As well as their new karaoke room Kings Golf Studio also offer American pool, shuffleboards and Putt Pong as well as a VIP golfing cave with 85" TV screen, private TrackMan bay, pool table, football and waitered service. Plus, there's a small cinema room for up to 12 guests (which doubles up as a meeting room too).
Kings Golf regularly host events including Dance Anthems night, Quiz night, Ladies night, free games days and half-priced cocktail nights. So, make sure you keep an eye on their Facebook for up-to-date events and happenings.
Serious about golf
Alongside their social fun activities and events, Kings Golf Studio is serious about their golfing. The venue offers state-of-the-art TrackMan Powered simulator bays which allow you to play iconic courses whilst the precision technology measures club, launch and ball-flight data.
So, whether you Wannabe the next Tiger Woods or just Wanna Dance with Somebody then Kings Golf Studio has got an offering for you.
Where: First Floor, The Atrium, King Street, East Grinstead, RH19 3DJ
Call me Maybe: 013427 79999
Cost: £60 per hour for up to 10 guests, £5 per additional guest, up to 20 people
Website: https://www.kingsperformance.co.uk/
Other news from Kings Golf Studio