Time to add a little theatre to your night out? Looking for something fun to do in Manchester? Well, you've got some great choices to choose from! Smuggle booze into the clink, escape to different worlds or experience artwork in a brand new way. Check out our Play List of Immersive Experiences in Manchester …
Alcotraz: Cell Block Three-Four
In the heart of Manchester lies Alcotraz: Cell Block Three-Four, the secret home to a successful bootlegging operation sure to make for a visit you'll never forget! Enter the exciting world of mischief and smuggling in order to experience some delicious, bespoke cocktails – each tailored to what booze you manage to sneak in behind bars. Get creative with your attempts to stash your alcohol (helpfully aided by the local bootlegging gang), just be sure the warden doesn't catch you! For a night out with a difference, check out their website to get the party started.
Where: 1A Watson Street, Manchester M3 4EE
Cost: Tickets start from £30.99 per person
Age : 18+
Electric Gamebox
Nestled in the Manchester Arndale, there's a little place sure to be worth a visit – so get yourselves down to Electric Gamebox today! The best place for immersive group gaming in the city, you can mine for Martian minerals, rescue the Queen's corgis (and the rest of the royal family!) or encounter aliens! Complete with projection mapping, motion tracking, touch screens and surround sound, it's sure to be an awesome time that you're going to remember, and perfect for a game or two with your mates. Be sure to check out their website to find out more!
Where: Manchester Arndale, Unit R3 Halle Place, Market Street, Manchester M4 3AQ
Cost: £24 for 60 minutes
Age: Under 18's must be accompanied by an adult
Van Gogh Alive
**ONE WEEK ONLY** Extended due to popular demand, check out Van Gogh Alive, the multisensory experience bringing the world of the Dutch painter alive in all its glory! With over eight and a half million visitors worldwide and having toured over seventy-five cities across five continents, it's certainly not one to miss. Powered by immersive technology, Van Gogh Alive lets you step inside the beautiful artwork and experience life amongst the quaint streets of Arles. Make sure to check out Manchester's most talked about cultural event this winter! Not really a night out on the town, but a fascinating immersive experience nonetheless. Have a look at their website to plan your visit.
Where: The Piazza, MediaCity UK. Salford Quays. Greater Manchester, M50 2NT
Cost: Tickets start from £15 per person
Age: All ages welcome
OTHER GREAT ACTIVITY VENUES IN MANCHESTER
Junkyard Golf
Junkyard Golf is THE place to go in Manchester for a spot of golfing fun. With three crazy courses, you can travel to tropic climes with their Pablo course as you navigate through the jungle, or slink through haunted fairgrounds, narrowly avoiding circus freaks and twisted clowns on their Bozo course! Perhaps Gary is more your style – crammed with junkyard madness, complete with towers of tyres, written-off cars and auto scrap! Whatever you fancy, be sure to do it with a drink in hand – you can't go wrong! Why not visit their website get started?
Where: 2 First Street, Manchester M15 4RP
Cost: £8.50 per game for off peak or £10 for peak per game
Age: 18+ after 6pm
NQ64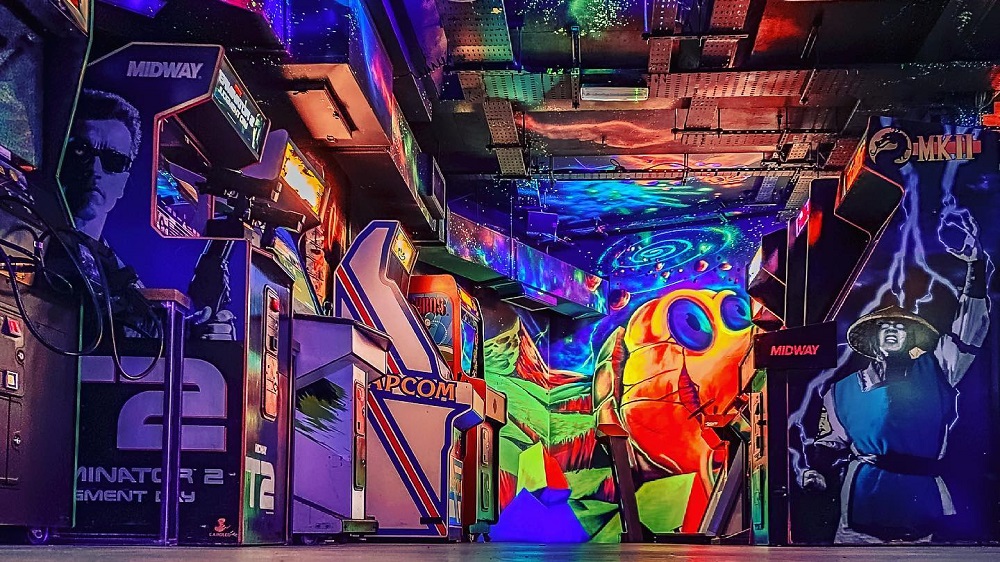 Get yourselves down to the Northern Quarter for a night out in neon! Complete with retro arcades, cocktails, craft beers and classic cocktails, there's something for everyone, whether you're a die-hard Street Fighter fan or just fancy a spin on Guitar Hero. Load up on some delicious gaming inspired cocktails, including the Mad Max, Pacs a Punch and Princess Peach, perfect for fuelling up in time to level up. Interested? Yeah, we figured. Check out their website to find out more info.
Where: 9 Short Street, Manchester M4 1AA
Cost: No entry fee. Buy tokens for the games @ £7 for 15 tokens
Age: 18+
Lane7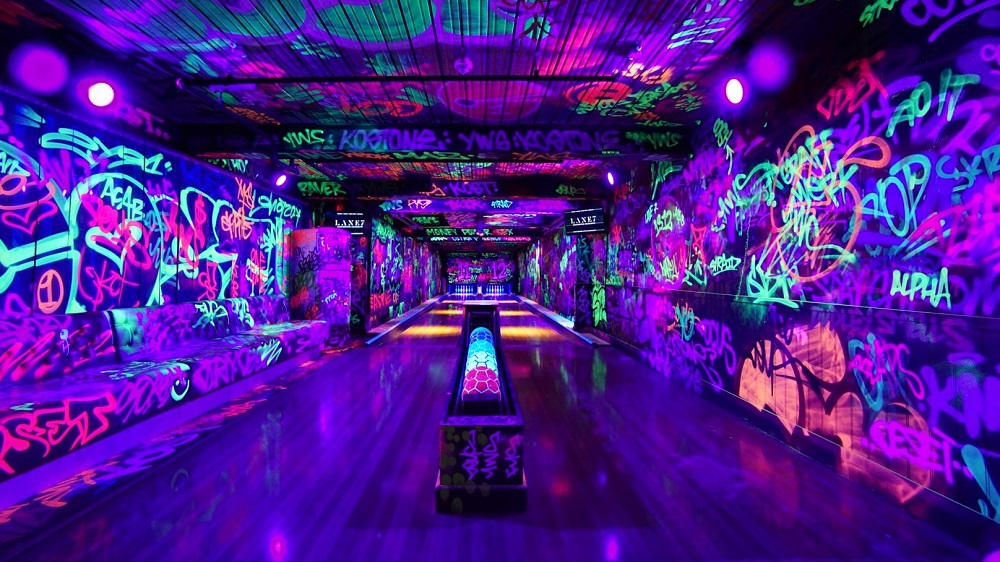 With burgers, bowling and booze, Lane7 is the ideal spot for a little late night bowling this February in Manchester! Want to show off your ball skills? Be sure to check out their American pool tables. Fancy yourselves divas in the making? Unleash your singing on the world in their karaoke booth. Beer pong? Who doesn't love beer pong? Make sure to check out their extensive drinks menu for a good time, and with loads of delicious food on offer from Fat Hippo, you're certainly in for a treat! So what are you waiting for? Check out their website today!
Where: Unit 3 235 Deansgate, Manchester M3 4EN
Cost: £17 per game of bowling
Age: 18+ after 7pm
Prices etc were correct at time of publishing. Best to check with the venue website for up-to-date information and offers.
Header image: Electric Gamebox