Shuffleboard is a wonderful game; but it's the siren of experiential leisure activities. It looks beautiful, lures you in with it's sleek surface and simple looking pucks. Then you start to play and discover it's deceptively tricky and will stir up your fiercely competitive side. Fancy a go? Here are some great places to enjoy a few games of shuffleboard in Bristol.
Felson's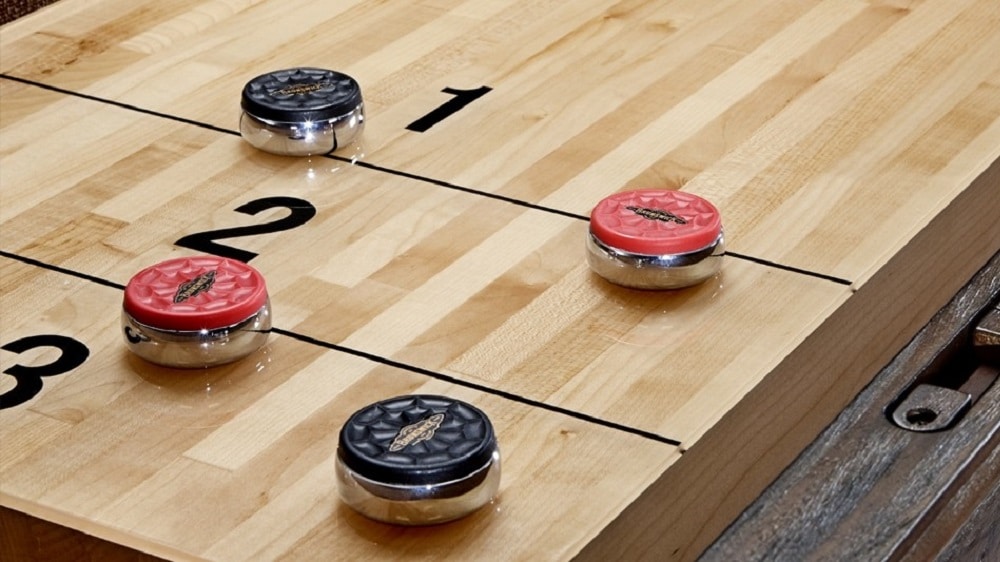 Inspired by Fast Eddie Felson, a 1950s Hollywood eight-ball stick hero, Felson's Bristol on Corn Street combines classic pool with a cool venue and chilled cocktails. Yet the reason it makes it onto this list, has got to be the authentic shuffleboard tables that are ready to book at a moment's notice (just visit their website!) So, it's time for expert sliding as you flaunt your hand to eye co-ordination to become champion of the night! We promise your gonna love their gorgeous shuffletables (best paired with one of their classic cocktails).
But of course, it couldn't take its name from one of the best fictional pool players of all time without a fully kitted out pool setup. Enjoy a choice of full-size American Pool tables where you can pretend you're at the Crucible, only with the added bonus of being able to grab a refreshing pint as you enjoy your game. Whether you're a rookie to the game or an eight-ball champion, you're sure to love your visit. They've got everything you could want for a great night out at the pub, including sports screenings, HD screens and Wi-Fi for when you just need to show *exactly* how that trick shot technically just won you the game.
They also have a variety of food on offer, including American style diner classics. Interested? You should be. They have everything you need to stock up on classic down-time delicacies. Maybe you're feeling shareable and fancy wings, nachos, or perhaps some quality chips? Or if you're looking for something more substantial, then we'd recommend one of their hand-crafted burgers or perhaps a classic fish and chips (can't go wrong there)! If you're more of a sweet tooth, then be sure to dig into their footlong cookie dough sundae sharer – a whopping ten scoops of ice cream loaded with cookie dough pieces, marshmallows, smarties and even Belgian hot chocolate- which is enough to satisfy even the biggest sugar fans out there!
As for drinks, well, they've also got you sorted for some delicious beverages. Wine and spirits, say no more! You can enjoy prosecco, wine, rose, and red. Looking for a beer? How about a nice-cold glass of anything from Budweiser to Heineken? Or if you're looking for a bit of adventure, why not sample some seriously addictive cocktails such as their Long Island Iced Tea or a Vodka Sunrise? Still not impressed? Perhaps give their Twice as Nice drinks option a go – not just one but two cocktail pitchers available every weekend, which is surely enough elixir for you and your buddies to make it to the small hours if you so choose.
So, are you ready to show off your shuffleboard and pool prowess to all your friends? Of course you are! To discover more about this stunning venue, be sure to visit their website to get your visit started.
Where: 1st Floor, 40 Corn Street, Bristol, BS1 1HQ
Cost: £10 an hour for Pool, £5 an hour for shuffleboard
Lane7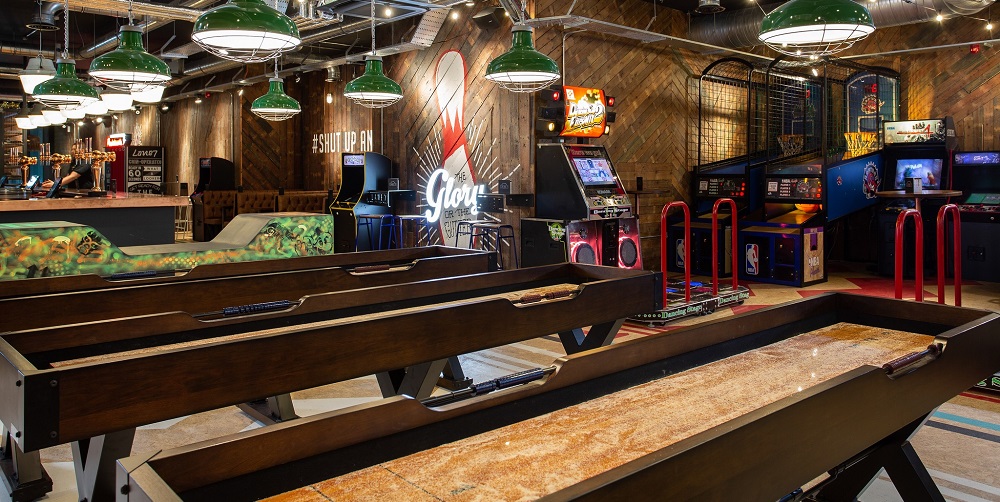 Complete with everything from bars to an epic dining experience, Lane7 venues have everything you could ever want whilst bowling with your mates! Now open in Bristol at the Harbourside, a bustling location full of restaurants and bars, as well as amazing nightlife locations and well worth a visit in itself. The real question of Lane7 though is not what to do, but what to do first! Making it onto this list would be their classic shuffleboard tables that will have your night shuffling into the history books as you master the art of this instantly addictive game.
Or are you looking to try out their stunning bowling lanes that combine the classic thrill of that superb strike with the stunning master-crafted aesthetics that Lane7 is famous for? Or perhaps ping-pong is more your style, with multiple Olympic-style table tennis tables that will have you mastering your backhand (well, before your first few cocktails at least)! Looking to get your hustle on? Well, whether you're playing for the next round of drinks or simply friendship pride, their authentic American Pool is the activity for you. But we hear you, at the end of the night sometimes you just need a dose of classic nostalgia. If this is the case, then you have to try out their classic arcade machines to take the fun digital! Or perhaps give their amazing beer pong experience a go if you're looking to get the party started with style. They've also got darts and shooting pods too, so you really are spoilt for choice.
Lane7 also offers delicious food and thirst-quenching drinks for celebrating shuffleboard victory! If you're after a location to really get in the weekend vibes, you'll especially want to divert your energy to their drinks selection. Of course you've got their classics such as beers (both bottles and crisp IPAs), as well as a fantastic selection of spirits and a host of different wines. Yet there is also a fantastic array of up to fifteen cocktails to choose from, so if you're looking for a taste of summer with their Margaritas or perhaps an after midnight pick me up with their Espresso Martini, they're sure to have something that you're gonna love. Yet it's not just cocktails you can be sipping till the small hours. Their venue exclusive alcoholic slushies are also a must-taste! With flavours such as Chocolate Orange and Eton Mess, you know they're not just a tipsy top-up with a twist but also totally delish. For the designated driver, they've also got a bounty of non-alcoholic slushies as well as other soft drinks to enjoy, so everyone's a winner here.
If you're looking to put a spring in your step this weekend (see what we did there!), be sure to check out their website.
Where: Millennium Promenade, Bristol, BS1 5SZ
Cost: Bowling is £9.25 for peak and £7.50 for off peak. Pool is £12 per hour. Ping Pong is £7 for 30 minutes and £12 for 1 hour. Shooting Pods are £40 for peak and £30 for off peak.
Age: 18+ after 7pm
Once you've finished trying out these fabulous places to play shuffleboard in Bristol, how about having a go at some other activity bars?