A great night out requires five things. 1 – friends; 2: tasty food; 3: instagrammable drinks; 4: an epic atmosphere; 5: a little competition. We've checked out a great line up places in Edinburgh which offer you just that. Check out our list of great activity bars in Edinburgh – you're spoilt for choice!
NQ64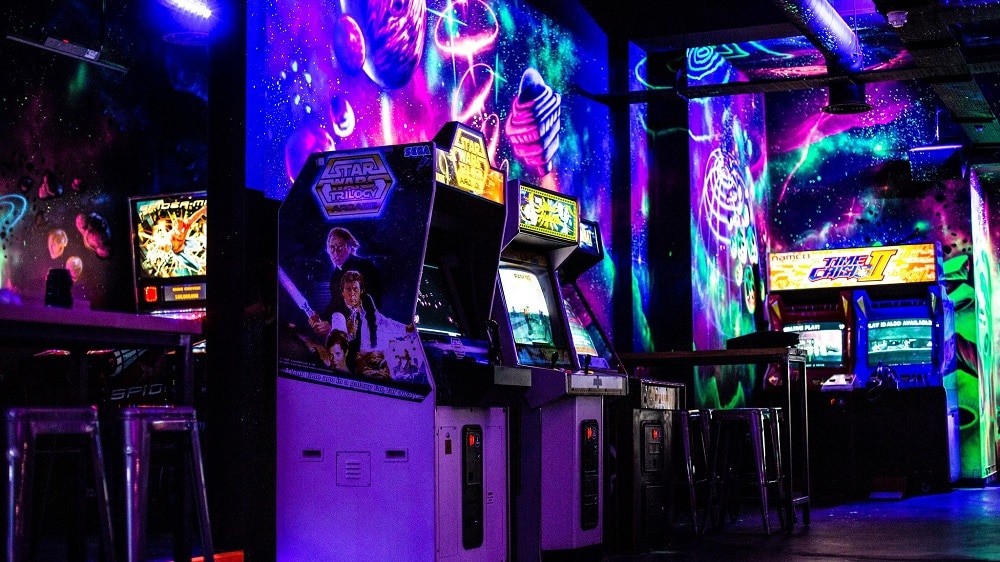 Ever fancied neon lights and cracking nights out? How about luminescent screens and nostalgic throwbacks? If this is you then make sure to get yourselves down to NQ64, the arcade bar in Edinburgh, with an 80's twist. It has craft beers, classic consoles, and stunning techni-colour cocktails on offer. Remember there's something for everyone at this cool place.  With a wide range of retro titles, NQ64 is the venue to put all your gaming skills to the test. So, be sure to give them a go. Pac Man fan? Or maybe Mario Kart is more your thing? From Street Fighter II to Space Invaders the choice is yours? Whatever your favourite games are, there's plenty to do at NQ64 Edinburgh, so get yourselves down there! Check out their website to get your night out started 
Where: 25 Lothian Road, Edinburgh, EH1 2DJ
Cost: No entry fee. Buy tokens for the games @ £7 for 15 tokens 
Age: 18+ 
Lane7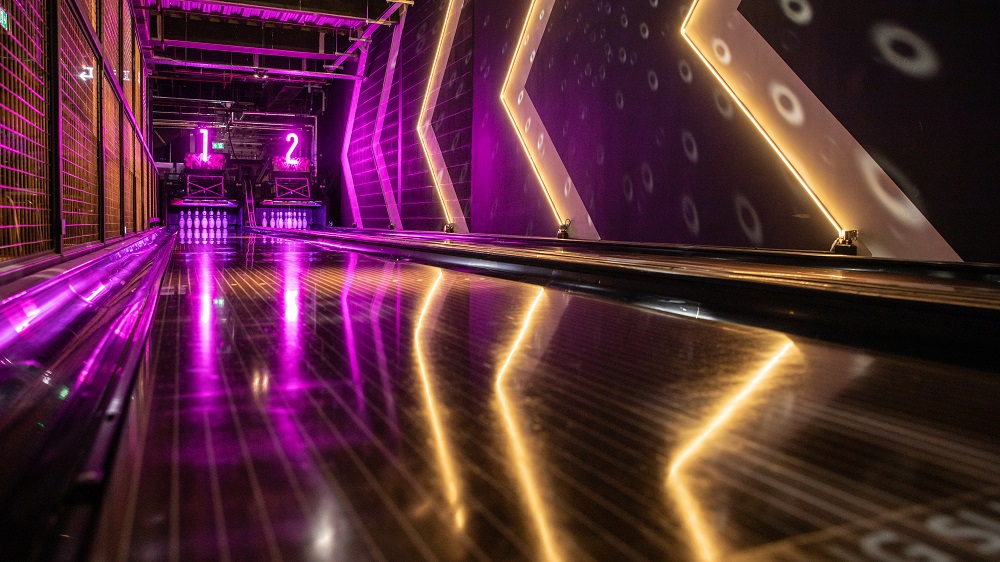 Lane7 combines classic bowling with a 21st century twist, with amazing results. At their Edinburgh location, visitors can enjoy luxury bowling, American pool, shooting pods, and even beer pong. Now that's how to start the night in style. Or, if you're looking for a more chilled day out, we recommend trying their darts, shuffleboard or crazy golf course. All can be enjoyed over an afternoon catch up with mates. Whether you end up nailing a strike with Lanes7's beautiful bowling balls (try saying that 5 times fast!), or putting with precision on their crazy golf course; we know you're in for an epic visit. So, be sure to sample their phenomenal cocktails and food as you relax with your besties and make memories in this gorgeous venue. To learn more, remember to check out their website. 
Where: Floor 4, 02b St James Square, Edinburgh EH1 3AD 
Cost: £10.50 for bowling and mini-golf, £20 for darts, £15 for pool and shuffleboard, £12 for ping pong and £40 for shooting pods  
Age: All ages until 7pm then 18+ 
Fore Play Crazy Golf
Fore Play Crazy Golf Edinburgh is a pop-up mini golf location where you can truly lose yourselves in the twists and turns. With 9 totally unique Edinburgh-inspired holes you're in for the putt of a lifetime. You can discover some of Edinburgh's classics such as The Greyfriars Bobby or The Scott Monument. Of course, you'll need some fuel for your golfing endeavours and for that you'll be wanting to visit their cocktail garden (supplied by Edinburgh Beer Garden). Here you can stock up on lip-smacking beverages such as their Gin Drift or Havanna'A Ball. Perfect for date nights to work get-togethers as well as celebrations – there's something for everyone. If you're looking to get your putt on head on over to their website.   
Where: 14 Picardy Place, Edinburgh EH1 3JT 
Cost: Prices start from £8 on weekdays and £9.50 on weekends
Age: 18+ 
Black Axe Throwing Co.
Unleash your inner Viking with Black Axe Throwing Co. Edinburgh. The perfect place to hone your aim with your mates, or perhaps your new crush, it's great for a day-out with a twist this spring! As you'll literally be chucking axes, you can't drink while playing, but you can always enjoy one of their delicious home cooked pizzas to celebrate your visit. If you missed the Viking class at school no worries, with the help of their expert instructors, you'll be throwing axes like a pro in no time! So, if you're looking for a night out to shout about check out more on their website. 
Where: Summerhall Crescent, Summerhall Place, Newington, Edinburgh EH9 1PL
Cost: Prices start from £22 per person
Age: 10+ 
Tenpin
A venue that brings it back to the essentials of a great night out, Tenpin Edinburgh is packed full of great times. Choose how to spend your visit from their fabulous list of addictive activities including epically classic arcade games, air hockey, full sized bowling lanes, American pool and table tennis! If you're looking to take your visit stratospheric then why not try Hyper Bowling, a futuristic take on bowling as colourful as it is fun. What's more, you actually score points for hitting the bumpers! With all that action, you'll be wanting to enjoy some great eats and drinks. Well, Tenpin have got you covered. With classics burgers and hot dogs on offer as well as sensational sweet options such as epic ice cream tubs you certainly won't be hungry after your visit. For full details of their activities and to get booked in, pay a visit to their website. 
Where: Fountain Park, Dundee St, Edinburgh EH11 1AW 
Cost: £8.25 for bowling and Hyper Bowling, £4 for table tennis and £2 per pool game  
Age: All ages welcome 
4042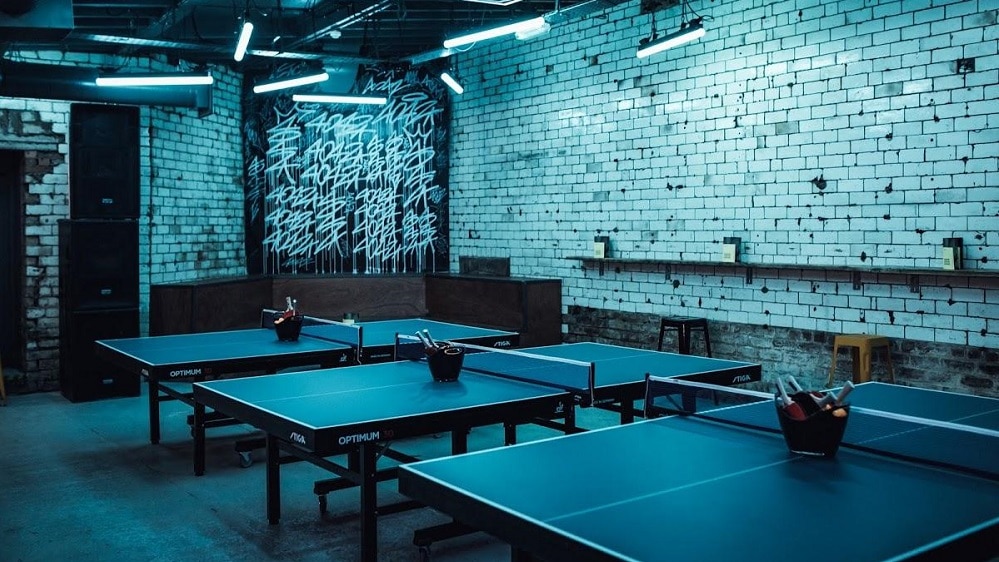 Looking for a night out in the Scottish capital but also want to flex your ping pong master skills? Well then, you'd better check out 4042 a nightclub and ping pong paradise in the heart of Edinburgh.  Whether you're enjoying a stint on their Olympic sized table tennis tables, or perhaps just looking for a night of amazing tunes from classic sing along anthems to hip hop, rock and more to get you going. But what would a night out in a stunning city such as Edinburgh be without a taste of some top-shelf beverages? Enjoy classic spirits, crisp IPA's, or perhaps a cracking cocktail to fuel your late-night adventures. To discover more, why not pay a much-needed visit to their website? 
Where: 40-42 Grindlay Street, Edinburgh EH3 9AP 
Cost: £10 per person to secure a table 
Age: 18+ 
Prices etc were correct at time of publishing. Best to check with the venue website for up-to-date information and offers.
Header image: Lane7 Edinburgh