When I think of Foosball my mind instantly wanders to Joey and Chandler from Friends battling it out in their New York apartment … "that's why only the little fake men are supposed to do the kicking!"
But Foosball Club in London is about as far away from that under-loved table as you can get. At Foosball Club they are serious about their table football.
Foosball Club is a celebration of the sport of Foosball. Players enjoy the privilege of playing on one of four GARLANDO official competition table football machines, using official balls from the GARLANDO World Championship, under bespoke overhead lighting where the rods are straight and the playfield is smooth.
Casual players are offered a warm welcome. You can grab a drink from the Victoria Tavern and then head upstairs to practice your foosball technique or enjoy a game with friends, working off the pressures of the day. All you have to do is book your foosball zone which includes exclusive use of a table plus a private table and chairs for four people, although each zone is suitable for up to eight people. Prices start from £20 for a two-hour slot, which includes 20 tokens.
As well as using the tokens to release the ball for your table football, you can also use them on one of three retro arcade machines – loaded with over 80 gaming choices including Pac Man, Street Fighter 2 and Puzzle Bobble.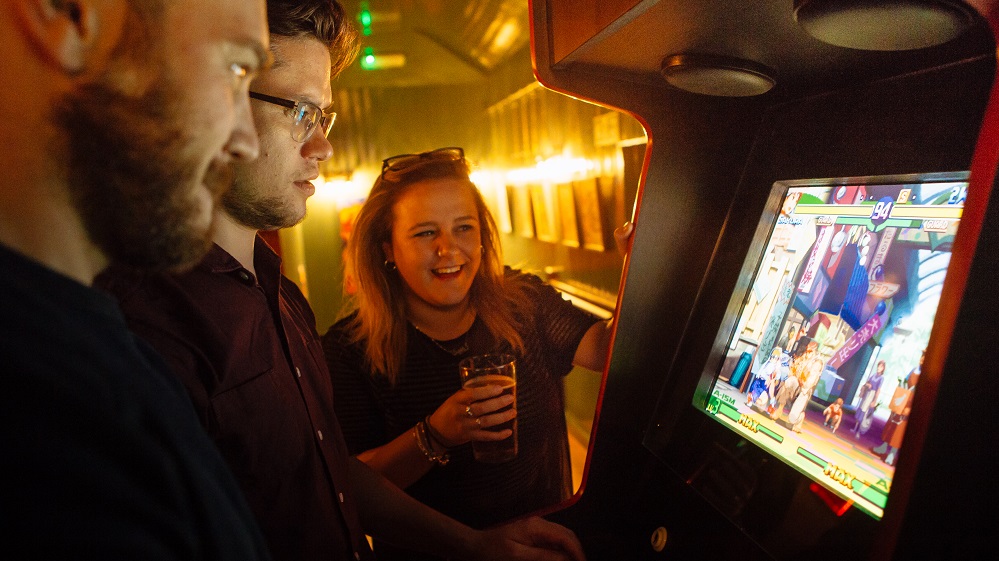 Drinks are available from the bar (downstairs in the Victoria Tavern) where there's a full range of beverages including some gorgeous British beers including Pressure DROP from Tottenham, Beavertown from Haringey and Siren Craft Brew from the award winning brewery in Finchamptsead.
Food is an all-important part of a great night out so Foosball Club have sorted out a great pizza menu which will make it very difficult for you to choose which one to go for. There are 12 different options all of which can be made using gluten free dough and/or vegan cheese. Which will you go for? No 5: Cotto ham, wild mushroom, mozzarella & pomodoro or No. 10: Aubergine, scamorza, red pepper, crushed kalamanta olives, mozzarella, pomodoro & fresh bazil? Plus, there are sharing platters and puds.
If you want to take your foosball a little more seriously then Foosball Club is definitely the place for you. Not only is it adorned with posters from every ITSF World Cup tournament ever, but there are screens showing amazing game play from the best in the world.
More importantly, however, Foosball Club organises monthly tournaments with the London Table Football Championship. If you'd need help taking your table football beyond a friendly kick about then the Academy section on their website gives information on rules and game play.
This fun location can be privately hired for parties of between 30 and 60 guests making this a fabulous alternative venue for a party, work away day or for you to organise your own foosball tournament. There is a bar upstairs which can be opened up for your exclusive use when you are hiring the whole space.
So, whether you fancy yourself as a bit of a pro, or you just love having fun whilst hanging out with your friends, it is well worth getting booked in at Foosball Club … you never know … you might get talent spotted!
Where: Victoria Tavern First Floor, 203 Holloway Road, Islington, London, N7 8DL
Cost: Starting from £20 for two hours & 20 tokens
Age: 18+ after 6pm. Before pm 12+ only.
Website: www.foosballclub.co.uk