There is something uniquely breathtaking about a Flight Club venue. A surprising and fascinating blending of nostalgia and cutting-edge technology which makes their locations distinctly, Flight Club.
This week Flight Club announced that they have signed a 25-year lease for 3-4 St. Mary Street, where Beanfreaks and Creams used to be, just along from the entrance to Cardiff Market.
The incredible location offers 16,327 square foot of interior space with a further 4,000 square foot of panoramic roof terrace, right in the heart of the city, allowing for up to 500 guests. This Cardiff site will be the 10th Flight Club in the UK and their largest outside of London.
Flight Club venues are always impressive and this one promises to be another dazzling and creative space, designed by an innovative architect. Guests will have 13 oches (playing areas) to choose from and three feature bars. Flight Club are also bringing their famous Brunch, Thursday through to Sunday, every week.
Social Darts at Flight Club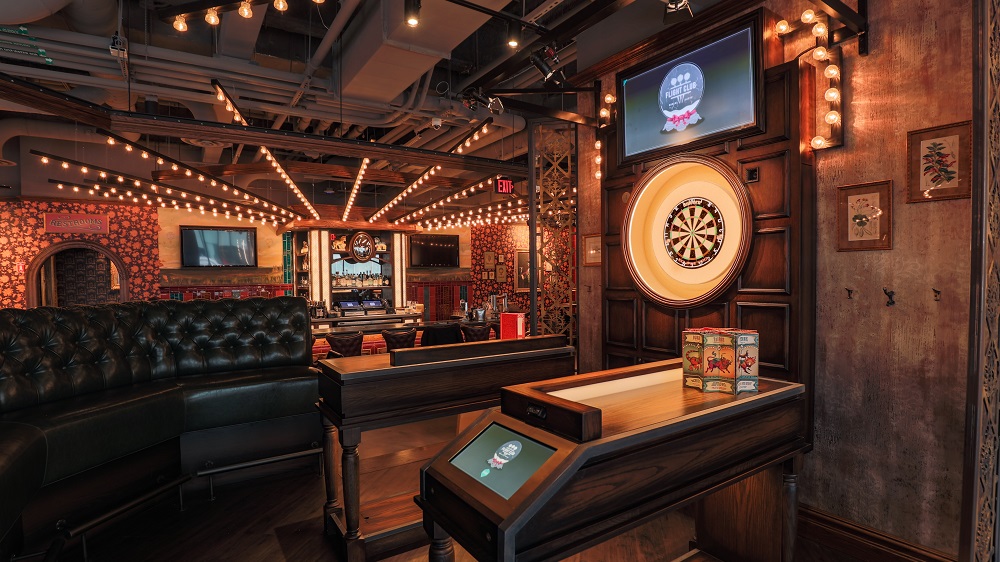 Flight Club are the innovators of Social Darts. They have taken the traditional game of darts and supercharged it with technology to make it incredibly fun and playable by groups of revellers. Their set-up includes patented dart tracking technology designed by their in-house astrophysicist! Meaning that groups of up to 12 people can enjoy the heated competition of a host of multi-player games, without the effort of adding up the scores, whilst indulging in delicious food and delectable cocktails.
Food and Drink at Flight Club
Having worked so hard to create an exceptional gaming experience in beautiful surroundings it's not surprising that Flight Club have invested considerably into creating food and drink offerings to match expectations.
Sharing is most definitely caring when it comes to food at Flight Club. With Mix N Share Mini Plates (e.g. Tandoori chicken kebabs, Pigs in blankets, Sticky port belly bites, Salt & pepper squid …), Sharing Pizza Paddles, Sharing Fries, Sharing Platters and Sharing Treats … it really is all about the caring.
The bars (just to remind you the Cardiff site will have three!) will be stocked with a full range of beer, wines and spirits. However, we all know that a proper night out requires a proper drink – a cocktail … or three.
Flight Club curate a large selection of cocktails and cocktail slushies, offering bespoke twists on the classics. Look out for the Salted Caramel Espresso Martini, Mule '15 and Raspberry Rose – it's topped with Champagne, enough said.
CEO, Steve Moore, who co-founded Flight Club said, "We're thrilled at the news that the licensing application has been granted for Flight Club Cardiff. Whenever we look to join a new neighbourhood, we always work closely with the community to ensure that we're adding to it in the best way possible, and we look forward to maintaining these positive relationships moving forwards. There's a lot of work to be done, but we can't wait to announce our opening date and share more of what we've got planned for Flight Club Cardiff in the coming months".
As soon as we have details of the opening date, we'll be sure to let you know, so can get yourself and your besties booked in for a night to remember.
Where: 3-4 St Mary Street, Cardiff, CF10 1AT
Website: flightclubdarts.com/

Other Flight Club News