Summer is definitely on its way. The sun is out, the holidays are approaching and Electric Shuffle Canary Wharf are opening their brand new summer terrace! It's on!
Having opened at the end of 2019 the last few Electric Shuffle summers have been somewhat hampered by Covid, so they are celebrating the summer of 2022 in style.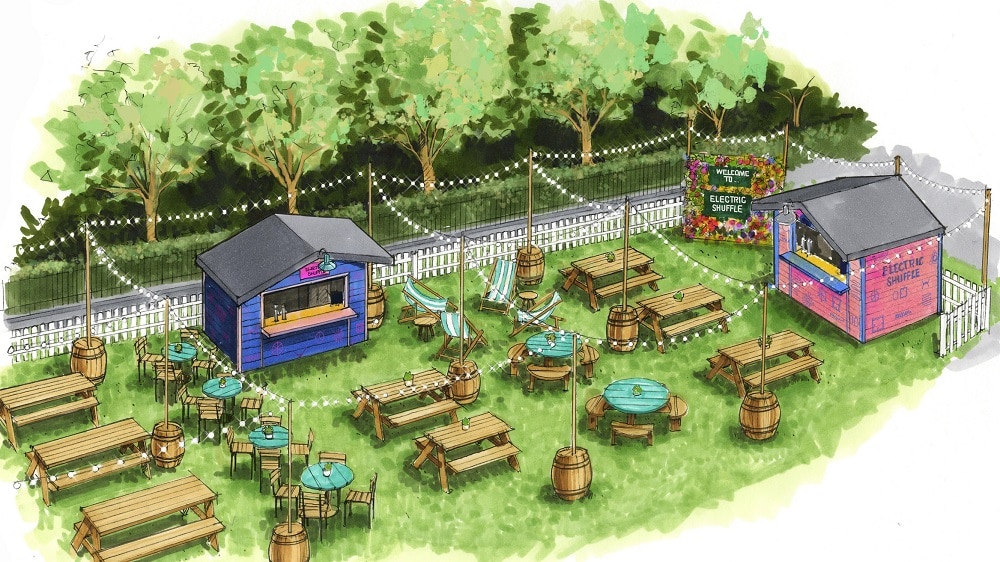 The stunning suntrap, which opens on Monday 9th May, can host up to 250 guests and features two bars and a burger kitchen. If you head to the Summer Terrace Thursday to Sunday then you can take full advantage of their weekend brunch, which includes bottomless pizza and a bottle of Prosecco each. The Terrace will also be serving bespoke cocktails, just perfect for helping you relax into the summer vibes.
To guarantee your spot make sure you book your table in advance. There are bookable areas for any size groups, from 2 to 250 – so you can make this your perfect date or ultimate party bash.
Although the garden will be calling you out into the sunshine or under the stars, whilst you're there you really mustn't miss the chance to try out their immaculate Electric Shuffleboard tables.
Electric Shuffleboard is a brilliant, supercharged version of the traditional game of shuffleboard. There's still pucks, there's still the handsome tables but then there's the state-of-the-art puck tracking technology, the team player games and the dynamic on-screen graphics.
At Electric Shuffle your group will be allocated a semi-private space and when you're ready to play the tech will allocate you into two teams. Select from the choice of fun games, upload your selfies and let battle commence. The screen guides you through the game play, tracks the scores and reveals the winners. What's more, you can use the push-for-service buttons to get food and drink delivered directly to your playing area.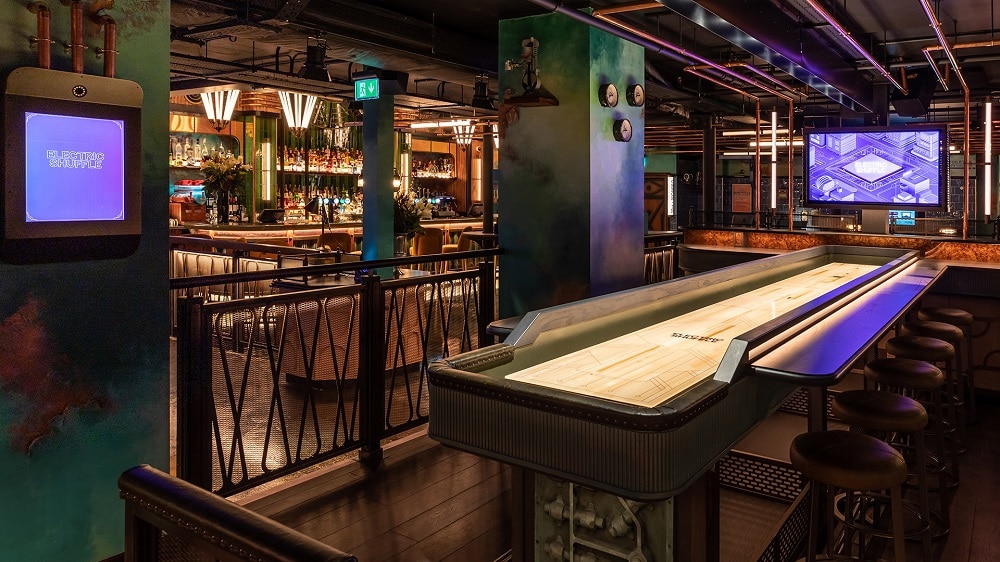 Electric Shuffle Canary Wharf has recently been treated to a makeover, creating a beautiful, relaxed and homely backdrop to your thrilling night out.
Get you and your team booked in for shuffleboard, brunch or just a chill in the sunshine via the Electric Shuffle website.
Where: 10 Cabot Square, North Colonnade, Canary Wharf, London, E14 4EY
Cost: £10 per person for 90 minutes
Age: 18+ after 5pm
Electric Shuffle is operated by Red Engine, the team who also operate Flight Club.
Other Red Engine news which might interest you: