Here at Social Playlist we just love a game of darts, especially the kind where the tech does all the hard work. Loads of venues have installed electric darts where the tech tracks your darts, checks where it lands, works out your score and keeps track of the game for you. Meaning you can focus on nailing your form and deciding which cocktail to order next.
If you're looking for a place to play darts in Bristol, let us make a few introductions …
Lane7 Bristol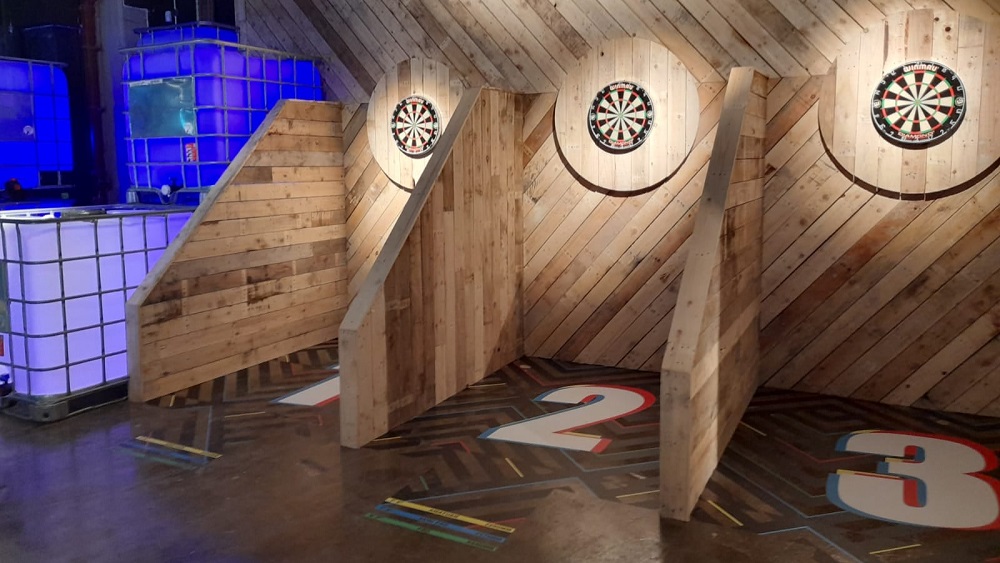 Another fantastic spot in the Lane7 franchise, so make sure to check it out this summer! With plenty of cool activities to show off your sports skills, there's certainly something for everyone to enjoy! They offer bowling, darts, pool and ping pong, and if that isn't enough, you can try your hand at the shooting pods, beer pong, and shuffleboard. Liking the sound of that? They've also got an extensive bar, with a variety of cocktails, shakes, slushies and harder options – so there's plenty on offer to suit the mood of your night. Interested? Of course you are. Check out their website to find out more.
Where: Millennium Promenade, Bristol, BS1 5SZ
Cost: Bowling is £9.25 for peak and £7.50 for off peak. Pool is £12 per hour. Ping Pong is £7 for 30 minutes and £12 for 1 hour. Shooting Pods are £40 for peak and £30 for off peak.
Age: 18+ after 7pm
Flight Club Bristol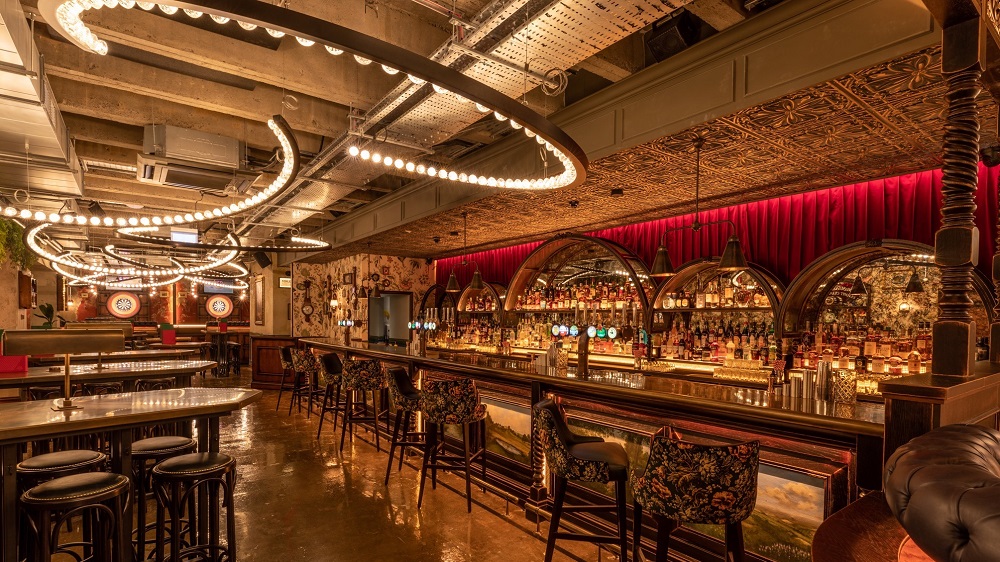 Flight Club has touched down in Bristol! This newly opened social darts venue is the perfect spot to challenge your mates to a round or two on the oche. Complete with their own range of fast and exciting multi-player games all through state of the art technology, their entire concept is based on bringing people together – so you've got to swing by! With drinks on offer (perfect for a celebratory round!), and plenty of food to revitalise those post-match hunger pangs, Flight Club is a great place to catch up with your mates this year. If you're feeling a bit bougie, make sure to check out their brunch socials – complete with Prosecco and bottomless pizza! What could be better? To discover more be sure to pay a visit to their website.
Where:41 Corn Street, Bristol, BS1 1HT
Cost: £14 for 60 minutes and £20 for 90 minutes
Age: 18+
Bar501
The home of darts in Bristol. If you're a fan of the game, this is one of the best spots to hang out over a pint or two. Or any sports, really. With six widescreen TVs with surround sound, it's the perfect place to catch the match. It also boasts being the home of professionals such as Steve Brown and Mark Dudbridge, so if you're lucky, you might just get a chance to see them in action – and there's nothing like watching a master at work! They've also got live music and delicious drinks to keep you dancing and throwing darts all night long. Check out their website to find out more.
Where: 2 Broad Street, Bristol, BS16 5NX
Other Great Activity Venues in Bristol
Jungle Rumble
Is it a bird? Is it a plane? No, it's Jungle Rumble, the all new indoor, adventure-filled mini golf experience that's bound to put a spin on your nights out this summer! With two eighteen-hole courses, a fully stocked bar and a central location, it's the perfect place to practice your golf skills now that venues have reopened across the country. Fancy a tropical adventure but struggling to visit the Amazon this year? Make sure to check out their Jungle Course, where you can absorb the ambient sounds of the rainforest, and maybe even try and spot an animal or two! Feeling brave? Take a spin through their famous walk-through volcano cave. Looking for more of a challenge? Have a go at their secret Swamp Course, where you can putt (get it?) your skills to the test in the Jungle Rumble marshes – just beware of the crocodiles! Check out their website to find out more.
Where: 74-76a Glass Walk, Cabot Circus, Bristol, BS1 3BQ
Cost: from £5 per person
Age: 18+ after 8pm
Kongs Bar
Live music. Craft beer. Games. What could be better? There's plenty of fun to be had at Kongs, one of Bristol's newer nightlife establishments. With table tennis (where you can unleash your inner Forrest Gump), table football (more fun! Less exhaustion!), arcade machines (perfect for whether you're a casual button masher or hardcore gamer) and pinball, there's loads of games for you to check out over a pint or two. If you're into your beers, the guys down at Kongs have assembled some of the best craft beers to hit the UK scene in the last few years, so there's plenty to enjoy, and if you're feeling peckish, make sure to try one of Hoba's kebabs – a Berlin inspired explosion packed with fresh, locally sourced ingredients and big flavours! Sounding good? Yeah, we agree. Find more info via their website.
Where:13-15 King Street, Bristol, BS1 4EF
Cost: Foosball 50p per game of pool, arcade machines £1 per game
Age: Over 18s only
Felson's
A long time ago (the 1950s, to be exact), there was a bloke called Fast Eddie Felson, a Hollywood eight-ball stick hero. He was a cool, confident player, and never backed down from a challenge. Although Eddie's not around anymore, his spirit lives on at Felson's in Bristol, where they try and channel the coolness of one of Hollywood's best pool players. With stylish designs, great food and even greater drinks, there's plenty of memories to be made at Felson's. With craft beers and cocktails galore, there's something for everyone's taste. Fancy a game of shuffleboard? Give it a spin with your mates. Love a good party? Felson's is the place to be. Make sure to get yourselves down there and pick up a pool cue – who knows? You might just end up being the next Eddie Felson! Check out their website to find out more.
Where: 40 Corn Street, Bristol, BS1 1HQ
Cost: £10 an hour for Pool, £5 an hour for shuffleboard
Bristol Golf Centre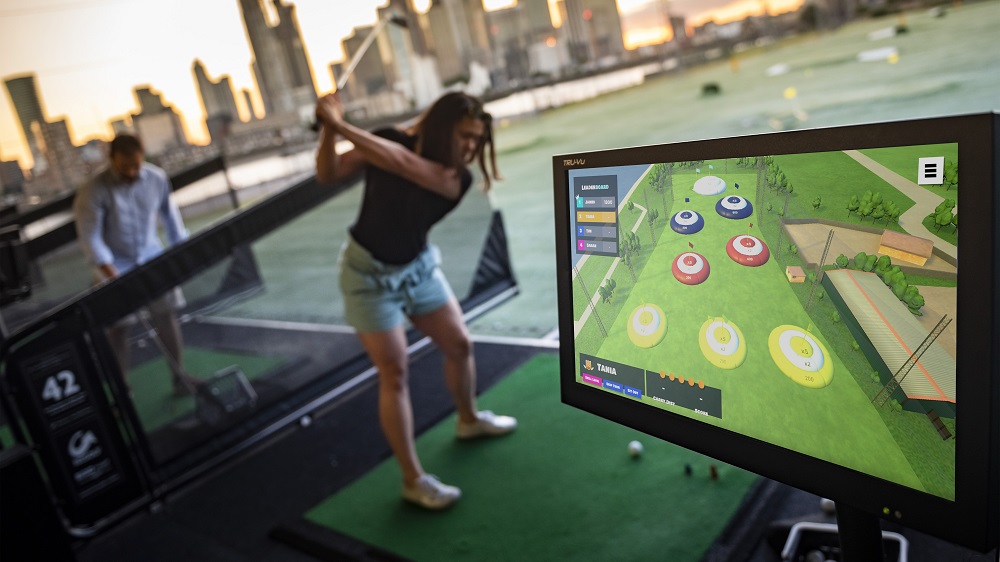 It's not just darts which is getting the hi-tech treatment. Bristol Golf Centre have partnered with Inrange® to bring you a driving range with a difference. Grab your gang and book yourself into one of their multiplayer booths so you can swing with the best of them. The Inrange tech comes with interactive games so you can challenge your mates to a game of Bullseye, Twenty One or see if you can avoid the lava whilst playing Shrinking Target. Alternatively, you can channel your inner Tiger or Rory and see who comes out on top on one of the Inrange+™ Championship virtual golf courses.
Where: Common Mead Lane, Hambrook, Bristol, BS16 1QQ
Cost: Single Player Practice Bay = £12 per hour / Multiplayer Gaming Bay = £29 for the bay, per hour (up to 4 players)
Age: 13+
Prices etc were correct at time of publishing. Best to check with the venue website for up the date information and offers.
Cover image: Flight Club Bristol