Social darts is not a tatty dart board located above a sticky floor at your local, where chalky hands are needed to etch up scores – that's if you can agree on the score. Social darts is fast-paced, high-tech, group-friendly, super fun darts. The tech does all the hard work (agreeing where you dart landed, adding the scores, keeping track of the game) leaving you to just enjoy the ride of the game, sip those cocktails and indulge in excellent food. If you're looking for somewhere to go out in Birmingham, then let Social Playlist be your guide …
180 Club
Birmingham's amazing underground darts bar serving up New York style food with stunning cocktails. Located near the lush, leafy oasis of St Paul's Square in the Jewellery Quarter, the venue itself used to be an old rectory so there's heaps of astonishing atmosphere and the perfect place for darts. Epic themed lightning and ascetics sets the mood for your next social darts session. The interactive dart boards keep scores with state of the art electronics which helps to blend the traditional and modern feel of this venue perfectly. It's not just the darts however, the food and drink of this location is not to be missed. Starter platters, delicious dirty wings and burgers just to name a few. For drinks it's a similar story with sharing cocktails, house cocktails or 180's own version for the shot, the 180 Bombers. So what are you waiting for? Get on their website and book.
Where: 50-54 St Paul's Square, B3 1QS
Cost: Off peak £15; Peak £30 per lane, per hour
Age: 18+
Flight Club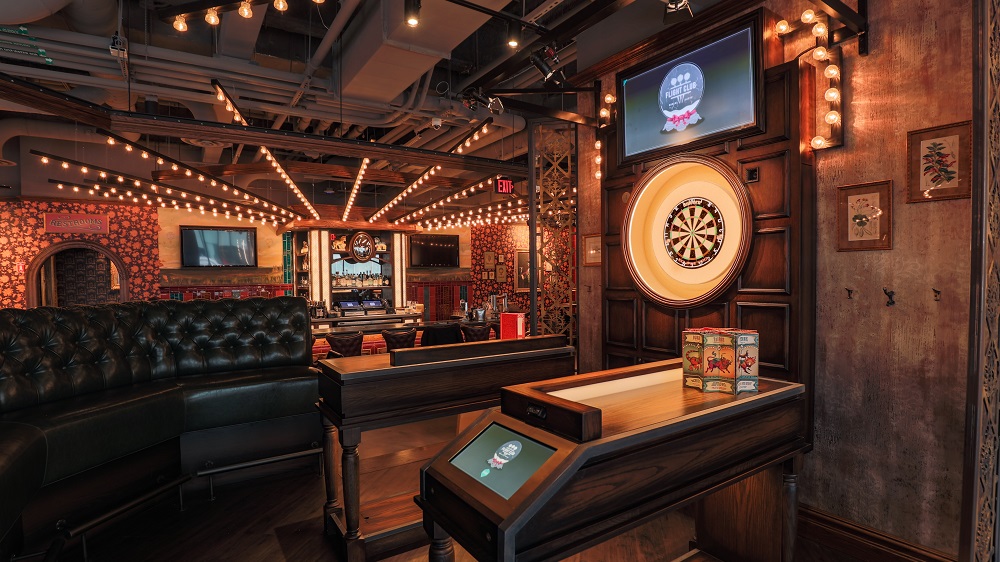 For lovers of the world of the roaring 20's this is the venues for you. Just a short walk from New Street Station this venue is as entertaining as it is colourful. Fairground like ascetics blend with traditional English architecture making you feel like you've stepped into an F. Scott Fitzgerald novel. After booking your event, pre-ordered food and drinks will be waiting in your own private playing area. Or perhaps you'd like to enjoy gorgeous prosecco, with the odd fairground ride for the perfect Insta-pose. Just a few minutes away from the city centre this is the best place to start or end your night. Or maybe you're more interested in a boozy brunch, with Flight Club's shared pizza and a glass of something fun. There really is something for everyone at this amazing social darts venue. To learn more how you can book your visit, be sure to visit their website.
Where: 13 Temple Street, B2 5BN
Cost: £7 per person for one hour
Age: 18+
Other Great Things To Do In Birmingham
Roxy Ball Room
If you're looking for more amazing activities that aren't darts then Roxy Ball Room, Digbeth is the place for you. Whether it's enjoying their 10 full size bowling lanes, classic American pool or their stunning shuffleboard tables there's something for everyone. If you're looking to get the pre-night drinks in then we highly recommend their beer pong tables where you can claim ultimate victory while getting in the mood for a night of fun. Or perhaps you're looking for a mid-week meet up venue with your friends. Then why not try their sensational outside beer garden where you can enjoy sunshine, killer cocktails and epic bites to eat. Check out their website for deals and offers.
Where: 58-60 Heath Mill Lane, B9 4AR
Cost: Starting from … bowling £8 pp,pg; ping pong, shuffleboard, pool, £12 ph; beer pong £18
Age: 18+
NQ64 Birmingham
Video-gamers be warned, once you enter NQ64's neon-lit pixel paradise you may never want to leave. Think classic 80's arcade meets modern cocktail bar. The perfect place for that stand-out first date, or a post-lockdown reunion. This venue truly is as unique as it amazing. Authentic arcade machines line the Neon graffiti walls as you work through all your favourite games including; MarioKart, Pac-Man, Guitar Hero and dozens more. Then after achieving your new high score (naturally) make sure to refuel with video game inspired cocktails that are as colourful as they are delicious. Our favourite is the Donkey Kong (pineapple rum, banana ,chocolate and cream soda). You can learn all you need to know about this epic venue on their website.
Where: The Custard Factory, Gibb St, Digbeth, B9 4BG
Cost: No entry fee. Buy tokens for the games @ £7 for 15 tokens
Age: 18+
Ghetto Golf Birmingham
This wouldn't be a Social Playlist without crazy golf now would it? If we're talking about epic activities in Birmingham we have to mention Ghetto Golf. Found in The Custard Factory (a venue well worth a visit in itself), visitors can enjoy 18 uniquely twisted golf holes surrounded by bespoke art turning this game of golf into a sensory adventure. That's not all however; we can't mention this stunning venue without giving a nod to its famous drinks and food menu. From Twisted Tapas to Loaded Fries you'll love the culinary creations they've come up with. And for drinks, they've got everything from classic beers and ciders to their own collection of ghetto golf cocktails we know you and your mates will love. Check out their website for more info.
Where: The Custard Factory, Gibb St, Digbeth, B9 4AA
Cost: starting from £12 pp
Age: 18+
Lane7 Birmingham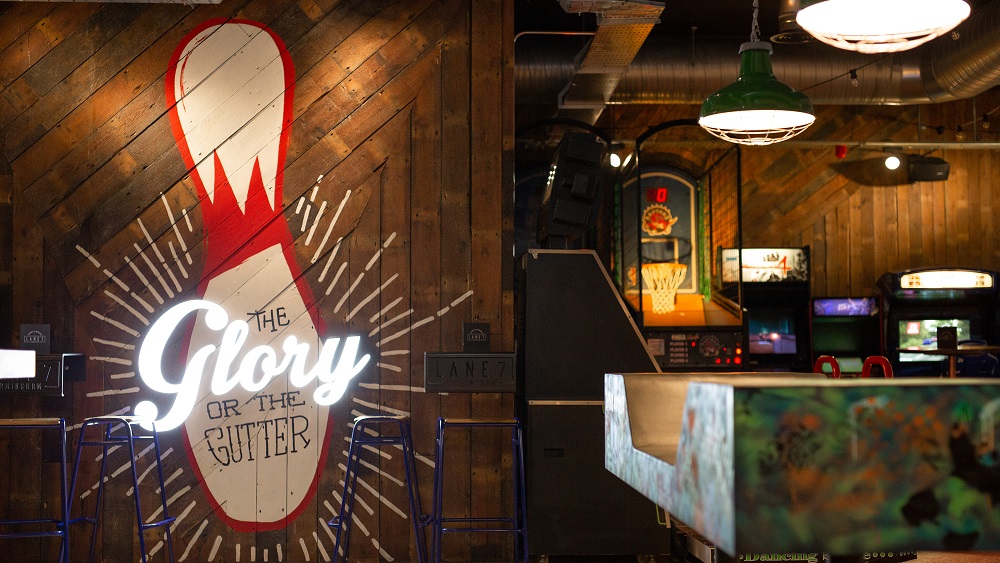 If you're in Birmingham and looking for an epic bowling experience then you have to pay a visit to Lane7. 10 epic bowling lanes that seem to have been constructed by the bowling gods themselves wait for you in their venue located in The Cube on Wharfside Street, one of Birmingham's most iconic landmarks. Though it's not just bowling they have on offer but so much more. Challenge your mates to a session in their classic arcade. Have a go at shuffleboard or beer pong in their custom built play zones. Or sing your heart out in their karaoke studio (we can't confirm the walls are sound proof but after a cocktail or 4 who cares). To find out more about this splendid venue visit their website.
Where: The Cube, Level 6, Wharfside Street, B1 1RN
Cost: Starting from … bowling £6 pp, pg, Karaoke £5, Beer Pong £2.50 pt, ph, shuffleboard £12 pt, ph
Age: 18+ after 7pm
Dropshot Digbeth
Dropshot is a sensational warehouse venue on Heath Mill Lane. This multi- use activities bar has everything you need for a day of fun. This includes; a stunning bar for cocktails and craft beers, six Olympic grade table tennis tables, two shuffleboards, two full size pizza ovens and an epic sound system playing music for every taste. So why not relax with a glass of something awesome and a freshly baked pizza while watching the latest sporting event with your mates? Or if you're looking for something more active we highly recommend a go on their table tennis tables and shuffleboards. Learn more about this venue on their site.
Where: 60 Heath Mill Lane, B9 4AR
Cost: £10 per game
Age: 18+ after 8pm
The Floodgate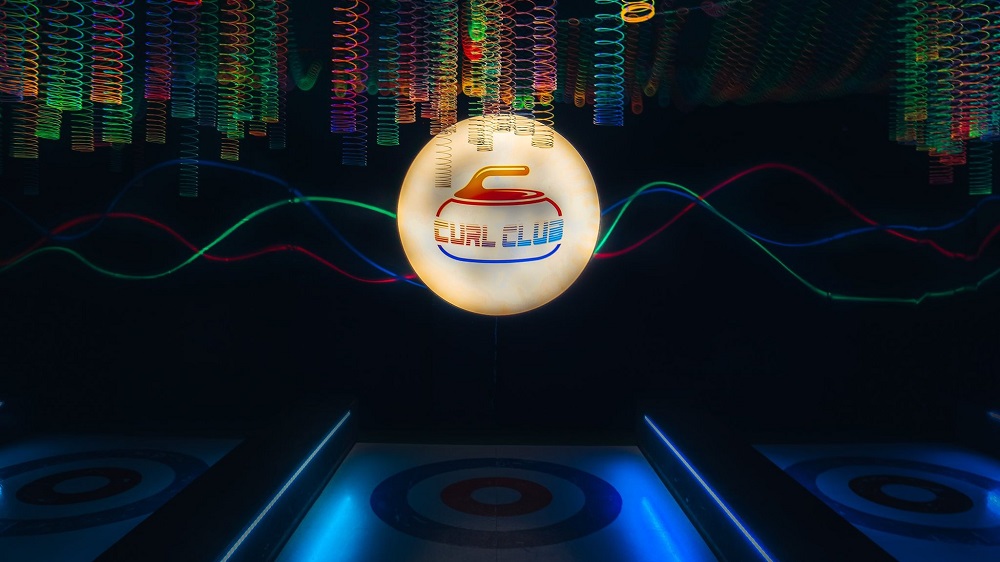 Swing Batter Batter never sounded truer than at The Floodgate Birmingham a baseball haven and a great deal of fun to boot. At Birmingham's only batting cage experience, visitors can enjoy 6 amazing batting cages to master their swing. There is a mixture of indoor and outdoor cages so you can play in all weathers. Yet that's not all, their venue also feature's their Curl Club (a modern take on the addictive winter sport of curling), as well as their own creation of Pit Pat Table Golf (an epic infusion of crazy golf and pool). There really is so much fun to be had here (it's amazing they fit it all in one venue). It's not just games they're great at, their venue also boasts sensational cocktails, beers and delicious street food for you to enjoy after your game. Learn more on their website.
Where: 104-108 Floodgate Street, B5 5SR
Cost: From … baseball £15 per cage/25 mins; pit pat £8 pp/ph; curling £15/30 mins
Age: 18+ most of the time (8+ Sundays & school holidays (except Saturdays) until 7pm)