Who knew that mini golf could be so much fun? When you add in cocktails and some street food no matter how rubbish you are at putting, mini golf can be a hilarious way to spend an evening. So, if you're looking for a great night out in Leeds, check out these beauties …
Junkyard Golf
Under the pulsing UV lights and in amongst the crazy disco vibes, there's a golf course hidden away on the streets of Leeds. Where else could it be instead of Junkyard Golf? With three incredible courses, there's plenty of fun to be had this summer! Will you attempt the Bozo course, which will lead you through dark fairgrounds, twisted clowns and circus freaks? Or perhaps you'll take a trip to the tropical jungle with the Pablo course? Or maybe their scrapyard challenge is more your style – can you successfully navigate through towers of tyres, written-off cars and auto-scrap to claim the Junkyard crown? Regardless of which course you choose, you can celebrate post-game with their amazing selection of drinks. You can book now via their website.
Where: The Light the Headrow, The Headrow, Leeds LS1 8TL
Cost: £8.50 per game for off-peak or £10 for peak per game
Age: 18+ after 6pm
Puttstars
With three amazing nine-hole courses, there's plenty of fun to be had at Puttstars in Leeds. Amaze your friends with your golf skills on the Zig Zag course, or maybe mix it up on the Slingshot. Gaming fan? Put your own spin on the Pin Ball course. Or, maybe throw a spanner into the works by playing your Joker cards and mix up the entire points scoreboards! There's plenty of ways to play at Puttstars, and there's lots of fun to be had on the way. After your golf game, you can always relax in their amusement arcade, or grab a delicious bite to eat from their diner. Interested? Of course you are. Book via their website to get started.
Where: The Springs, Century Way, Leeds LS15 8GB
Cost: £8.40 per person for 2 rounds
Age: All ages, after 8pm children must be accompanied by an adult
Roxy Ball Room (x3)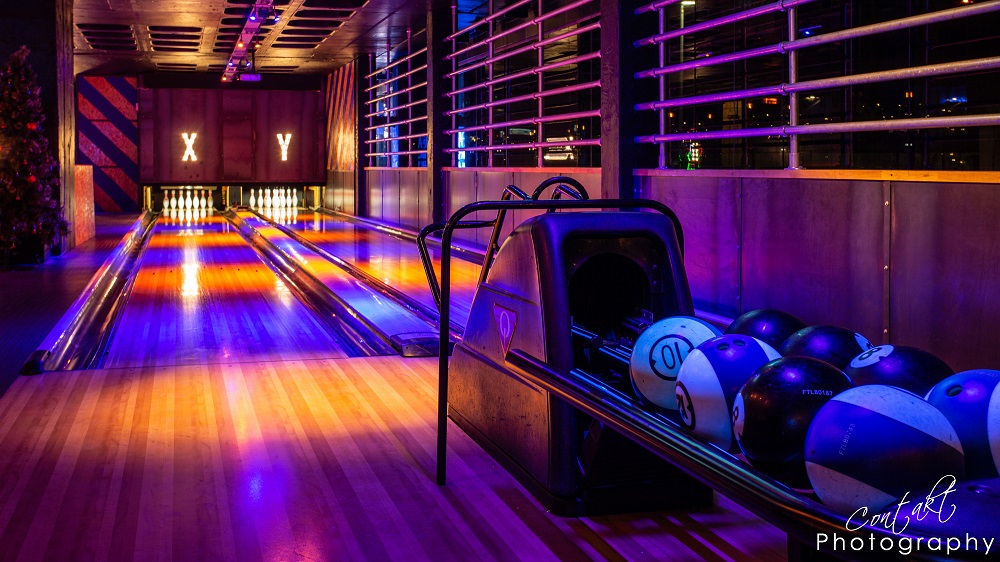 With various venues all around Leeds, there's lots to do at Roxy Ball Room. Near Bond Street? You can bowl, play pool, have a go on the shuffleboard table, watch live sport, try your hand at beer pong and have some amazing drinks. On Boar Lane? There's pool, shuffleboards, beer pong, ping pong and mini golf to keep you entertained! What about Merrion Street, you ask? Good question! There's bowling, crazy pool (an extremely playable mash up of mini golf and pool, for all those asking!), arcade machines, a karaoke room, pool tables, ping pong, shuffleboard and beer pong to challenge your mates to! If that list wasn't exhaustive enough, they've also got a delicious menu of food and drinks, perfect to keep you fuelled throughout the night, including amazing cocktails and mouth-watering pizzas! Check out their website to find out more.
Where: 58 Boar Ln, Leeds LS1 6HW / 9a Merrion St, Leeds LS1 6PQ /1 Bond St, Leeds LS1 5BQ
Cost : £10 for mini golf, £10 for crazy pool, £10 for bowling, £15 for shuffleboard, £15 for Ping Pong, £15 for Pool, £18 for beer pong, £10 for mini golf
Age: 18+ (Bond Street is 18+ after 5pm)
OTHER GREAT THINGS TO DO IN LEEDS
The BOX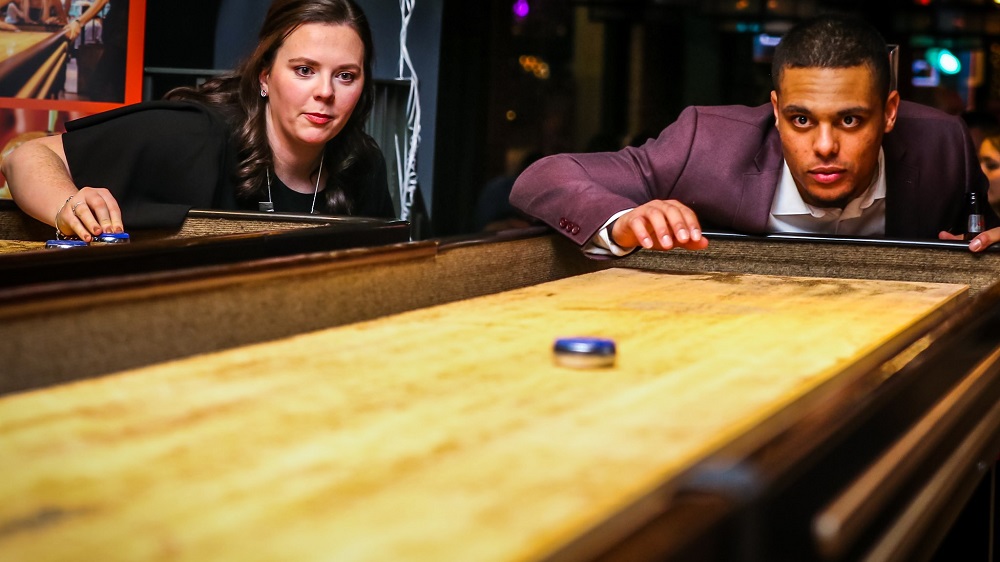 The BOX can be found in the heart of Leeds City Centre, and is a game changing high quality sports bar to eat, drink, view, play and party! They have an amazing range of delicious food and drink suitable for any time of day, whether you're passing by and feeling a bit peckish, or whether you want to celebrate with your mates when your favourite sports team have just won the league! If watching the sports gets you in the gaming spirit, you can always take a spin on their shuffleboard, which is the best way to burn off some steam on a Saturday night! It's the perfect place to spend your summer now that sports events are returning to our screens, so check out their website to find out more.
Where: 15 Infirmary St, Leeds LS1 2JS
Age: 18+ after 7pm
Brewdog Leeds & Brewdog North Street
Brewdog North Street is the perfect spot for craft beer fans with a competitive spirit – with 36 taps full of epic draft beers, you can celebrate your victories on their three 22ft shuffleboard tables. If that's not enough for you, they've also got pinball tables and vintage arcade games where you can get your gaming fix. They're also dog friendly, so there's always a chance you'll bump into a new furry friend along the way! As the name suggests, they've got a huge range of delicious drinks on offer, and their kitchen remains open until 10pm every day, so it's the perfect spot to grab a bite to eat with your mates. Check out their website to find out their opening times.
Where: The White Cloth Hall, Crown St, Leeds LS2 7DA / Crispin House, New York Rd, Leeds LS2 7PF
Cost: Shuffleboards are free to play (but there may be a queue)
Age: 18+
Flight Club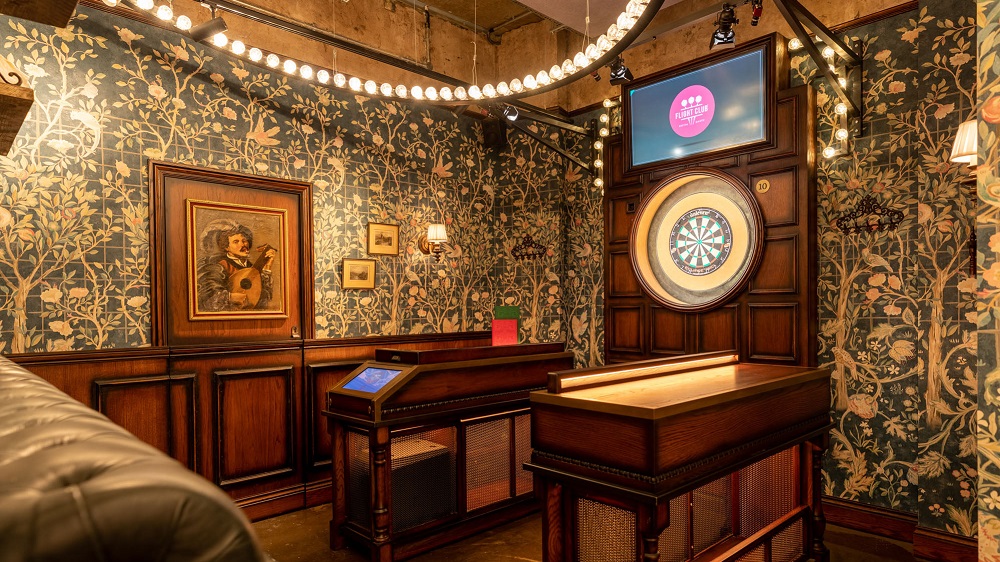 Flight Club is the social darts revolution that is taking over Leeds, having opened only last week! Having started in London, then grown to Manchester and Birmingham, it's now hit Leeds with a bang! They combine cutting-edge technology with traditional darts. With a circus inspired décor and thirteen oches, the Leeds spot will offer pizzas, alcoholic slushies and an amazing brunch offering with endless slices and bottles of prosecco. What could be better? They also have a feature bar with tables for team drinks, birthday parties or just impromptu nights out. We don't need ground-breaking new technology to predict that it's going to be your new favourite venue! Check out their website now to find out more and get booked in.
Where: Sovereign House, 1-2 S Parade, Leeds LS1 5QL
Cost: £14 for 60 minutes or £20 for 90 minutes
Age: 18+
TimberJacks Leeds
Fancy yourself as an aspiring lumberjack? Well imagine no more! You can master the skill of axe throwing at Leeds's very own TimberJacks and embrace your dreams of becoming a master woodsman. Well, at least the cool axe throwing part. It's a great new experience that's sure to put a twist on your typical nights out, though make sure you enjoy this one before you hit the pub, just as by the nature of the activity, more safety is required. If you're up to the challenge this summer, they also offer a bunch of fun in game extras to spice up your play. There's apple smashing, target posters, and axe roulette to choose from! If you're interested (who isn't?!), check out their website.
Where: Burley Hill Trading Estate, Unit H, Flexspace, Leeds LS4 2PU
Round cost: £20 for 45 minutes, £25 for 60 minutes, £30 for 75 minutes
Age: 8+