Crazy golf, also known as miniature golf or mini-golf, is an outdoor game played on specially designed courses. The object of the game is to hit a ball into each hole using as few strokes as possible. We've compiled a list of the best crazy golf venues across Manchester – check them out!
Junkyard Golf
Looking for a round of golf that can add some chaos to your next sesh? Well then, you'll be wanting to check out the crazy world of Junkyard Golf! It's golf as you've never experienced before, with an emphasis on crazy, exciting and unforgettable! As an adults-only venue, Junkyard Golf combines the best features of an after-hours cocktail bar, with drinks on demand to add a little energy to your golf swing (not that you'll need it). With sugar loaded cocktails, crisp IPAs and everything in-between, even your most energetic of friends will be satisfied. So, why not wind your way through their magically unique courses, visiting scrapyards and Peruvian jungles, all to the tunes of 90's garage or classic anthems that will get your feet tappin' and your clubs swinging. If you're looking to learn more, then why not jump on their website to grab the info.
Where: 2 First St, Manchester M15 4RP
Cost: £8.50 per game for Off Peak or £10 for Peak per game
Age: 18+ after 6pm
Roxy Ball Room Deansgate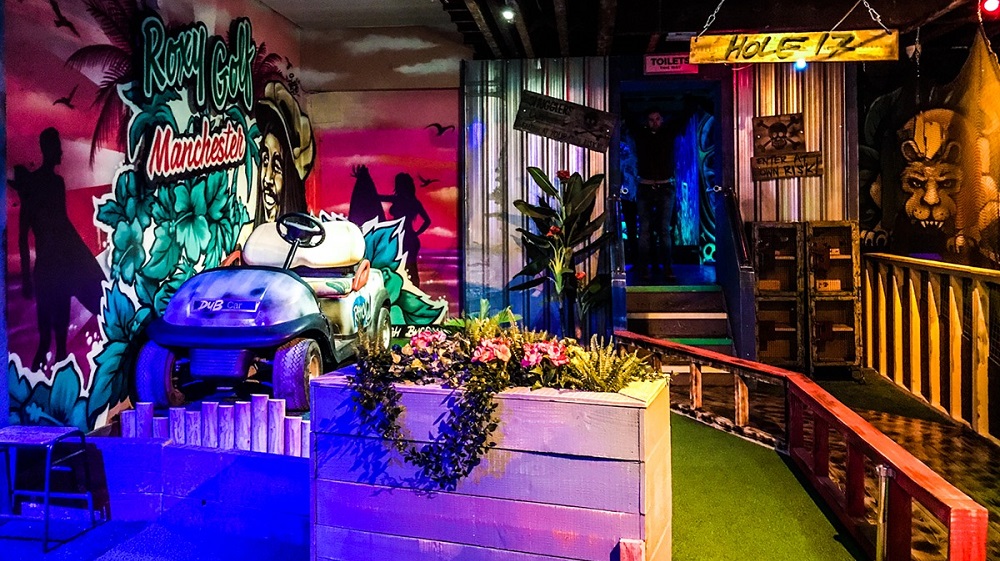 Golf glorious golf, with a side helping of every other activity under the sun! No, we're serious. For the sharp shooters, there's classic American pool and full-size ping pong tables. For those of you that have always dreamed of sliding shots down bar tops, you'll be wanting to try out their authentic shuffleboards. And for your friends that fancy themselves champion drinkers, why not start your night out right with a round of beer pong? Roxy Ball Room really has it all, and it's no surprise that they've been awarded the National Pub and Bar Awards this year! So, if you're looking for a great bite to eat, mouth-watering cocktails and a crazy golf course you'll dream about, make sure to check out their website.
Where: 1ST, 76-78 Deansgate, Manchester M3 2FN
Cost: £10 for a round of mini golf
Age: 18+
Treetop Adventure Golf Printworks
If you like your mini golf to be playful then you'll love the rainforest themed courses at Treetop Adventure. With two tropical 18-hole courses to choose from there will be plenty of opportunity for you to show off your putting skills. All that chipping and sinking is bound to make you peckish so head over to the Pizza Cabana – where they also serve dough sticks with Nutella! If you need some help getting into the swing of it then you should order yourself one of their crazy cocktails – Tequila Libra anyone? You can find out all about this fun venue and their great offers on their website.
Where: The Printworks, 7 Dantzic Street, Manchester, M4 2BS
Cost: £9.50 for a round of mini golf
Age: All ages welcome
OTHER GREAT ACTIVITY VENUES IN Manchester
TENPIN PRINTWORKS
In the city crammed with crazy nightlife, the main issue is where to choose! But if you're looking to be bowled off your feet, there's no easier decision than to check out Tenpin Manchester Printworks! With beautiful bowling lanes, beer pong tables and a custom-made karaoke booth, there's something for every occasion – you'll need to keep coming back for more! Feeling hungry? They've got you covered. From their Northern Quarter Burgers to their Butter Milk Chicken Wings, there's a great selection of grub. Hardcore games fan? They boast a fully functional arcade system with the best nostalgic video games such as Pac-man and Donkey Kong, and if tabletop games are more your style, they've also got authentic American pool, table tennis and even shuffleboard! It really is your one stop fun shop – so what are you waiting for? Check out their website to find out more.
Where: The Printworks, 27 Withy Grove, Manchester M4 2BS
Cost: £13 per game of bowling
Age: All ages welcome
Point Blank Shooting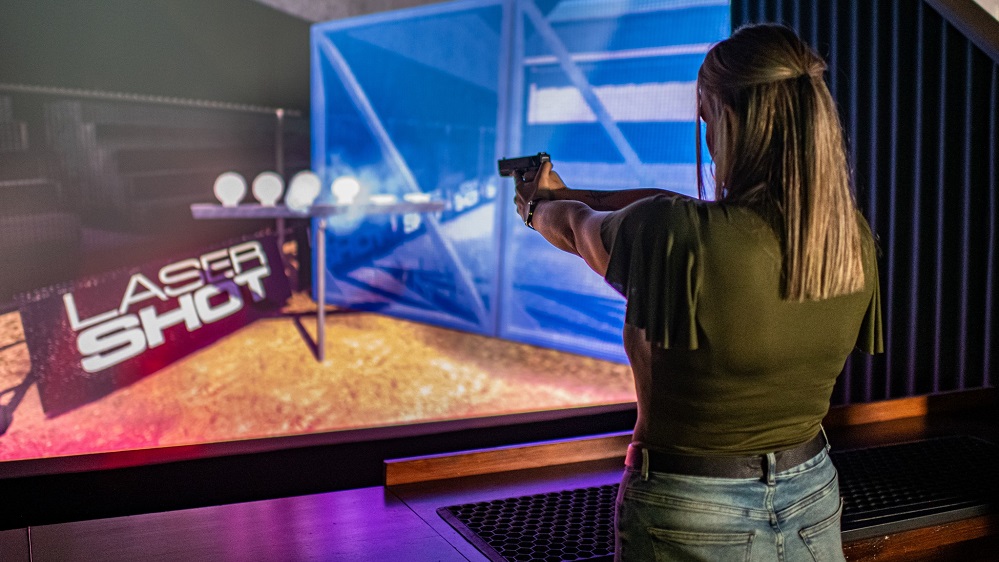 Fancy yourself a part time gunslinger? Or perhaps you're a fan of action movies? Either way, you need to get yourselves down to Point Blank Shooting in Manchester. You can live out all your secret service fantasies as you hone your skills in their custom-built virtual shooting booths (all complete with table service as well). It's not just their virtual simulators that will get you in the mood however, as you can also tuck into wonderfully inspired cuisine and drinks such as their "Hit the Mark" or "Shoot to Thrill "cocktails. Paired with their Locked and Loaded fries, you'll have the ammunition to party all night long. So grab you mates and head on over to their website to get started.
Where: Basement, 78, Deansgate, Manchester M3 2FW
Cost: Off peak range hire from £10
Age: 18+
NQ64 Manchester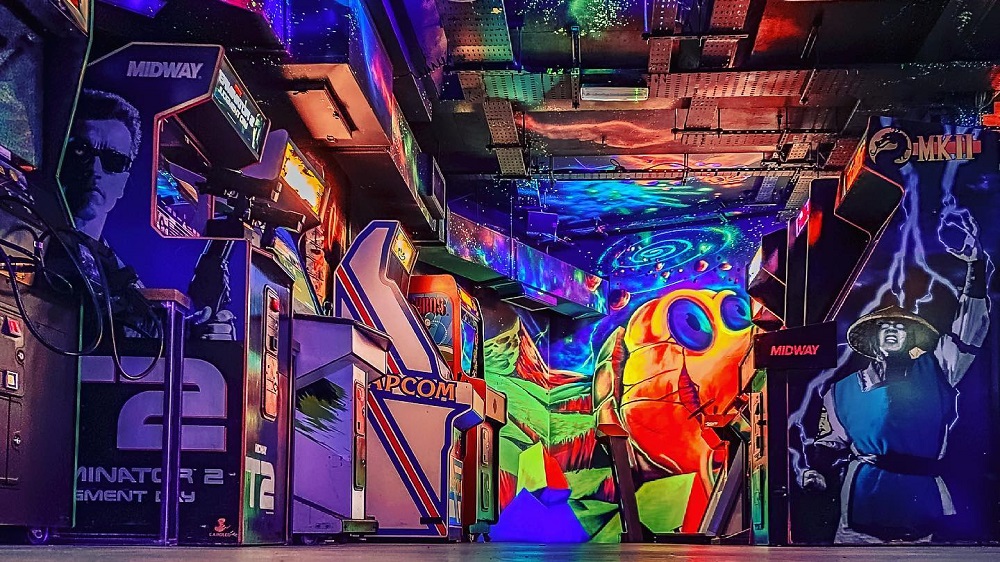 If you're a lover of all things retro and screen based, then you'll love NQ64 Manchester. One of Manchester's finest retro gaming spots nestled in the famous Northern Quarter, nerds and noobs alike will keep coming back for more of their brilliant pixelated action. Whilst you're gaming, why not indulge in one of their glorious gaming inspired cocktails such as their Mad Max or Hyper Spritz – they're as colourful as they sound, and just as delicious! With their open till late policy, you'll finally have the excuse to game until the small hours without parents interrupting the fun. So, grab your game face and check out their website to plan your visit!
Where: 9 Short St, Manchester M4 1AA
Cost: No entry fee. Buy tokens for the games @ £7 for 15 tokens
Age: 18+
Lane7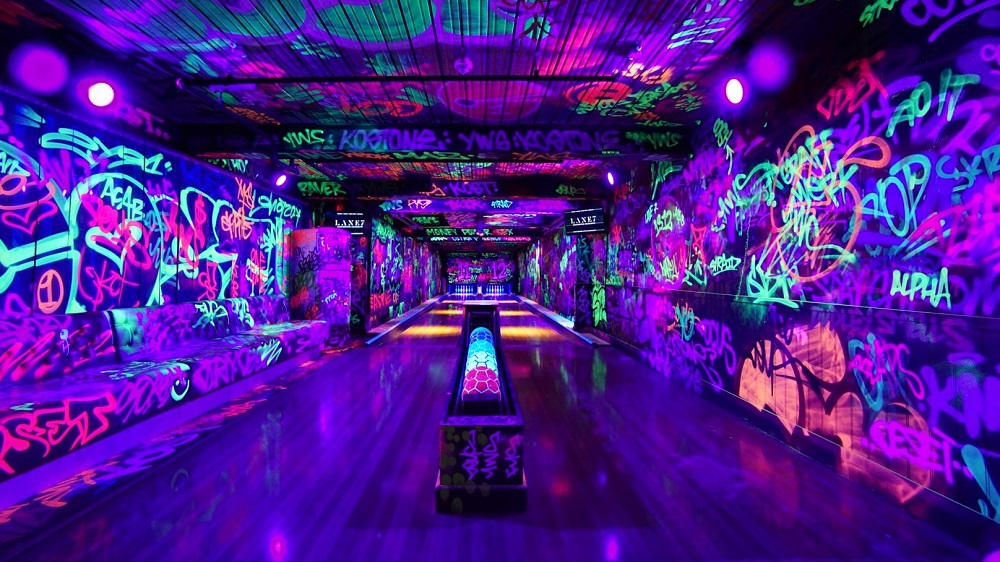 Lane7 Manchester is the ideal night out – with a twist! Picture the best bar you've been to, with a great selection of crazy extras, including bowling, American pool, ping pong and more! Then finish it off with an electric atmosphere that will make a night out that you'll never forget! It's definitely not one to miss. If you're looking for some fantastic food to fuel your fun, you can look no further than their impressive menu, supplied by the fantastic Fat Hippo Food, a street food venue famed for its gorgeous burgers. Sound good? We thought so. To get your nights of boutique bowling, burgers, cocktails and more started; visit their website to find out more.
Where: Unit 3 235 Deansgate, Manchester M3 4EN
Cost: £17 per game of bowling
Age: 18+ after 7pm
Prices etc were correct at time of publishing. Best to check with the venue website for up to date information and offers.
Main image: Treetop Adventure Golf, Manchester