Here at Social Playlist we love competitive socialising and venues which offer you the chance to enjoy brilliant games, quality food and tasty drinks … so imagine our excitement when there's a whole conference / event which celebrates the competitive socialising scene!
Organised by Home Leisure Direct and Inntegra, Competitive Socialising 2022 is taking place on 9th February at the gorgeous Lighthouse Theatre in London.
If you're a business looking at whether to add activities to your venue, a developer exploring the power of leisure activities to drive footfall in a retail environment or a technological genius wondering how to use your creativity to develop the next big idea … then you need to get yourself booked in.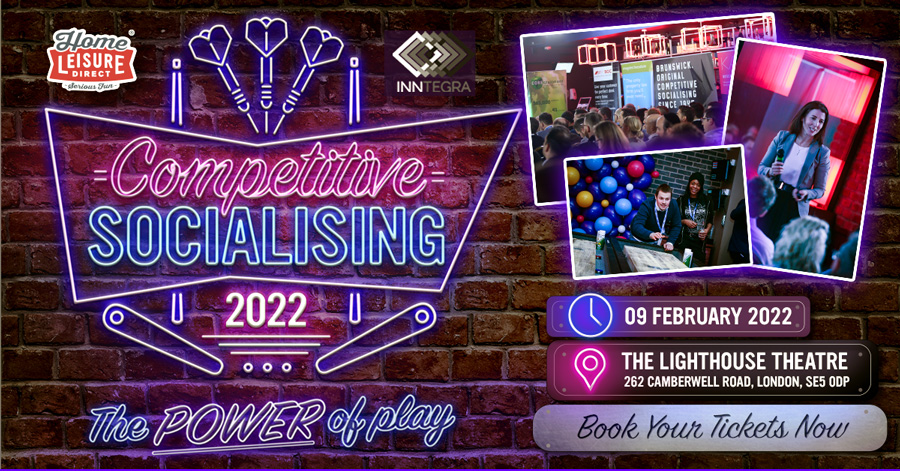 As well as an evening of Rock and Roll Bingo, the event features demos showcasing the latest social gaming activities which are leveraging powerful new technologies to reinvigorate traditional games and maximise their mass appeal. You'll be able to check out:
Augmented reality darts – including their new Bullseye game
Batfast Cricket Nets & Baseball Batting Cages
Shuffleboards
Pinball Machines
Pool tables with dual payment & contactless payment options
However, the main focus of the event will be the talks from an incredible line-up of competitive socialising pioneers. Including (among others) …
Graham Cook, CEO, All Star Lanes
Hugh Knowles Managing Director, Puttshack
Elliott Shuttleworth Managing Director, Boom Battle Bar
Michael Harrison Founder, Gravity
Joe Dowling Owner, Four Quarters Arcade Bars
Katie Falcon Uff Co founder, Time Trap Escape Rooms
Charlie Gilkes, Director/Founder Inception Group (Mr Fogg's, Barts, Cahoots, Bunga Bunga, Maggie's & The London Gin Club)
If you want even more info about this fabulous event then get in touch with Jade Craig and let her know you found out about from Social Playlist: jade@inntegra.co.uk
We're excited about going and looking forward to meeting you there.
Book tickets: https://compsoc2022.eventbrite.co.uk/