It isn't just the large cities which get to enjoy brilliant venues offering nights out to remember. Huddersfield and Lincoln both have a fabulous Carousel arcade bar – and they're top notch.
Carousel have cultivated stylish cocktail bars where stunning looking cocktails and quality street food can be enjoyed alongside hours of competitive games fun.
Carousel arcades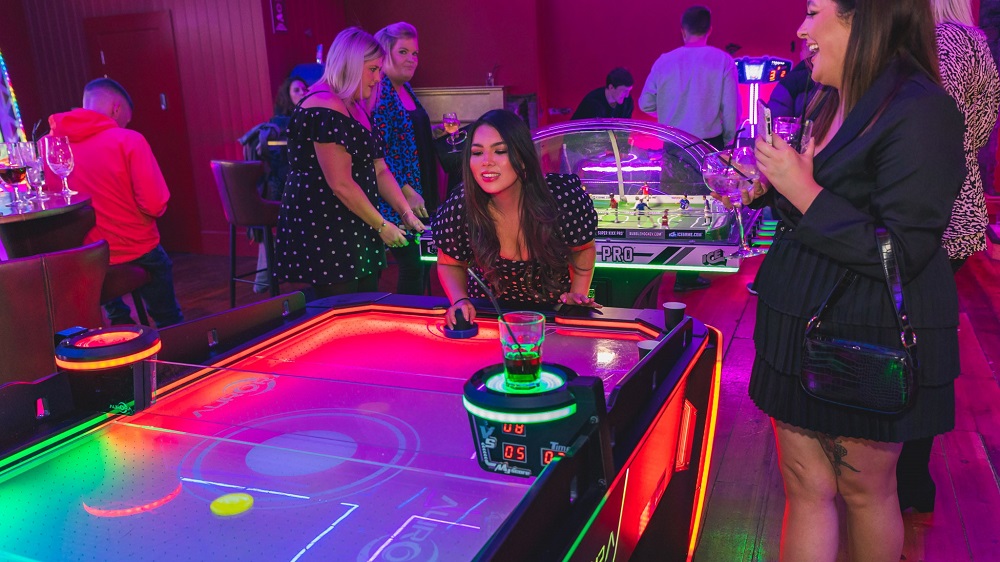 Once you've ascended the neon staircase, you'll be astounded by the epic array of games available. From Daytona Championships, Mario & Sonic at the Olympics and Pixel Chase to battle favourites including Air Hockey, Table Football, Whack a Clown and Dance Dance Revolution.
If you're heading into Lincoln, up to six people can book in for some memorable group action with Quickdraw – Virtual Shooting Simulator, Interactive Darts and Shuffleboard.
Food at Carousel
Oh, you're in for a treat. Whether you're just after a quick snack or a full meal Carousel have made it ridiculously difficult for you to choose.
Main meal offerings include Carousel Beef Brisket (12 hour slow cooked beef brisket served with honey glazed chipolatas, Dijon slaw, JD BBQ sauce, skin on fries, piccalilli and a bun) … shall I just stop there? Oriental Duck Noodles, Bangers and Bubble, Dirty Pig Burger, Hot Diggity Dog, Chicken & Chorizo pizza … this is just a small glimpse of the delights which await you!
Their small plates are equally enticing, Korean BBQ Bao Buns, Bombay Caulibombs, Chorizo Patatas Bravas, Pigs Under Blankets … plus many more.
I strongly advise you look at the menu before you go otherwise, you'll spend all your evening debating what to have!
Drinks at Carousel
There are few places which have managed to make cocktails as dazzling on the eye as they are enjoyable to drink … I think Carousel are an exception. Their mixologists have clearly been having a lot of fun!
Of course, there is a wide range of beers, wines and spirits but it would be an error if you overlooked their creative cocktail selection. You can grab your classic Porn Star Martini, Margarita or Mojito … or why not treat yourself to Snap, Crackle & Rocks (Malibu Blue Curacao, Pineapple Juice & Lemonade topped with tongue tingling treats) or Dreamland Drop (Tanqueray Gin, Triple Sec, strawberry syrup & cranberry juice, topped with a ball of candy floss).
Ready to go? Well, there's no need to book, just grab your mates and head on over. But, if you want to guarantee a table then you can sort that out on their website.
Huddersfield: 30 Cross Church Street, HD1 2PT: http://www.carouselhuddersfield.co.uk/
Lincoln: 287 High Street, LN2 1AW: https://www.carousellincoln.co.uk/
Cost: Games cost 1 token. Tokens are £1 available from the onsite exchange or bar
Age: 18+ after 8pm