Box bars are bursting with atmosphere. Offering live music, games, cocktails and quality food, Box sports bars are the perfect place to party, play and partake of pizza.
Box currently have three sites in Leeds: Headingley, Leeds City Centre and Chapel Allerton. The newest edition to the Box tribe will be in Deansgate, Manchester. Located at 125 Deansgate and occupying the ground and first floors, the new bar will be opening its doors on 26th November this year.
As a popular sports bar, especially on match days, Box bars house premium HD wide screens which show Sky, BT and Box Office events, all throughout the day. Coverage includes all the big events from football, boxing, Formula One and UFC. The new Deansgate site will feature more than 20 screens.
This isn't just a great place to watch sport, it's also a great place to get your mates together for some healthy competition. Box bars offer shuffleboards, darts, beer pong and pool. The new Manchester site will house two gorgeous 21-foot European shuffleboard tables.
To add to that the team are planning a whole host of other fun events including Bandaoke – karaoke with a live band – sounds amazing! Plus apres-ski style bands and DJs every Thursday, Friday and Saturday nights.
When it comes to food, Box are on sublime form. Offering a wide range of options, characteristic of an American Diner, you can fill your half-time with sandwiches, loaded fries, pizzas or burgers. Or just create your own heavenly buffet from their Kick Off selection – Nachos, onion rings, halloumi & mozzarella fries, garlic bread with tomatoes, chicken wings and popcorn chicken – is your mouth watering yet?
If you're into your bottomless brunches then you'll definitely want to get yourself booked in to a Box venue. For £26.95, for 90 minutes you can kick back with Prosecco, Coors or Aperol Spritz along with a dish from their Box Bottomless menu – they even do a Katsu Chicken pizza!
Whether it's courage for karaoke, an unwind after work or a birthday celebration you'll find your perfect drink at the fabulous bar in Box. Alongside their weekly delivery of Budvar, direct from the Czech Republic, they serve a whole host of steins, shots and 2-4-1 cocktails. The Mambo Number 5 stein encourages A little bit of gin in my life – Hendrick's gin, rose, lemon, strawberry topped with strawberry and lime cider.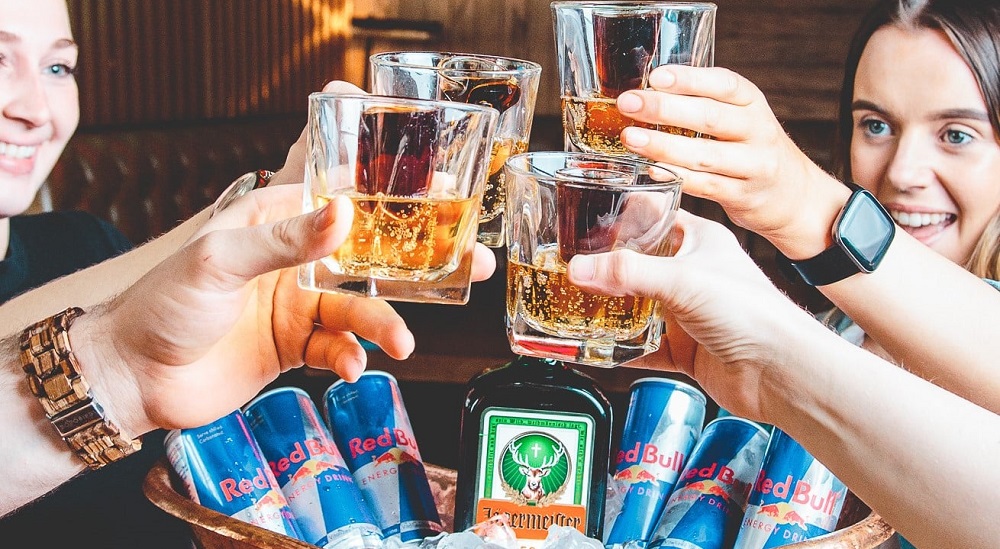 Box is the third brand from Arc Inspirations. They also operate Manahatta and Banyan bars. Manchester is home to Manahatta Deansgate, Banyan Corn Exchange and Banyan Spinningfields.
Arc Inspirations CEO Martin Wolstencroft, said: "We're delighted to finally be introducing our BOX brand to Manchester for its much-anticipated launch. It's exciting to be opening the doors next month to guests, especially after what's been a challenging time for everyone. We're confident the good folk of Manchester will enjoy BOX's high-energy experience and overall, come to us for some great fun. The bar will also create 70 new local jobs for the local community, and we're keen to hear from people interested in working in a fast-growing, dynamic company."
Where: 125 Deansgate, Manchester, M3 2BY
Opening: 26th November 2021
Book: www.theboxbar.co.uk/bars/deansgate
Pricing information was correct at time of publication. Check the venue website for up-to-date pricing and offers.