Bavarian Axe Throwing, American Pool, Augmented Reality Darts, Beer Pong, Crazy NOLF, batting cages and Shuffleboard – now, that's going to be an epic night out!
Boom Battle Bar has opened their tenth incredible bar at the Atria Watford Shopping Centre; ideal for some post shopping cocktails or to add some competition to your date night.
If you've not been to a Boom Battle Bar before then you're in for a treat. Fun games, cheeky cocktails, great own brand beer and decent food.
When it comes to games Boom Battle Bar offer you a great range of popular social sports:
Augmented Reality Darts are at the forefront of technology driven reinventions of tradition games – completely unlike any game of darts you've ever played before. Challenges are projected onto the boards, darts are tracked so all the scoring and keeping track is done for you.
Crazy NOLF – think mini golf where you use your hands instead of a putter. Not high-tech but definitely lots of hilarious fun.
Watford will be the first site to house Boom Battle Bar's brand-new Batting Cage experience. Grab your bat and swing for that home run.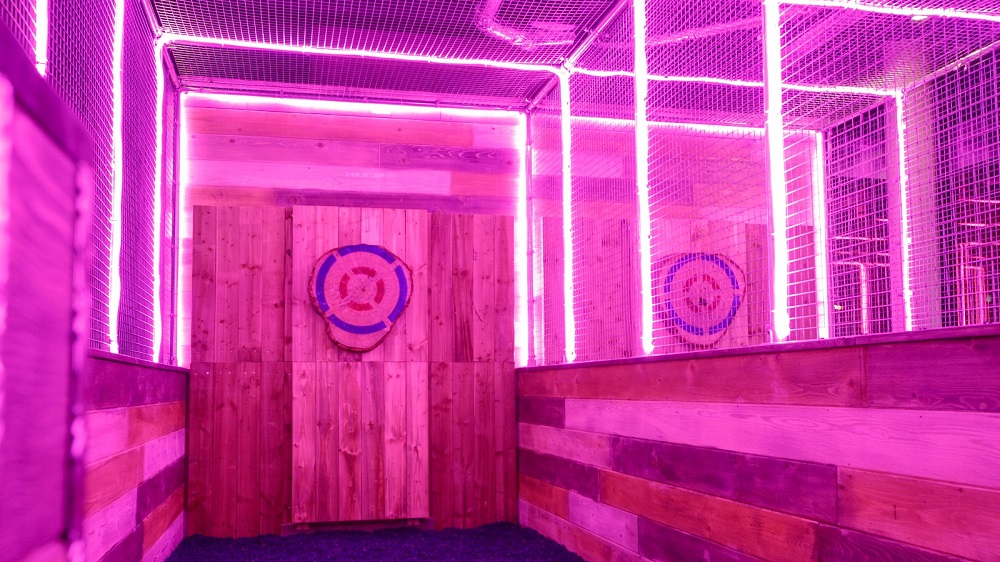 Having fun uses lots of calories so you're going to want to get fuelled up. Watford's Boom Bites include Boneless Chicken wings, Crispy Cauliflower Wings and fries. Choose your strength of flavour from mild garlic parmesan or BBQ bourbon right up to Raspbetter Scotch Bonnet or The Atomic Mind Melter – it's HOT!
If you're going for a night out, you're going to want cocktails and Boom Battle Bar are keen to please. Alongside a bar of beers, ciders, wine and fizz you can discover a monster line up of cocktails. You'll find a number of classics with their names aptly altered, Long Island Ice Tee, Electric Margs or Who's Your Caddy? (a revamp of the espresso martini).
So, grab your pals, dates or fam and get yourself booked in at Boom Bar Watford; get out of that February funk. (Note: Crazy NOLF & the batting cages aren't open just yet … but will be soon)/
Where: Unit 1, Charter Place, atria Watford, 310 The Harlequin, Watford, WD17 2AU
Cost: Range from £2 – £17.50 per person
Age: 18+ after 7pm
Header images: Boom Battle Bar Lakeside