The great city of Nottingham is brimming with places for you to shake off those lockdown blues and rekindle your competitive spirit. With most venues opening from 17th May you really are spoilt for choice …
Nottingham Bowl
Nottingham Bowl is the place to be this summer! The UK's largest bowling alley, with forty-eight lanes across two floors, it boasts two bars, a NAMCO arcade and two brand new smart darts lanes, and of course, lots of fun. To go with your bowling game, they offer a wide range of food, including a variety of pizzas, hot dogs and sides (classic bowling fare) and a selection of drinks to keep you hydrated – after all, bowling is very thirsty work! When you've inevitably won your bowling game and claimed ultimate bragging rights for all time, you can work off some steam in the arcade and party all night with your mates. Check out their website to find out more!
Roxy Ball Room – Thurland Street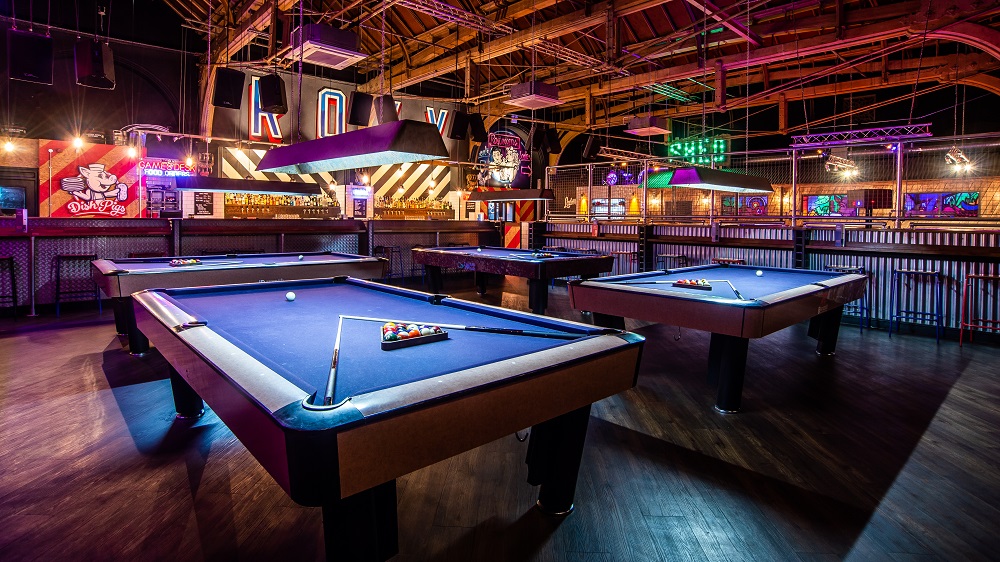 Roxy Ball Room is an absolute belter of a night out in Nottingham, with everything from American pool, ping pong, shuffleboard, and beer pong all available seven nights a week. Having successfully launched all around the UK, Roxy Ball Room opened in Thurland Street in Nottingham in 2017, and are aiming to open a second Nottingham venue at the Cornerhouse this summer! They also offer a huge selection of food and drink to accompany your nights, including signature cocktails like the Roxy Spritz and Ping Star Martinis, and food such as loaded nachos and the Roxy Stack burger. They're currently taking bookings for 17th May onwards, so check out their website if you're interested.
Bierkeller, Shooters Sports Bar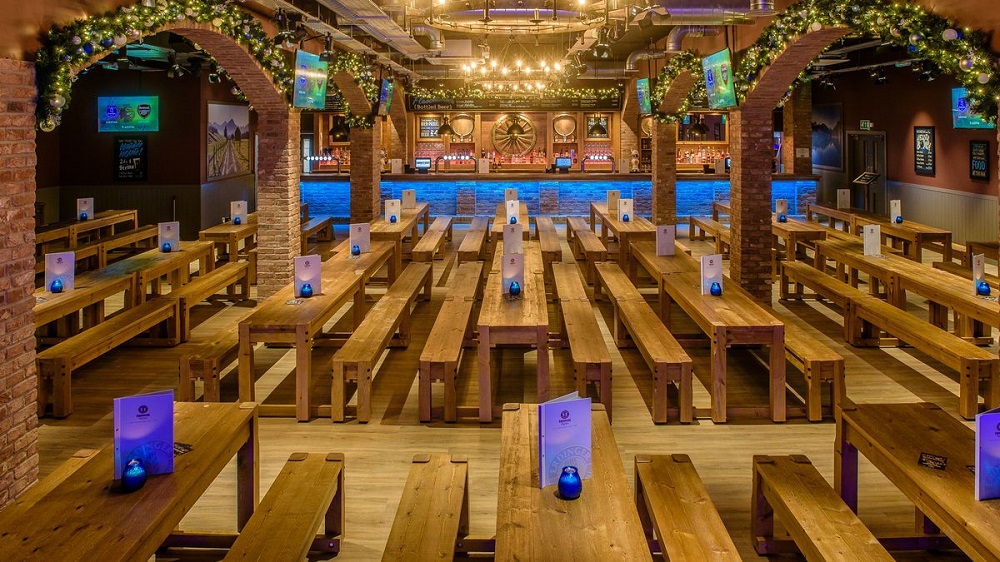 Bierkeller has absolutely everything going for it. Aside from being a nationally recognised brand name associated with good times and [cheap shots] for absolutely everyone in the country, it's known for being the perfect spot to start your summer when indoor venues reopen in May. Bierkeller in Nottingham is particularly appealing to sports fans in the area, boasting the Shooters Sports Bar with more than twenty 60-inch TVs, three projector screens and two large LED super screens to catch the game this summer. They also have a rack and roll set based over three floors, with a large Bier Garden with two outdoor screens, and if you need any more convincing (why would you?) they also have six pool tables, four darts lanes and two practice darts lanes. Get yourself down there today!
The Walrus
Nottingham's best kept secret, The Walrus is a night out with a difference. An eclectic dive bar with neon lit touches, it houses some of the best cocktails in the city, including specials such as Eh Up Mi Duck and the Cherry Bakewell. They also have four full size American beer pong tables, so you can show off all your crazy skills that you've honed during lockdown, accompanied by a playlist to die for! This is the perfect place to reconnect with your mates over a few drinks, especially with the soft sound of seventies disco and nineties hip-hop in the background. They're currently taking bookings through their website.
Das Kino
One of Nottingham's most popular haunts, Das Kino is one of the best spots in the city to hang out with your mates. Crammed with vintage furniture, neon lights and industrial fittings, it's one of the trendiest places to drink in Nottingham, with amazing entertainment including live music, DJs and dancing. They also feature Olympic standard ping-pong tables, so if you're feeling competitive, you can challenge your friends to the game of a lifetime (or just who's going to pick up the next round!) Das Kino also offers an amazing selection of cocktails and pizzas, bound to quench everyone's appetite, so there's something for absolutely everyone at Fletcher Gate. Interested? Of course you are. Who wouldn't be? Check out their website to find out more.
The Lost City Adventure Golf
The Lost City in Nottingham promises adventure, golf and good times! With two incredible eighteen-hole indoor adventure golf courses, they challenge you to pit your skills against towering rock faces and crazy obstacles, winning fame and glory along the way. The Temple Trail challenges you to reach the temple and find the Inca gold, where you'll meet all sorts of creatures along the way. The Sacred Skull also wants you to find the treasure, but you'll have to navigate past beasts of the jungle. They also offer the Tiki Bar where you can soak up the amazing atmosphere and splash out on delicious food and drink – whoever said you wouldn't get a taste of the Caribbean this summer? You can enjoy a cocktail or two with your mates, as after all, treasure hunting is thirsty work. You can learn more on their website.
The King Billy
The King Billy in Nottingham has it all. A pub garden on a rooftop terrace (think of the views!), dog friendly, pool, darts, live music and sports TV, there's something for everyone at Nottingham's favourite venue. They offer a wide selection of drinks, especially beers and ales, and a variety of delicious food, including pizza to die for! It's a great spot to catch the sports, especially with the community atmosphere and the free flow of food, so make sure you get down there this summer! They're reopening 17th May, so book on the website if you want a table: