Great nights out are widely available in Manchester. Here are a few fabulous venues to try out if you want to eat, drink and play.
Lane7
Set to open in May with the ease of lockdown restrictions, the fantastic Lane7 franchise is expanding to Manchester! Transitioning from All Star Lanes, the Manchester bowling bar will open at the great northern warehouse with Lane7 as its proud new owners. Alongside amazing ten pin bowling, the site will offer a host of amazing gaming and entertainment experiences, and if their flagship venue in Newcastle is anything to go by, customers can expect bowling, ping pong, American pool, and so much more. We don't know about you, but we certainly can't wait to enjoy this ultimate gaming experience with all our friends, and we're confident it will be a welcome addition to the Manchester nightlife scene in 2021. Interested in learning more? Check out their website.
Tenpin Printworks
One of the newer additions to our list which opened in 2020 is Tenpin Printworks. The bowling giants bring their game to Manchester in a way they've never done before. The venue is complete with everything from arcade games, pool tables, table tennis, beer pong, shuffleboards and more, it's bound to be a night out you'll never forget. And of course, the main attraction: eleven amazing interactive bowling lanes. On top of offering all that, they also have two full service bars to cater for your every culinary need, with delicious meals from their menu, as well as the obligatory stunning cocktails to fuel your night out. For more information, pop across to their website.
NQ64 & Dog Bowl
The only thing better than classic arcades and ten pin bowling? Both at the same time! With plans to reopen in the summer, the Dog Bowl, one of Manchester's finest bowling establishments, comes complete with a full arcade bar from NQ64. Flawless, New York inspired bowling lanes alongside every retro gamer's favourite arcade games, as well as dazzling cocktails and the best food around is bound to make your night out feel very special. They're currently planning to reopen 17th May in accordance with government guidelines, so check out their website to book.
Roxy Ball Room
Roxy Ball Room promise to bring booze and ball games to Manchester – a promise they most certainly deliver on, with not one, but two sensational locations in Deansgate and Withy Grove. At Withy Grove, you can enjoy custom arcade games, crazy pool (an amazing mixture of mini golf and pool), table tennis, full-size bowling lanes and more! At Deansgate, you can also enjoy Roxy golf, American pool, table tennis, beer pong and shuffleboards, so there really is something for everyone! There's also a menu chock full of delicious food and crazy cocktails to quench your appetite after all that gaming! They're currently taking bookings for 17th May onwards, so book online to avoid disappointment!
Junk Yard Golf
Junk Yard Golf have taken crazy golf to the next level in the best way possible. Located at 2nd First Street, their courses, venue aesthetic and their amazing food and drinks menu will leave you hoping your experience never ends. And, when it inevitably does, you'll be instantly rebooking for another round. Reopening on 17th May for groups of six, crazy golfers can choose from three epic courses including Bozo, Gary and Pablo, and refresh afterwards with classic beers, ciders, wines, spirits and cocktails all served in awesome red party cups. Bozo is one for all you horror fans out there, as a dark fairground themed course of circus freaks and twisted clowns. Gary, on the other hand, is the course that truly puts the junk in Junk Yard Golf, as you play through towers of tyres, written off cars and auto junk. And finally, there's Pablo, the course that brings the jungle to you, as you play through a polluted jungle course of tropical madness. Check out their website to book a session as soon as they reopen.
Gas Works Brewbar
An onsite brewery, quality pub food and beers from around the globe. No, you're not thinking of heaven, you're thinking of Manchester's Gas Works Brewbar. An easy mistake to make, we know. Built on the site of the old Gaythorn Gas Works, this location is a new concept from the team behind the Dockyard pubs, a rustic feel with a modern twist. For lovers of the industrial and steampunk vibe, this is definitely the place for you! Their shuffleboards are open around the clock, so with Gas Works you can enjoy great games, great beer and great food (that's a lot of greats). Need we say much more to tempt you? Check out their webite to find out more about your new favourite local.
Base Bar
Fancy yourself a pro baller? Then Base Bar is the place for you. This baseball themed venue is for "fast-ballin', bat swingin' ballsmashin' junkies" everywhere. The Base Bar is equipped with three custom batting cages and a one-of-a-kind bunker themed bar for curve balling cocktails and beers. The venue also offers classic American baseball food, including four kinds of hotdogs and some sensational nachos. Once you hit that home run, you'll feel like you're playing in the MLB yourself! You can find out more on their website if you're interested (of course you're interested!).
Dockyard
Beer, pool, live sports and shuffleboards – the Dockyard has it all! Open since 2015, the Dockyard has since become a firm Manchester favourite; with its wide range of games, fine food and phenomenal drinks selection. Based in Spinningfields, whether it's food, drink or fun you're after, the Dockyard doesn't disappoint. With everything from sandwiches, burgers and classic pub food and an amazing selection of beers, the Dockyard is a must stop whilst you're gracing the Manchester streets. All the info you need is on their website.
Point Blank Shooting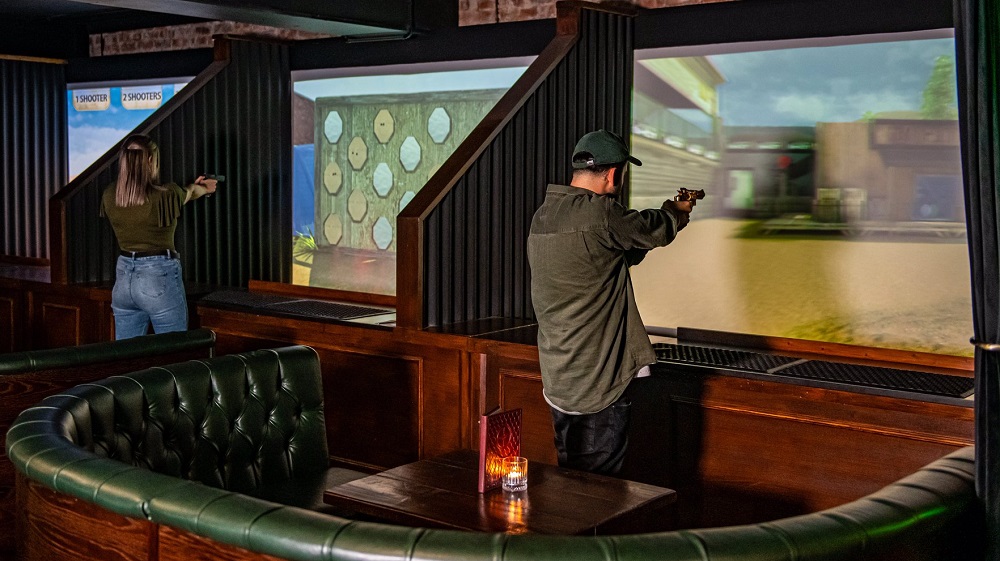 Ever dreamed of being the next 007? (Hasn't everyone?) Well, here's your chance. Found at 78 Deans Gate, this virtual gun range and bar combines cutting edge technology to bring customers a military-grade virtual combat experience. With both pistols and rifles to choose from, you're spoilt for choice. With exceptionally priced cocktails and a wide range of beers, you can relax after your virtual shoot with a drink in hand and a bite to eat from their delicious food menu. Our recommendations, you ask? Definitely a Rock Star Martini. Shaken, not stirred. Check out their website to book for when they reopen on 17th May.
The Green
Attention all golf aficionados! Your prayers have been answered with Manchester's very own sports fans' paradise. With eight adaptable booths that allow you to play indoor golf, x-box or simply watch live sports on glorious high def fifteen-foot screens, this is the place to be if you love sports! Not only that, but they've got pool, foosball, two bars (one on each floor) and a canal-side patio. They've also got the karaoke ready for you to bust out a show-stopping rendition of "We are the champions" when your team inevitably wins the championship! Drive over to their website if you want to find out more.