1. Flight Club Birmingham
Flex your crazy darts skills with Flight Club Birmingham! One of three amazing locations in the country (with a fourth possibly coming to Leeds, so get ready!), it's perfect for a night out with your mates. It's been going strong since 2012, with venues in both the UK and the US, so the fun never stops! And for everyone who's feeling a little hungry after the competitive rush, they also cater for all your needs, with everything from bespoke cocktails to delicious sharing boards. And no Flight Club night is complete without one of their ridiculously tasty pizzas! It's reopening 17th May 2021, so get ready for fun, food and festivities! Visit Flight Club to book a table or an oche. (see our full list of darts venues in Birmingham)
2. NG64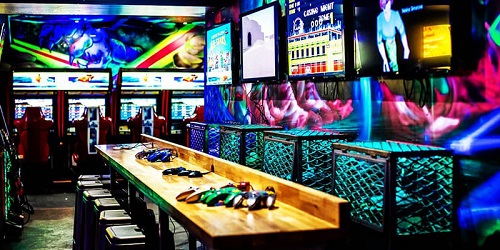 If you love everything retro, NG64 is the perfect place to stop. This Birmingham entry, housed in the courtyard of the Custard Factory, is one of three venues around the country, featuring a drinking den full of arcade games and enough classic consoles to get anyone into a gaming mood! Rise to glory with amazing scores on Space Invaders, Bubble Bobble and more! And of course, what arcade is complete without Pacman! Pair your high scores with a drinks menu of specially selected craft beers, themed cocktails and a selection of sodas. They don't do bookings, so just turn up on the day and have fun! Check out their website to know the second they reopen.
3. Drop Shot Digbeth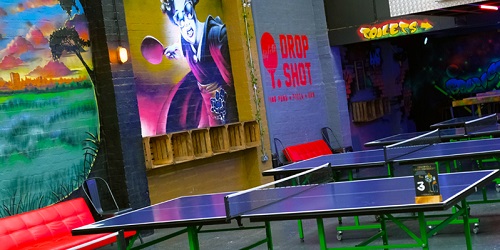 A multi-use activity bar complete with an array of cocktails and craft beers to suit any occasion, six Olympic grade ping pong tables, two shuffleboards, wood-fired pizzas and a sound system playing music to set the tone for the evening. There's surely something for everyone on this night out! They also feature an array of packages to suit every occasion, including drinks, pizza and ping pong for only £10 per person! It's a live sports bar – the perfect to catch a game with your mates after lockdown! It's temporarily closed for the moment, but you can book here for future nights out via their website. Alternatively, see our full list of shuffleboard venues in Birmingham
4. Roxy Ball Room Birmingham
Another Digbeth special, Roxy Ball Room, features the perfect combination of booze and ball games. Complete with American pool tables, ping pong, shuffleboards and a timeless bowling alley, you're absolutely spoilt for choice. Their food and drink menu also features everything from classic cocktails to craft beers, and of course, their timeless Roxy Stack, an epic combination of a double beef patty, crispy chicken fillets, melted cheese and crispy bacon. Feeling hungry? Book online for when they reopen.
5. Lane 7 Birmingham
An entirely new bowling experience. Think of everything that makes a night out great, and it's all housed at the Cube in Wharfside Street. Featuring walnut lanes, beer pong, retro arcades, shuffleboards and karaoke. They also have a variety of drinks perfect for any occasion. Plus, Lane 7 have loads of venues around the country, so you know they're doing something right. You can book online for the ultimate bowling experience (they have availability from 18th May onwards). Here's our full list of bowling alleys in Birmingham.
6. Ghetto Golf
Imagine if mini-golf met hip-hop in the '90s. If you can picture this epic lovechild then you won't be far off from Ghetto Golf. They have 18 uniquely amazing crazy golf holes, as well as stunning artwork of exceptional creativity.  After your game, you can relax with friends with a delish selection from their mouth-watering food menu. Find out more on their website. Also, see our full list of crazy golf venues in Birmingham.
7. Birmingham Bierkeller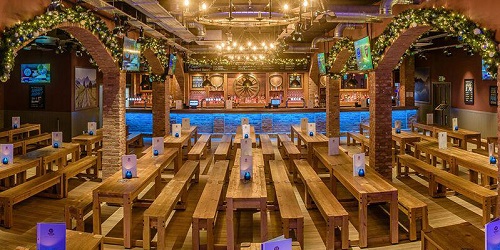 Set over two floors, patrons can immerse themselves in the experience with dozens of TV, projectors and super-sized screens to capture every minute of their favourite games! Featuring three American pool tables, an English pool table and two full-sized shuffleboards, there's enough entertainment to make anyone a regular! Menu specials include Bavarian bangers, specialist Bratwursts in a pretzel bun, with either skin-on fries or a house salad, if you're feeling healthy. And of course, some of the finest German-style beer money can buy! Check out their website for further details. See more on our dedicated playlist for immersive experiences in Birmingham
8. The Floodgate
Ever wanted to try mini golf, baseball and curling? How about all in one place? If so then The Floodgate is going to be your new favourite venue. This amazing venue features the UK's first Pit Pat Table Golf (an epic mix of billiards and mini-golf). As well as six stunning curling lanes (three outdoor and three indoor). Finally, we couldn't forget to mention their Birmingham exclusive batting cage experience, so you can perfect your perfect swing with an ice-cold beer (maybe not at the same time). These amazing experiences, as well as their stunning food and drinks menus, put The Floodgate as a must-visit menu. Learn more via their website.
9. 180 Club
Even more good news for dart lovers as we reveal the 2nd dart-themed venue on our list. Located at The Rectory in St Pauls Square, the epic mood lighting and neon aesthetic set the mood the minute you walk inside. The venue is as much a bar as it is a darts venue with their drinks menu boasting more than a dozen cocktails that would satisfy even the most seasoned night-out lover. Learn more about them on their website.
10.Whistle Punks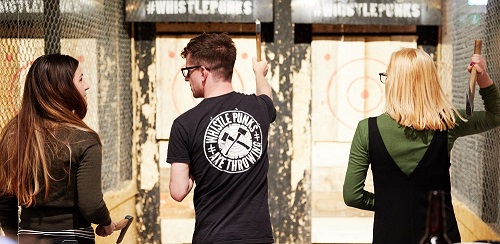 Ever dreamed of running away to join the circus? Well, Whistle Punks could be your new favourite Birmingham venue. This urban axe throwing experience is one of four locations across the country and has truly been taking the city by storm. With up to six players per session, you and your friends can summon your inner Viking, then chillax with their stunning array of beers and food (we highly recommend the pizza). Learn more about how to book when they reopen online. See other axe throwing venues in Birmingham.