London is the home of boutique bowling, thanks to the pioneering team at All Star Lanes. So now you have a huge choice of bowling options across the capital. From boutique alleys offering casual bowling in gorgeous bars, with classy cocktails and exceptional food, to large american style mega bowls where the bowling is fast, the arcades are loud and the drinks are refillable. Then you have the technological innovations of augmented reality bowling as showcased, for the first time in the UK, at Gravity, Wandsworth. So, no matter your reason for heading to the lanes this August, if you're in London you've got a venue just right for you.
All Star Lanes
With as many venues as there are stars in the sky (well almost), you're never far away from a great day of bowling if you're in the capital with All Star Lanes. Definitely earning its name of 'London's Original Good Time,' you'll really be feeling like Smash Mouth's 'All Star' once you step inside. Bowl the night away in Stratford, get your dancing shoes on at Hoburn and Brick Lane with their live music Thursdays and tuck into their stunning food at White City, with delicious options including grilled salmon for that classy date night or BBQ wings for a meal with mates. Crafted to fit the 1920's speakeasy bar theme, you know they're bringing the cocktail magic you've been craving. Our drink of choice? Although everyone has their own preference, you can't go wrong with their delicious Tom Collins (complete with Bombay Sapphire gin, lemon juice, sugar syrup and soda). So, if you have a passion for the roaring twenties or just looking for your next favourite venue, pay a visit to their website to discover more.
Where: 95 Brick Lane, London, E1 6QL / Victoria House, Bloomsbury Place WC1B 4DA / 2nd floor, Westfield Stratford City London, E20 1ET / Westfield London Shopping Centre, Ariel Way, London W12 7FU /
Cost: £9.95 (peak) and £7.50 (off peak) if booked online or £10.50 (peak) and £8 (off peak) if booked in venue.
Age: 18+ after 6pm
Gravity Entertainment Centre, Wandsworth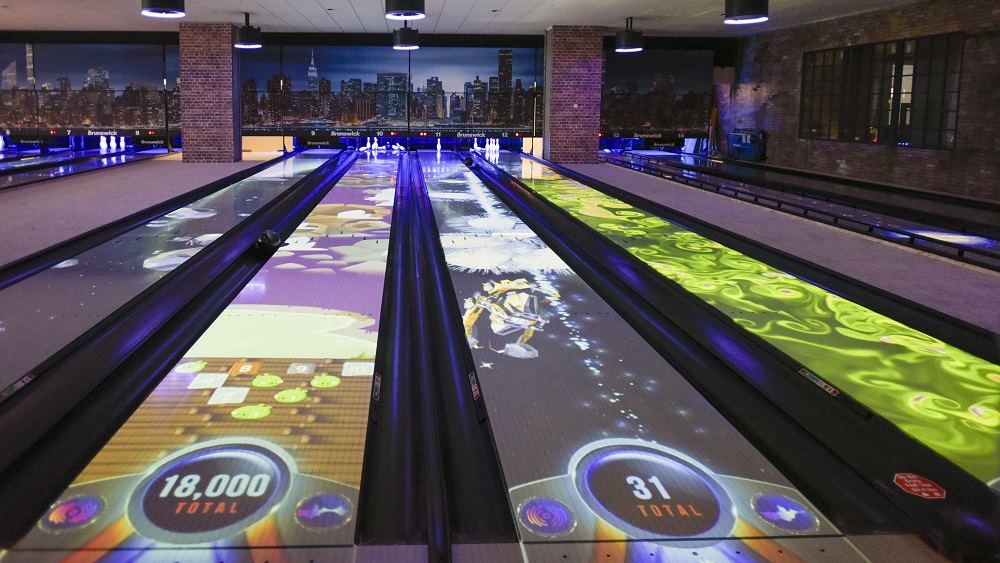 If you're ready to take your bowling to the next level then you'll need to get yourself booked in at the brand new Gravity Entertainment Centre in Wandsworth. Here you'll experience the future of bowling with their interactive, augmented reality bowling lanes which are incredible and have super fun games to try out too. If you want to make a day of it then there are loads of other amazing activities for you to try from indoor go-karting to immersive darts. When you're ready for a refill there are three different places to grab some food or visit the cocktail bar for a refreshing beer or indeed a cocktail. Sounds awesome doesn't it! It is! So get yourself booked in on their website.
Where: Southside, Wandsworth High St, London SW18 4TF
Cost: Starts from 1 game, per adult £9
Age: All ages welcome
Hollywood Bowl
Ever had dreams of visiting the US West Coast? Well, if you're not interested in a twelve-hour flight (we're getting tired just thinking about it!), we've got the next best thing – Hollywood Bowl. With five venues in London itself, you know they're doing something right. If you're looking for that classic bowling experience, then you've got to check them out! With state-of-the-art bowling lanes complete with interactive scoring systems and epic animations, it's perfect for all ages. Feeling peckish? All locations feature an American diner and food brought directly to your lane. Or maybe give their full-size pool tables a spin? How about getting lost in their extensive arcade? Even if you're looking to just kick back and relax, you can grab a bite to eat or a cocktail or two from their Americana themed menu. Check out their website to book your visit!
Where: The O2, Peninsula Square, North Greenwich, SE10 0DX / Leisure Way, High Road, Finchley, N12 0GL / Charrington Bowl, Kingston Road, Tolworth, KT5 9PB / Cook Road, Dagenham, East London, RM9 6UQ / Surrey Quays Leisure Park, Surrey Quays Road, Surrey Quays, SE16 7LW
Cost: Prices range from £7.30 to £8.40 per person per game depending on location
Age: All ages welcome
Queens Skate Dine Bowl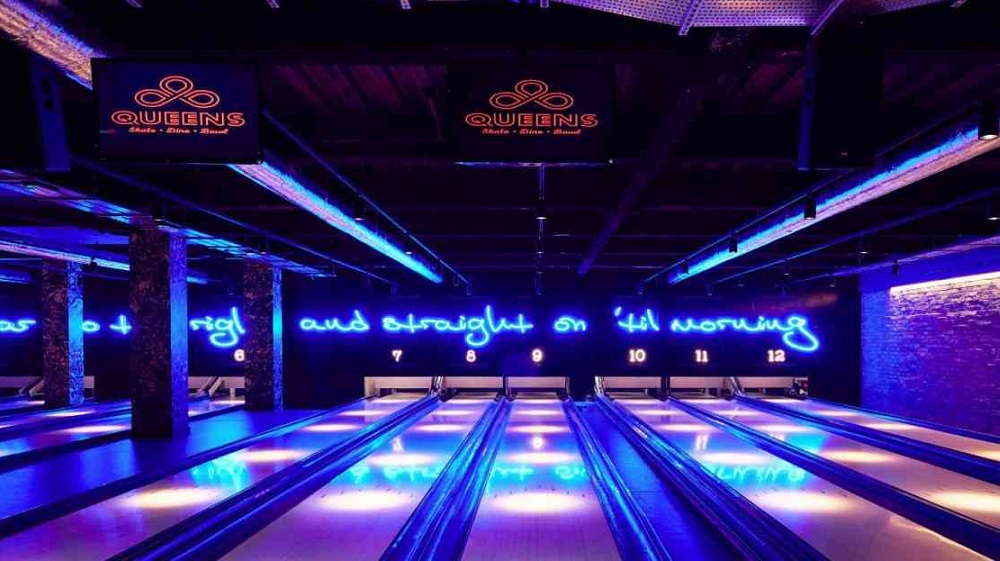 Can't decide what you want to do with your night? Well then, get yourselves down to Queens Skate Dine Bowl. After all, how many bowling alleys also come complete with their very own ice-skating rink? The proud home of Celebs Go Skating. Who knows, you might even catch a glimpse of a celeb or two. If all the exercise makes you hungry, they've got loads of food on offer provided by the amazing Meatliquor, so prepare yourselves for mouth-watering burgers, delicious gourmet hot dogs and dozens of addictive desserts! This subterranean one-stop fun shop is open all week to tourists and locals alike, so why not discover a whole day of fun with a visit to their website?
Where: 17 Queensway, London W2 4QP
Cost: £10.50 per game if booked online and £11.50 for walk ins
Age: 18 + venue after 8pm
Croc Bowl, Ham Yard Hotel
For lovers of elegance and style, you can experience a night out you'll never forget at this stunning venue, just a short two-minute walk from Mayfair! With food and drinks just an ask away, they offer five-star service courtesy of their partnership with Ham Yard Hotel – in fact, the food and drink is so good, it's got an entire Instagram page dedicated to it (who'd have thought?). With a dive bar, dance floor, silver baby grand piano, art works by contemporary artist Howard Hodgkin and authentic retro bowling shoes on display you can see why the Croc Bowl attracts a distinguished clientele. So, whether you're looking to seriously impress on that first date or just want to enjoy a one of a kind bowling experience, be sure to pay a visit to their website.
Where: 1 Ham Yard, London W1D 7HY
Cost: £20 for an hour of bowling, per person
Age: All ages welcome
Bloomsbury Lanes
Any seventies music fans in the house? Well, flashback to your favourite years with the brilliantly retro inspired Bloomsbury Lanes! We're talking vinyl records lining the walls, neon signs and atmospheric mood lighting – bringing the nostalgia back for those of you old enough to remember (and for you younger folks, a chance to experience the golden years for the first time!). With eight full size bowling lanes, there's loads of chances for you to strike gold in this amazing bowling location. And that's not all! They've also got classics like American pool, darts boards and a soundproof karaoke booth (for that one friend that just loves the spotlight!) Want more? There's also regular weekend events, including chart hits and dance floor bangers from every decade of music you could ever imagine. So, if you're looking for somewhere you can bowl all day and dance all night, look no further! Discover more info on their website.
Where: Tavistock Hotel, Bedford Way, London WC1H 9EU
Cost: £45 for an hour of lane hire
Age: 18+ Friday and Saturday after 7pm / after 8pm Sunday and Thursday
Lewisham Lanes
Looking for fun in Lewisham? Well then, look no further than Lewisham Lanes. You can hit these bowling lanes with friends and family and bowl all your troubles away! Based in the heart of Lewisham, it's perfect for all ages, so whether it's a day out with the kids or a classic first date with someone special, they can cater for it all. It's not just bowling however, as you can also enjoy a fully stocked arcade and a sensational soundtrack by their resident DJ every Friday and Saturday. So, why not learn more on their website to get the ball rolling (literally)?
Where: 11-29 Belmont Hill, Blackheath, London SE13 5AU
Cost: £7.50 for 1 game of bowling
Age: All ages welcome
Rowans Tenpin Bowl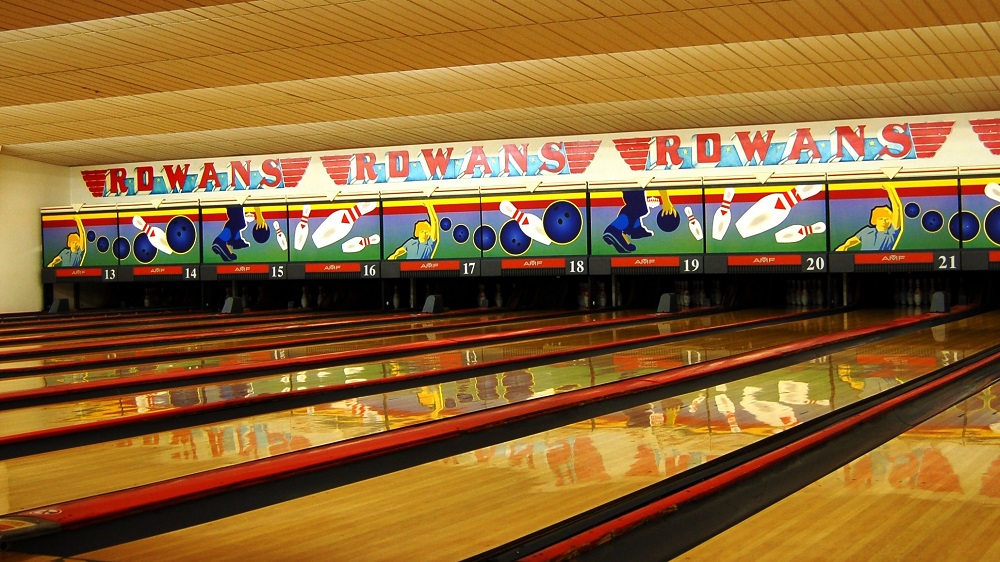 Found in Finsbury Park, there's loads of space to hang out with your mates at Rowans' awesome twenty-four lane set up. Looking for something a little different? Give their pool room a spin – a snooker temple where you can show off your mad skills! And what makes it even better? It's not just one floor! With rooms full of non-stop entertainment, including multiple HD screens to watch the latest games, a full amusement arcade set up and even a karaoke booth, the only question is which one you're gonna check out first! So, take your weekend to the next level with a trip to their website to discover how to plan your visit.
Where: 10 Stroud Green Rd, Finsbury Park, London N4 2DF
Cost: £6.20/£7.30(off peak) and £8 (peak) per game
Age: 18+ after 10pm Sunday – Thursdays and 8:30pm Fridays and Saturdays
Roller Bowl
Big fan of authentic Americana? Then roll on down to Roller Bowl, an American East Coast diner themed bowling experience. With 34 unique bowling lanes, you can also enjoy their fully stocked arcade, pool area and their amazing American diner. If you've hungry, you can tuck into delicious food such as pizzas, burgers, hot dogs and even fish and chips (there really is something for everyone)! There's plenty to do all week long as well, especially on the weekends where the lights turn down and the music turns up. They're also home to awesome arcades, pool tables and even air hockey (we hope your reflexes are up to scratch)! Interested? Of course you are. Check out their website to find out more.
Where: The City Pavillion, Collier Row Rd, Dagenham, Romford RM5 2BH
Cost: £12 for 1 game of bowling
Age: All ages welcome
Prices etc were correct at time of publishing. Best to check with the venue website for up to date information and offers.
Featured image: Gravity Wandsworth